In the Nikon Nikkor Z-mount range of lenses, the family of fixed focal lengths has been expanded in recent weeks with the addition of a portrait lens. Here is the Nikkor Z 85mm f/1.8S test, a lens for the Nikon hybrid which proves to be the most playful of the f/1.8 S series and whose price remains moderate.
This lens at the best price at Miss Digital …
Among all photographers, those who love portraits are probably the most pampered by opticians, whatever the frame, whatever the sensor size, whatever the manufacturer.
Only at Nikon for the FX reflex cameras, the current range includes three references (one 105 mm f/1.4 sublimated, two 85 mm, respectively opening at f/1.4 and f/1.8, and respectively sold 1600 € and 400 €).
In addition to this trio, the Nikkor Z 85 mm f/1.8 S, which was introduced in the autumn of 2019 at €799, is also available to Nikonist portrait photographers equipped with the Z FX Hybrid with 24 x 36 mm sensor (and soon those equipped with the Z DX with APS-C sensor).
It is no small thing to say that this portrait lens is awaited at the turn of the century! Without further ado, let's see together if it's one of those that will be a real eye-catcher (or not) and deserves to be part of your bag.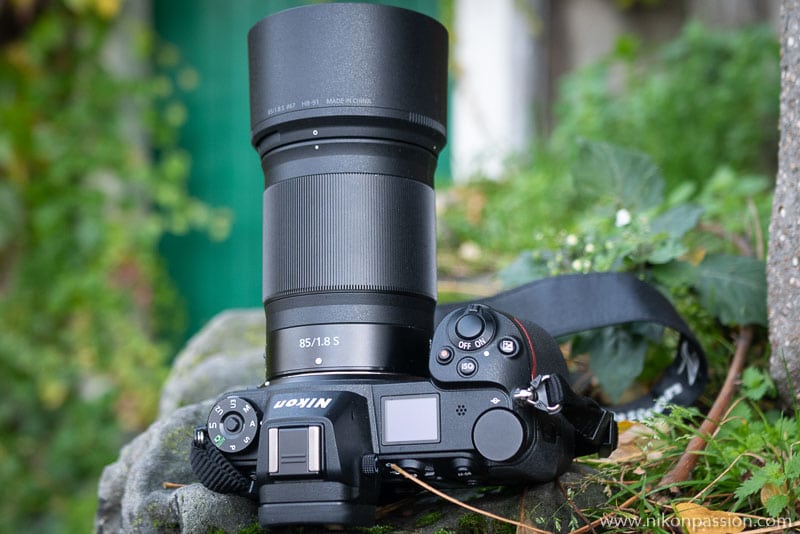 Nikkor Z 85 mm f/1.8 S test: the lens on Nikon Z 7 with its sunshield
Nikkor Z 85 mm f/1.8 S test: presentation and background
For an optician, it takes a clear unwillingness to miss the design of a portrait lens, as they are, virtually, among the least complex lenses to design and build. So, necessarily, to stand out, one must either display a price level with the daisies, or offer high-flying services.
By the way, what is a good portrait lens? Ideally, it's a lens that is both capable of little distortion for close subjects, or at the advantage of the model being photographed, while allowing a depth of field small enough to isolate the subject's gaze (and by the way, smoothing out some skin imperfections).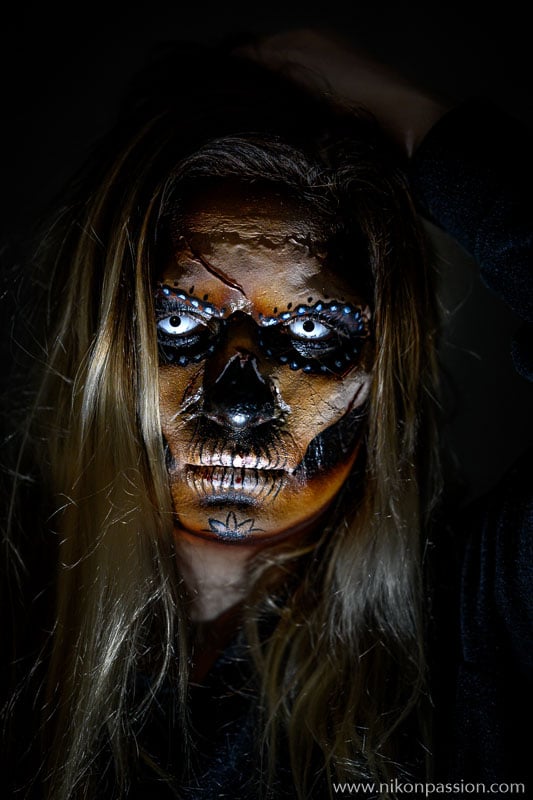 Nikon Z 7 + Nikkor Z 85 mm f/1.8 S: 1/100 sec. – f/1.8 – ISO 1.600
The short focal lengths, between 75 and 120 mm, opening at f/2 and below, are therefore all suitable for this exercise. The slightly longer focal length than the standard focal length allows you to refine the faces. By combining this focal length with a large aperture, you can enjoy short depths of field and more or less creamy bokeh.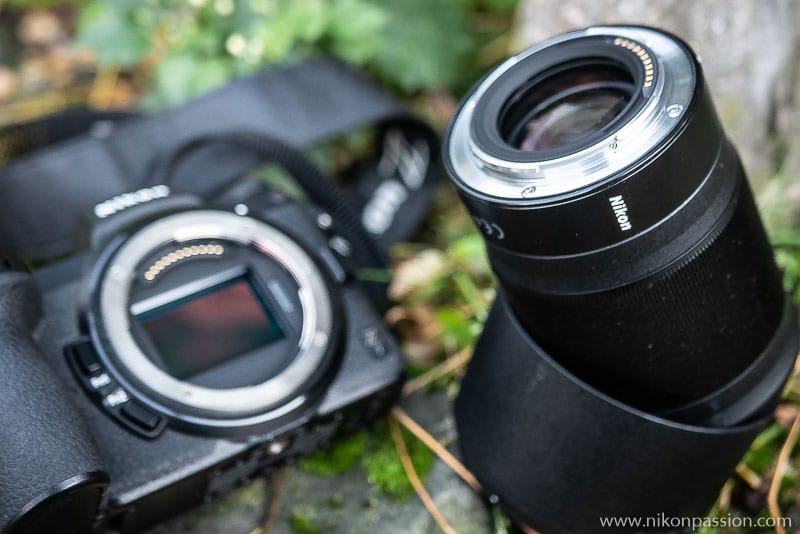 test Nikkor Z 85 mm f/1.8 S: an all-metal bayonet worthy of the best Nikkor lenses
Opening question, no need to do in the exoticism of a f/0.95! From f/1.4 to f/2, it suits very well. Logically, and in order to remain consistent with the rest of its Z-mount fixed focal lengths, Nikon has therefore opted for a combination of 85mm + f/1.8.
At the time of this writing, the Nikkor Z 85mm f/1.8 S is the longest fixed focal length available in Z-mount at Nikon. Autofocus, should we specify, since in the fall of 2019 the Korean Samyang has also added to its catalog an 85 mm Z-mount, opening at f/1.4, but with strictly manual focusing (399 €).
Thanks to the FTZ ring, you will also be able to use the three Nikkor F lenses mentioned in the introduction, but also the recently tested Samyang AF 85 mm f/1.4 F sold for €699, as well as the Sigma 85 mm f/1.4 DG HSM | Art (€1099), to name but a few. In short, it's no small thing to say that the competition is tough! From a price point of view, there's something for every taste and every budget.
Launched at 799 € the Nikkor Z 85 mm f/1.8 S is, almost surprisingly, rather well positioned considering what it offers compared to the competition.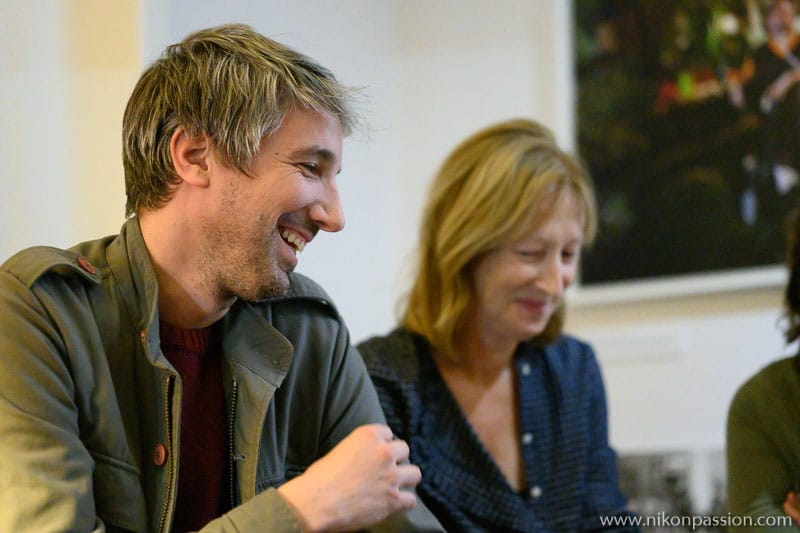 Nikon Z 7 + Nikkor Z 85 mm f/1.8 S: 1/250 sec. – f/1.8 – ISO 10.000
At the heart of this Nikkor Z 85 mm f/1.8 S is a new optical formula with 12 lenses (2 of which are ED glass) divided into 9 groups, compared to the less ambitious but more compact 9-lens (no ED glass) 9-group formula of the AF-S Nikkor 85 mm f/1.8 G, and even the 10-lens formula of the AF-S Nikkor 85 mm f/1.4 G.
The Nikkor Z uses a 9-blade circular iris diaphragm (7 on the f/1.8 AF-S). The minimum focus distance is 80 cm. At almost 10 cm long (99 mm to be precise), without its sun shield, it will not go unnoticed. However, its mass remains contained, with only 470 grams on the balance.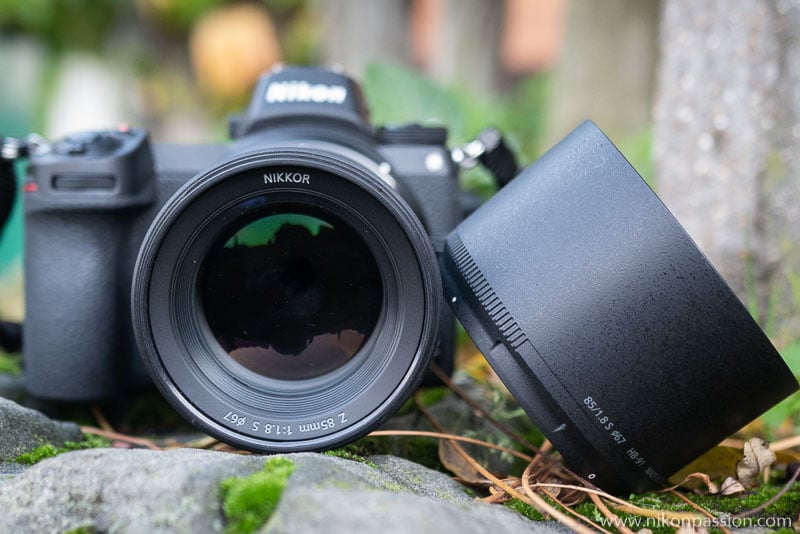 Nikkor Z test 85 mm f/1.8 S: diameter 67 mm for the filter
By the way, it's a bit of a shame that it is the only Nikkor Z lens, to date, to use 67mm diameter filters: the 35 and 50mm f/1.8 S use 62mm filters, the 14-30mm f/4 and 24-70mm f/2.8 zooms share 82mm filters.
Who is this 85 mm f/1.8 intended for?
At the risk of repeating myself: to the portraitists. Whether you're equipped with a Nikon Z 6/7 with 24 x 36 mm sensor, or even if you're considering the Z 50 with APS-C sensor, on which the Nikkor Z 85 mm f/1.8 S will frame like a 127.5 mm.
It's a bit long for portraiture, but it's okay, especially since with the minimum focus at 80 cm you can get interesting close-up shots. Attention however: the lens not being stabilized and the Z 50 neither, it will be necessary at the time of this association to be particularly vigilant with the blur to move.
Nikon Z 7 + Nikkor Z 85 mm f/1.8 S: 1/320 sec. – f/1.8 – ISO 5.000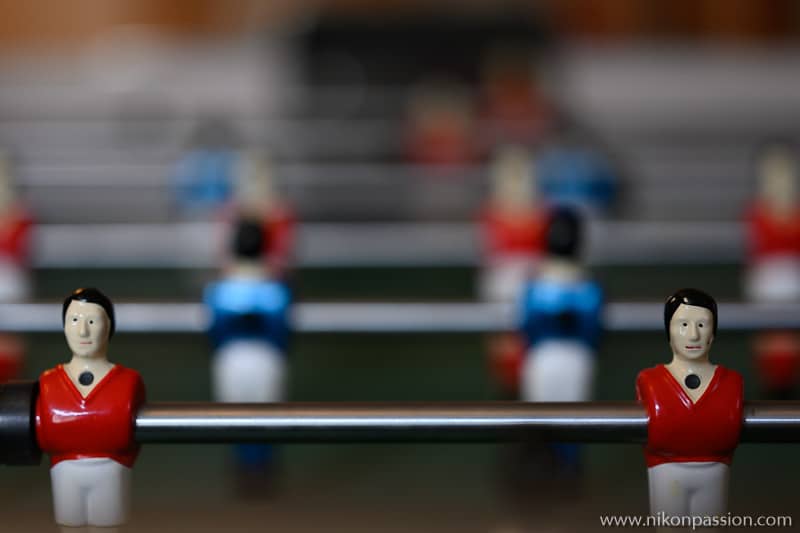 Nikon Z 7 + Nikkor Z 85 mm f/1.8 S: 1/60 sec. – f/1.8 – ISO 500
As 85 mm are also, and above all, short long focal lengths, they are also suitable for reportage and street photography. Together with a 35 mm f/1.8, the two form an ideal duo: the 35 mm for wide ambient shots, the 85 mm for portraits, details and more intimate shots.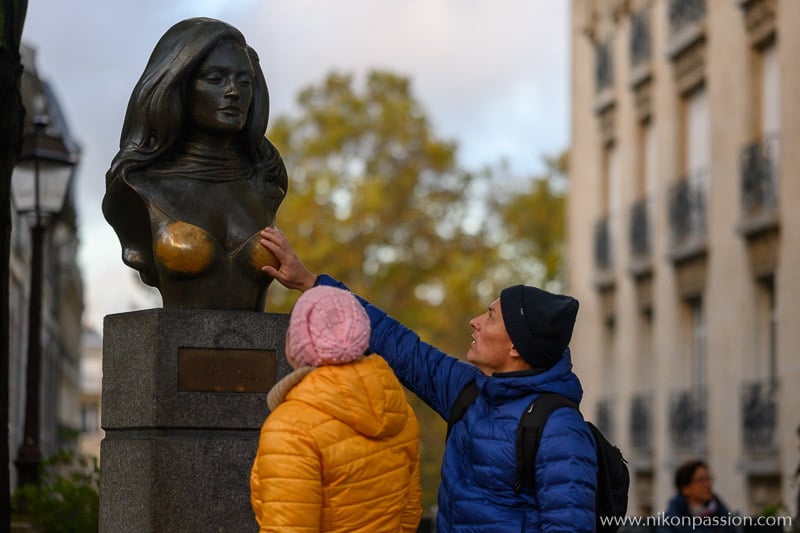 Nikon Z 7 + Nikkor Z 85 mm f/1.8 S: 1/3,200 sec. – f/1.8 – ISO 800
Eventually, you can venture into sports and wildlife photography, so you'll have to get close enough to your subject (this works well for a table football match, less for stalking lions in the savannah).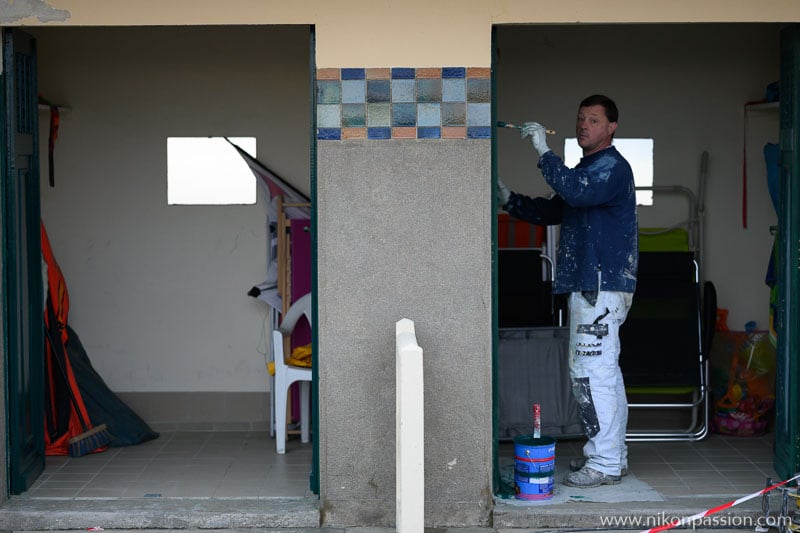 Nikon Z 7 + Nikkor Z 85 mm f/1.8 S: 1/400 sec. – f/2 – ISO 1.250
Quality of construction
The Nikkor Z 85 mm f/1.8 S comes almost literally out of the same mould as its Nikkor Z counterparts in the S series: slightly satin black barrel, wide fluted focus ring, minimalist AF/MF switch, metal frame, rubber lip to prevent moisture and dust ingress, internal seals. You're getting to know the song.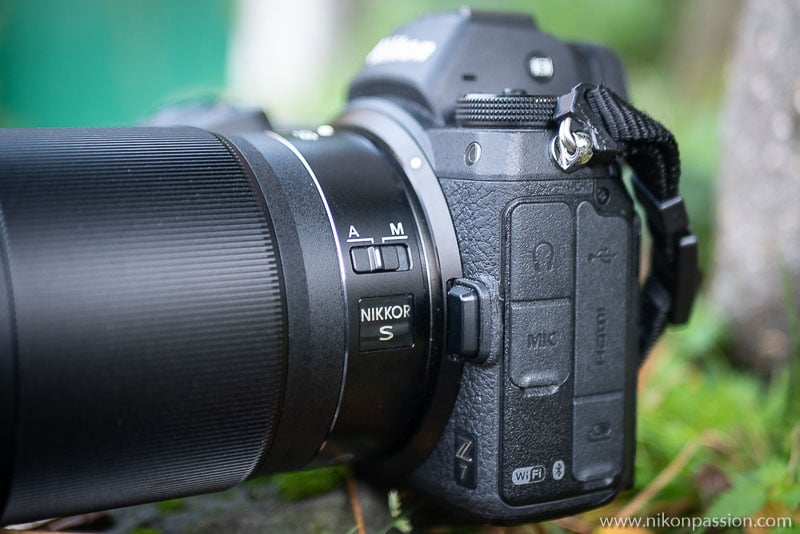 test Nikkor Z 85 mm f/1.8 S: the Autofocus / Manual switch on the barrel
In terms of construction quality, there is nothing special, nothing to report: it is beautiful work, which does its job efficiently, without overzealousness, without exoticism or particular luxury.
Handling, stabilization and autofocus
Just as before, you won't be lost if you've already taken the 35 mm f/1.8 S or the 50 mm f/1.8 S: it's simple and sober, maybe even a little too simple and a little too sober. No distance scale, even less diaphragm ring, no depth-of-field scale, and above all no optical stabilisation since the one on the housing (in this case a Z 7 in our test) does the job. And even does it very well since freehand it's possible at ¼ to get a second!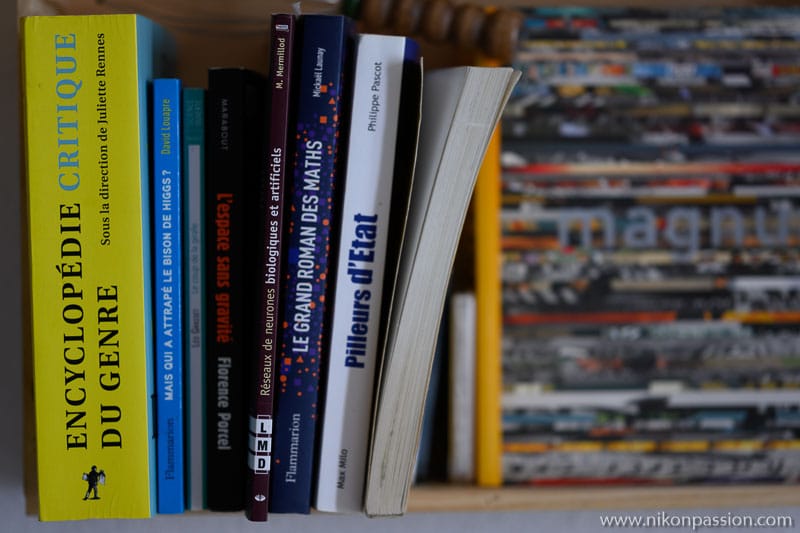 Nikon Z 7 + Nikkor Z 85 mm f/1.8 S: 1/4 sec. – f/1.8 – ISO 200
This is almost 5 speeds faster than an unstabilized system. Hats off! Even if, for portraiture, it won't necessarily be useful depending on your subject: we invented technologies that compensate for the movements of the photographer, not yet those that prevent the models from moving (whether they are restless children or wise adults, or even the opposite).
In the spring of 2019, Nikon introduced Eye AF to its Z 6 and Z 7 cameras as a firmware update. The Nikkor Z 85mm f/1.8 S is therefore the ideal candidate for testing its suitability and effectiveness, especially since it is equipped with dual (silent) motorization.
Assessment after two weeks of use: the collaboration between the two proves to be as relevant as it is effective. Even better than a certain football team, the device goes straight to the point.
Apart from face tracking, prefer AF modes with minimal collimation, so that focusing is not done just anywhere. Avoid the combination of AF-C + wide area, in which the autofocus can get lost. Finally, for portrait photography, always use aperture priority mode to control your depth of field.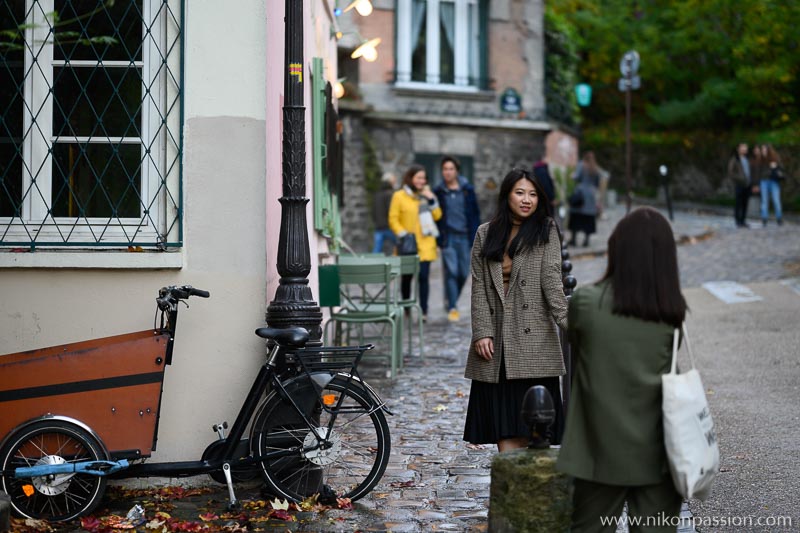 Nikon Z 7 + Nikkor Z 85 mm f/1.8 S: 1/500 sec. – f/1.8 – ISO 800
The Nikkor Z 85 mm f/1.8 S does well in reporting situations and is even more playful than the Nikkor Z 50 mm f/1.8 S. Its longer focal length allows you to get information a little further away, tighter framing and the f/1.8 aperture can be fully exploited to separate the different shots.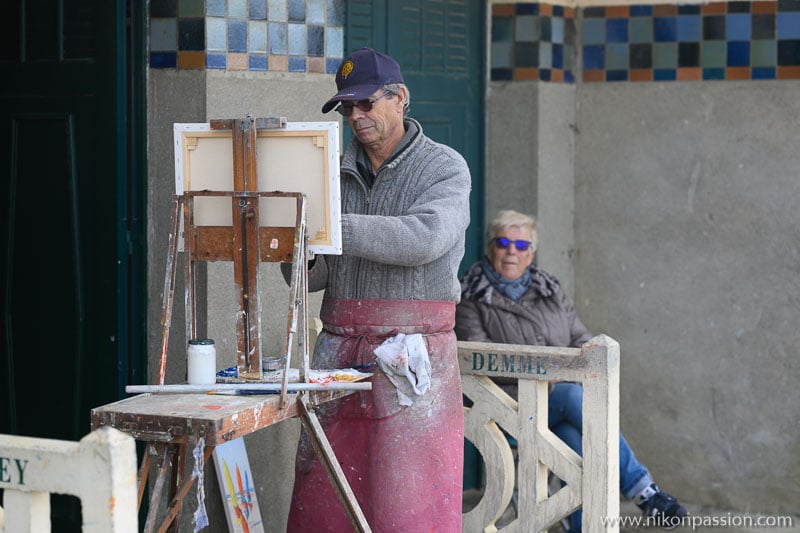 Nikon Z 7 + Nikkor Z 85 mm f/1.8 S: 1/500 sec. – f/2.8 – ISO 100
Optical performance: spine, homogeneity and flare
As I've already written, 85 mm is not the most complicated lens to draw, but that doesn't mean it's simple.
By its nature, it is a focal length lens that requires little correction, which spares the need for complex, expensive aspherical lenses. For an optician as experienced as Nikon, it's hard to screw up! It would even be a very good opportunity to remind you who's the boss. It is obvious that the Nikkor Z 85 mm f/1.8 S is not the last one to roll mechanics.
Nikon Z 7 + Nikkor Z 85 mm f/1.8 S: 1/50 sec. – f/4 – ISO 1.000
Whether it be in terms of stitching, homogeneity and flare management, this portraitist proves to be absolutely flawless. And this as soon as it is fully open! In fact, he is so good that the only real reproach one could make would be to be a little too good.
Nikon Z 7 + Nikkor Z 85 mm f/1.8 S: 1/1,000 sec. – f/1.8 – ISO 800
To understand that, in this world of somewhat brutal pixels, a bit of softness at full aperture would have been preferable. Combined with the 45.7 Mpx of a Nikon Z 7, the Nikkor Z 85 mm f/1.8 S tends to bring out a little too much detail, and therefore imperfections. It is surgical, not necessarily always aesthetic. Very good if your name is Martin Parr or Bruce Gilden, less so if you don't walk around with foundation to soften the features of your occasional models…
But if you think of the 85mm as a reporting lens, you'll be ecstatic: not a single detail will escape you. And that's just great, especially if you're making very, very large prints.
Optical performance: color rendering, chromatic aberrations and vignetting
Like its Z-series counterparts, the 85 mm f/1.8 S offers a very neutral appearance that allows you to modify it as you wish. For a portrait lens, I would tend to prefer something warmer but a little post-processing and you'll be fine.
As for chromatic aberrations, they are absent subscribers. First because it's an 85 mm, so it's not very prone to this defect, and second because Nikon masters its subject well.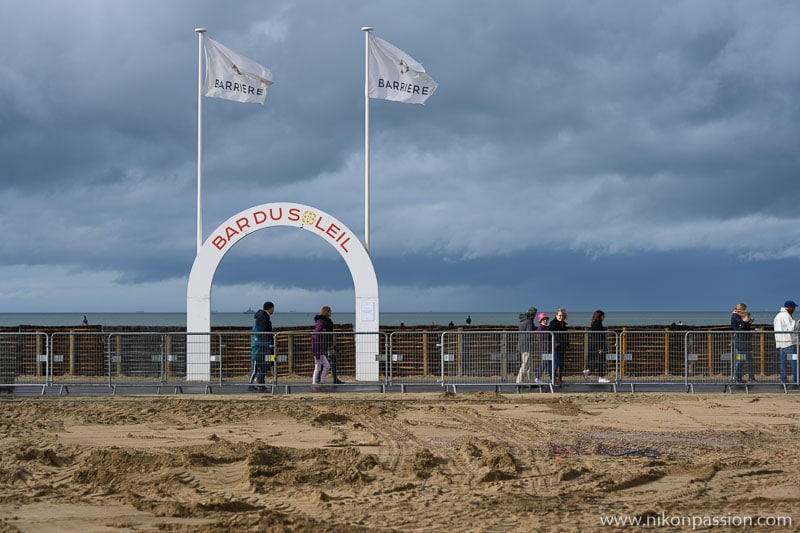 Nikon Z 7 + Nikkor Z 85 mm f/1.8 S: 1/1,250 sec. – f/4 – ISO 100
Finally, as far as vignetting is concerned, two schools are fighting. The one that considers that, whatever happens, an objective should not vignette. The one that considers on the contrary that, sometimes, a little vignetting is nice and gives even more meaning to the image.
I would tend to be part of the second, especially when it comes to portraits and when vignetting allows to close the image in order to focus the viewer's attention on the subject (more or less central). A very (too?) effective automatic application is applied by the Z7, vignetting remains perceptible in JPEG up to f/2.8. When passing through NEF, vignetting is clearly visible from full aperture (f/1.8) to f/4, fades at f/5.6, then disappears completely at f/8.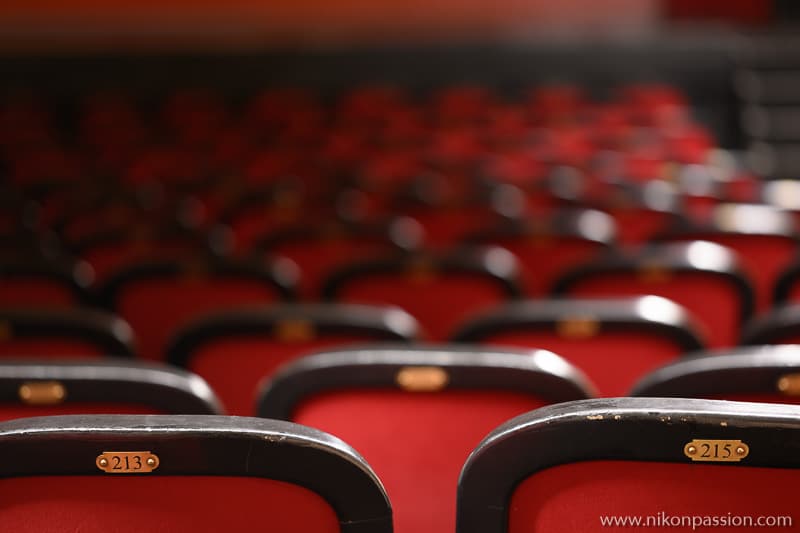 Nikon Z 7 + Nikkor Z 85 mm f/1.8 S: 1/15 sec. – f/1.8 – ISO 500
It's up to you to decide if it's a handicap. For my part, I'm pleased that Nikon didn't push the algorithmic sliders too far in order to preserve the rendering so characteristic of portrait lenses.
Optical performance: deformation and distortion
In essence, an 85 mm must slightly distort the image: this is what allows it to make faces a little thinner than they really are in order to better stick to today's aesthetic canons.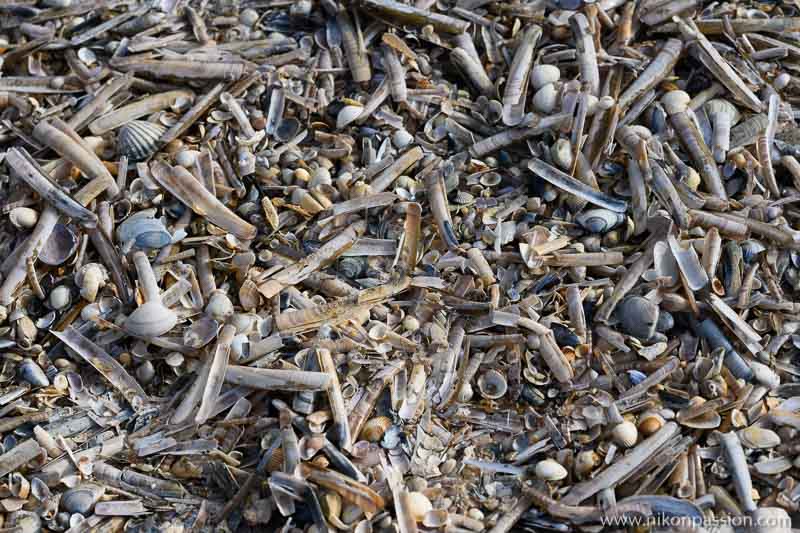 Test Nikkor Z 85 mm f/1.8 S: 1/640 sec. – f/5 – ISO 64
Whether this is a good or a bad thing is another philosophical and ethical debate. These considerations put aside, we can consider that in terms of geometrical restitution, the Nikkor Z 85 mm f/1.8 S is perfect and runs straight.
Optical rendering: depth of field
Aaaaah, the most interesting part! Of course, by lengthening the focal length and maintaining a maximum aperture at f/1.8, you can enjoy shallow depth of field and bokeh.
The Nikkor Z 85 mm f/1.8 S has a natural advantage over the Nikkor Z 50 mm f/1.8 S. Ideal for portraiture, it also allows you to tell stories by playing with the separation of shots for use in reportage.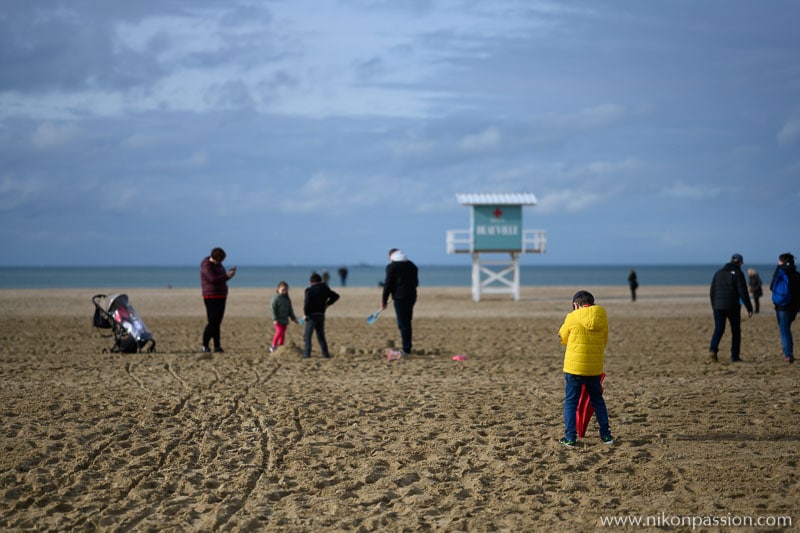 Nikon Z 7 + Nikkor Z 85 mm f/1.8 S: 1/8,000 sec. – f/1.8 – ISO 100
Be careful however: the counterpart is that to be sharp over your entire image and to have a maximum depth of field you will have to close at f/11 and up to f/16 (the minimum aperture), which will not be without consequences on the exposure time as well as on the diffraction, which, especially with 45 Mp, will lead to a loss of sharpness. Nothing comes with nothing.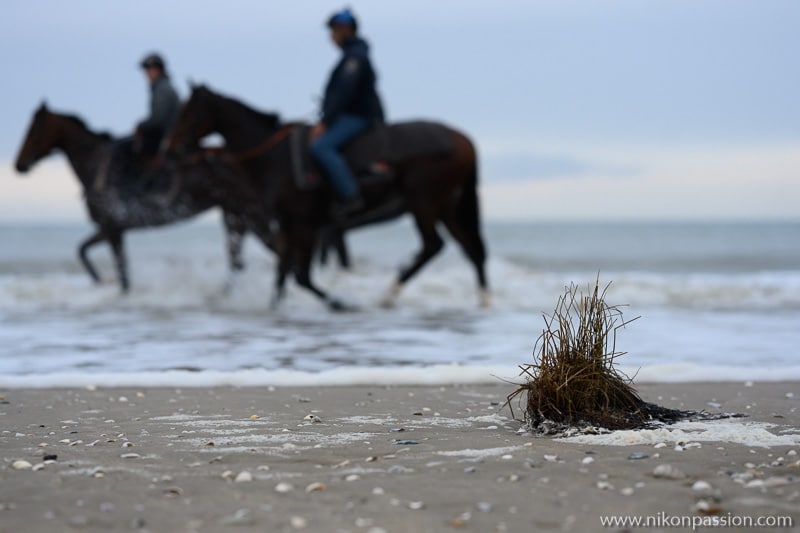 Nikon Z 7 + Nikkor Z 85 mm f/1.8 S: 1/1,000 sec. – f/2.8 – ISO 1.250
From a strict aesthetic point of view, the bokeh of the Nikkor Z 85 mm f/1.8 S is rather soft and neutral, although a bit too modern for my taste. I prefer the dreamy side of the AF-S Nikkor 105 mm f/1.4E ED and Samyang AF 85 mm f/1.4 F.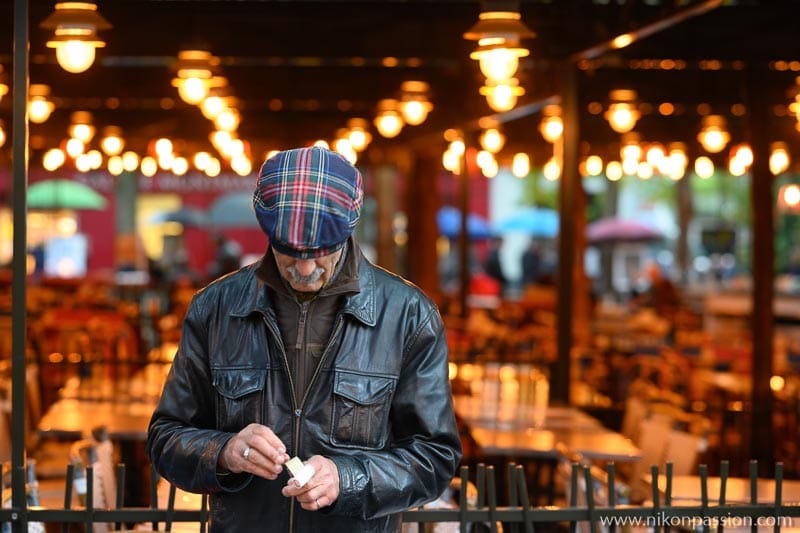 Nikon Z 7 + Nikkor Z 85 mm f/1.8 S: 1/60 sec. – f/2.8 – ISO 800
Note, however, that this 85mm f/1.8 Z has a smooth transition from sharp to blurred, which is not the case with all modern lenses, and this softens the hardness of digital images. It's a natural all-rounder, but its bokeh is not one to be raved about or to trigger a "wow" effect.
The Nikkor Z 85 mm f/1.8 S may be of interest to you if :
you've been practicing portraiture with a Z-hybrid,
you're looking for a little telephoto reporting lens,
you wish to complete your 35 mm f/1.8 S (or your 14-30 mm f/4 S),
you want 100% Nikkor Z equipment without the FTZ ring.
The Nikkor Z 85 mm f/1.8 S will be of less interest to you if :
you have a preference for velvety portrait optics.
All the photos of this test are available in full resolution on the Flickr Nikon Passion :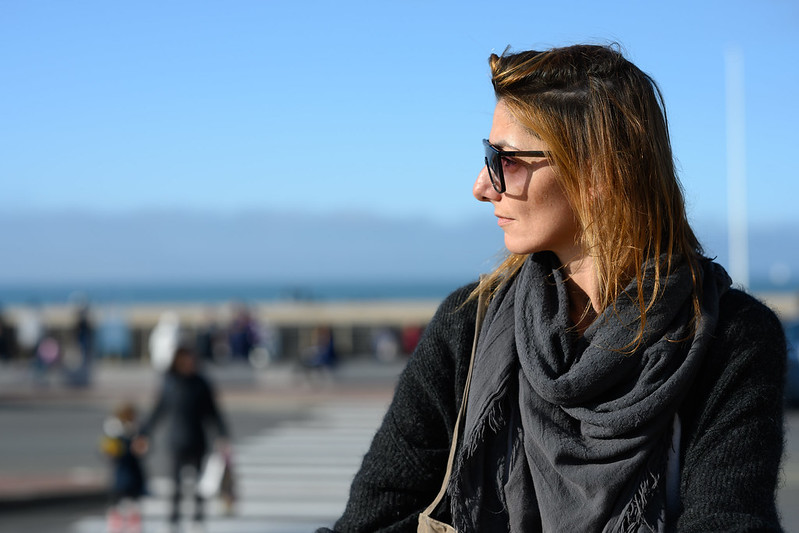 test Nikkor Z 85 mm f/1.8 S: the photos
Nikkor Z 85 mm f/1.8 S test: my conclusion
Of all the S series Nikkor Z fixed lenses I have ever owned, this Nikkor Z 85mm f/1.8 S is my clear favourite. The most playful, thanks to its vivid autofocus and its separation of shots facilitated by its ability to handle shallow depth of field, it is also the one with the most personality.
Excellent for modern portraiture, very recommendable for street photography and reportage, it also has the luxury of being displayed at a rate that I would almost qualify as moderate, although it will always be possible to complain about the fact that "it's not a f/1.4! "(prejudices have a hard time).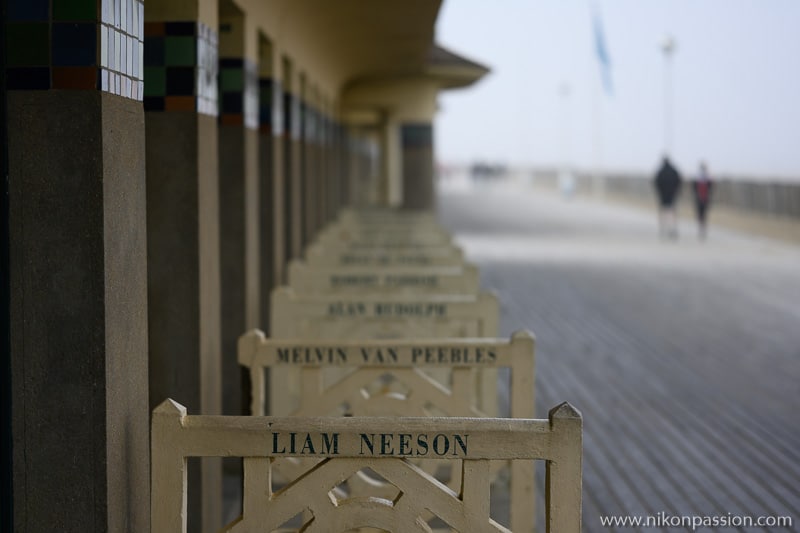 Test Nikkor Z 85 mm f/1.8 S: 1/1,600 sec. – f/2 – ISO 64
If he had one flaw, it would actually be three flaws. Two minor ones: its tendency to vignetting (easy to correct) and its too neutral bokeh. One, in comparison, major (but not so much): its size. With its 10 cm long without the sunscreen (14 cm with), it is far from being discreet. For a posed portrait, nothing serious, but for live photography, we did better. Moreover, in the bag, it takes up space.
In spite of its relative visual bulk, this 85 mm is still light and easy to handle at 470 grams. It is a common criticism of all Nikkor Z models of the S series (except Noct-Nikkor) that the focus ring transmits so little information and that it does not benefit from a real diaphragm ring, which would give it a premium handling at the height of its performance.
This lens at the best price at Miss Digital …