A new addition to the NIKKOR Z series, the 24mm f/1.8 S is designed to meet the needs of photographers who enjoy reportage, landscape and architectural photography and want to use a native Z-mount lens. Now available for a few weeks, that's all it took to bring you this NIKKOR Z 24mm test that will help you make your choice among the 24mm lenses compatible with Nikon hybrids.
this lens at the best price at Miss Digital…
this goal at the best price at Amazon …
Not quite slowly but surely and methodically, Nikon continues to deploy its S-series NIKKOR Z fixed focal length lenses for its 24 x 36 mm sensor hybrids. While we wait for the 20mm f/1.8 to complete this almost discontinuous burst from the bottom, and after 35mm, 50mm and 85mm that range from very good to excellent, let's look at the NIKKOR Z 24mm f/1.8 S.
This focal length is all the more strategic as it is a double, and even rather quadruple, focal length in the current NIKKOR Z range since it is found in the exceptional NIKKOR Z 24-70 mm f/2.8 S, the standard NIKKOR Z 24-70 mm f/4 S and the fearsome NIKKOR Z 14-30 mm f/4 S.
If that wasn't enough, in an F-mount SLR, Nikon itself offers the AF-S NIKKOR 24mm f/1.8G ED and a brighter AF-S NIKKOR 24mm f/1.4G ED, when Sigma aligns itself with its 24mm f/1.4 DG HSM | Art.
So the question is simple: does a dedicated wide angle, whose main argument is the more generous aperture (a little more than one diaphragm compared to f/2.8, and a little more than two diaphragms compared to f/4), deserve the 1,199 euros that the manufacturer is asking for? Answer right away in this test.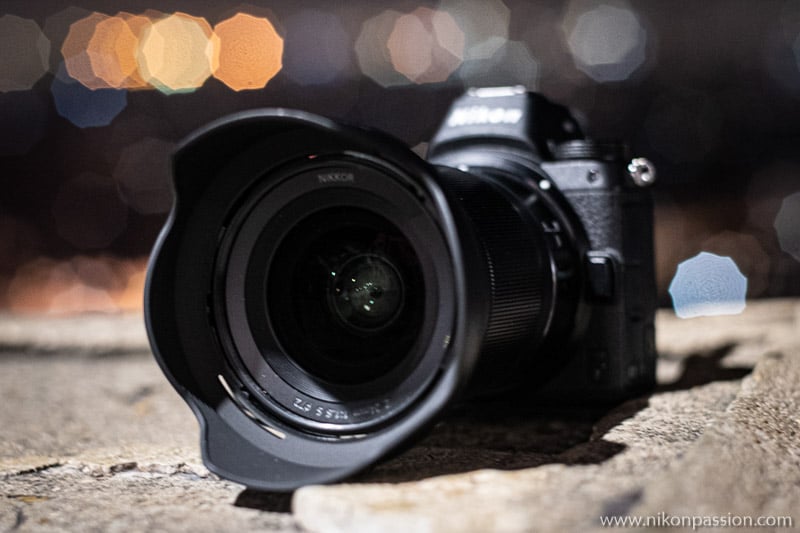 At a time not so long ago (we're still talking decades), the wide base angle was 28 mm. With the advent of digital technology and progress in terms of optical calculations, industrial manufacturing processes and the popularity of standard transoms, 28 mm gradually gave way to 24 mm.
4 mm, it seems nothing, and even when converted to an angle of view, the change from 75° to 84° doesn't seem that striking. Yet this 24 mm opens up new perspectives for photographers, both those working in confined indoor spaces, where it can be played out from a few centimetres away, and those who are adept at architecture.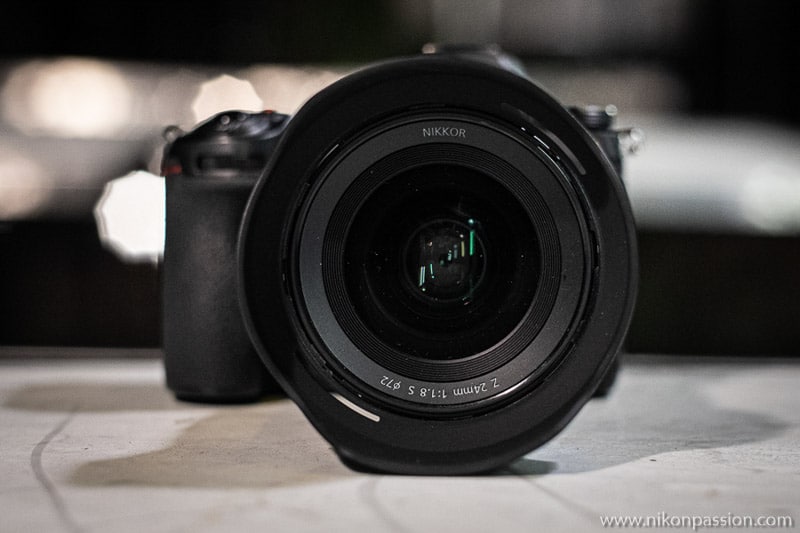 The other interest of the 24 mm is that, compared to the 28 mm, it is far enough away from the 35 mm so as not to have to hesitate between the two lenses, while of course being far enough away from the 50 mm to make it a perfect complement. On the other hand, a wider angle of view also means more subtle perspectives to manage and, potentially, more distortions and other optical defects to counteract.
To do just that, the NIKKOR Z 24 mm f/1.8 S pulls out the heavy artillery. Like the AF-S NIKKOR 24 mm f/1.4G ED, its formula includes 12 lenses divided into 10 groups but uses 4 aspherical lenses and 1 ED glass lens. Not forgetting the nanocrystal and RNAEO coatings. Geometrical and chromatic aberrations, as well as ghost images, just have to hold on tight.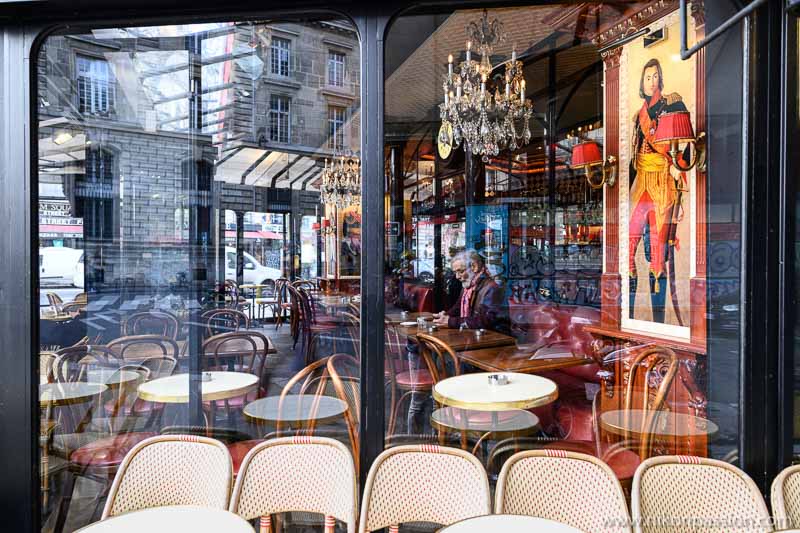 NIKKOR Z test 24 mm f/1.8 S: 1/20th – f/4 – 100 ISO
The AF-S NIKKOR 24mm f/1.8G ED also has 12 lenses, but still 2 aspherical and 2 ED. Note, however, that the NIKKOR SLR lenses are 23 cm (8.5″) in focus, compared to "only" 25 cm (10.5″) for the NIKKOR Z, as is the Sigma.
At 450 grams, the NIKKOR Z is between the AF-S f/1.8 (355 grams) and the AF-S f/1.4 (620 grams), but if you plan to use one of the latter two on a Z hybrid, you'll need to add the 145 grams of the FTZ ring. The Sigma, on the other hand, peaks at 665 grams.
In terms of price, the NIKKOR Z is much more expensive than its reflex alter ego: 1199 euros versus 799 euros. The Sigma comes in between (949 euros) when the AF-S f/1.4 is around 1400 euros.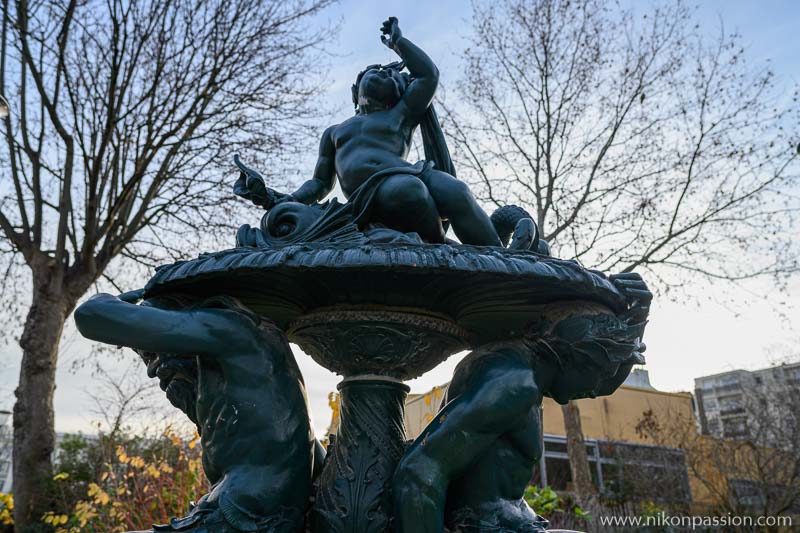 NIKKOR Z test 24 mm f/1.8 S: 1/500th – f/3.5 – 100 ISO
Lovers of wide angle lenses, especially 24mm, are spoilt for choice at Nikon, as we have just seen. However, those using the NIKKOR Z 24-70 mm f/2.8 S will gain a little more than one f-stop and those using one of the two f/4 zooms will gain more than two f-stops.
In the field, this makes a huge difference, especially in terms of sensitivity, since you will be able to work at ISO 3,200 instead of ISO 12,800 with the NIKKOR Z 24 mm f/1.8 S, for example. The generous aperture also makes it possible to better separate shots and, by getting close enough to the subject, achieve better background blur.
It is therefore necessary to add to the classic uses of a 24 mm (reportage, architecture, landscape) the possibility of some contextualized portraits and street photography in ambient light, even when this light fades. Although, in absolute terms, the ability of the Z 6 and Z 7 bodies to increase sensitivity, coupled with mechanical stabilization, makes it possible to erase the advantage of the more generous aperture.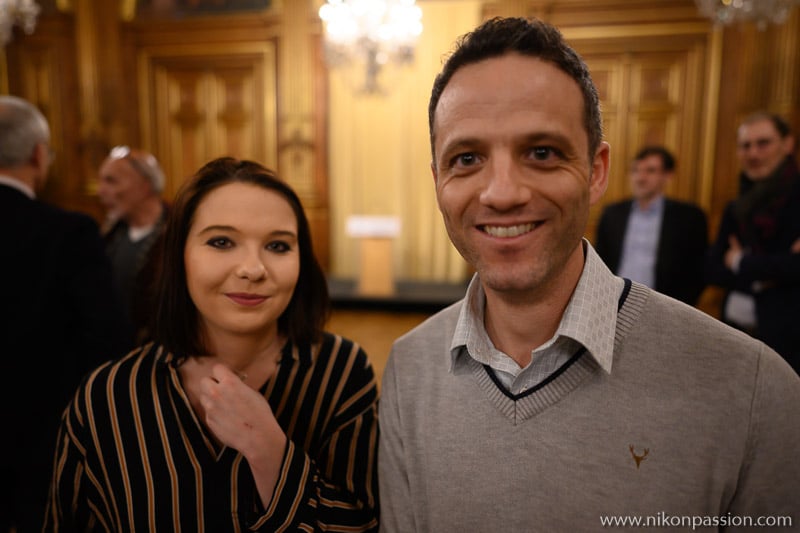 NIKKOR Z test 24 mm f/1.8 S: 1/125th – f/1.8 – 1000 ISO
Quality of construction
NIKKOR Z fixed focal lengths all look the same (except the Noct-NIKKOR), but this is starting to become a pleasant habit. Satin black barrel, wide rubberized and grooved focusing ring, many seals inside and outside (at the mount level): nice work, serious, but without exuberance.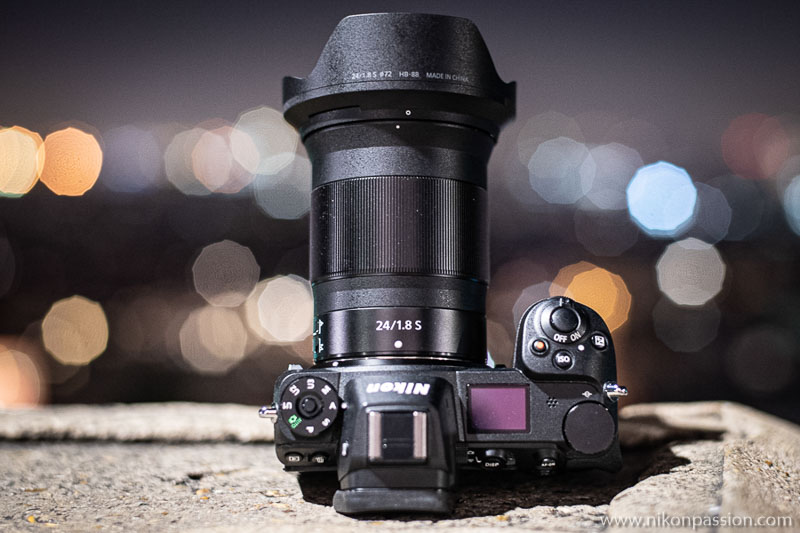 No need to go back on the lack of diaphragm ring, distance scale, soft key, you probably already know the song. Note, by the way, that the filters used should measure 72 mm in diameter, compared to 67 mm on the 85 mm f/1.8 and 62 mm on the 35 and 50 mm f/1.8. Considering the diameter of the front end and the sun visor, I would have appreciated a better maintained and lockable cap, like Samyang offers on its 14 mm f/2.8 AFs.
Handling, stabilization and autofocus
Well balanced, the NIKKOR Z 24 mm f/1.8 S is easy to operate with one hand once mounted on the housing. The large (and unique) ring allows you to adjust the focus manually (without a stopper) or adjust the exposure or aperture in turn, depending on the function you assign to it in the menus.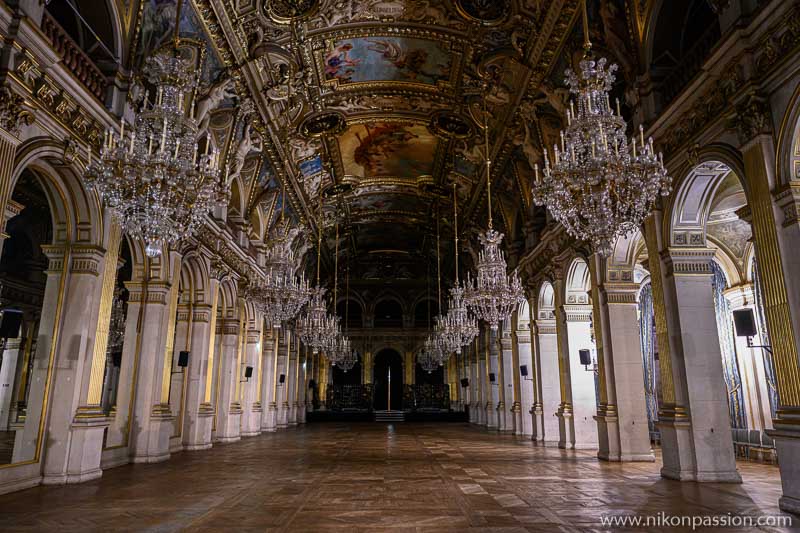 Test NIKKOR Z 24 mm f/1.8 S: 1/6 – f/2 – 3.200 ISO
The stabilization, entrusted to the gearbox, allows you to go well below 1/25th of a second and, with a little practice, you can venture around the quarter of a second. It's still as impressive as ever.
The autofocus is not to be outdone. Precise, fast, silent, it will just be necessary to take into account the specificities of the wide angle and, especially in multipoint, to pay attention to the place where the camera decides to focus, thus the automatically selected collimator. The depth of field, even at f/1.8, will however allow to some extent to erase the slight focus offsets.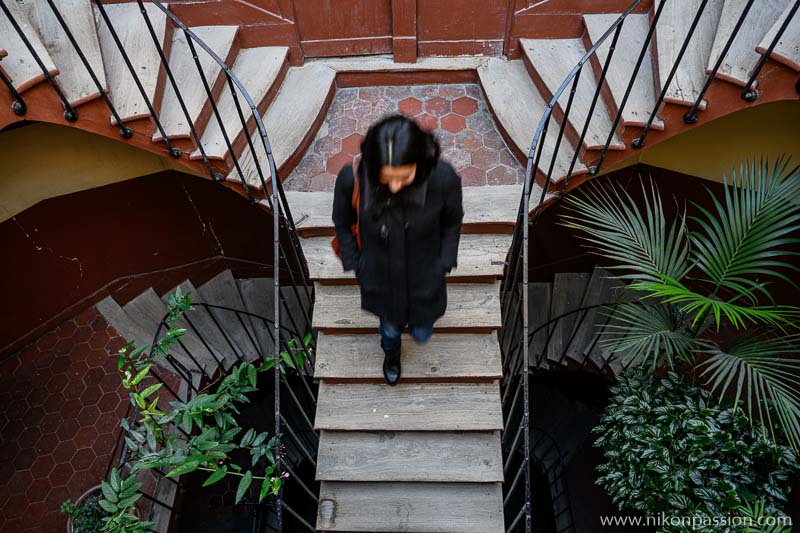 NIKKOR Z test 24 mm f/1.8 S: 1/40th – f/2.8 – 200 ISO
Optical performance: spine, homogeneity and flare
Testing the NIKKOR Z 24 mm f/1.8 S on the very demanding sensor of the Z 7 allows it to be pushed to its limits. And it's clear that even 45.7 Mpx doesn't scare him and that the complex optical formula isn't just there to look good on the data sheet.
At full opening, the centre is already very good, becoming excellent at f/2.8 and exceptional at f/5.6. The extreme corners, set back at f/1.8 but already defending themselves very well, almost equal the centre and the periphery at f/4. Enough to write that this lens has no problem of homogeneity, which will please landscape and architecture photographers. As usual, one will have to pay attention to the diffraction at f/11 and f/16 (minimum aperture), which degrades the image quality.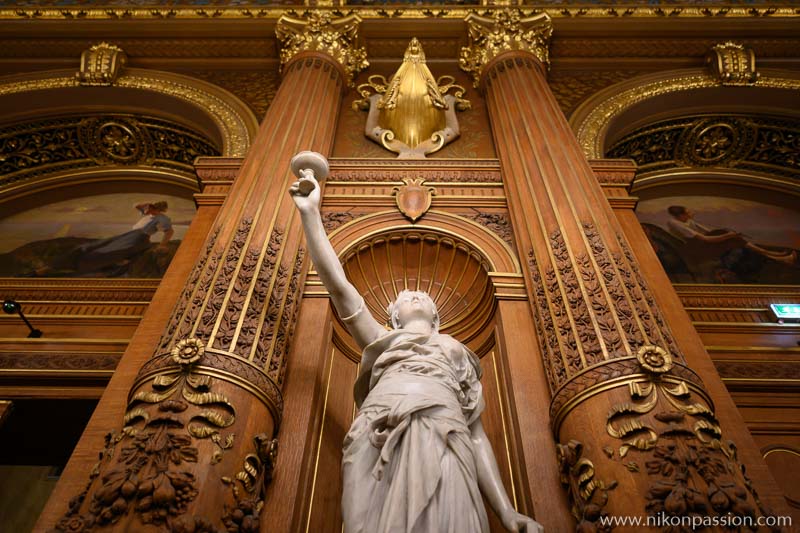 Test NIKKOR Z 24 mm f/1.8 S: 1/160th – f/1.8 – 1000 ISO
The RNAEO treatment, coupled with the nano-crystal treatment, makes it possible to play with flare and backlighting.
Even with strong, spot lighting from the front, the lens does not flinch and is free of stray reflections and ghost images.
Really impressive and reassuring, especially for the angle of view considered. Here again, landscape photographers will appreciate, as well as night street photography enthusiasts.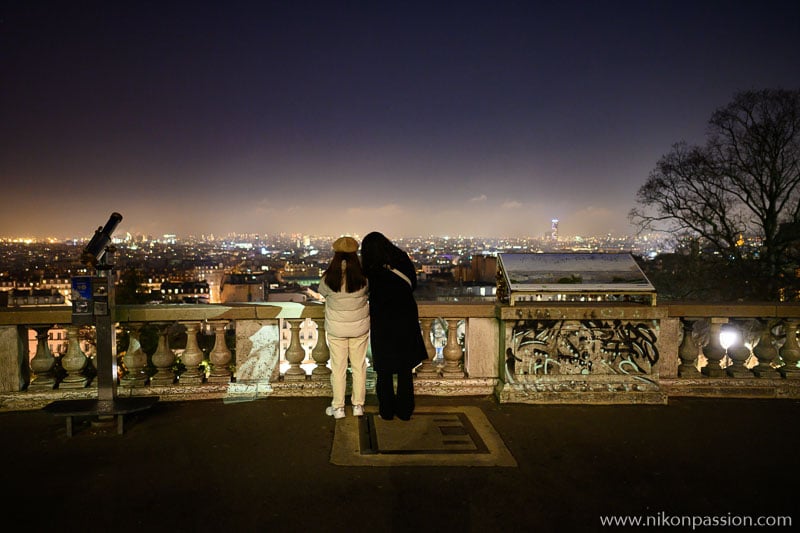 NIKKOR Z test 24 mm f/1.8 S: 1/8th – f/1.8 – 2,000 ISO
Optical performance: deformation and distortion
Forget the 24 mm slightly distorting image (usually in barrel): the NIKKOR Z 24 mm f/1.8 S is perfectly corrected. Everything is straight: the horizons are horizontal, the verticals are vertical. In fact, the biggest problem will be the photographer, who may lean slightly to one side or the other (usually to the right when shooting).
The perfect correction of this wide angle allows you to play with receding angles, whether you choose to frame while diving or underwater. Really nice and playful. Architecture lovers will be delighted!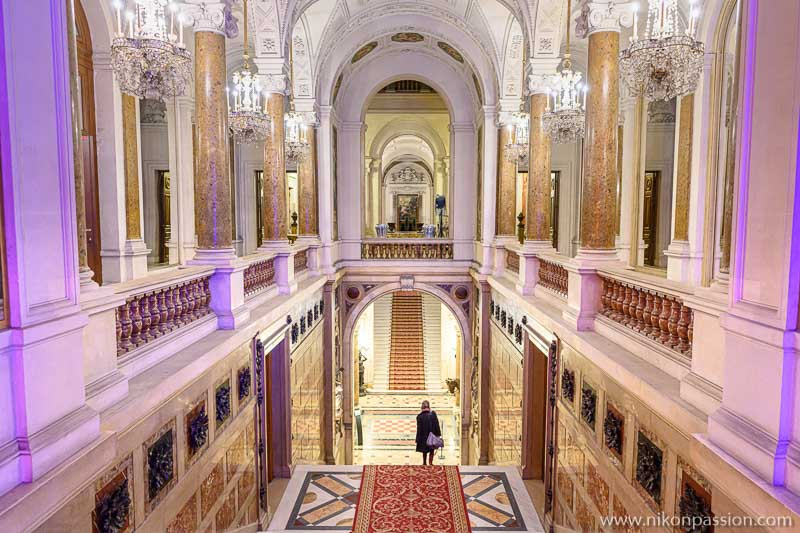 Test NIKKOR Z 24 mm f/1.8 S: 1/40th – f/3.2 – 2,500 ISO
Optical performance: color rendering, chromatic aberrations and vignetting
Let's quickly move on to colour neutrality, which is usual for this series of lenses and is in any case highly dependent on the "Picture Control" profile selected, which greatly influences the management of colour and contrast. Let's focus instead on chromatic aberrations, which are an excellent opportunity to recall the importance Nikon gives to computational imaging on its hybrids.
As a reminder, computational imaging, which consists in entrusting the computerization of the case to correct certain optical defects, is not completely new. What is, on the other hand, is to consciously develop lenses by leaving them with defects that are easy to adjust afterwards, in order to reduce production costs and thus the final price, without making any sacrifice in terms of resolving power (sharpness and homogeneity), as we saw in the previous section.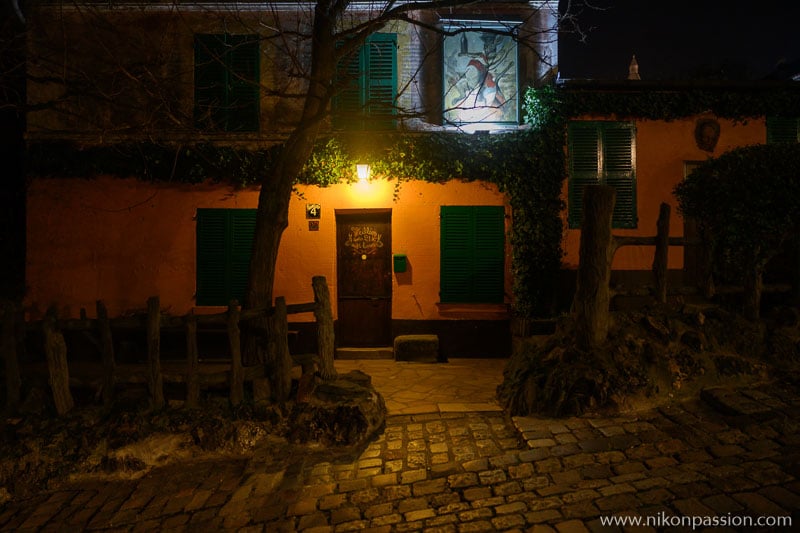 NIKKOR Z test 24 mm f/1.8 S: 1/60th – f/1.8 – 2,000 ISO
The reason I say this is because with the NIKKOR Z 24 mm f/1.8 S the corrections of chromatic aberrations directly in the housing are particularly striking and powerful, and even better than those you would get with your favorite de-raweling software.
The two examples below are very good illustrations of the internal correction of chromatic aberrations, which will appear especially in areas combining very high contrast and fine detail: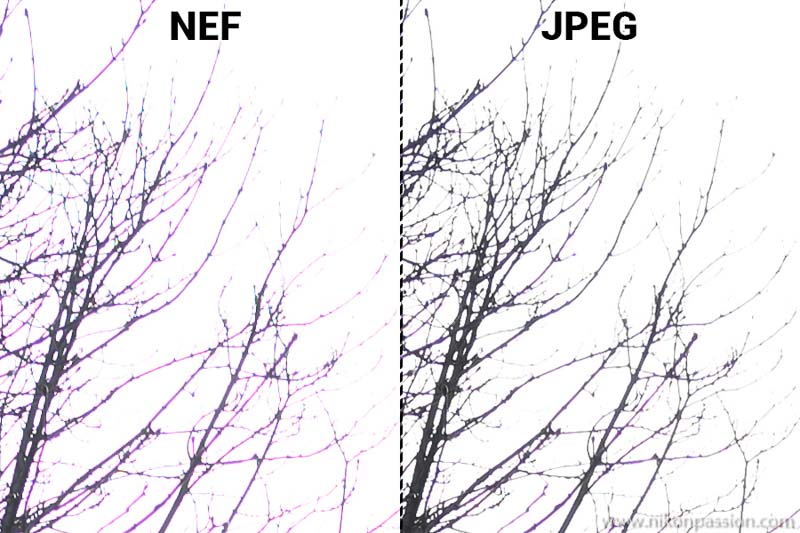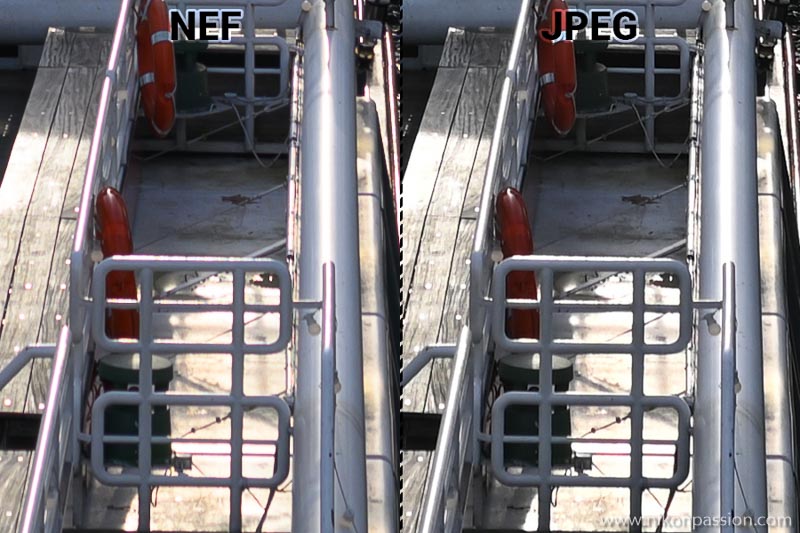 Be careful, however, these small local corrections also have an impact on the global rendering of the image. The two excerpts above come from a larger image, captured in NEF + JPEG, for which we have two versions directly produced by the camera: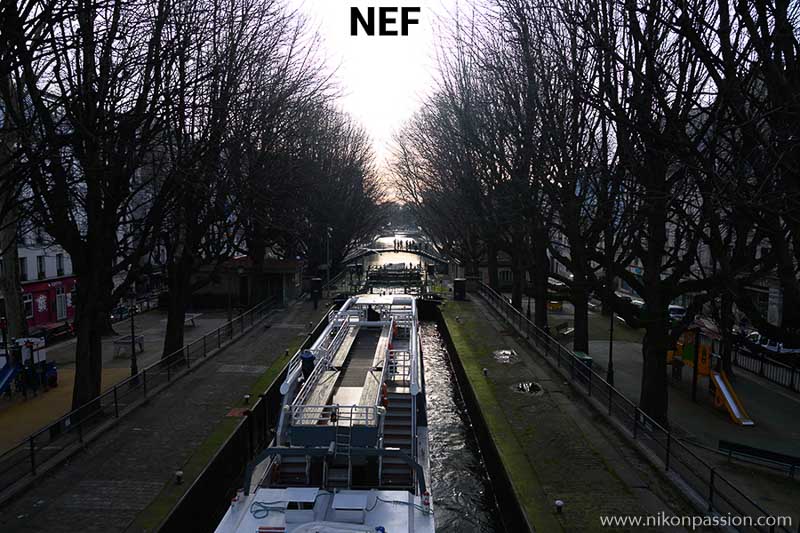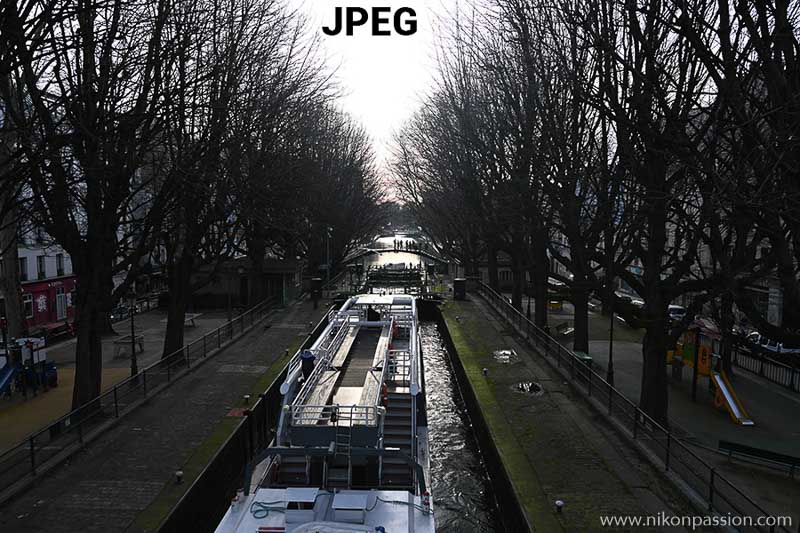 As you can see, the chromatic aberrations at the branches are clearly visible on the NEF image, with their magenta borders. In terms of exposure, this version is slightly darker but the orange shades of the sky are preserved.
In the JPEG version corrected by the box, the magenta borders have disappeared, the branches are more pleasant to look at. At the same time, the shadows have been lightened slightly, which gives a more flattering rendering. However, the orange shades of the sky have faded away.
All these variations are all the more perceptible with a 24mm which, because of its wide angle of view, captures areas of different contrasts more easily in the same frame. By extension, the different exposure modes (multi-area, center-weighted, spot) will have to be handled with care.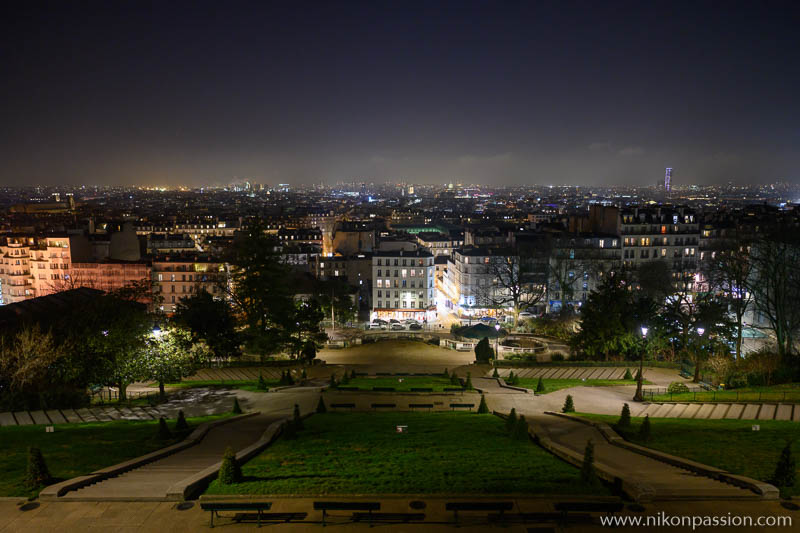 NIKKOR Z test 24 mm f/1.8 S: 1/20th – f/1.8 – 2.000 ISO
What about vignetting? This is visible at f/1.8 to f/2.8, both in NEF and JPEG, then becomes very light or even imperceptible beyond f/4. Here again, the automatic correction applied by the camera is very effective, and you can modulate the intensity according to your needs and aesthetic preferences. So there's nothing really disturbing, especially for this kind of wide angle.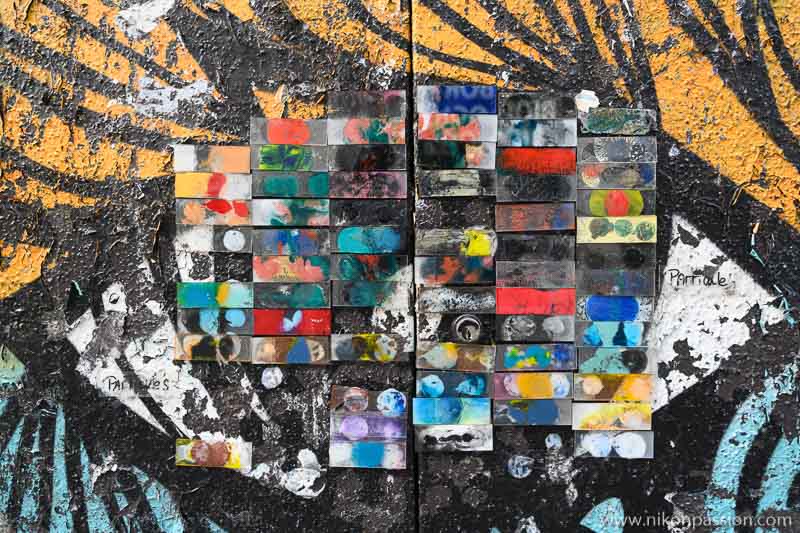 NIKKOR Z test 24 mm f/1.8 S: 1/20th – f/4 – 100 ISO
Optical rendering: depth of field
Even if it opens at f/1.8, this NIKKOR Z 24 mm S is not intended to be a king of the bokeh, especially since it has a minimum depth of field a little further away than its reflex counterparts (25 cm against 23 cm). That didn't prevent Nikon from equipping it with a 9-blade circular electromagnetic diaphragm, the new standard. The result is a very soft, sober and progressive background blur that will appeal to the widest possible audience.
Even more than with the 35, 50 and 85 mm, I would have really appreciated the presence of the same small OLED display as on the Z 24-70/2.8 and Noct-NIKKOR Z 58 mm f/0.95 to include a depth of field scale. This could have been useful for manual focusing, especially in video.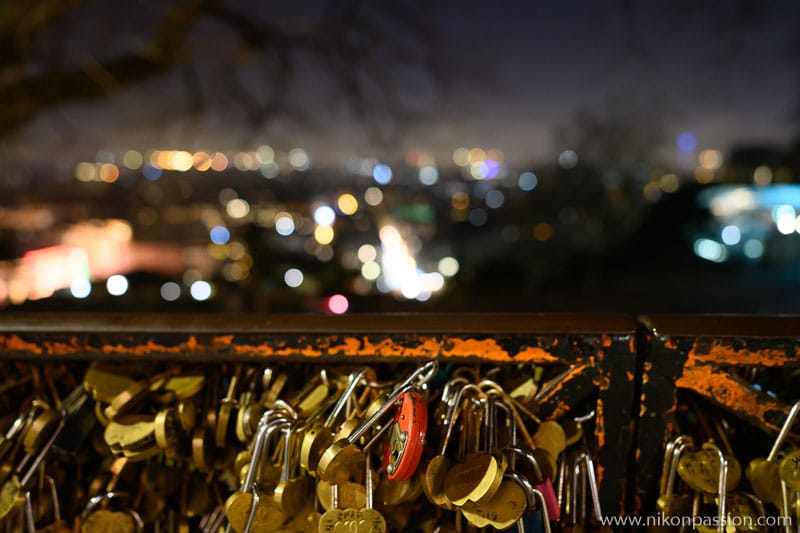 Test NIKKOR Z 24 mm f/1.8 S: 1/15th – f/2.2 – 2,000 ISO
The NIKKOR Z 24 mm f/1.8 S may be of interest to you if :
you want a 24 mm brighter than the zooms,
you are looking for a wide angle, very well corrected for reportage, architecture and/or landscape,
you wish to supplement your NIKKOR Z 35 or 50 mm f/1.8 S,
you want a 100% NIKKOR Z equipment without using the FTZ ring,
you want a 35mm f/1.8 equivalent for your Nikon Z 50 (APS-C).
The NIKKOR Z 24 mm f/1.8 S will be of less interest to you if :
you need a compact wide-angle lens (prefer the 14-30 mm zoom),
you are hoping for an f/1.4 version (not yet planned).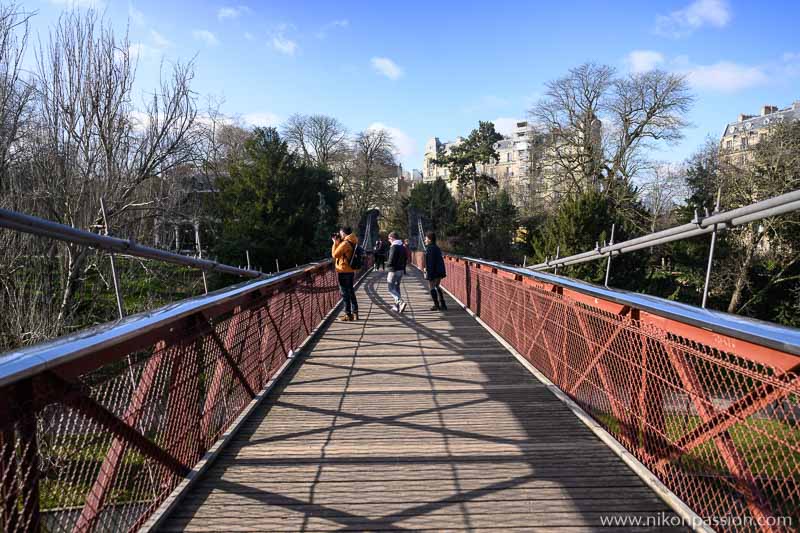 Test NIKKOR Z 24 mm f/1.8 S: 1/2.000 ème – f/2.8 – 200 ISO
All the pictures of this test in full definition on the Flickr Nikon Passion account: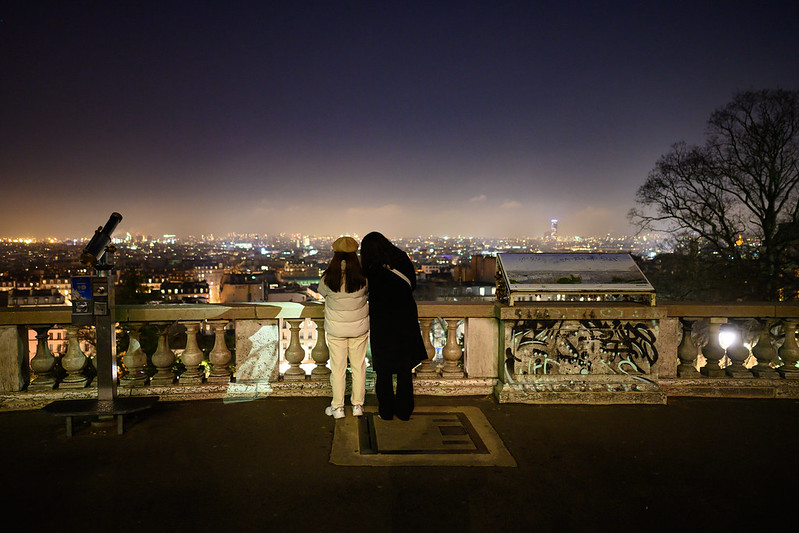 The NIKKOR Z fixed lenses of the S series follow each other, look alike, and that's good!
Once again, the NIKKOR Z 24mm f/1.8 S confirms the high level of performance of the family and prolongs the homogeneity of rendering from one lens to another. Ah, the good things about lenses of the same generation… The downside is that, just like the 35, 50 and 85 mm, the sleek ergonomics, reduced to the bare minimum, could disappoint photographers who like lenses that communicate more sensations.
Strictly in terms of optical performance, the NIKKOR Z 24 mm f/1.8 S is a welcome addition for anyone who already has the NIKKOR Z 14-30 mm f/4 S zoom lens or a fixed focal length (35 or 50 mm). The former brings brightness without duplicating the latter, while the latter expands the angle of view and photographic possibilities.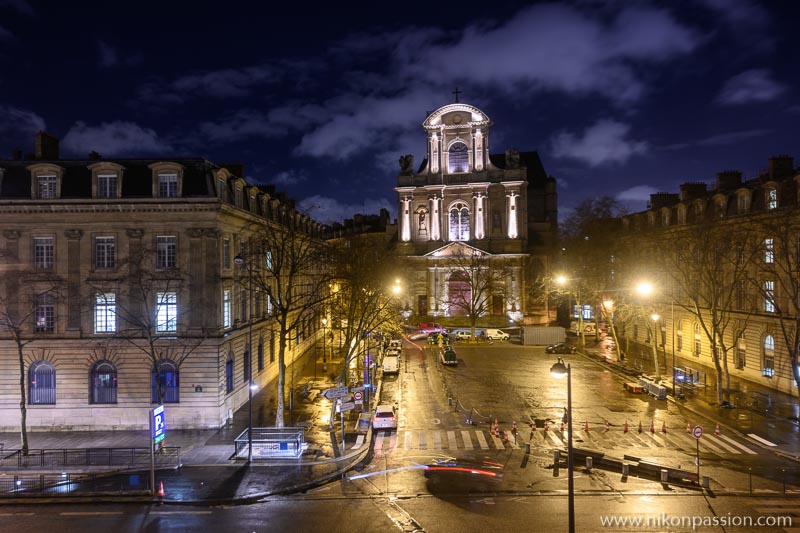 NIKKOR Z test 24 mm f/1.8 S: 3 sec. – f/4 – 100 ISO
It's great for architecture, reportage, landscape, it allows you to have fun while being efficient at the same time. However, if you already own the NIKKOR Z 24-70mm f/2.8 S, this dedicated 24mm may be duplicated and you'll lose the ergonomics and versatility that you gain in brightness, which is quickly compensated for by the effective stabilization and high sensitivities of Nikon Z FX cameras.
On a Nikon Z 50 with APS-C sensor (or any future Nikon APS-C hybrid), this NIKKOR Z 24mm f/1.8 S could be particularly interesting since it will form a 35mm f/1.8 equivalent (actually, more like a 36mm f/1.8), a standard focal length for reportage.
The APS-C sensor will also have the added benefit of not taking into account the extreme corners on which the lens is worst (slight drop in nose-down and vignetting), to keep only the best part. Beware, however, of the physical imbalance, the lens being quite big compared to a Z 50 body, and the total lack of stabilization (unless Nikon releases a stabilized Z DX hybrid soon).
Learn more about the Nikon NIKKOR Z series on the Nikon website.
this lens at the best price at Miss Digital…
this goal at the best price at Amazon …