Nikon completed its range of full-format hybrids in July 2020 with the Nikon Z 5. Very similar to the Nikon Z 6 already tested, this new Nikon Z 5 questions. It does not lack capacity and has some assets that the Z 6 does not have. In this Nikon Z 5 test, I tell you what I think of this "little Z 6", and why it might interest you if you are attracted to a full-format hybrid.
This camera at the best price at Miss Digital
Nikon Z 5 test: the context
Two years after announcing its first full-format hybrids, the Nikon Z 7 and Z 6, Nikon needed to offer an alternative to photographers who wanted to use a Nikon Z FX but were constrained by the cost of camera and lens ownership.
The Z 7 and its 45 Mp is the more expensive of the two, and addresses special needs in very high definition. The Z 6 is more versatile, very popular in video, but requires a larger budget than equivalent SLRs (e.g. the D780). A solution had to be found to accelerate the conversion rate from DSLR to hybrid, which is what all brands are looking for.
The Z 6 caused a reaction at the time of its announcement because of the obligation to use a single XQD card (or CFexpress now), the absence of a grip handle with remote controls and the absence of integrated flash. There was there matter to propose an alternative without damaging the Z 6 which should evolve by 2021.
Nikon has made the logical and judicious choice to lower the cost of ownership (different from the public rate). Requiring only a few modifications to the Z 6 to produce the Z 5, this strategy makes it possible to offer a full-format hybrid that performs almost as well as the Z 6 but costs you less. In these difficult times for our portfolios, it's a good idea.
It remains to be seen what the Z 5 has "less", you will see that according to your needs, the difference is minimal.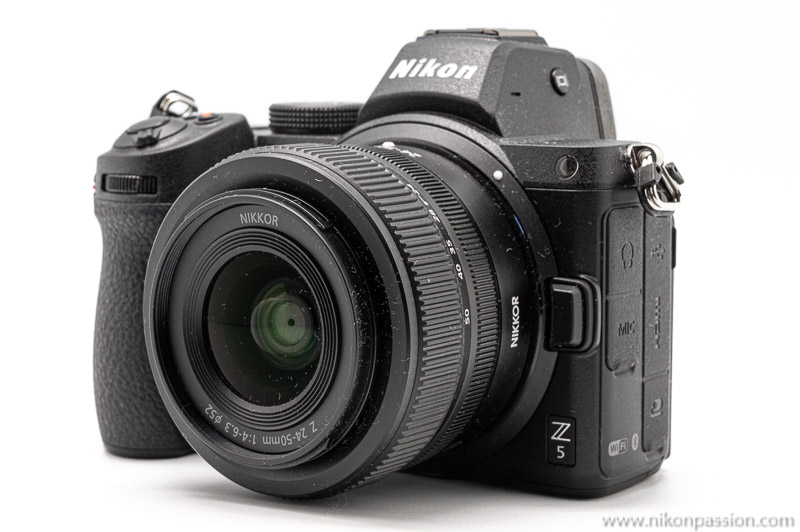 the Nikon Z 5 with the NIKKOR Z 24-50 mm f/4-6.3 zoom lens
All the photos of this test are available in full resolution on the Flickr Nikon Passion.
Nikon Z 5 test: getting started
Template and construction
Don't look for the differences in size between Z 5 and Z 6, they are the same housings. There are a few differences in the data sheets (see the Nikon Z 5 vs Z 6 comparison) but the templates are not. The weight, the size, the dimensions are in all points identical.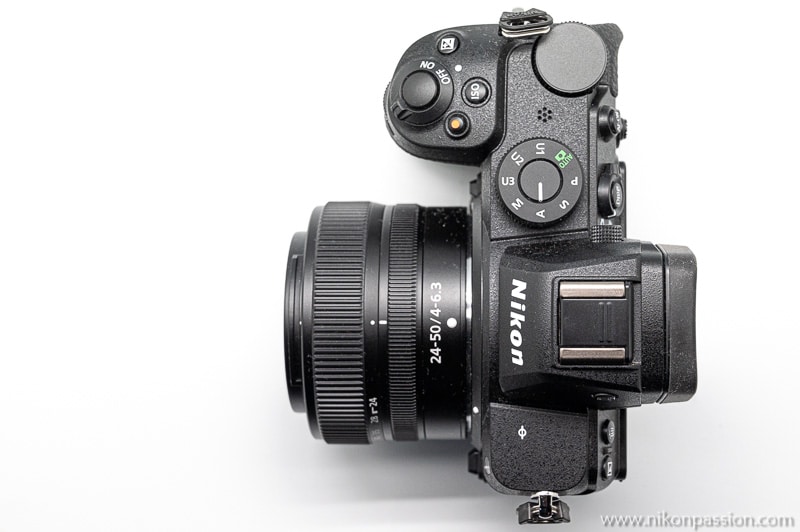 Nikon Z 5 test the exposure-mode dial and the upper keys
The construction is the same, made to resist to dust (I had the opportunity to check it during the test!!) and humidity. The Nikon Z have nothing to envy to the brand's expert reflex-pros, they are made of the same wood.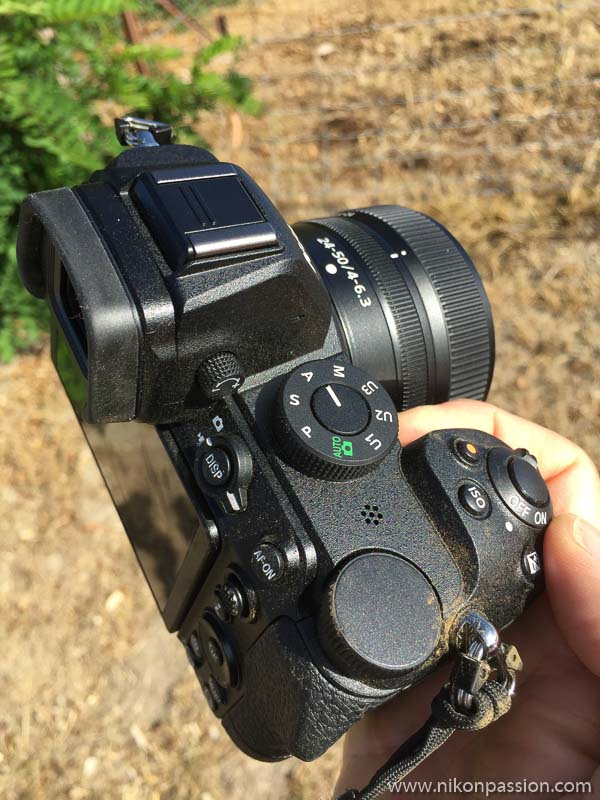 After a night in the cornfield…
Ergonomics and controls
I could almost write the same thing here as above, except that the Z 5 has no top recall screen. Curiously, Nikon took the opportunity to move the control crown on the right side, thus taking over the ergonomics of the Nikon Z 50. A characteristic trait of this range segment or technical constraint, the story doesn't say it.
Everything else is identical to the Z 6, from the rear control keys to the function keys on the front panel. If you are using a Nikon SLR you will be on familiar ground, if you already use a Z 6 you won't see the difference and if you come from the competition, you will adapt very quickly.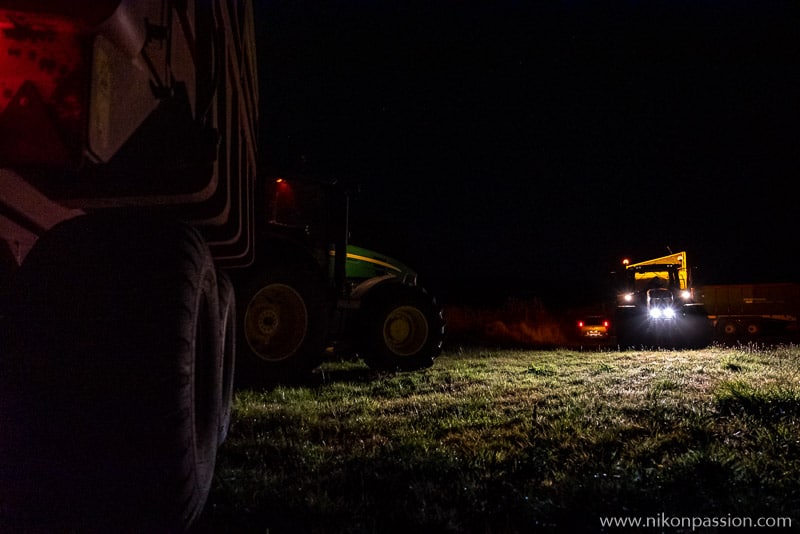 test Nikon Z 5 + NIKKOR Z 24-70 mm f/4 – ISO 12.800 – 1/20 sec – f/4 – 28 mm
The electronic viewfinder and touch screen
The electronic viewfinder is the same as the Z 6 (OLED of about 3,690,000 points). OLED technology gives the best results both in display quality and responsiveness. The optical system coupled with this electronic viewfinder allows Nikon to offer a pleasant and brighter view, far more generous than those of some APS-C hybrids, which will help you if you wear glasses.
This viewfinder takes up what makes a hybrid so interesting:
100% framing,
real-time white balance,
real-time exposure,
information on the housing settings,
framing guides in the form of a grid,
electronic level,
manual focus assist.
Having the real-time histogram in the viewfinder allows you to fine-tune the exposure, the focus peaking that fans of manual focus mode love is simple to manage, and the magnifying glass available at the touch of a zoom button lets you check the sharpness of your macro photos before you shoot.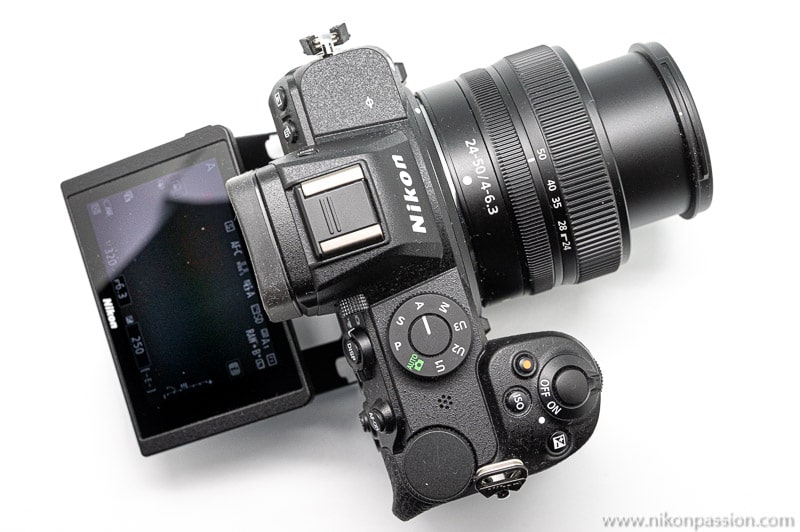 Nikon Z 5 test the tilting rear screen
It's on the side of the back screen that you have to look for differences. That of Z 5 is less defined than that of Z 6 (1.040 Mp vs 2.1 Mp), although its dimensions are the same (diagonal of 8 cm). In practice I have not noticed any significant difference in the visualization. The menu screens are perfectly readable (the definition does not count for the menu text) and the previewed images remain of excellent quality with a faithful colorimetry. Only by zooming in the image to the maximum you will see some differences, but if that's the price to pay for a more accessible hybrid, I don't mind.
This screen can be tilted but not rotated 360 degrees, just like the other single digit Nikon Zs. Only the Z 50 allows the screen to be tilted forward to shoot face-up. If that's your need, use the Nikon Snapbridge application which offers real-time image feedback on your smartphone and access to focus, exposure and shooting controls, it's the easiest way to do it.
This touch screen makes it easy to view images, scroll with your finger and zoom in like on your smartphone. Too bad Nikon doesn't offer a little more flexibility when you take pictures, I still find it too sensitive. I always find it too sensitive, and touching the screen often makes the camera shutter release too quickly.
Menus
Are you familiar with the Nikon menu structure? You will find it on the Nikon Z 5, which is also no different from the Z 6. I appreciated having access to the remaining battery life, precisely, when the Z 50 doesn't offer this display for example.
Autonomy
The Nikon Z 5 uses a new battery version, the Nikon EN-EL15c (b on the Z 6). Theoretical battery life is increased from 380 to 470 shots according to CIPA tests, which are, it should be noted, unsuitable for hybrids. The real autonomy with WiFi and Bluetooth disabled is closer to 900 frames, which I was able to verify during the test. Except for taking more than 1,000 pictures a day, you don't need to invest in an additional battery, which is good news for your budget.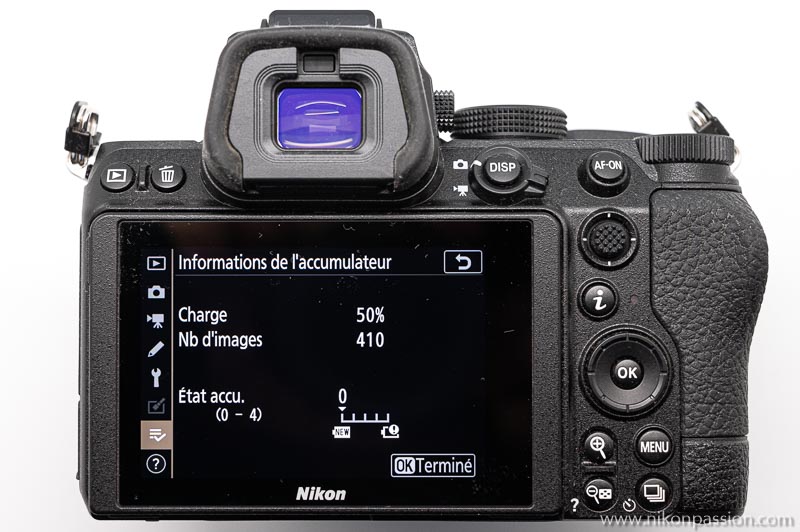 Nikon Z 5 test: indication of the half-load autonomy during my test report
The EN-EL15a batteries of Nikon SLRs are compatible with the Z 5, as well as the EN-EL15b version of the Z 6 and Z 7, so don't buy anything if you already have some. In addition, the Z 5 offers a USB charging mode with the camera body both off and on (off only on the Z 6) to give your Z 5 some power back with a portable battery.
Connections and memory card
The Nikon Z 6's unique XQD memory card will interfere. Nikon offers an interesting alternative on the Z 5 as it has a dual SD card slot. I was talking about total cost of ownership in introduction, these cards are part of it. Less expensive than the XQD or CFexpress, not requiring a dedicated reader, already in the bag of many photographers, they save you an expense of around 350 euros for two 64 Gb cards.
Prefer SD cards with a speed of 240 or 300 Mb/s, the speed of writing to the card is the important criterion in burst mode.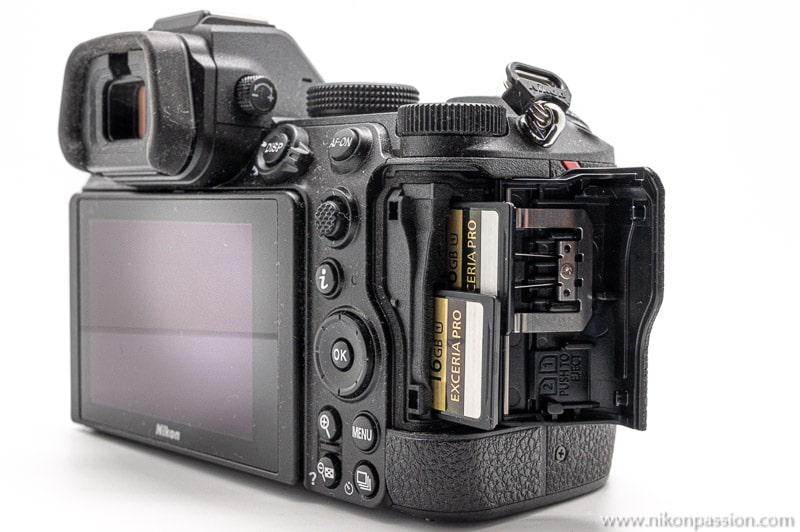 Nikon Z 5 test: SD card slot and rear controls
On the left side of the Z 5, there is a USB 3.0 Type C jack (for battery charging), a mini-HDMI jack, a remote control jack, a microphone jack, and a headphone jack.
The Nikon Z 5 offers Wi-Fi IEEE 802.11b/g/n/a/ac and Bluetooth 4.2. These two types of connections allow you to use your smartphone to share your photos as well as to process them since the RAW format is available remotely in addition to JPG with the Snapbridge application. You can also control the Z 5 remotely, with SnapBridge acting as the remote control.
Nikon Z 5 Test: Autofocus and responsiveness
Reactivity: autofocus
The Nikon Z 5 has the same autofocus module as the Z 6. Recent updates of the Z 6 with integrated human and animal Eye-AF will be released, as will possible new features in future firmwares.
The 273 collimators spread over 90% of the frame are much more convenient to use than the reduced central area of the SLRs. You can position the active collimator at the periphery of the frame without losing any of the autofocus performance. The dynamic-area AF mode uses all of the active targets, making detection even more effective.
During my night session, when it was dark and I only had the tractor lights to allow the autofocus to focus, I never had any problem detecting, the AF did. Although the Z 5 has a low-light focus mode with a lower detection threshold than conventional AF, I prefer not to use it because it slows down focusing.
test Nikon Z 5 + NIKKOR Z 24-50 mm f/4-6.3 – 4.5 fps AF-C
cropping an image from the animated sequence below
I used, as on my Z 6, Reduced Area AF mode at night and Auto Area AF mode in street photography. In one case I adjust the collimator where I really want to focus, in the other I let the body focus on the closest subject by playing with a great depth of field.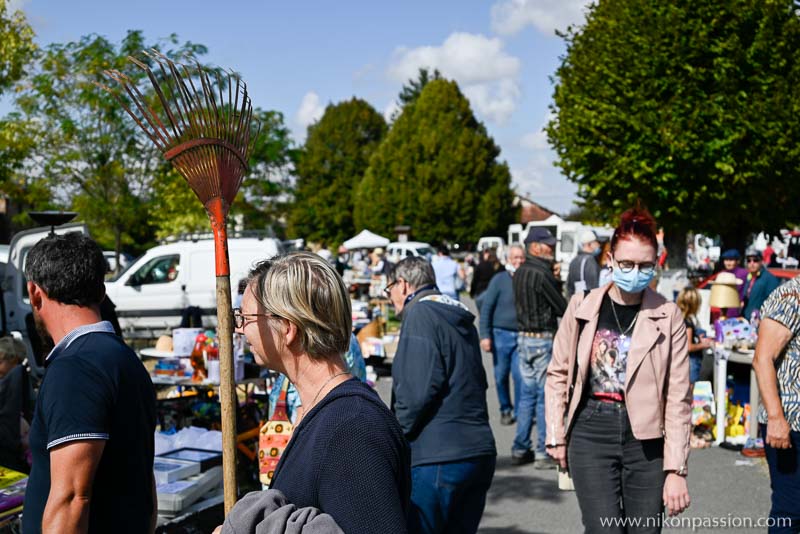 test Nikon Z 5 + NIKKOR Z 24-50 mm f/4-6.3 – AF Dynamic range
Reactivity: gusts
The burst mode of the Nikon Z 5 makes do with 4.5 frames per second when the Z 6 climbs to 12. In practice, if you're shooting landscape, portrait, studio, reportage, street, some "quiet" sports, that's more than enough.
If you're doing action photography, sports photography, and you really need 8, 10, or 12 frames per second, you need to go to Z 6. That's the limit. In wildlife photography, it's all about the animals. An elephant in the savannah will be satisfied with 4.5 fps while if you are a fan of the burst mode to photograph birds, the Z 6 will give you 12 fps and the chance to have an interesting one (the other solution is to learn how to shoot at the right time …).
During this Nikon Z 5 test, I used the burst mode to check the AF tracking at 4.5 fps. You will see in the animation below that the autofocus follows the subject without any problem. I didn't have the opportunity to evaluate this AF in a show photo (and for good reason), the one on the Z 6 gives me complete satisfaction, I have no doubt that the one on the Z 5 does the same.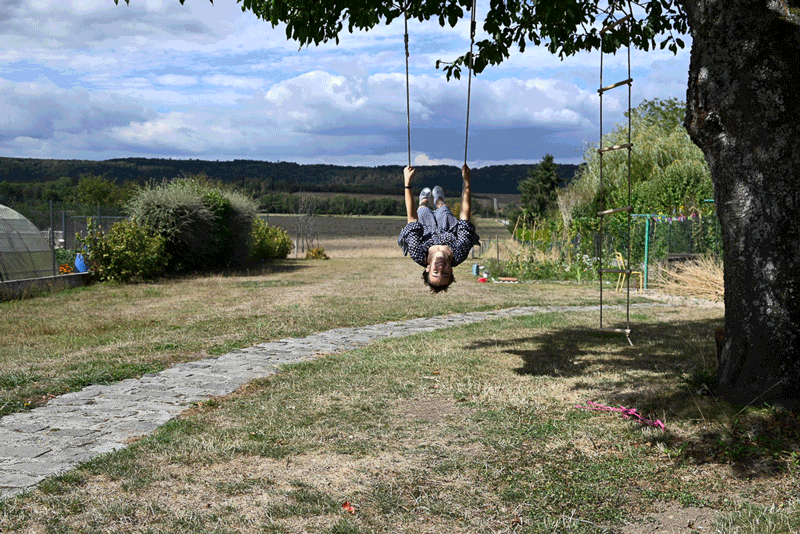 test Nikon Z 5 + NIKKOR Z 24-50 mm f/4-6.3 – 4.5 fps AF-C
The other advantage of this 4.5 fps burst mode is that it does not saturate the buffer as fast as on the Z 6. If your SD cards aren't the fastest, that's always a win.
Nikon Z 5 Test: Image Quality
Increase in sensitivity
The Nikon Z 5 has an FSI CMOS sensor that is theoretically a little less powerful than the Z 6's BSI CMOS sensor. This BSI technology is supposed to offer better sensitivity. It is therefore the same principle as between the D750 (FSI) and D780 (BSI), except that the sensor of the Z5 is at the same level as the D780.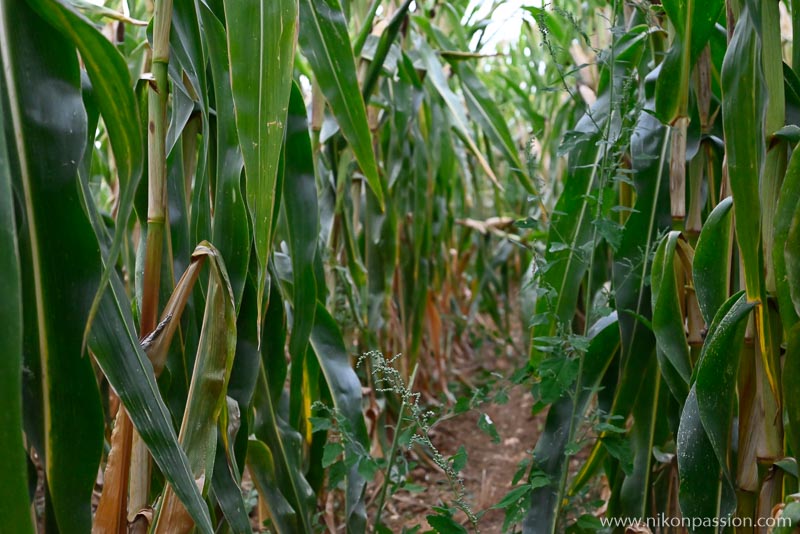 test Nikon Z 5 + NIKKOR Z 24-50 mm f/4-6.3 – ISO 6.400 – 1/2.500 sec – f/6 – 44 mm
In practice and after using the Nikon Z 5 for several days, including a very demanding night session, I don't notice any difference between ISO 100 and 6,400. That doesn't mean that there isn't one, but you won't see them with the naked eye.
At ISO 12.800 the Z 5 still behaves very well, my night report at this sensitivity shows good results, the Z 6 couldn't have done better.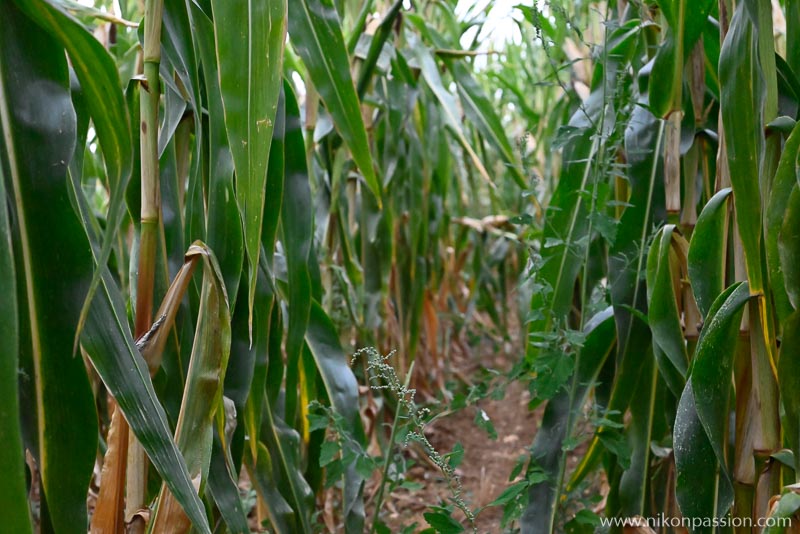 test Nikon Z 5 + NIKKOR Z 24-50 mm f/4-6.3 – ISO 12.800 – 1/5.000 ème de sec – f/6 – 44 mm
Above ISO 12,800, the Z 6 wins by a short head as it gains maximum sensitivity in extended mode, but let's be clear, these values are not usable in photography. They are used by scene recognition specialists whose priority is not detail in the image but the detection of light and dark areas.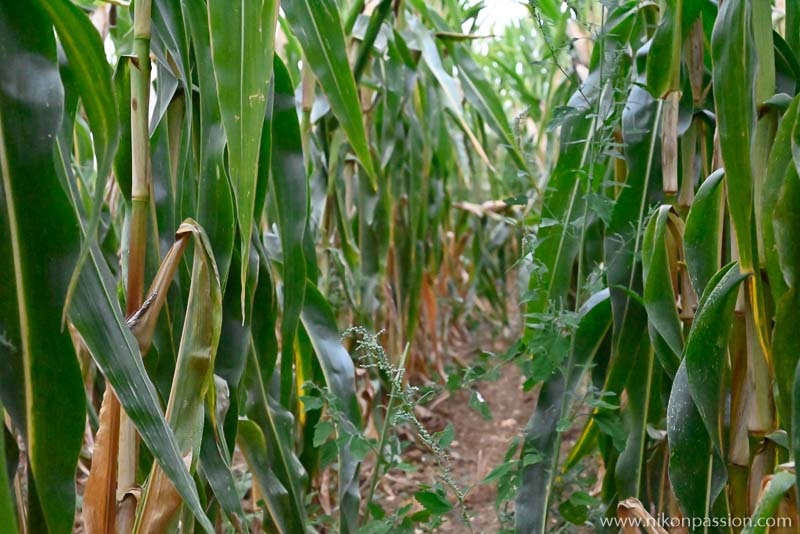 test Nikon Z 5 + NIKKOR Z 24-50 mm f/4-6.3 – ISO 25.600 – 1/8.000 ème de sec – f/6 – 44 mm
In practice, it is better not to exceed ISO 12,800 for optimum quality, ISO 25,600 for images at the limit, when the Z 6 can go up to ISO 51,200, very high values for specific conditions. This said, shooting at ISO 12,800 is already a performance, it allows to compensate for the small aperture of the NIKKOR Z 24-50 mm (see below).
All the photos of this test are visible in full definition.
Nikon Z 5 Test: Image Stabilization
"On the Z 6, the stabilization is so good that it justifies offering a basic zoom "only" opening at constant f/4. »
This sentence from the Nikon Z 6 test is also valid for the Z 5. The In Body Image Stabilization (IBIS) is the same, on 5 axes. The definition of 24 Mp, less demanding than the 45 Mp of the Z 7, makes it possible to photograph freehand up to a quarter of a second.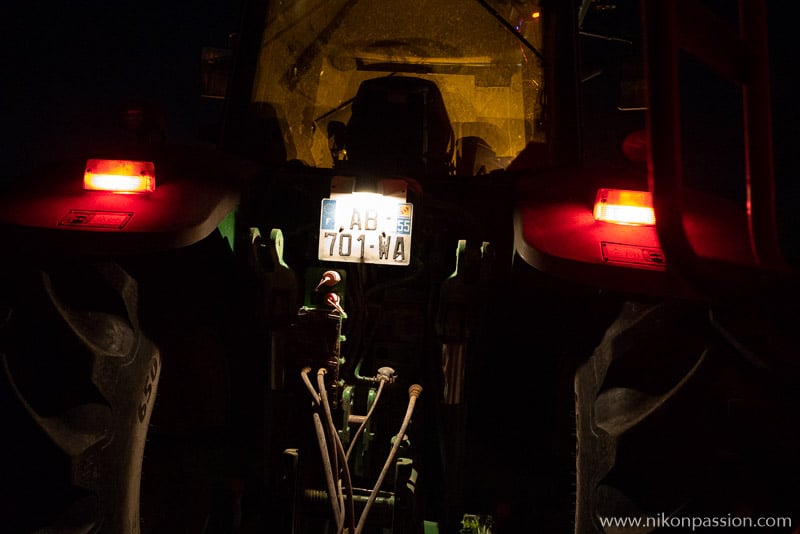 test Nikon Z 5 + NIKKOR Z 24-70 mm f/4 – ISO 12.800 – 1/4 sec – f/4 – 33.5 mm
This Nikon stabilization is probably one of the greatest benefits of switching to a hybrid, which you will quickly appreciate in the field.
Fast and silent shut-off
I don't forget the possibility to use the Nikon Z 5 in silent mode since it also has an electronic shutter. I use this mode in show photography and several fellow photographers have already come to see me to question me because the noise of the SLR is no longer accepted on stage, or so little. If this is your need, you have the solution.
In terms of pure performance, note that the Z 5 has a mechanical shutter and an electronic shutter, both of which go up to 1/8,000 s. The electronic shutter could go higher, it is the case with some competitors, but it remains to find the uses, they are not so common.
test Nikon Z 5 + NIKKOR Z 24-50 mm f/4-6.3 – ISO 450 – 1/250 ème de sec – f/9 – 43 mm
If like me you like street photography in the evening or at night and you need to shoot discreetly, you have a solution that makes sense.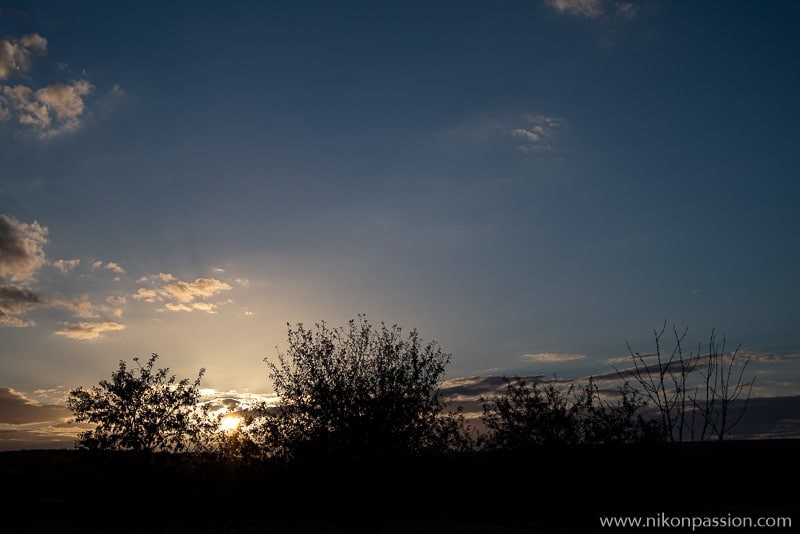 test Nikon Z 5 + NIKKOR Z 24-50 mm f/4-6.3 – ISO 100 – 1/1,600 sec – f/10 – 50 mm
Test Nikon Z 5: video
Simply put, if video mode is what you're worried about because you're shooting pro videos, forget about Z 5 and choose Z 6. The Z 5 marks the step with a crop x 1.7 while the Z 6 is a full frame. It is limited to 60p while the Z 6 climbs to 120p. For the rest everything is similar:
N-Log recording mode (for a "flat" rendering facilitating calibration),
10-bit recording,
TimeCode,
HDMI jack and external recorder.
Amateur video in Full HD or 4K is still possible, you just have to take into account the cropping.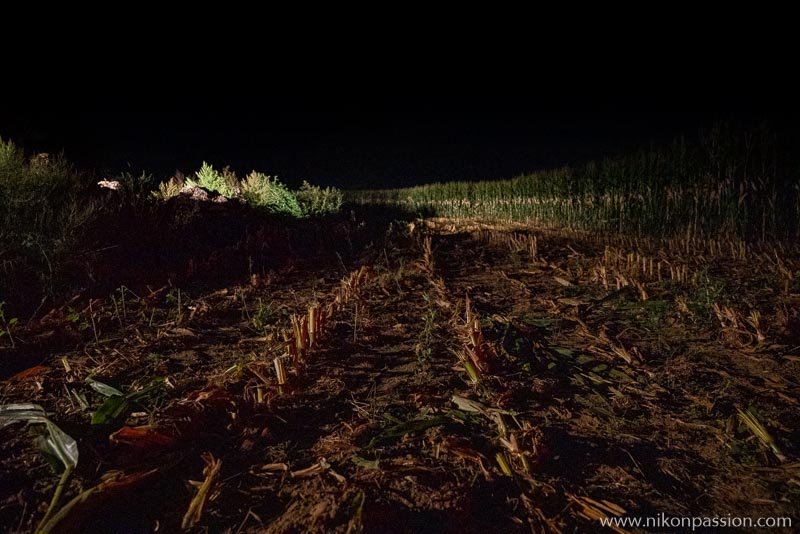 test Nikon Z 5 + NIKKOR Z 24-70 mm f/4 S – 24 mm – ISO 12.800 – 1/8 sec. – – f/4
Recording is done in h.264 and the box generates .mov or .mp4 files. Three rates are available in 4K: 30p, 25p and 24p. Two types of Full HD are available. The "classic" Full HD, with 60p, 50p, 30p, 25p and 24p, and the "slowed down" Full HD in 30p 4x, 25p 4x and 24p 5x.
I refer you to the Nikon Z 6 test to learn more about the video mode of the Nikon Z hybrids.
NIKKOR Test Z 24-50 mm f/4-6.3
The Nikon Z 5 is (still) sold as a kit with the NIKKOR Z 24-50mm f/4-6.3 zoom lens. Nikon wanted to ease the transition to full-format hybrid by providing an affordable Z-mount zoom lens. But what's a good idea in the brain of a Japanese marketing manager is not necessarily a good idea in the brains of French customers.
This zoom is not "bad", that's not what I blame him for. It's not even that bad for an entry-level zoom. But its focal range and maximum aperture are of little interest, while its polycarbonate mount construction is less robust than the S series.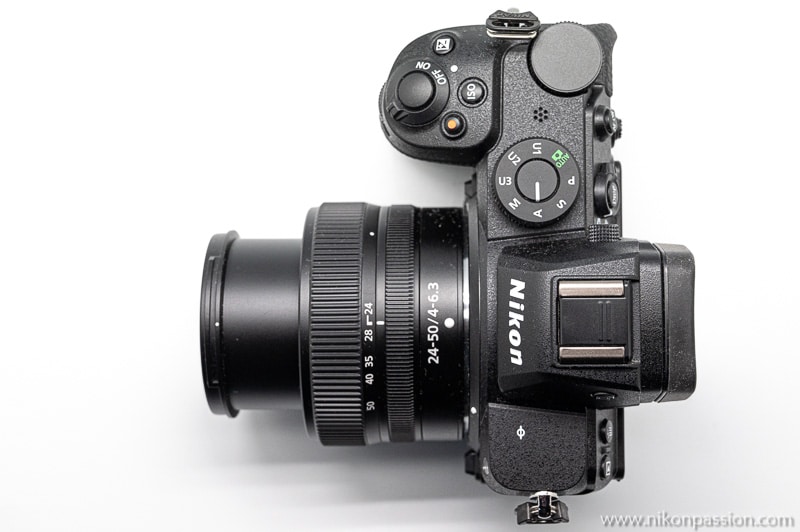 NIKKOR Z 24-50 mm f/4-6.3 to 24 mm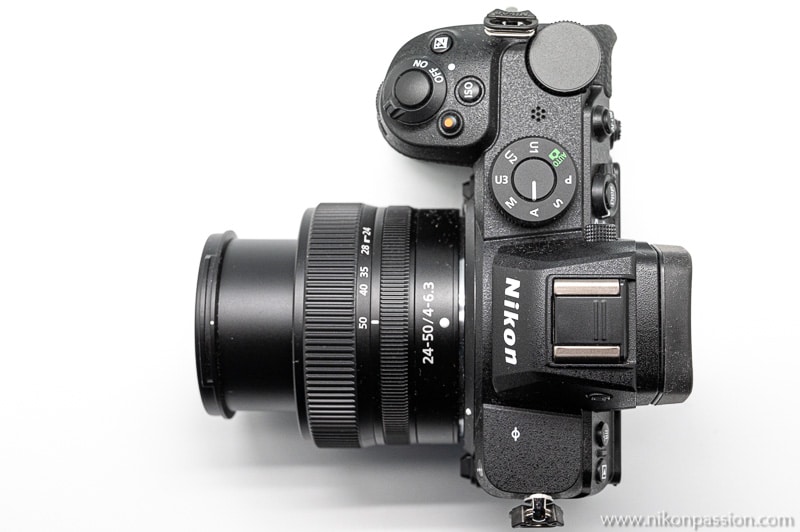 NIKKOR Z 24-50 mm f/4-6.3 to 50 mm
It is neither a wide-angle zoom (like the NIKKOR Z 14-30 mm), nor a reportage zoom (like the NIKKOR Z 24-70 mm f/4), nor a portrait zoom (50 mm is too short), nor a movie zoom (this is not the subject with the Z 5). So it's a zoom for … try the hybrid. A tactical choice that is difficult to justify when there are so many high-performance lenses in the Nikon range.
If I had the time, I would offer the naked case complete with kits with :
a NIKKOR Z 24-70 mm f/4 whose performances are excellent (I used it for night photos),
a NIKKOR Z 24-200 mm f/4-6.3 with the same range of openings but with the merit of climbing to 200 mm.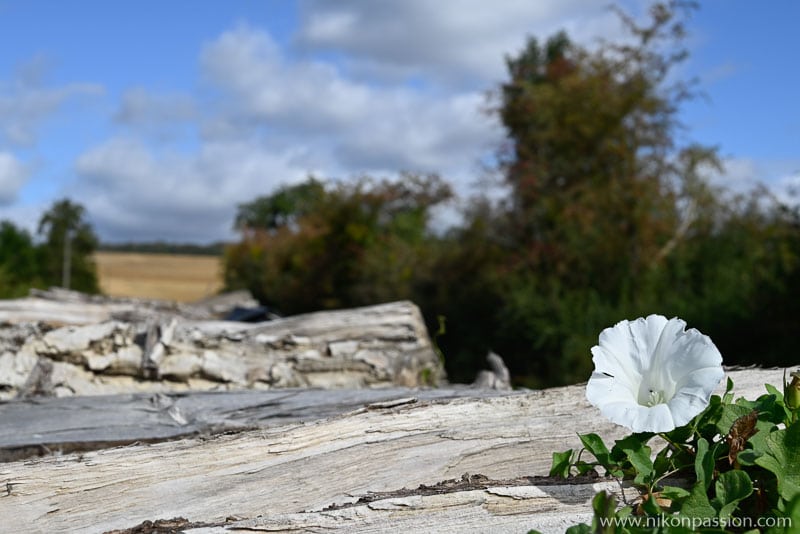 test Nikon Z 5 + NIKKOR Z 24-50 mm f/4-6.3 – ISO 400 – 1/800 ème de sec – f/13 – 46 mm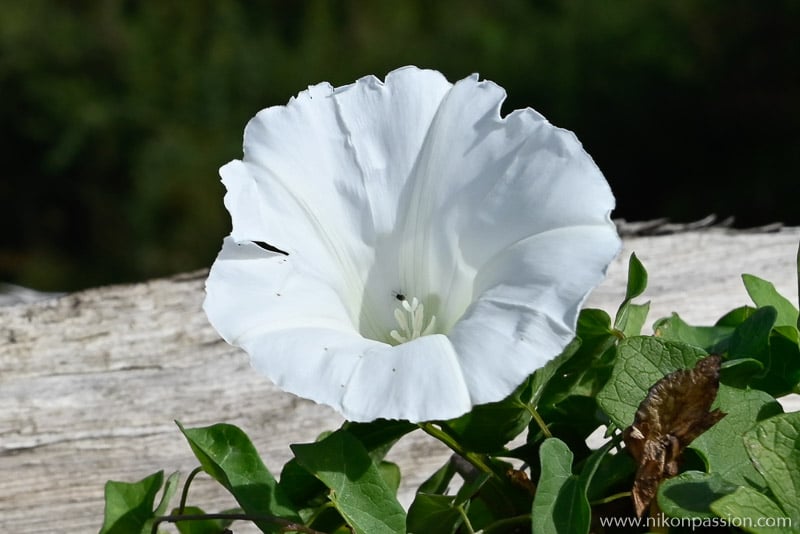 crop of the photo above (native JPG)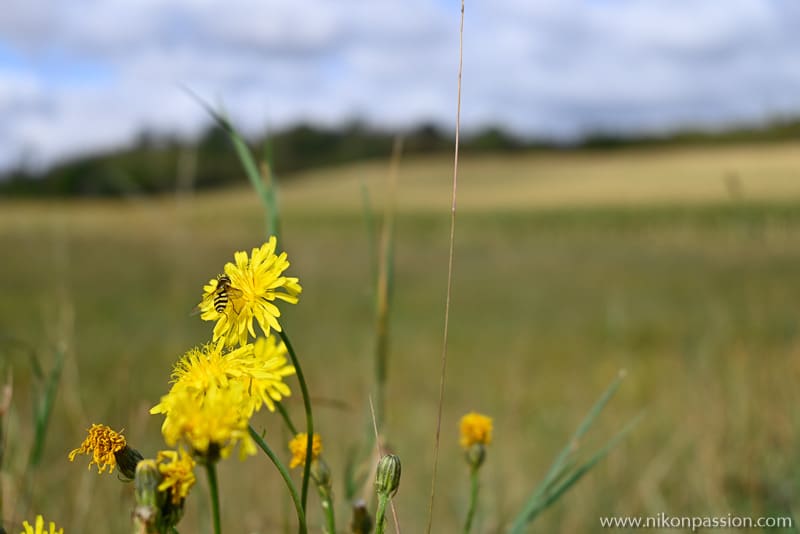 test Nikon Z 5 + NIKKOR Z 24-50 mm f/4-6.3 – ISO 100 – 1/500 sec – f/6.3 – 50 mm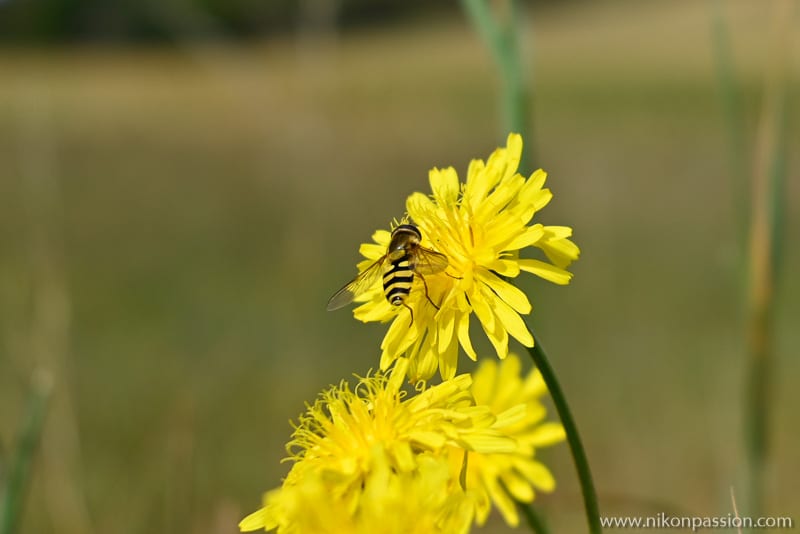 crop of the photo above (native JPG)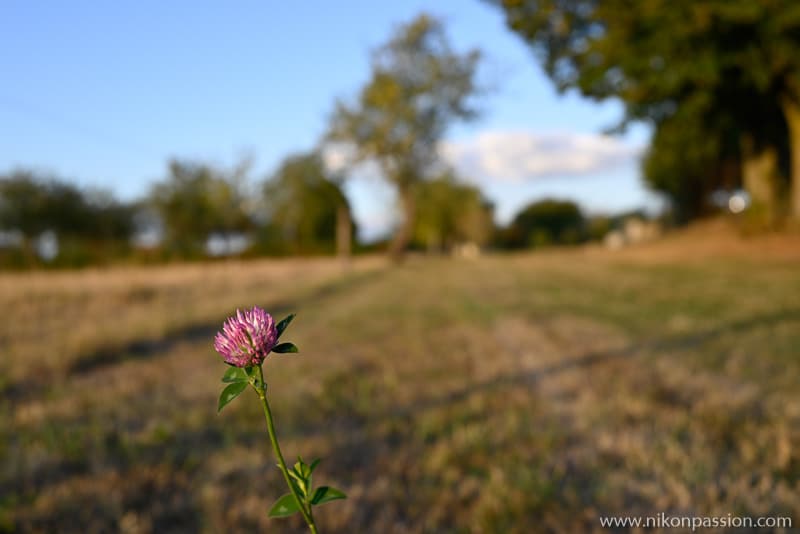 test Nikon Z 5 + NIKKOR Z 24-50 mm f/4-6.3 – ISO 100 – 1/100 sec – f/6.3 – 36 mm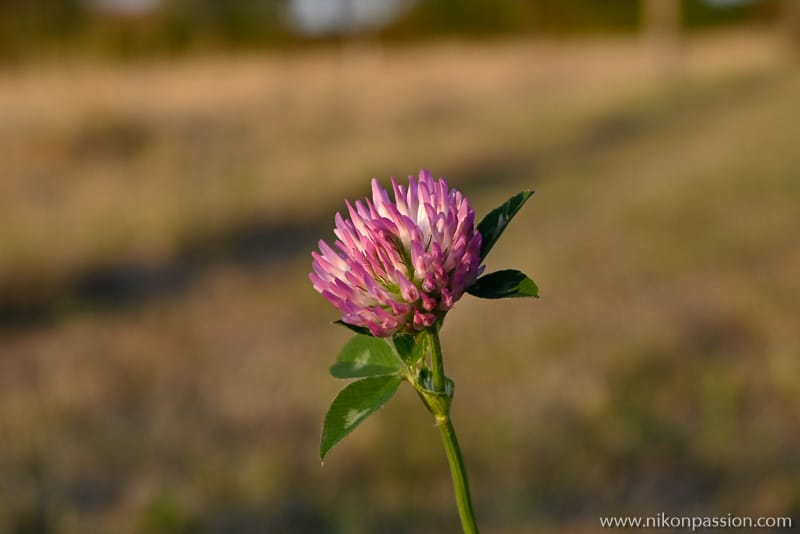 crop of the photo above (native JPG)
I don't doubt that Nikon will sell this naked camera hybrid very quickly, so don't rush to the 24-50mm kit unless you don't have any NIKKOR Z lenses (see why you should choose them) and are interested in this mount and focal range. In this single case, the NIKKOR Z 24-50 mm f/4-6.3 is a very affordable choice before considering, why not, a fixed focal length as a complement.
Nikon Z 5 test: for whom and what uses
I have listed below some common needs, this list is personal, it only commits me, but can serve as a starting point to make your choice.
You may be interested in the Nikon Z 5 if..:
you want to take the step from DSLR to full-size hybrid without leaving the Nikon brand,
you already have a fleet of F-mount lenses, especially unstabilized ones, that you would like to rediscover,
you are looking for a versatile case, at ease in all conditions, reportage, travel as landscape or nature,
you often photograph in low light,
you want a significant upgrade from your D700, D600/610, D750 as well as your APS-C D7200/D7500/D500,
you have a limited budget (and a stock of SD cards),
you're not a nikonist but are looking for a 24 x 36 mm hybrid that's powerful and affordable.
You won't be so interested in the Nikon Z5 if..:
you have a real need for very high definition (then prefer the Z 7),
you have professional video requirements (then prefer the Z 6),
Switching to XQD/CFexpress cards does not bother you,
you want Nikon's top-performing 24MP full-format hybrid.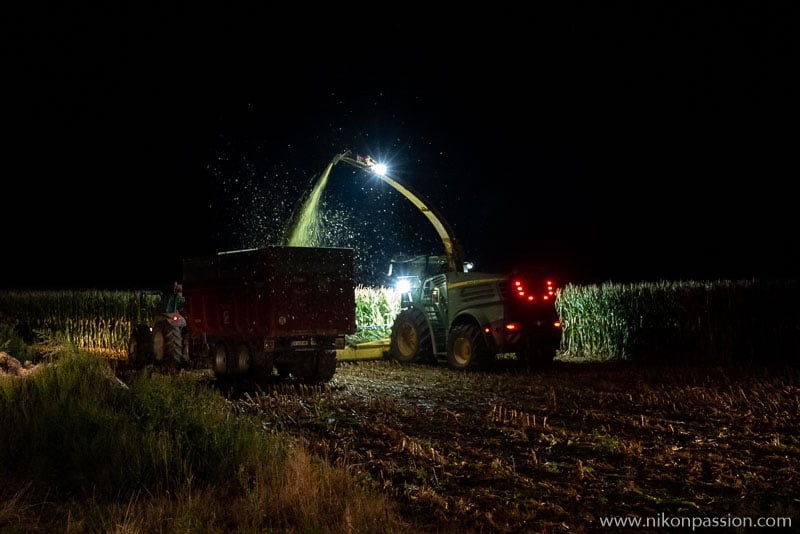 test Nikon Z 5 + NIKKOR Z 24-70 mm f/4 – ISO 12.800 – 1/40 sec – f/4 – 34 mm
Nikon Z 5 test: conclusion
As this Nikon Z 5 test shows, the full-format "entry-level" hybrid is worth much more than that appellation. Playing on a par with the Z 6 in most respects, marking the step only in terms of its rear screen definition, lack of a top recall screen, video cropping and very high sensitivity, the Z 5 is more than a very good compromise, it's the body to consider first when switching to a full-format hybrid.
More affordable if you calculate the total cost of ownership (body + accessories), it could well dethrone the Z 6 in its current version before a hypothetical Nikon Z 6s appears with a dual SD+XQD slot (I have no info).
Although compatibility with older non-AI Nikon lenses is not guaranteed, I would almost compare the Z5 to the late Nikon Df, a body made for "pure photography" capable of the best performances.
I didn't have enough time to do a longer Nikon Z 5 test and diversify the shots, but using the Z 6 on a daily basis, I have no doubt that the Z 5 responds in the same way. I've already stopped using my D750 in favor of the Z 6, the Z 5 just confirms the fact that Nikon has an interesting base for the future. I can't wait to see even more muscular Z's, capable of holding their own against the competitors, the year 2021 should be interesting!
This camera at the best price at Miss Digital