Barely a year after its thunderous entry into the world of 24 x 36 mm sensor hybrids, Nikon is now offering the APS-C version. The new Z 50 uses the same Z-mount as its predecessors Z 6 and Z 7 but accommodates a more modest imager. Here is the test of the Nikon Z 50 with its 16-50 mm zoom lens.
Nikon Z 50 kits at Miss Digital…
Nikon Z 50 kits at Amazon …
The Nikon Z 50 is priced at 999 € naked or 1039 € in kit with a riquiqui NIKKOR Z DX 16-50 mm f/3.5-6.3 VR, it's this second version that I tested in the field. Note that there are other kits available:
a double kit Z 50 + 16-50 mm + NIKKOR Z DX 50-250 mm f/4.5-6.3 VR at 1349 €,
a Z 50 kit + FTZ ring allowing the use of F-mount SLR lenses at 1089 €,
a kit Z 50 + 16-50 mm + FTZ at 1199 €.
From a technical point of view, the Nikon Z 50 takes the look of its big brothers and some of their technologies… with a few compromises to keep costs down.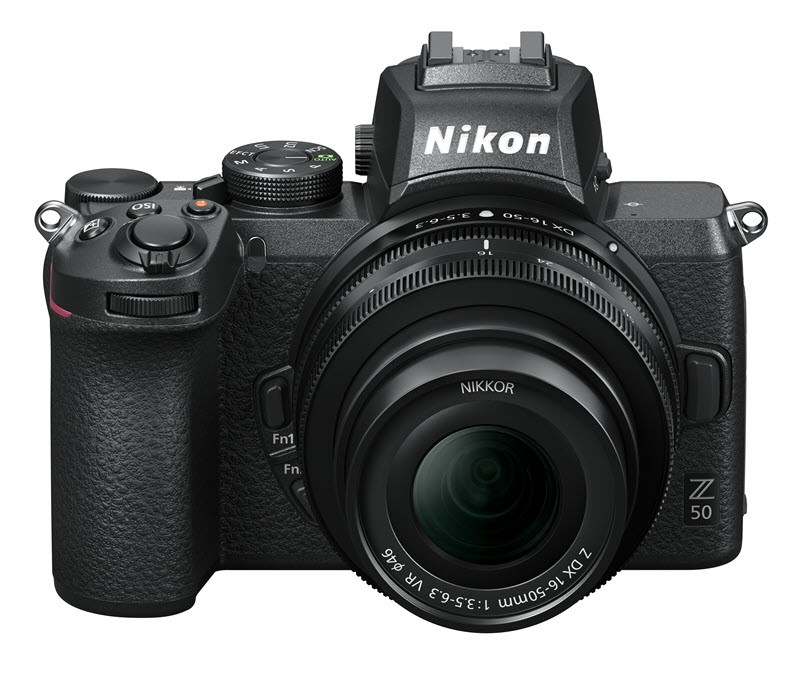 the Nikon Z 50 with the NIKKOR Z 16-50 mm f/3.5/6.3 VR zoom lens
The APS-C CMOS sensor has a resolution of 20.9 million pixels. Note, by the way, that, although modest by today's standards (the average is 24 MP), it is still a higher resolution than DX cropping on a Nikon Z 7 (see our comparison between Z 6 and Z 7, chapter " "). Nikkor DX lenses on Nikon Z 6 and Z 7 ». This is a "simple" CMOS, not a backlit BSI CMOS.
Another absence: mechanical stabilization point of the sensor on 5 axes in the Z 50, the stabilization is strictly optical (the two NIKKOR Z DX zooms already announced are "VR").
The AF module is inherited from the Nikon Z 6, slightly castrated, but still features 209 collimators, with 90% coverage of the sensor surface. Not bad! Just like its big brother, the Z 50 has a "low-light" AF mode that extends sensitivity from -4 to +19 EV (-2 to +19 EV with this function turned off).
ISO sensitivity is in the current standard: from ISO 100 to 51,200 as standard, expandable to ISO 50 and 204,800!
On the video side, the Nikon Z 50 is in line with the competition, offering Full HD at up to 120p and 4K/UHD at 30p, with, as with its big brothers, the good taste of shooting in this definition without cropping since it uses the full width of the sensor, which is rare at this level of range.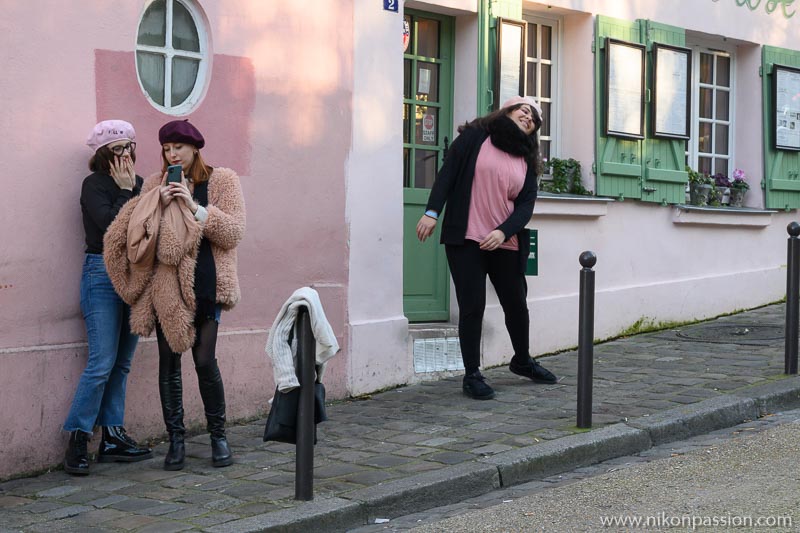 Test of the Nikon Z 50: 50 mm – 1/320 sec. – f/6.3 – ISO 800
Finally, the Z 50 features WiFi, low-power Bluetooth, a touch screen that can be rotated 180° from below and a 2.36 million dot OLED viewfinder.
Storage is no longer entrusted to XQD but to the more classic (and less expensive) SD, still with a single slot, but strictly UHS-I. Note that this is the very first Z box with an integrated pop-up flash.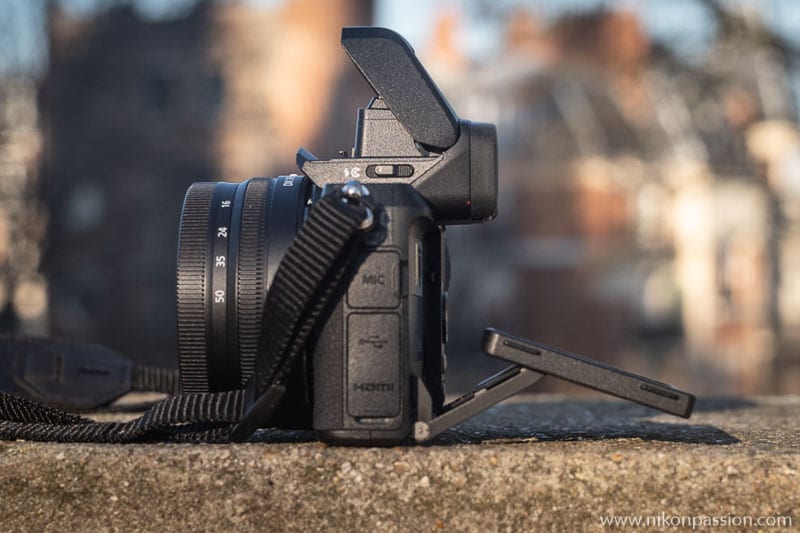 tilting screen and built-in flash for the Nikon Z 50
The background: APS-C in a Nikon hybrid, at last! But it's going to be a tough battle
When Nikon introduced its 24 x 36mm hybrids in the summer of 2018, not one observer failed to point out how far behind the yellow team was Sony (on the market since 2013), and how fierce the battle was going to be against Canon and Panasonic, both of whom drew their own offerings almost simultaneously.
If this was a more than wise remark with regard to the 24 x 36 mm, then what about the APS-C?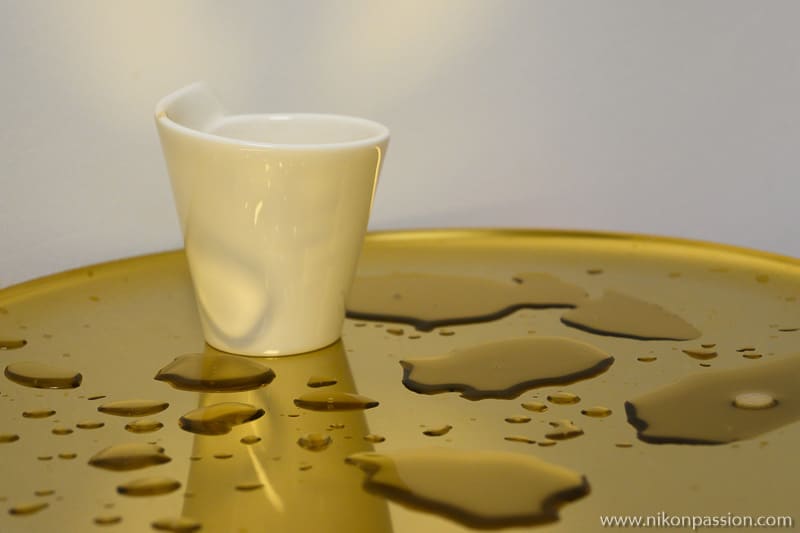 Test of the Nikon Z 50: 50 mm – 1/60 sec. – f/6.3 – ISO 500
Indeed, the Z 50 is, no more and no less, Nikon's very first APS-C hybrid. It was not until 2019! By way of comparison, and as a historical reminder, we owe Epson the very first APS-C "hybrid" (the R-D1, as early as 2004). Remember that, in their modern form, hybrids with an APS-C sensor arrived in 2010 (Sony NEX-3, Sony NEX-5, Samsung NX), Fujifilm drew its X-Premium hybrids in 2011, Canon drew its EOS-M in 2012 and even Leica and its T (Typ 701) went from its proposal in 2014.
To say how patient aficionados hoping for a Nikon hybrid APS-C must have been. The same aficionados who, knowing their history at their fingertips, will have good reason to recall the Nikon 1 episode (2011-2018), but only around Type 1 sensors". Nothing to do, therefore, with APS-C.
But why this little contextualization? Because, much more than a "bottom-up" version of the Z 6 and Z 7, whose prices are aimed more at an expert to professional clientele, the Z 50 launches itself into the highly disputed melee of the €1,000 photo cameras, for which there is already a plethora of offers. The offer is already overflowing:
APS-C hybrids (the heirs of the previously mentioned lines, i.e. the Sony A6400, Canon EOS-M6 Mk II, Fujifilm XT-30),
APS-C SLRs (Nikon D7500, Canon EOS 90D, Pentax KP),
Micro 4/3 hybrids (Olympus OM-D E-M5 Mk III, Panasonic Lumix G90),
expert compact sensors with Type 1 ", 4/3 " and even APS-C (which I will not detail).
In short, it's a bit of a rush, and for those looking to equip themselves for the equivalent of a minimum wage, the Nikon Z 50 had better make a serious case for attracting the barge! But by the way, which photographer(s) is it intended for?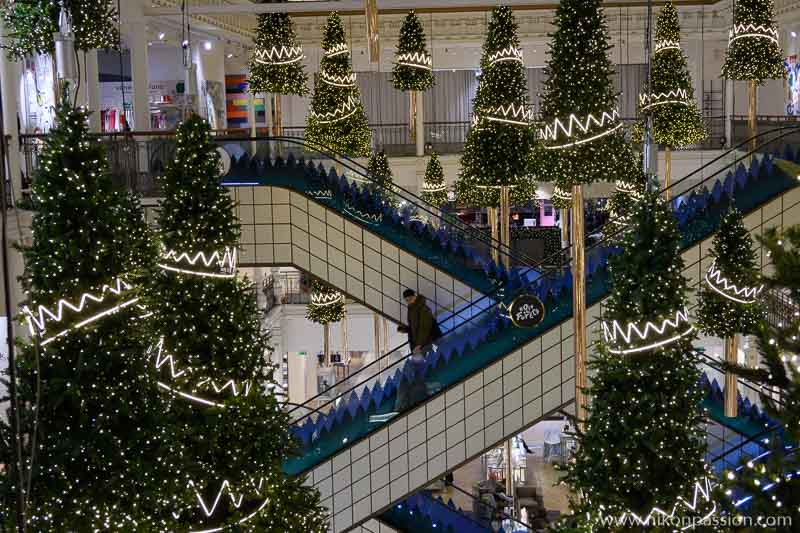 Test of the Nikon Z 50: 34 mm – 1/60 sec. – f/5 – ISO 500
Who's the Nikon Z 50 for?
« For those who have about 1000 € to invest in photographic equipment Since "no" is not an acceptable answer, let's consider two main categories of potentially interested photographers: on the one hand, those already equipped by Nikon, and on the other hand, those not already equipped by Nikon.
If you are already equipped with Nikon
The Z 50 is, for the moment, the only Nikon Z-mount camera that allows you to experience the joys of hybrid (light weight, small footprint, electronic viewfinder, uncompromising on-screen shooting, compatibility with Z and F lenses, advanced autofocus, etc) for a budget well under €2000. In fact, it's a good bet that the basic kit, at 1149 € at launch, will quickly end up at around 1000 €. This compares to the current €1750 required for a naked Nikon Z 6…
The Z 50 is, from a technical point of view, the missing link between two reflex cameras: the D5600, intended for the general public, and the D7500, intended for a more expert audience. It can then be the opportunity to move up the range without rhyming with a more imposing body. Quite the contrary!
By the way, a little spade at Canon, but it's not free. On the other hand, the eternal red competitor also offers APS-C hybrids (the EOS M) and 24 x 36 mm (the EOS R), for which it requires the use of two totally different and strictly incompatible mounts, EOS-M and RF mounts respectively.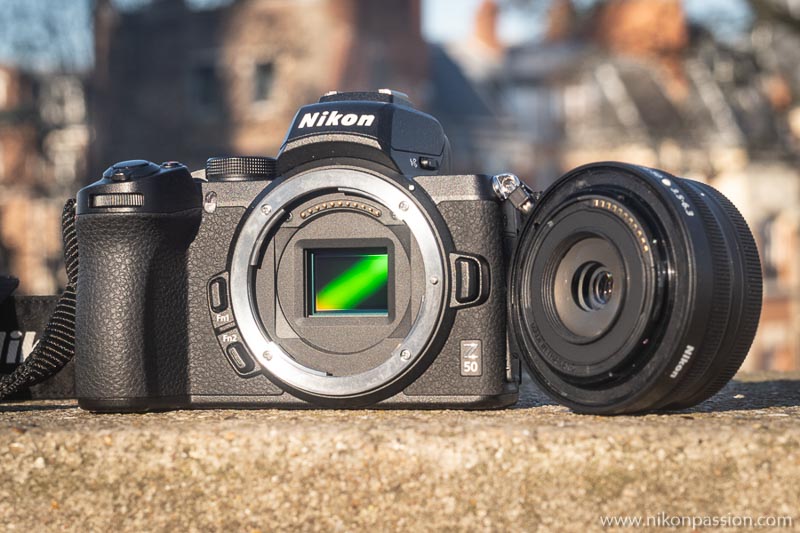 Nikon's full-format hybrid Z-mount equips the Nikon Z 50 APS-C
note that the easily accessible sensor facilitates dust cleaning
unlike DSLRs, whose sensor is housed at the bottom of the DSLR chamber.
Nikon, like Sony, has the good taste to use one and the same mount for its APS-C and 24 x 36 mm hybrids, in this case the (technically) desirable Z-mount. This has the great advantage that lenses intended for 24 x 36 mm Z-mount cameras can be used on APS-C sensor cameras, and vice versa (by means of a crop, automatic).
Similarly, the FTZ ring, which allows an F-mount SLR lens to be used on a Z-mount hybrid, is compatible with both a Z 6/Z 7 and a Z 50 (and vice versa). If you already own one, there's no need to reinvest!
In other words, if you already own a Nikon Z 6/Z 7 and Z-mount lenses, you can easily use them on a Z 50, which you can then use as a secondary body. On the contrary, if you start with a Z 50 and move on to a 24 x 36 mm hybrid, you will be able (with the cropping mentioned above) to use your DX lenses on an FX body. In fact, you can even opt for the following solution right now: buy a naked Z 50 and attach S series NIKKOR Z lenses to it, in order to anticipate a later switch to 24 x 36 mm.
If you are not yet equipped at Nikon
The Z 50 is the cheapest entry into the manufacturer's hybrid world.
As a Nikon APS-C interchangeable lens body, it is positioned between the D5600 and D7500, being technically closer to the latter. Thanks to the FTZ ring, it will be able to use Z lenses as well as F, DX or FX lenses, for which there is much more on offer.
While the two unique NIKKOR Z DX zooms currently provide the minimum service, it will be necessary to wait before acquiring dedicated fixed focal lengths, as Nikon had not yet made any announcement in this regard at the time of writing. This lack of optical offer in native Z DX mount could therefore be a brake if you come from another brand and want to equip yourself "seriously".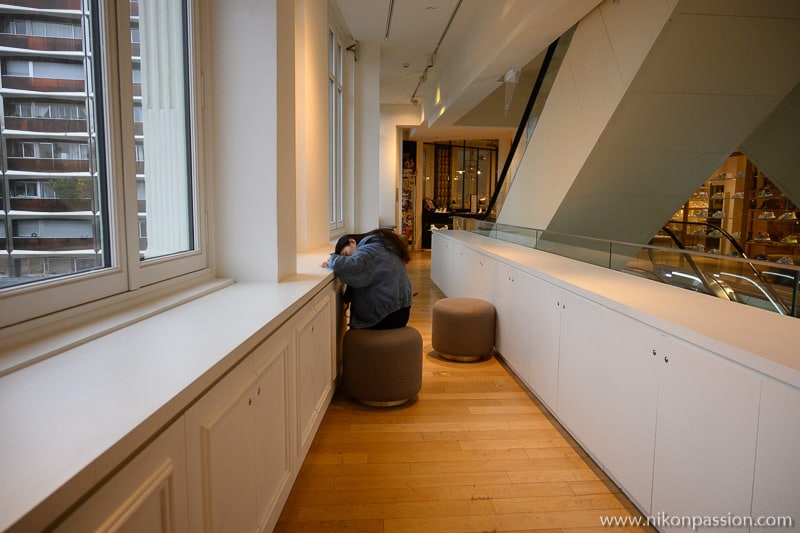 Test of the Nikon Z 50: 16 mm – 1/400 sec. – f/4 – ISO 500
Template and construction
For those who already know the Nikon Z 6/Z 7 hybrids, the first steps with a Z 50 won't be too disorienting as the newcomer takes on the features of his elders… in a smaller size. And lighter (only 450 grams on the scale compared to 675 grams for a Z 6). After all, it is an APS-C, so it makes sense.
Despite the reduction in size, it retains the use of a magnesium alloy for its chassis, as well as a very hollowed-out handle, ensuring a firm and very pleasant grip, in fact very close to the comfort of a small SLR, a quality to be highlighted in a segment where competitors often have to make do with a small bulge in the front end on which fingers lack space to grip.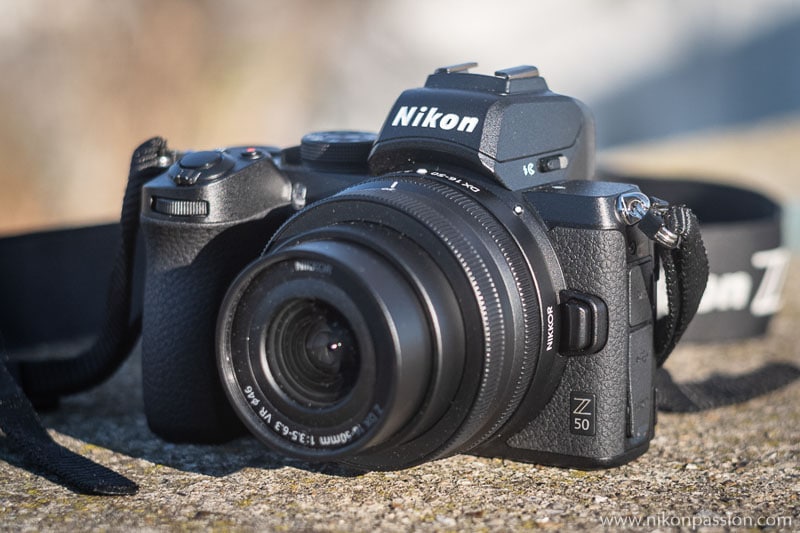 the Nikon Z 50's hollow handle and lens removal button
Combined with the NIKKOR Z DX 16-50mm f/3.5-6.3 VR zoom lens, the whole package is incredibly compact and easy to operate with one hand. On long trips, your neck or shoulder will appreciate it.
In terms of build quality, the Z 50 is one notch below its elders but has nothing to be ashamed of when it comes to competition. The adjustments are quite satisfactory, as are the various coatings, but it is not the best in its class: the construction of a Canon EOS-M6 Mk II, for example, is more careful.
If the body has little to reproach itself for, the objective is more disappointing than its S-series counterparts since the frame is no longer made of metal but of plastic, neither very aesthetic, nor very solid, but some will argue that the mechanical constraints are lower and that this allows to drastically reduce the manufacturing cost and thus the selling price.
Ergonomics, commands and menus
Due to size reduction, the Nikon Z 50 loses the secondary screen located on the right shoulder in the Nikon Z 6/Z 7. The slot is now occupied by a classic mode dial. Also, access to the memory card (SD UHS-I) is now from the sole plate, via the same cover as the battery, instead of from the side.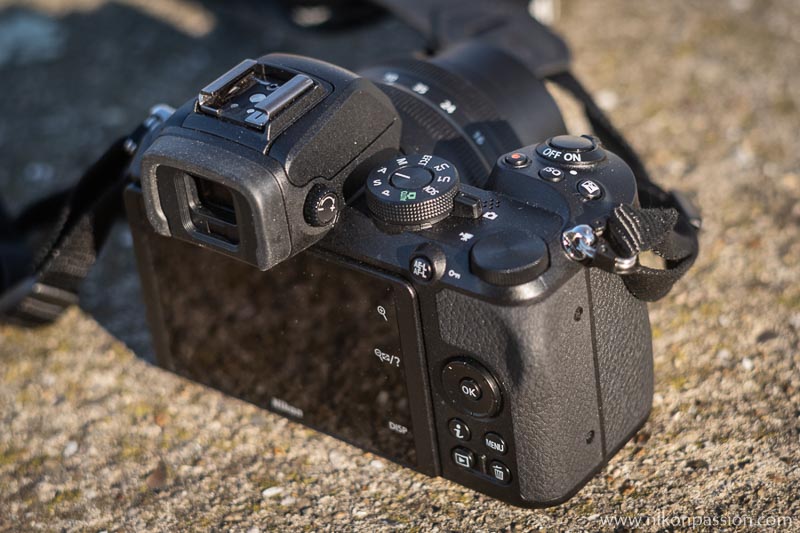 the top and rear controls of the Nikon Z 50 with the convenient exposure compensation dial
On the back, his elders' joystick was also lost. Aside from these notable changes, the Nikon Z 50 retains a very satisfying ergonomics, which will allow you to find your feet if you're already a Nikonist (F or Z), while being intuitive enough for a newcomer to the manufacturer. That's very, very good.
I also take my hat off to the pair of adjustment wheels, accessible with the index finger and right thumb, a rather expert feature and a welcome addition to this segment. Just to make a fuss, these wheels are a bit too soft, which leads to unexpected exposure corrections (like at Fujifilm).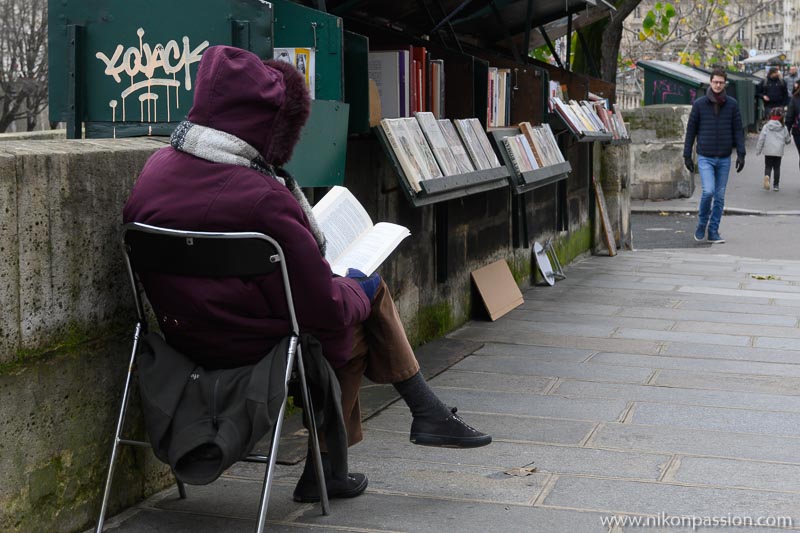 Test of the Nikon Z 50: 50 mm – 1/250 sec. – f/6.3 – ISO 500
Generally speaking, the Z 50 is intuitive, easy to use, with a quick menu allowing you to get to the essentials without complicating your life. The menu, however, is taken from the Z 6/Z 7 expert/professional cameras and equivalent SLRs. Understand that they're really dense, dense, and rich, but that even the most novice (and less expert) photographer may be a little confused by this avalanche of information and sub-settings.
It would have been nice, considering the large public potentially interested in this camera, that Nikon developed a lighter menu, a bit like those existing on the late Nikon 1, in order to make the use of the Z 50 even more user-friendly and less "reflex" type.
The electronic viewfinder and touch screen
O joys of progress and technological streaming, the Z 50 can boast aiming attributes that, until recently, were reserved only for high-end hybrids.
So, while the 2.36 million OLED viewfinder may look pale in comparison to the 3.6 million-point Z 6/Z 7 slabs, it should be remembered that only two years ago this was the norm for all hybrids over €2000. So it's not the Z 50 that's down, but rather the Z 6/Z 7 that are really above the pack.
No complex to have on this side there especially that, by taking out its nose of the technical sheet, it is necessary to note, with delight and as of the first glance, that the aiming of Z 50 is really very pleasant. The OLED technology allows you to rest your eyes and spares the most sensitive to the rainbow effect (totally absent here).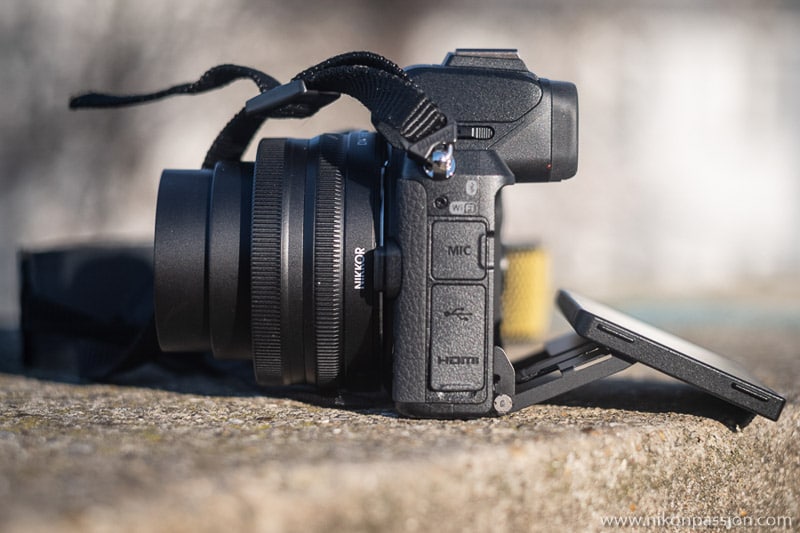 Test of the Nikon Z 50: 16 mm – 1/500 sec. – f/5.6 – ISO 100
For those coming from an entry-level or mid-range SLR, the adoption of an electronic viewfinder allows 100% coverage, which is a more than appreciable qualitative gain in terms of framing accuracy, both at the wide-angle and long focal lengths.
Macro photographers and manual focusers, on the other hand, will enjoy the electronic magnifier and focus peaking (colour highlighting of sharp areas), which allows manual focusing to be much more precise and reliable than with a conventional SLR viewfinder.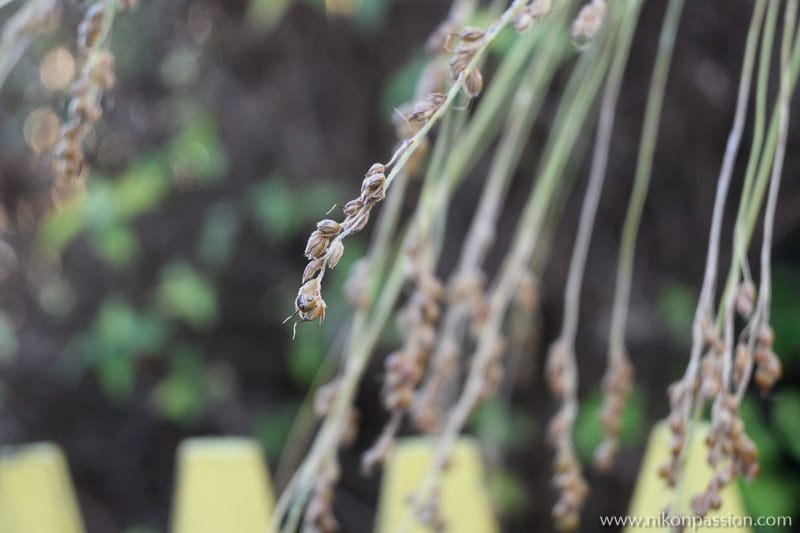 Test of the Nikon Z 50: 50 mm – 1/320 sec. – f/6.3 – ISO 800
The icing on the cake, the viewfinder's magnification is higher than that of a D7500 (x1.02 vs. x0.94), benefits from a more generous eyepiece clearance (19.5 mm vs. 18.5 mm) as well as a greater amplitude of vergence correction (± 3 diopters vs. -2 to +1 diopters): eyeglass wearers will appreciate it!
On the screen side, the Z 50 has a generous diagonal 3.2-inch (8 centimetres) slab. The definition remains modest at 1,040,000 dots, which is still higher than the 922,000 dots on the screen of a D7500. The screen is touch-sensitive, although this capability is under-utilized, and still lacks responsiveness.
Where the Z 50 clearly stands out from its predecessors Z 6/Z 7 is in the choice of the hinge, which allows the screen to be turned 90° up and 180° down, turning it completely upside down to facilitate self-portraits. Moreover, under these conditions, a selfie mode, with self-timer, is automatically activated.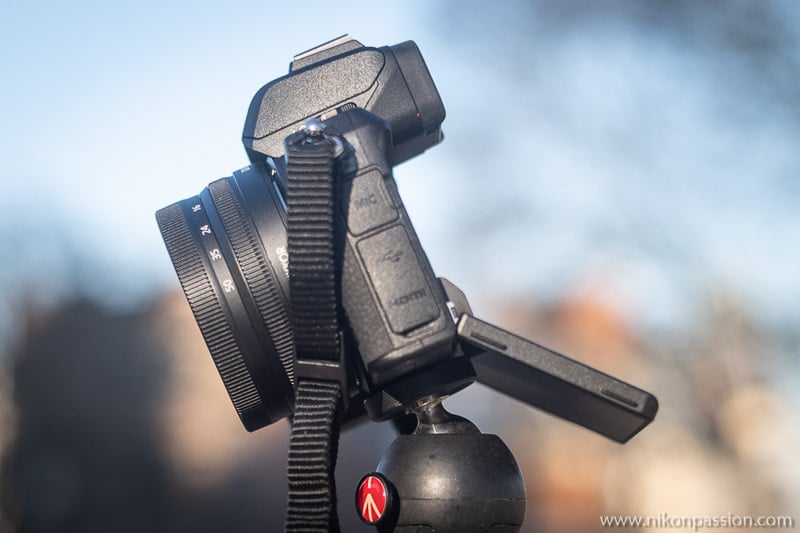 the screen tilts down on the Nikon Z 50, limiting the use on a tripod
Nikon could have opted for a hinge, as on the D5600, but this one would probably have blocked part of the side connectors. A hinge would also have allowed to avoid the main flaw of the Z50's screen: being able to be turned upside down completely even once the body is fixed on a tripod, which is thus not possible on this little hybrid. Too bad.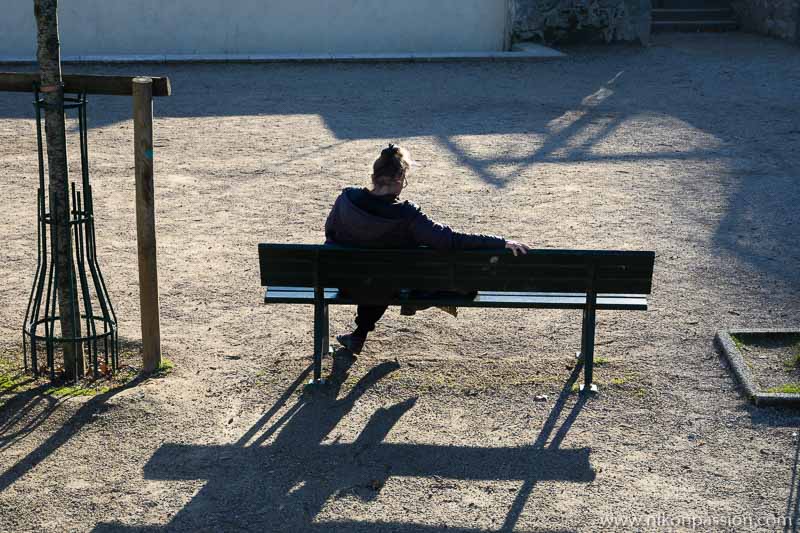 Test of the Nikon Z 50: 50 mm – 1/200 sec. – f/6.3 – ISO 100
Autonomy
The Z 50 uses the new EN-EL25 Li-ion batteries, which it is the only one to use. It is not possible to keep the batteries of your APS-C SLR (EN-EL14a for a D5600, EN-EL15a for a D7500) or those of your Z 6/Z 7 hybrid (EN-EL15b). It's a bit of a shame to have to start from scratch. Let's hope that future Nikon Z DX hybrids will also use this EN-EL25.
Nikon might just as well choose to make expert and professional Nikon Z DX (equivalent to the D500 SLR) using the EN-EL15b of the Nikon Z FX. This could potentially cause a lot of mischief, even if it's still too early to speculate and play Cassandra.
Specifically, it is a 7.6V, 1120 mAh and 8.5 Wh battery, very standard at this level of range. You can expect an autonomy oscillating between 300 and 350 shots, depending on your shooting style, your use of the screen, the viewfinder and the menus, but, overall, the Z 50 does not stand out from the competition in this respect. Once again, Panasonic leads the way with its formidable energy-saving efficiency modes capable of sustaining up to 900 shots with batteries similar to those of the Z 50. Nikon should be getting the hang of it!
Nevertheless, the manufacturer had the good taste to allow the recharge of its hybrid via the USB plug, thus also via a portable battery, a solution always practical when travelling and potentially less expensive than investing in a whole lot of dedicated batteries.
By the way, this may seem anecdotal, but I really appreciate that Nikon provides a real mains charger with the Z 50.
Connections and memory card
As much as the Z 6/Z 7 have a plethoric connection, the Z 50 had to lighten the mule and signs its positioning more public than expert.
While the classic WiFi (IEEE 802.11b/g/n/a/ac) and low-power Bluetooth 4.2, common to all recent Nikon models, are of course in the mix, the physical connectors are reduced to the bare minimum: a microphone socket, an HDMI microphone socket and a USB socket.
Warning: this is not a USB 3 with a Type C connector, but a previous generation USB with a Micro-B connector. Slight disappointment on this side, since even a D5600 SLR has a headphone socket and the Type C socket is available on the D7500.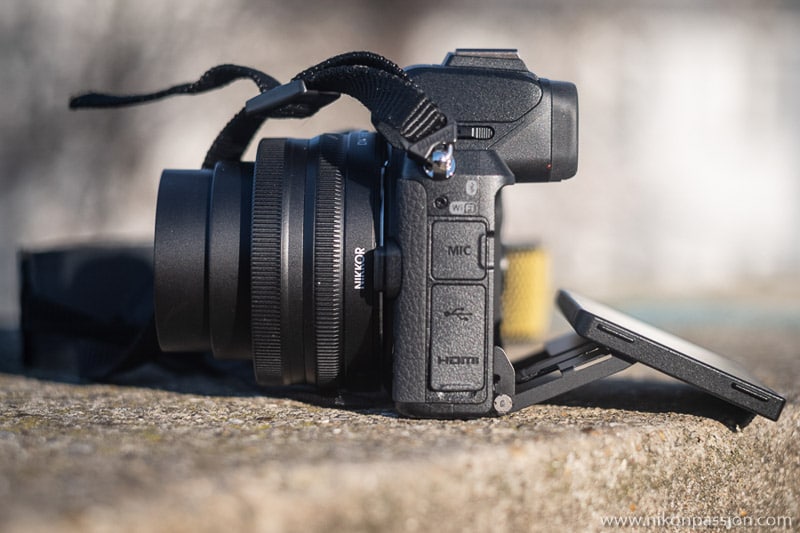 USB, HDMI and audio/microphone jacks on the Nikon Z 50
On the memory card side, there too, Nikon has opted for a solution that might seem archaic. While the XQD, with its specifications that are quite dispensable for non-professional use, is logically absent, the only SD slot chosen has to make do with the UHS-I protocol. This is a pity, since in 2019/2020 most of the competition has long since switched to UHS-II, which offers much higher data rates (up to 312 MB/s compared with 104 MB/s).
Note that there are SDXC cards of up to 256 GB in both standards, for photographers who want very large capacities. Similarly, some competitors offer a dual memory slot, and access from the side rather than the sole, making it easier to change cards when the camera is mounted on a tripod.
Nikon Z 50 test: autofocus and responsiveness
Before discussing the Nikon Z 50's pure, hard autofocus performance, a quick reminder for those switching from SLRs (Nikon or not) to hybrids.
With this type of camera, the main practical difference is that you maintain strictly the same responsiveness whether you use the viewfinder or the monitor. A very, very appreciable gain in pleasure when, on an SLR, the transition to Live View easily penalizes you from one to several seconds, whatever the brand, the model and the level of range of the SLR.
For general public users, the switch to hybrid is therefore a significant comfort since taking pictures at arm's length can be done without penalty, which is all the more facilitated by the adjustable screen.
Very concretely, the affiliation with the Z 6 is immediately obvious. Starting up the camera is very quick (less than a second), as long as you don't forget an indispensable manipulation: deploy the 16-50 mm zoom in the working position. Without this, the Z 50 will be turned on, but you won't be able to take pictures. Anyway, a message on the screen will remind you how to proceed, it's just a shot to take.
If necessary, you can leave the lens in the extended position, even when the camera is turned off: it's not the extra two centimetres in length that will be a problem in terms of space.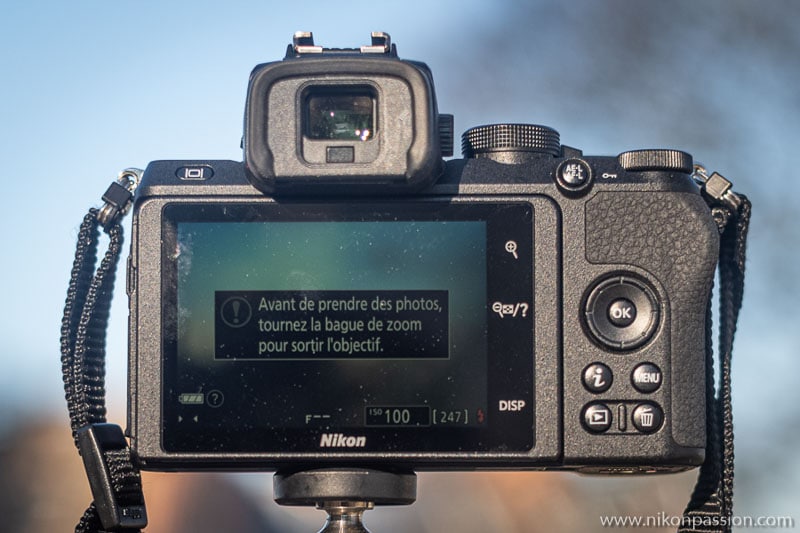 remember to turn the lens so you can take a picture.
The autofocus module, integrated in the sensor (hybrid obliges), has 209 collimators evenly distributed over 90% of the image. Once again, for those who come from the world of reflex cameras, this is a huge gain in terms of user comfort, especially since the focus area can be selected with the fingertip on the touch screen, making the absence of a joystick a thing of the past.
In absolute terms, focusing is very fast in all lighting conditions, although some hesitation may be encountered when the light fades. As mentioned in the introduction, the Z 50 has a "Low Light" mode, which extends the autofocus sensitivity to -4 EV. The focus is then on responsiveness rather than accuracy, but in practice this does not make much difference. In fact, the real limiting factor of the Z 50 is this kit zoom, the NIKKOR Z DX 16-50mm f/3.5-6.3 VR, which is really very dim. You'll be comforted by its quiet operation…
Despite the definition of "only" 20.9 MP, the Nikon Z 50 doesn't go crazy on the gust side either, capped at 11 frames per second (10 fps on the Nikon D500). That's more than enough in most cases, but it may not be suitable for ultimate sports use, the limiting factor here being the memory card. Don't hesitate to opt for the fastest possible model (over 90 MB/s).
The autofocus tracking is really good, especially since the Z 50 benefits from an "Eye AF" autofocus, ideal for portraiture. Remember that the Z 6 and Z 7 had to wait a few months and a firmware update to benefit from this function. Let's thank Nikon for this technological rush.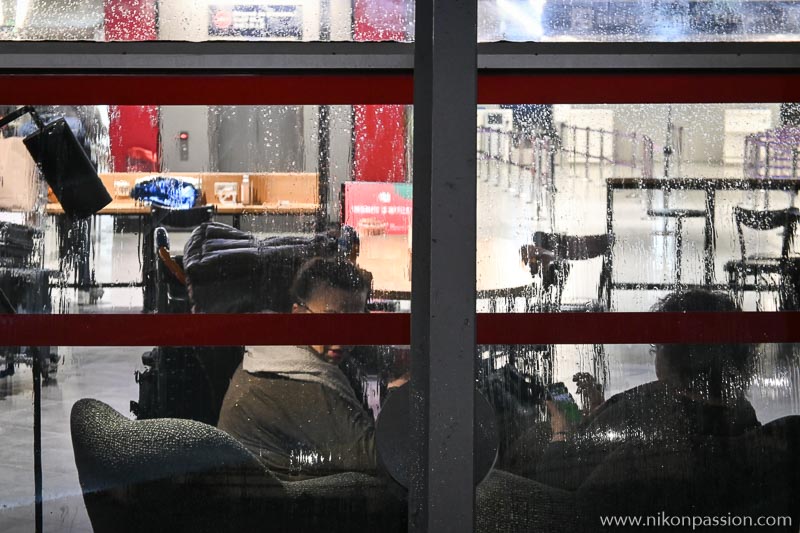 Test of the Nikon Z 50: 50 mm – 1/13th sec. – f/6.3 – ISO 1000
Nikon Z 50 test: image quality
While APS-C boxes have been stabilising at around 24 MP for several years now, some models are already soaring to 26 MP and even 30 MP. For its Z50, Nikon has preferred to play the card of security and reasonableness: 20.9 MP. A third less than the competitors! Fortunately, this is more than enough to obtain prints of 60 x 90 cm. And, if you had any doubts, remember that the professional SLR cameras, the Nikon D500 and D5, also have equal definition.
But what is the point of such a choice? Here, it's threefold.
The first is to allow smaller files (32.5 MB for RAW/NEF).
The second is to allow, with equivalent surface area, larger photosites: 4.22 µm side on the Z 50 against only 3.17 µm on a Canon EOS-M6 Mk II (which, in addition, has a slightly smaller APS-C sensor). However, a "large" photosite means a better sensitivity increase.
The third advantage is more anecdotal for the common man, but will always be of interest to technology geeks. Indeed, with this definition, the density of photosites can match that of the Z 7 and make the most of the resolving power of the Nikkor Z lenses of the S series (thanks Shannon Nyquist). Especially since the Z 50 has no low-pass filter, which theoretically allows to gain in precision.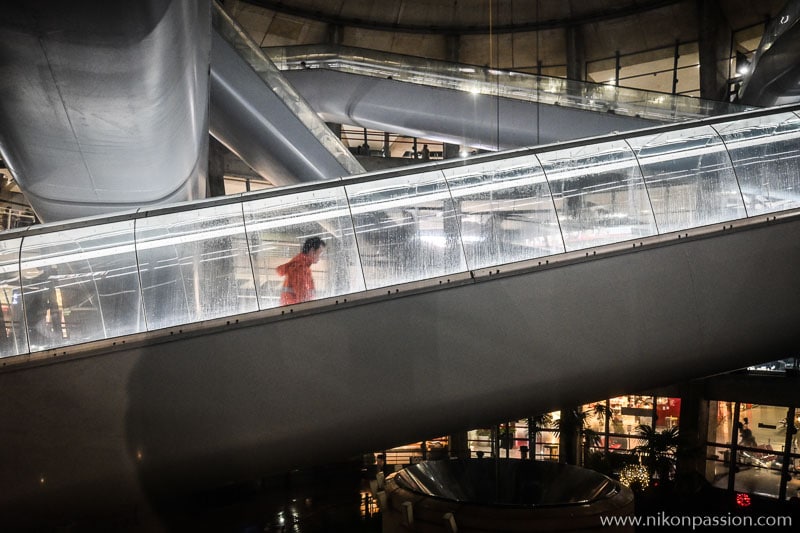 Test of the Nikon Z 50: 19.5 mm – 1/50th sec. – f/3.8 – ISO 1000
Increase in sensitivity
Nikon likes to extol the virtues of the backlit BSI CMOS sensors in the Z 6 and Z 7 because this technology allows for a higher sensitivity. Well, tough luck: the Z 50, a BSI CMOS dot, is just a "common" FSI CMOS sensor.
Don't panic though: the in-house know-how allows small miracles! The sensitivity range starts at ISO 100 and peaks at ISO 51,200. In the Hi +2 position, it is possible to go up to ISO 204,800.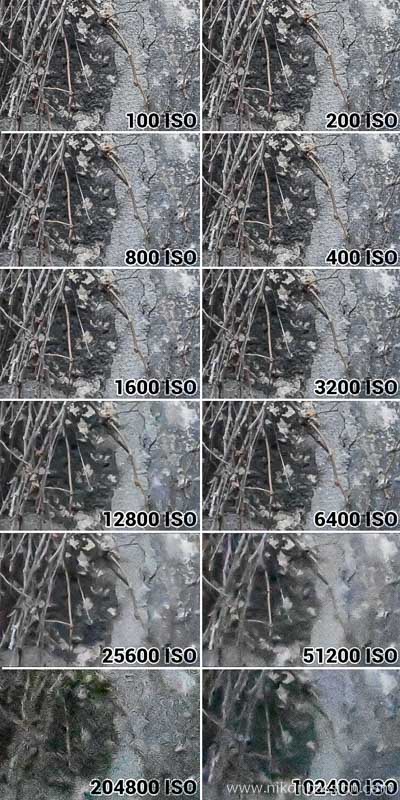 Nikon Z 50 Sensitivity Upgrade Test, from ISO 100 to 102,400
The highest sensitivities will, as usual, be reserved for extreme situations. Even will never be exploited. But it looks nice on the data sheet. On the other hand, you can safely go up to 12.800 ISO.
At ISO 25,600, smoothing in JPEG is really too violent since, in addition to the digital noise, it indiscriminately erases the finest details. Note a slight color drift in NEF.
At ISO 51,200, these defects are accentuated but, if you like grainy black and white (it's a way to cheat), and you prefer NEF, why not… However, the most timid, or the most allergic to noise, will stop at ISO 6,400, which is already a nice value… that you will reach very quickly because of the low brightness of the kit zoom.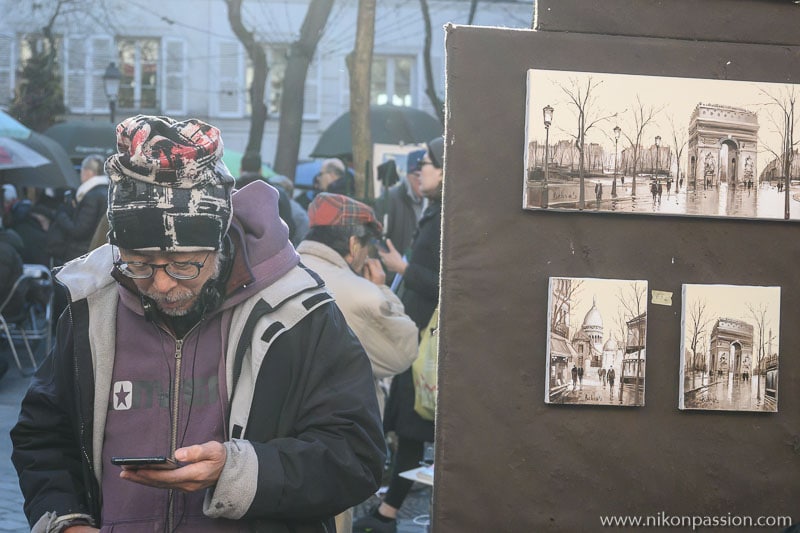 Test of the Nikon Z 50: 50 mm – 1/800 sec. – f/6.3 – ISO 640
Stabilization
Conventional sensor, conventional stabilization system. That is to say exit the mechanical stabilization on 5 axes integrated in the housing, and return to the good old optical stabilization on only two axes. The problem is that only the NIKKOR Z DX lenses are stabilized, the S series lenses are not. Also, when you use an unstabilized SLR lens via the FTZ ring, nothing will be stabilized, which was one of the major arguments for the Z 6/Z 7, so you will have to be content with the union minimum with the Z 50.
Fortunately, the stabilization built into the NIKKOR Z DX 16-50 mm VR proves to be quite effective, since even in the 50 mm (75 mm equivalent) position it is possible to obtain a sharp image at 1/6 s. Not bad at all!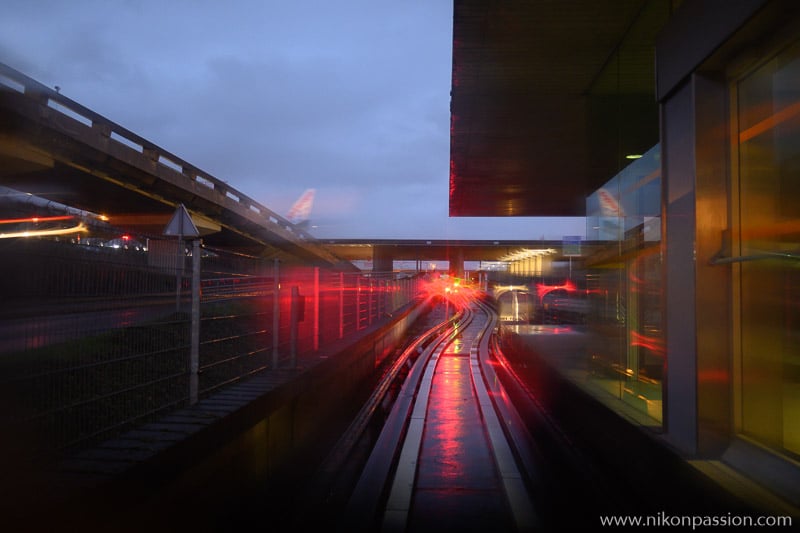 Test of the Nikon Z 50: 20.5 mm – 1/6 sec. – f/3.8 – ISO 1000
Silent shut-off
Mid-range positioning "obliges", the Nikon Z 50 must give up the 1/8000th of a second and remains capped at 1/4000th of a second. And this as well in mechanical (very silent) as in electronic (totally silent) shutter. It's really a pity that the electronics can't go further since, on the competitors' side, it's not rare to reach 1/24.000 or even 1/32.000th of a second.
Dynamics and white balance
I didn't find any particular dynamic problems with the Nikon Z 50, which does well in most situations, even in strong backlighting. By using RAW/NEF, it will be possible to easily uncover the shadows of a flick on the slider of your favorite software.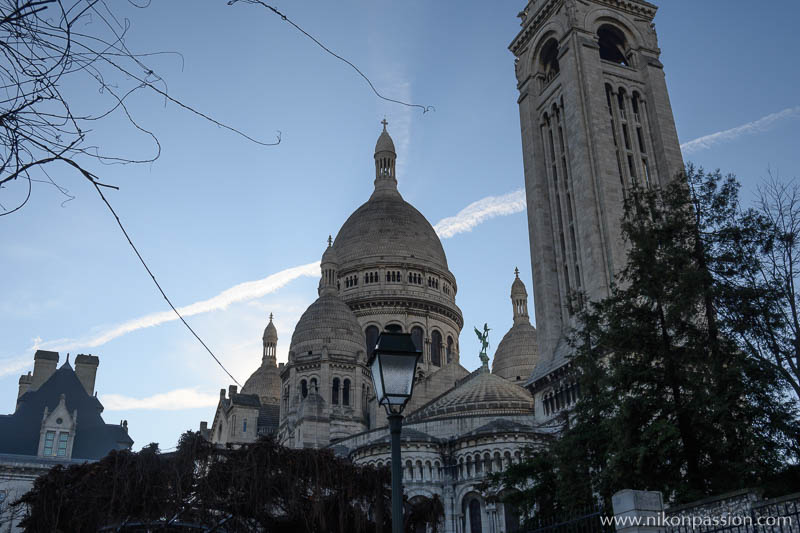 Test of the Nikon Z 50: 25 mm – 1/800 sec. – f/8 – ISO 100
The white balance, on the other hand, was a bit more capricious, with a tendency to be too cold, but this is easily corrected after the fact. Note that it will be possible to take advantage of Picture Control, which introduces a new HDR mode rather satisfying, but which should not be abused.
A NIKKOR Z zoom lens 16-50 mm f/3.5-6.3 VR step level
In fact, in terms of image quality, the limiting factor is not the technology embedded in the body, but this kit zoom, a defect (unfortunately) quite common in entry-level/mid-range.
Nikon has clearly focused on compactness but, to achieve this, has made many sacrifices in order to obtain one of the smallest 16-50 mm (24-75 mm equivalent) on the market.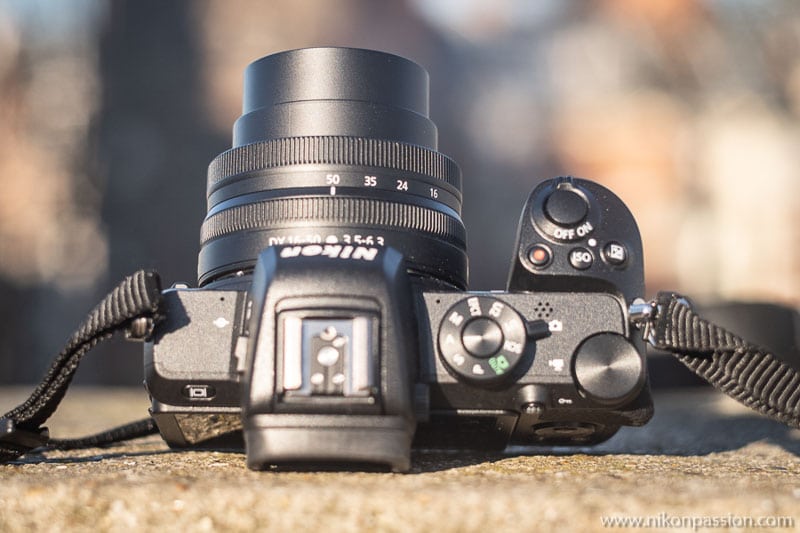 the NIKKOR Z DX 16-50 mm f/3.5-6.3 VR in the retracted position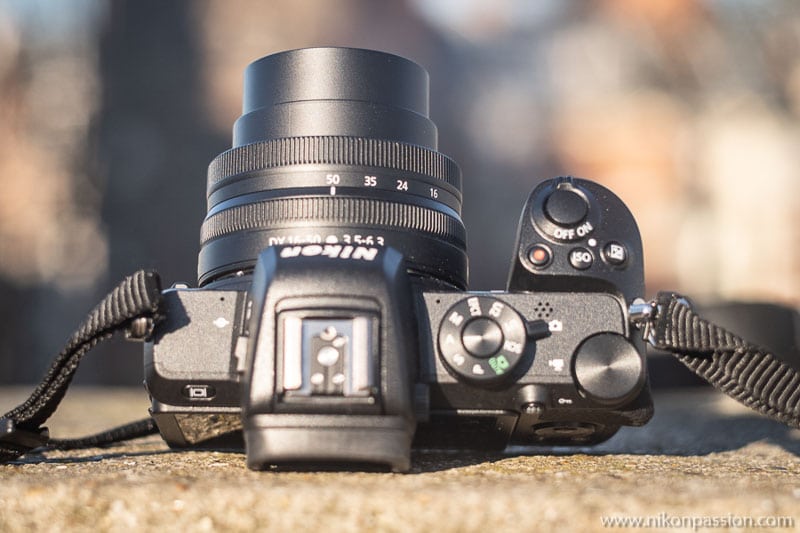 the NIKKOR Z DX 16-50 mm f/3.5-6.3 VR in 50 mm position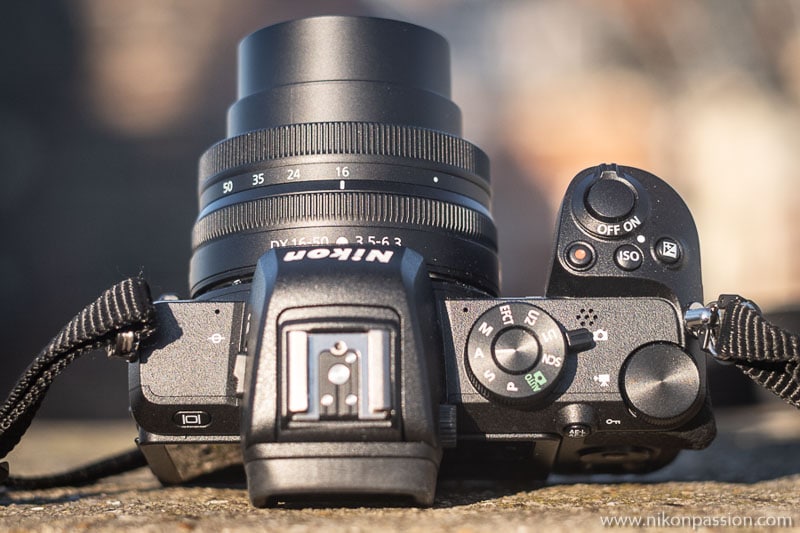 the NIKKOR Z DX 16-50 mm f/3.5-6.3 VR in 16 mm position
The first is the maximum brightness, which decreases very quickly. At the 50 mm position, you are only at f/6.3: this is one and a half f-stops less bright than at 16 mm (f/3.5). Competitors are more generous: Fujifilm offers a Fujinon XC16-50mm f/3.5-5.6 OIS II (albeit a larger f/3.5-5.6 OIS II) and Sony offers a 16-50mm f/3.5-5.6 OIS II that's brighter and takes up the same amount of space! It's a pity that Nikon was so conservative. You can take comfort in the fact that Canon's EF-M 15-45mm f/3.5-6.3 STM zoom is just as unambitious.
Openings vs. Focal
| | | | | |
| --- | --- | --- | --- | --- |
| Real Focal Length | Focal length equivalent | Maximum opening | Minimum opening | Minimum focusing distance |
| 16 mm | (24 mm) | F/3,5 | F/22 | 25 cm |
| 24 mm | (36 mm) | F/4,2 | F/29 | 20 cm (8 inches) |
| 35 mm | (52.5 mm) | F/5,3 | F/36 | 23 cm |
| 50 mm | (75 mm) | F/6,3 | F/40 | 30 cm (12 inches) |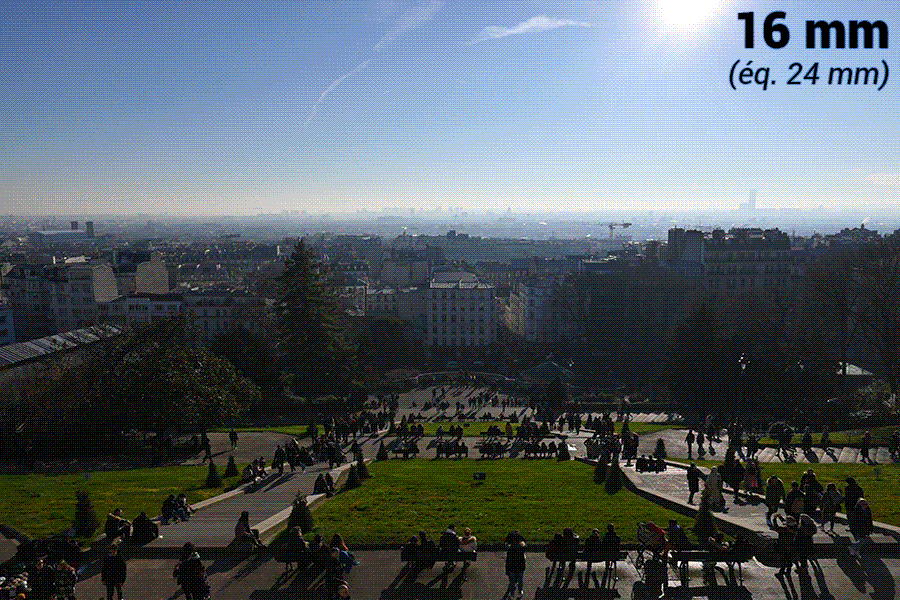 Testing the Nikon Z 50: the focal range of the NIKKOR Z DX 16-50 mm f/3.5-6.3 VR zoom lens
This lack of generosity in the openings has two consequences, one practical, one aesthetic.
The first is that a lower aperture implies longer exposure times and/or the use of higher sensitivities, this overriding rule remaining applicable despite the presence of an optical stabilization system.
The aesthetic consequence is that, if you like shallow depths of field and want to keep your first shots well separated from your last shots, the exercise can be complicated.
At the wide angle, where you have access to the widest aperture, it is the short focal length that will induce a great depth of field. In the 50mm position, which is logically the most suitable for portraiture, the low maximum aperture of f/6.3 will only allow you to get a nice background blur if you get very close to your subject.
As shown in the table above, note that the minimum focusing distance varies depending on the focal length used.
In terms of pure performance, this NIKKOR Z DX 16-50 mm f/3.5-6.3 VR is… in the middle. Neither too bad, nor too bright. It just does the job.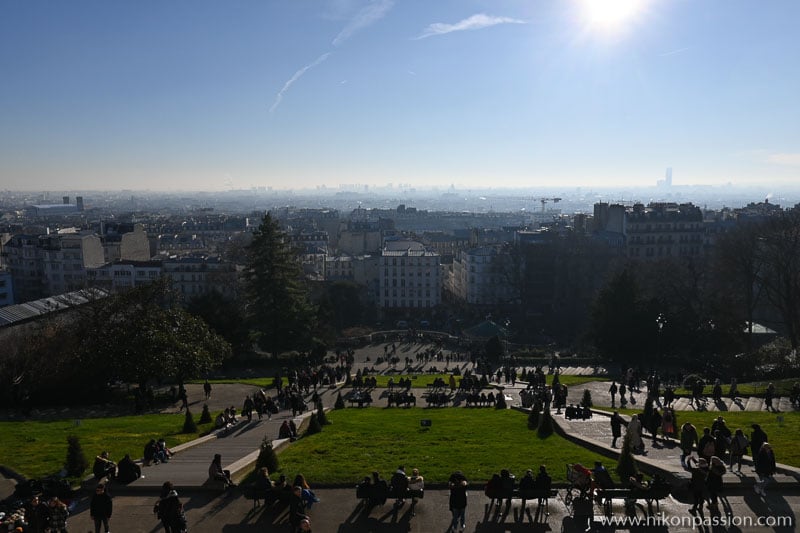 Test of the Nikon Z 50: 16 mm – 1/800 sec. – f/8 – ISO 100
At 16 mm, it is sorely lacking in homogeneity since it is necessary to diaphragm between f/8 and f/11 so that the corners are (almost) equal to the centre. Be careful, therefore, for landscapes.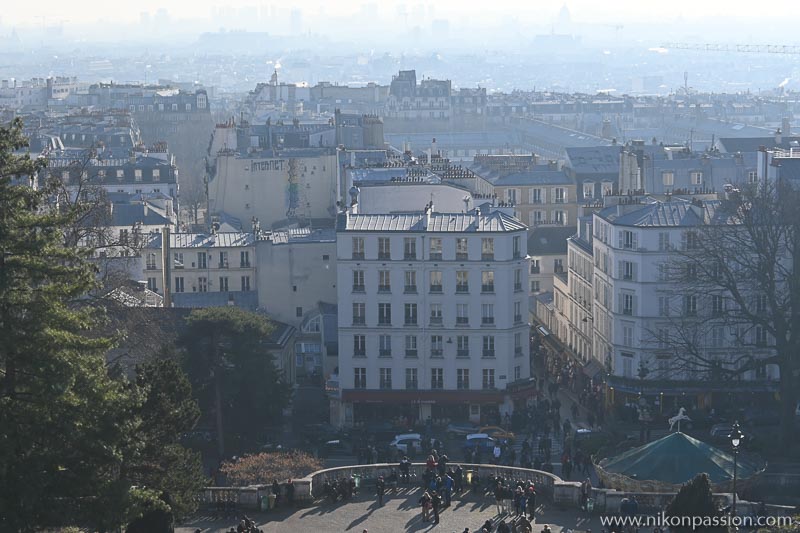 Test of the Nikon Z 50: 50 mm – 1/320 sec. – f/8 – ISO 100
At 50 mm, the corners never catch up with the centre. Here, special attention should be paid to diffraction (and exposure times) when you exceed f/16.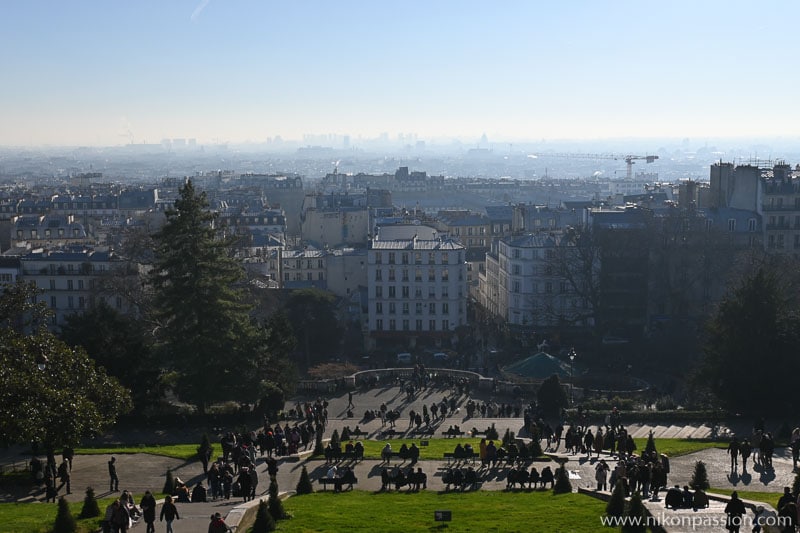 Test of the Nikon Z 50: 25 mm – 1/640 sec. – f/8 – ISO 100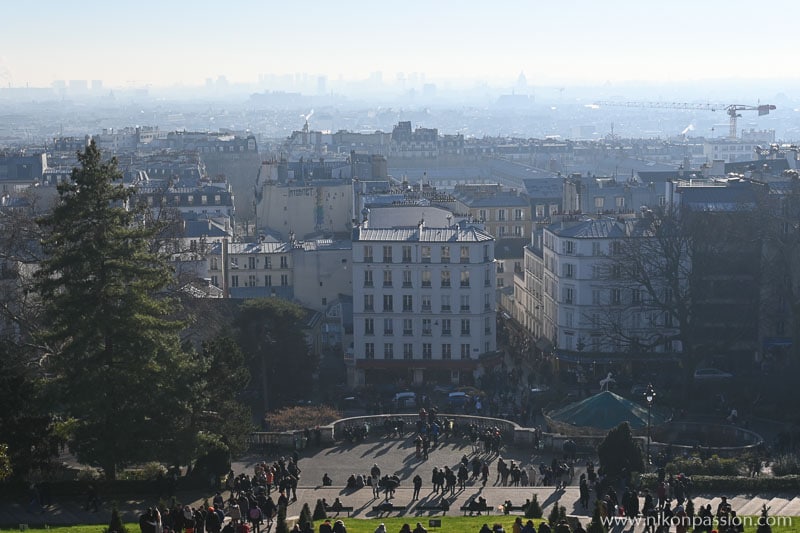 Test of the Nikon Z 50: 36 mm – 1/400 sec. – f/8 – ISO 100
At intermediate focal lengths (between 25 mm and 35 mm), the lens is a little more homogeneous, but here again, you'll have to open the aperture around f/8 to get the best out of it. And, here again, you will have to rely on the strictly optical stabilization and the good increase in sensitivity of the body to compensate for the small aperture.
Vignetting is visible from 16 mm to 35 mm, at all openings, but only on NEF files because it is well corrected by the internal JPEG processing. An amusing and unusual detail is the positive vignetting, since the edges are lighter than the center. This is not common!
Finally, since all is not so bad, Nikon is to be congratulated for the care taken to correct the distortion, imperceptible on this small kit zoom, which you will have to be satisfied with while waiting for the arrival of more ambitious lenses.
Test NIKON Z 50 : Video
Logically, the Nikon Z 50 is less ambitious than its big brothers Z 6/Z 7 when it comes to video. But that's not a big deal as the target audience is not the same. So it's best to compare this little APS-C hybrid with the performance of Nikon's APS-C SLRs, and here we're witnessing a nice leap forward compared to the D5600 and D7500.
Compared to the entry-level DSLR, the Z 50 Hybrid gains 4K/UHD 30p recording and Full HD slow motion rates: 120p and 100p allow 4x slow motion in 30p (NTSC) and 25p (PAL) respectively.
Compared to the mid-range/expert D7500, the Z 50 also gains slower modes in Full HD and the significant quality of shooting in 4K/UHD by exploiting the full width of the sensor. This lack of cropping is especially beneficial for short focal lengths.
Handling is facilitated by the presence of focus peaking (manual focus assistance) and zebras (exposure assistance). You also benefit from face detection in video. However, for more advanced uses, the absence of a headset jack is harmful.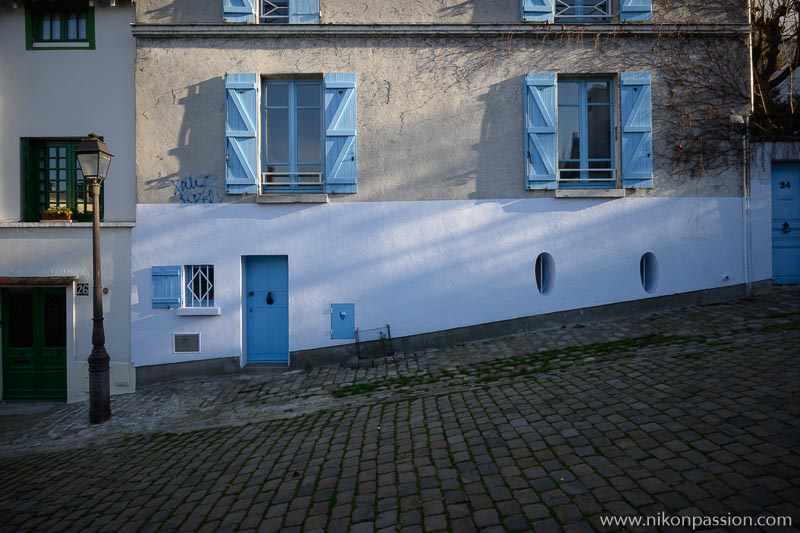 Test of the Nikon Z 50: 16 mm – 1/800 sec. – f/3.5 – ISO 100
Nikon Z50 test: strengths and weaknesses to remember
Here's a non-exhaustive (and personal) list of uses for this Nikon Z 50, as well as the points that should concern you if you're considering changing bodies for the Nikon Hybrid.
The Nikon Z 50 may interest you if:
you want to switch from a Nikon APS-C DSLR to an APS-C Hybrid with a slight upward shift in range,
you wish to gain in compactness (compared to an SLR),
you are looking for an APS-C hybrid with well thought-out ergonomics,
you want to benefit from Nikon's image quality and reputation,
you're looking for a small hybrid protected against dust and humidity,
you're ready to wait for the NIKKOR Z DX optical package to expand.
The Nikon Z 50 will be of less interest to you if:
you want immediately luminous lenses and/or specialized focal lengths dedicated to the APS-C in DX-mount,
you have extensive use of video,
you practice sports/animal photography.
The photos of this test are available in high definition version on the Flickr Nikon Passion account: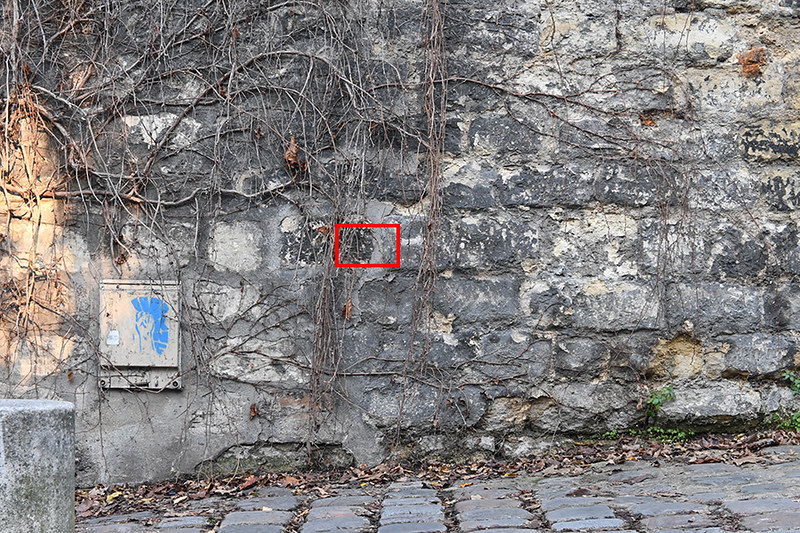 Almost ten years after the most reckless, Nikon finally gets into the battle of the APS-C hybrids. Hallelujah! Only Pentax (whose Q hybrids we don't even have news of anymore) and Olympus (faithful to the Micro 4/3 and who has other fish to fry at the moment) remain outside the game.
In short, it's no small thing to say that the Z 50 is an important body for Nikon, especially because it's launched on the very competitive €1000 DSLR segment which, as I explained in the introduction, is populated by a multitude of cameras of very different types.
Once this historical-commercial setting has been planted, what conclusions can be drawn from this test?
First very positive point: the Nikon Z50 is a well-born hybrid. It benefits from Nikon's relentless ergonomic experience, and that of the Z 6/Z 7 in particular.
Quite simply, it's the most pleasant APS-C hybrid to hold and handle, and, except for a few mechanical weaknesses (a few overly soft knobs and a bushy menu), it's positioned right at the top of the basket.
Also, Nikon did not skimp on the quality of the OLED viewfinder as well as the 180° swivel touch screen, which is very welcome. Well done!
The image quality is not to be outdone. Even if the chosen sensor is less sophisticated than the latest generation BSI CMOS and the 20.9 MP resolution may seem a bit low by today's standards, Nikon has mastered its subject perfectly and has made the Z50 a beautiful image maker that won't be afraid of sensitivity hikes.
Finally, autofocus and video are both well mastered: everything works with satisfaction, with nice pieces inherited from the Z6 on one side and a significant quality gain compared to the manufacturer's equivalent range SLRs. All in all, the Nikon Z 50 is a good first draft, without any frills.
But here it is: this is a first draft, with some flaws. First of all, the data sheet clearly lacks ambition. The strictly UHS-I single memory card slot is not worthy of a €1,000 box in 2020. The USB socket is deprived of the USB 3.0 standard, and even without it, it would have been appreciable if the connector chosen had been Type C, and not micro-B, if only for the sake of consistency of range.
In order to stand out from the competition, Nikon should have maintained the sensor stabilization, even if it had to be lowered on 3 axes instead of 5. This would have allowed the best use of the NIKKOR Z lenses of the S series as well as the unstabilized F-mount reflex lenses.
In fact, at the time of writing this test, the main drawback of the Nikon Z 50 is the paucity of native Z-mount optics dedicated to the DX format (APS-C). It is urgent that Nikon communicates on its optical roadmap, even if we have no doubt that brighter zooms (f/2.8) and fixed focal lengths (f/1.8) should be available soon.
At least one equivalent 24 mm (16 mm f/1.8), 50 mm (32 mm f/1.8), 85 mm for portrait (58 mm f/1.8) and a small 100 mm telephoto type lens (in real focal length, which would give 150 mm in equivalent focal length on the APS-C sensor) would be required. Of course, a maximum of these lenses will have to be VR stabilized. Let's hope that, at the same time, Nikon will quickly open its Z-mount to third party opticians, so that Sigma, Tamron and Samyang (to name but a few) will be able to decline their APS-C lenses for Nikon hybrids.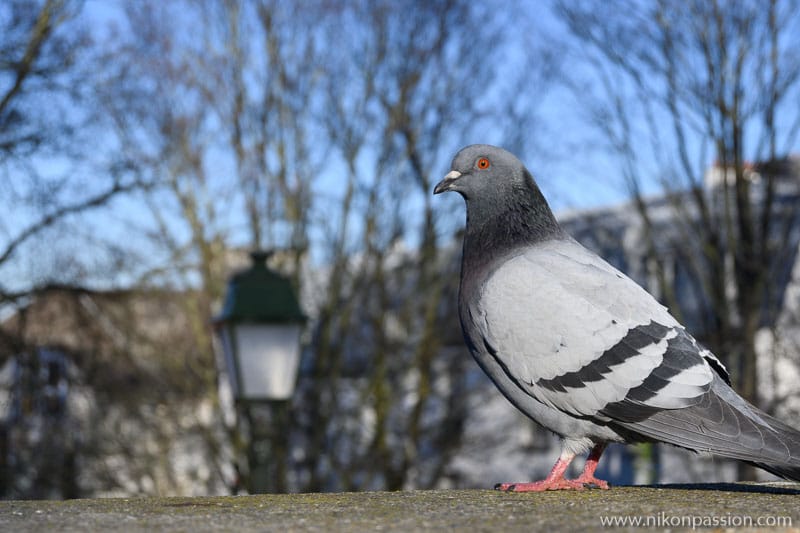 Test of the Nikon Z 50: 50 mm – 1/500 sec. – f/6.3 – ISO 100
On a more optimistic note, I could also acknowledge that Nikon has positioned its Z 50 rather finely. Sufficiently more powerful than an entry-level D5600, capable of titillating a D7500, it has the potential to cannibalize the manufacturer's entry-level and mid-range SLR offering. Or, rather, to convert customers already equipped with reflex cameras to hybrids.
Simultaneously, on a similar chassis, Nikon leaves itself the margin to develop a much more expert APS-C hybrid, which could be the alter-ego of the D500, but much, much more compact. And the recipe for such an upgrade is obvious: XQD housing, sensor stabilization, 3.6 million points OLED viewfinder, even more advanced tropicalization, dual processor allowing to boost the burst cadences (no need to change the sensor). In short, enough to make you salivate, but such a camera would of course not be charged 1000 €. That said, between 1000 € and 2000 €, there is a comfortable margin of manoeuvre.
Okay. So, in a very pragmatic way: should we go for the Nikon Z 50?
Unless you're an absolute fan of the manufacturer and want to be among the first to try the APS-C hybrid adventure in a Z-mount, you'd better wait until the actual price of the kit drops to around €850/900, and the NIKKOR Z DX optical package expands.
However, if the only lens in the kit is enough for you, the Nikon Z 50 is already a nice hybrid that will give you satisfaction and allow you to make beautiful pictures. Especially since it is likely that Nikon applies to its DX cameras the policy of regular firmware updates already in effect for its FX hybrids, which will inevitably improve the pleasure of use and the performance of the camera.
Learn more about the Nikon Z 50 on the Nikon website
Nikon Z 50 kits at Miss Digital…
Nikon Z 50 kits at Amazon …