As you read this NIKKOR Z 24-200mm f/4-6.3 VR test, you'll discover what a megazoom designed for the Z-mount can offer in versatility and performance on a Nikon hybrid.
Is this extended focal range zoom, although not part of the S-Line NIKKOR Z range, of interest to you? Can it be your daily companion? I try to answer these questions and offer you a series of images taken in real conditions in the field with a Nikon Z 6.
This goal at the best price at Miss Digital
NIKKOR Z test 24-200 mm f/4-6.3 VR: context
2020, a first confinement, barely summer to breathe, and a second confinement deprives us of exits again. Difficult to squeeze days of shooting to share with you my tests of recent NIKKOR Z lenses. So, before being limited to 1 km and 1 hour, I took a few days at the seaside to carry out this test NIKKOR Z 24-200 mm f/4-6.3 VR (the one of the NIKKOR Z 70-200 mm f/2.8 S made in parallel is coming soon).
I used the Nikon Z 6 that I use every day, the Z 6 II is not yet available and that doesn't call into question the interest of the test.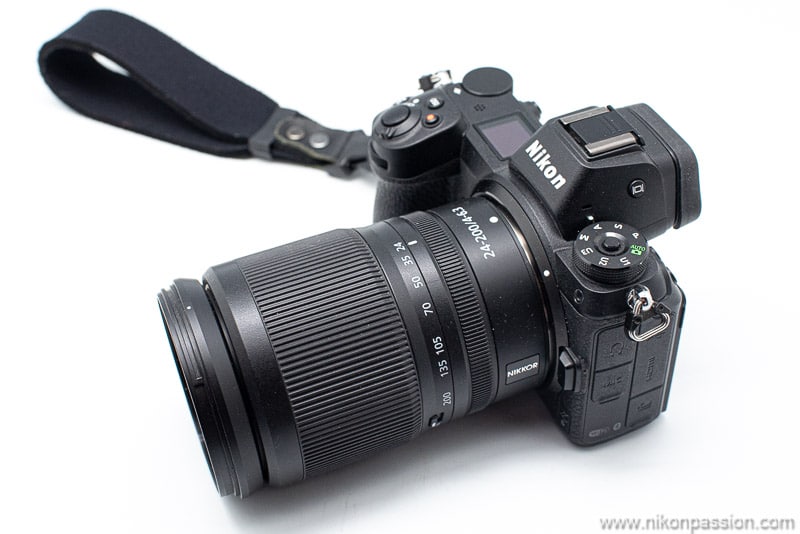 the NIKKOR Z 24-200mm f/4-6.3 VR on Nikon Z 6 at the 24mm position
You know my usual reserve when it comes to talking about an extended focal range zoom (or megazoom). I usually say that they are good everywhere but excellent nowhere, that they make our life easier by avoiding us to change lenses but also deprive us to make the effort of framing and composition necessary for a more creative photo practice.
Using the NIKKOR Z 24-70mm f/4 zoom lens almost exclusively, would this NIKKOR Z have some assets to change my mind?
Presentation
The NIKKOR Z 24-200mm f/4-6.3 VR is a zoom lens designed for the Nikon Z-mount on the brand's full-format and APS-C hybrids, currently the Z 5, Z 6 and Z 7 Series 1 and 2 and the Z 50 (see full presentation). A full-format lens by definition, its focal range is equivalent to 36-300mm on an APS-C hybrid such as the Nikon Z 50.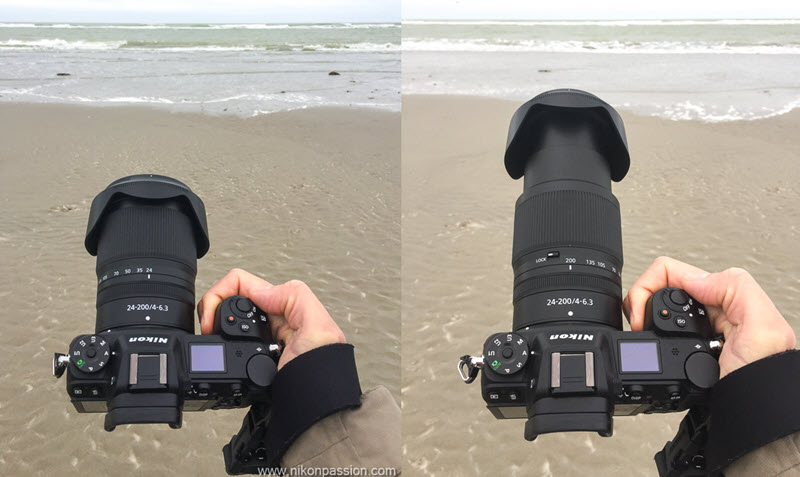 the NIKKOR Z 24-200 mm f/4-6.3 VR on Nikon Z 6 at 24 mm and 200 mm
The maximum opening ranges from f/4 to 24 mm to f/6.3 to 200 mm. The table below shows the variation in maximum aperture depending on the focal length:
24 mm: f/4
35 mm: f/4.8
50 mm: f/5.6
70 mm: f/6
105 mm: f/6.3
135 mm: f/6.3
200 mm: f/6.3
Unlike a 24-70mm NIKKOR Z zoom lens whose aperture remains constant at f/4 or f/2.8 depending on the model, this NIKKOR Z 24-200mm f/4-6.3 VR zoom lens is quickly limited in aperture. It is only f/4 at 24 mm, f/6.3 at 70 mm, while the "small" 24-70 is still f/4 at this focal length.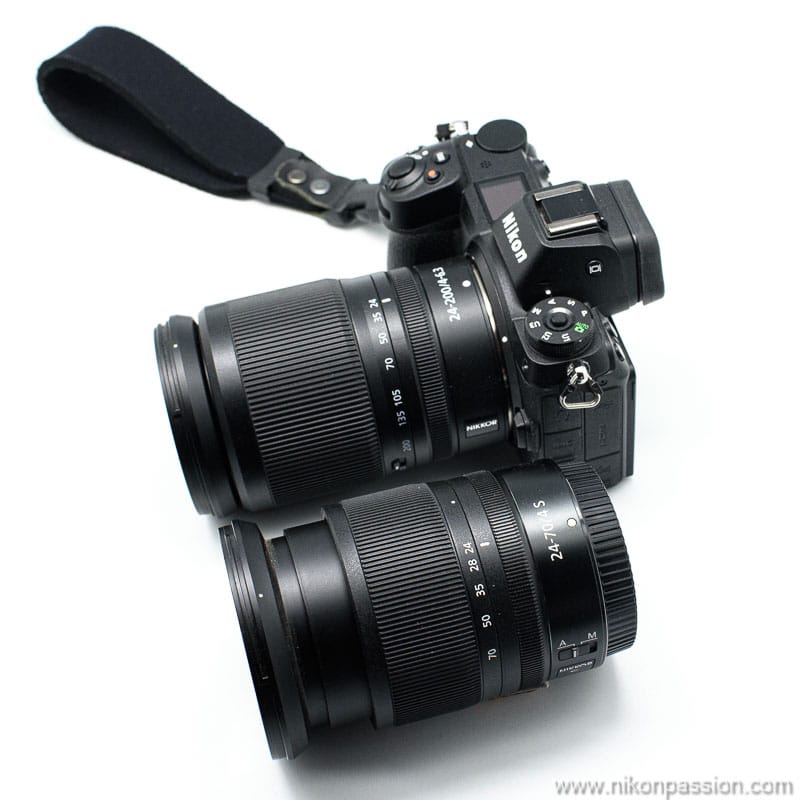 the NIKKOR Z 24-200 mm f/4-6.3 VR on Nikon Z 6 (top) at 24 mm
for comparison, the NIKKOR Z 24-70 mm f/4 (bottom) zoom at 24 mm
The appearance of this zoom is in accordance with the standards of the NIKKOR Z range, a sober design, a wide zoom ring, no dedicated focus ring (the 24-70 mm f/4 does not have one either), you must use the customizable multifunction ring with focus activation if you wish.
This zoom is stabilized, which may seem odd to you when Nikon's full-format Z hybrids have a stabilized sensor. I see two reasons for this:
Optical stabilization on the lens is often better than that of the sensor with long focal lengths (the NIKKOR Z 70-200 mm f/2.8 is stabilized), and this zoom lens climbs to 200 mm,
Let's not forget that the Nikon Z 50 doesn't have a stabilized sensor, the NIKKOR Z 24-200mm f/4-6.3 VR will allow you to benefit from a stabilized sensor on this camera that saves almost 5 stops.
Another point in common with megazooms is that the lens is much longer between 24 mm and 200 mm. It remains discreet at 24 mm but is not at all discreet at 200 mm, the Z 6 + zoom unit measures no less than 24 cm.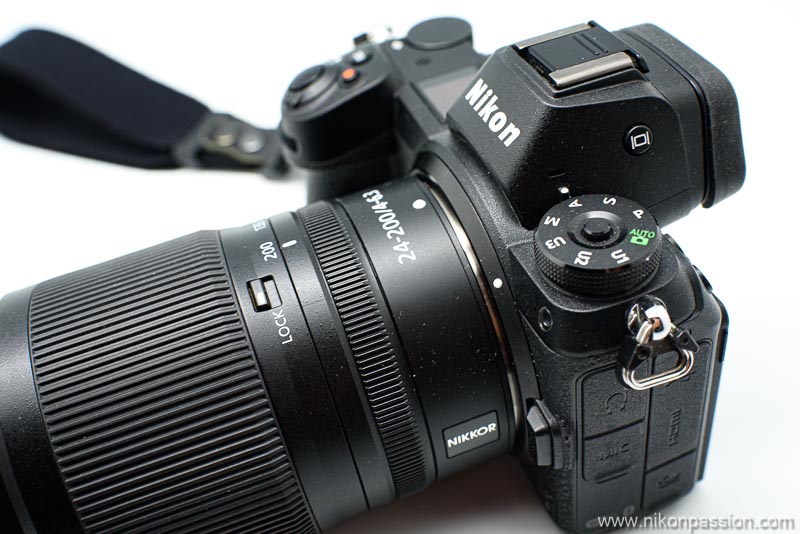 the Zoom Lock button on the NIKKOR Z 24-200mm f/4-6.3 VR
To prevent the zoom lens from becoming longer when stowed in your camera bag, which is common with this type of zoom lens, the NIKKOR Z 24-200 mm f/4-6.3 VR has a lock button on the barrel.
The diameter of the filters is 67 mm, the lens hood supplied with the lens will be useful to reduce the flare effect in the wide-angle position in particular.
Who is this NIKKOR Z 24-200 mm intended for?
A 24-200mm zoom lens allows you to shoot wide from 24 to 35mm, in close-up between 50 and 85mm, and telephoto beyond 105mm. This makes this lens versatile, so you don't need to carry the equivalent fixed focal lengths or the 24-70 + 70-200 mm duo. It also eliminates the need to change lenses in the field. So it's a zoom lens you can use whenever you want to travel light without losing shooting possibilities.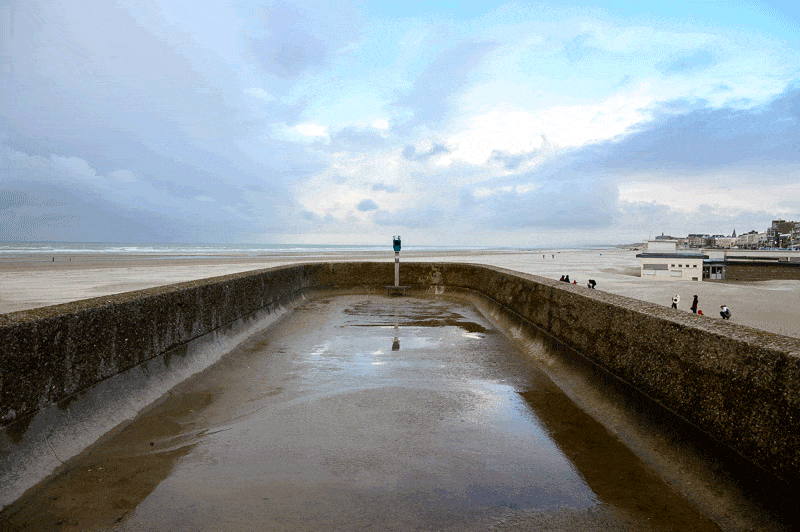 possible framing from 24 to 200 mm with the NIKKOR Z 24-200 mm
Its versatility is great because of its focal range, I won't say the same about its maximum aperture. It's a shame not to be able to keep a large aperture beyond 35 mm, in telephoto, when these focal lengths are ideal for portraits and action shots, mixing sharpness on the subject and nice background blur.
At f/6.3 the blur is less important, you will have to compensate by playing on the distance to the subject, get closer to benefit from a reduced depth of field and thus make up for what you lose in maximum aperture.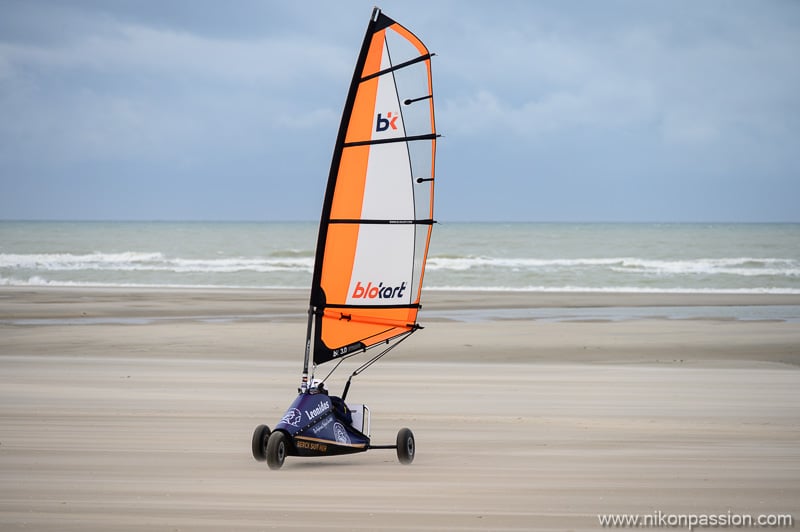 NIKKOR Z 24-200 mm f/4-6.3 VR – Nikon Z 6 – 200 mm – ISO 100 – 1/500 sec. – – f/6.3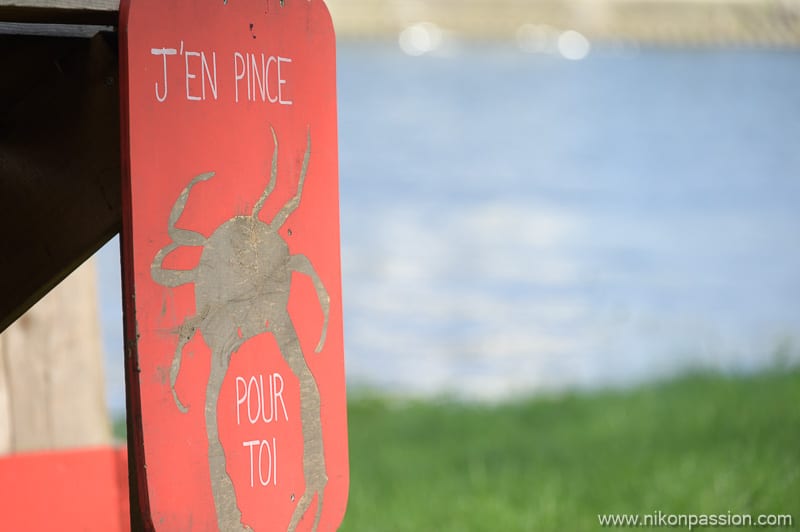 NIKKOR Z 24-200 mm f/4-6.3 VR – Nikon Z 6 – 200 mm – ISO 100 – 1/200 sec. – – f/6.3
This maximum aperture limit will also force you to raise ISO as soon as the light fades, which is not an insurmountable problem with Nikon Z hybrids that have digital noise limits up to ISO 6,400. Beyond that, consider a tripod for landscape or additional lighting for portrait and action.
Quality of construction
This NIKKOR Z 24-200 mm f/4-6.3 VR is as well built as the S series models. Nikon has not abandoned the metal frame for a polycarbonate frame, the general construction is in line with the S series, the rings rotate with the necessary firmness, without any play.
In position 200 mm the whole remains rigid, I did not find any assembly defect. So it is not on this level that we will make the difference. It's all good.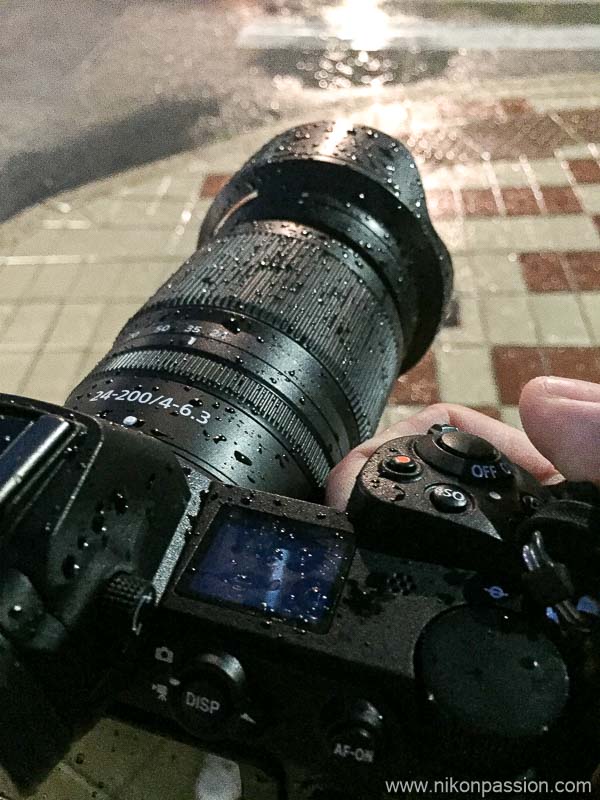 the NIKKOR Z 24-200 mm f/4-6.3 VR during a night session in heavy rain
Weather resistance is important, not for lack of having done part of this test NIKKOR Z 24-200 mm f/4-6.3 VR in strong wind and rain, having to chase sand out of the lens several times!
Getting Started
The adaptation is immediate, I appreciated to find the customizable ring to which I assign the control of the exposure compensation to manage in the viewfinder in real time. This adjustment is much faster than pressing the exposure compensation button, it gives me a result close to what I expect, and limits the image post-processing time.
This NIKKOR Z 24-200mm f/4-6.3 VR test also allowed me to highlight the reduced weight of this zoom, 570 grams or 70 more than the NIKKOR Z 24-70mm f/4 S, when the Nikon AF-S 28-300mm makes 800.
Very compact at 24 mm, it fits in my shoulder bag without difficulty. The difference is small with the 24-70 mm f/4, closed bag I do not make the difference.
The body + lens assembly is very well balanced:
at 24 mm the zoom ring makes it easier to hold the lens,
At 200 mm, the hand moves forward to compensate for the increase in length, without the whole unit becoming unbalanced.
This feature is appreciated because it allows you to go from 24 to 200 mm without moving the viewfinder eye. Depending on the size of your hand and the flexibility of your wrist, you will need to let go and then pick up the ring to make the full rotation, or rotate the ring with two fingers while the other hand holds the body firmly.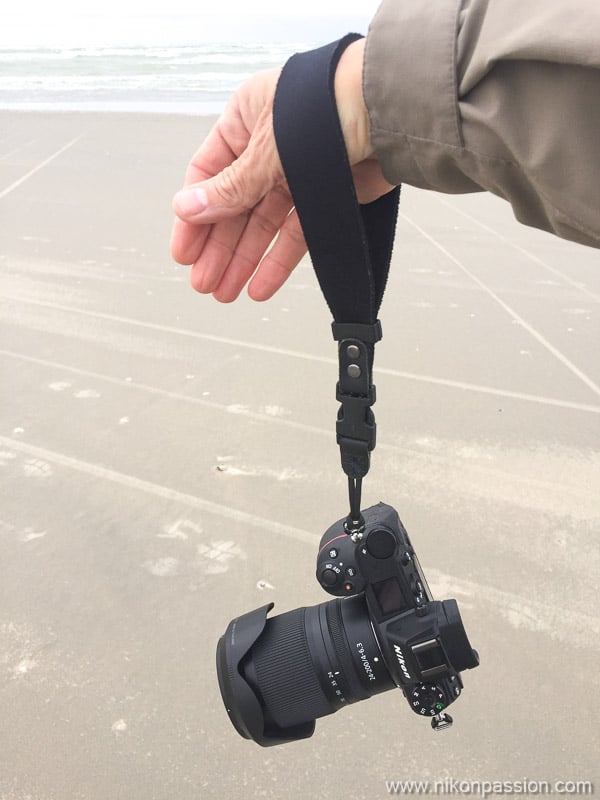 the NIKKOR Z 24-200 mm f/4-6.3 VR with sun visor in reverse position
As with other Nikon lenses, the lens hood is easily clipped on and can be attached upside down to the barrel so that it is always available, so you can remove it for reasons of discretion without having to put it away.
Autofocus
This NIKKOR Z 24-200mm f/4-6.3 VR is a native Z lens, which means it is designed to provide the fastest and quietest focusing possible on a Nikon Z hybrid.
At 24 mm the focus is almost immediate from one position of the focus range to the other.
At 200 mm the stroke is longer and the lens takes a few tenths of a second to settle, without hesitation however.
If you aim at a subject that is too close (minimum focus distance 0.5m at 24mm and 0.7m at 200mm), no constant pumping, the focus system will switch from one extreme to the other before stopping, this is a sign that you need to move away.
In terms of focusing speed, it is therefore the side of the housing that needs to be bent. The Nikon Z 6 and 7 series 1 being not the fastest, I have no doubt that this zoom mounted on a Z series 2 is even faster. The performance of the autofocus system is linked to the progress of the AF module and the dual Expeed 6 processor.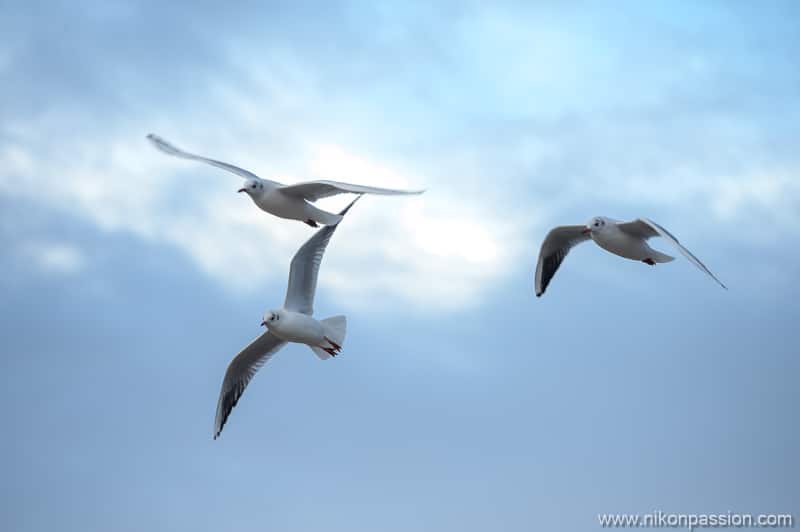 NIKKOR Z 24-200 mm f/4-6.3 VR + Nikon Z 6: 200 mm – 1/250 sec. – f/6.3 – 320 ISO
I also noted good focus stability, especially on fast-moving subjects and when using the AF-C mode. It is difficult to say who favours what in this mode, so I would have to go into detail on how the focus algorithm works. However, once the camera focuses, it will not let go of the focus; the camera will follow the subject. In the end what matters is to have a sharp picture and it is the case.
Stabilization
Here's a thankless subject to deal with because using a NIKKOR Z VR lens on an already stabilized Nikon Z hybrid requires an understanding of how the whole thing works.
The two systems, IBIS (sensor stabilization) and VR (lens stabilization) work together in the following combinations:
Nikon Z 5 / Z 6 / Z 7 series 1 and 2
with NIKKOR Z non VR lens: 5-axis sensor stabilisation
with NIKKOR Z VR lens: 5-axis stabilization sensor and lens
Nikon Z 50
with NIKKOR Z lens no VR: no stabilization
with NIKKOR Z VR lens: 2-axis stabilization (lens, yaw and pitch)
On my Z 6 I could thus have a 5 axis stabilization using the VR stabilization in addition to the sensor stabilization (2 + 3 axes).
The law that you should never exceed 1/focal to avoid blurred movement (e.g. 1/200 sec. at 200 mm) is obsolete with Nikon Z hybrids. This is the case with the NIKKOR Z 24-200mm f/4-6.3 VR, whose stabilization, coupled with that of the camera, allows much longer exposure times than you are used to with a telephoto lens.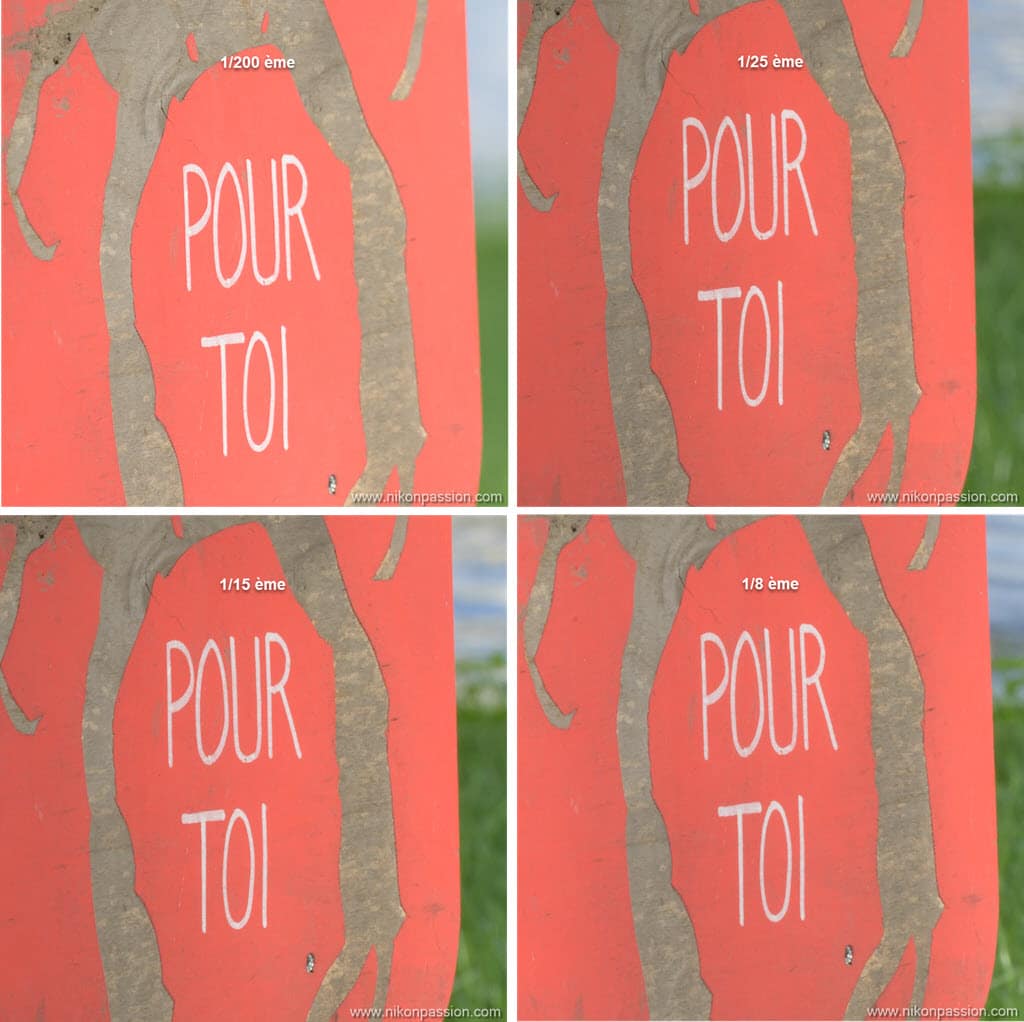 crop of photos at 200 mm : 1/200 – 1/25 – 1/15 – 1/8 ème sec.
By taking care to hold the camera securely in place, you can take sharp pictures at 200 mm, up to 1/10th of a second. In other words, this stabilization allows you to take pictures at night, in the evening, in very low light, at short or very long focal length. Some results are even impressive.
Used on a Nikon Z 50 (which I couldn't test at the same time), this zoom allows you to compensate for the lack of sensor stabilization for longer focal lengths, as stabilization is indeed useless in wide-angle position.
NIKKOR Z 24-200 mm test: optical performance, stitching, homogeneity and vignetting
NIKKOR Z lenses have accustomed us to high optical performance. The f/4 and f/2.8 pro-expert zoom lenses outperform their SLR counterparts, especially in wide-angle applications due to a larger mount diameter.
Without reaching the peaks of the NIKKOR Z 70-200 mm f/2.8, the photos show a beautiful homogeneity of the image sharpness over the whole field, especially at 24 mm, focal length for which it is frequent to notice a degradation on the edges, often coupled with distortion (see below).
At 200 mm and full aperture, the image stitching, which is set back from the zooms of the higher category, remains homogeneous and the final result is not lacking in interest.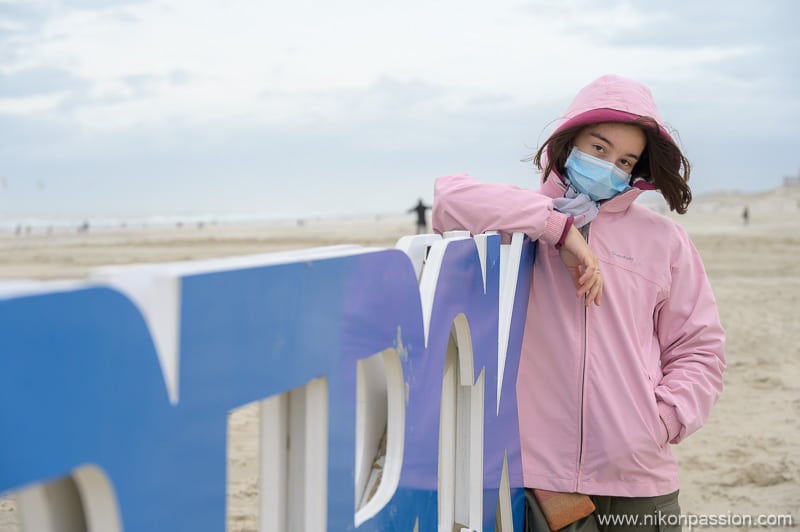 NIKKOR Z 24-200 mm f/4-6.3 VR + Nikon Z 6: 81 mm – 1/500 sec. – f/6.3 – ISO 900
The vignetting is visible at 24 mm at full aperture, of the order of 1.3 Ev, it disappears at f/5.6. This is quite classic with high amplitude zooms starting at 24mm, the AF-S 24-120mm for SLRs does much worse.
You will need to apply a correction to reduce this darkening of the edges of the image, which RAW development software does very well. The raw body JPG is not compensated enough to reduce this vignetting, so be careful if you are sensitive to it.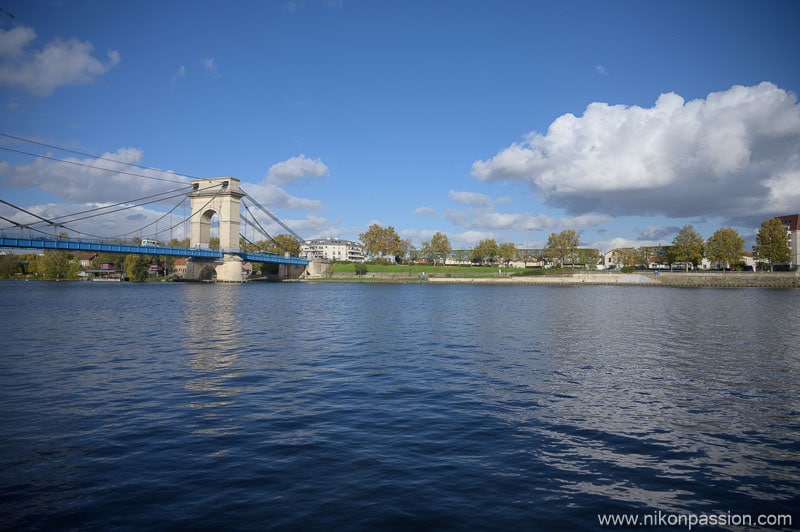 NIKKOR Z 24-200 mm f/4-6.3 VR
Vignetting at 24 mm f/4
Optical performance: deformation and distortion
The large diameter Z-mount minimizes distortion. Even on a zoom at less than 1,000 Euros that is not in the pro S line? range. Yes.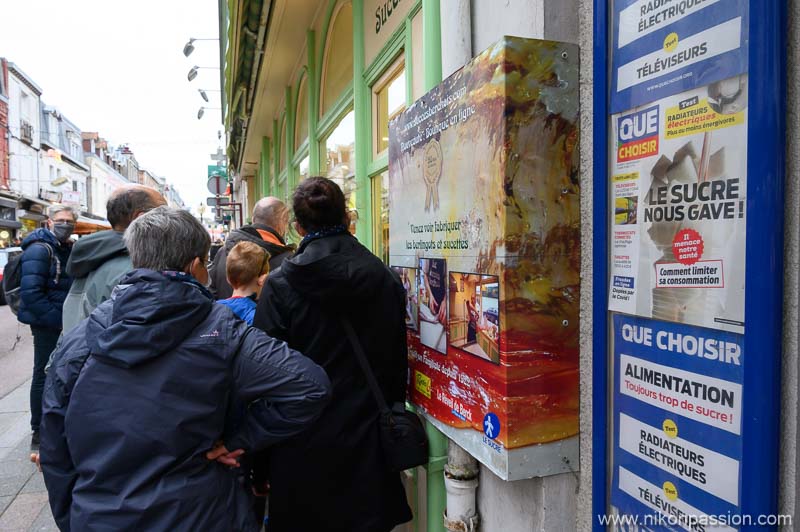 NIKKOR test Z 24-200 mm f/4-6.3 VR at 24 mm f/9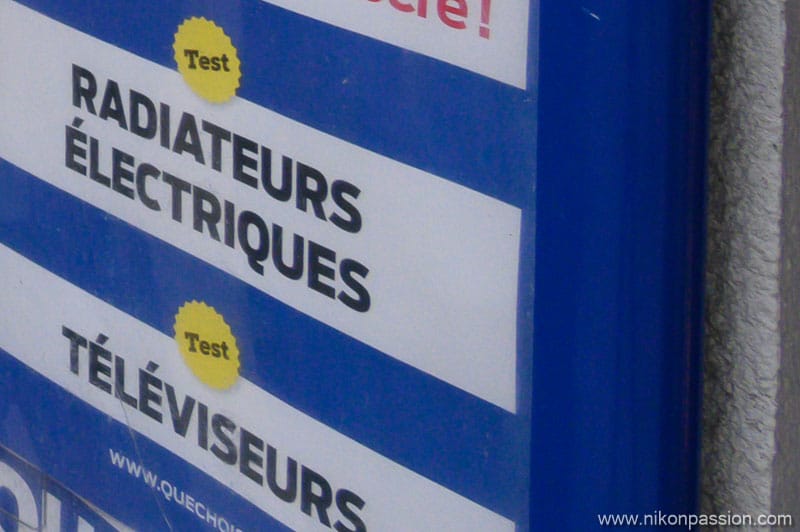 Crop in the lower right corner of the photo above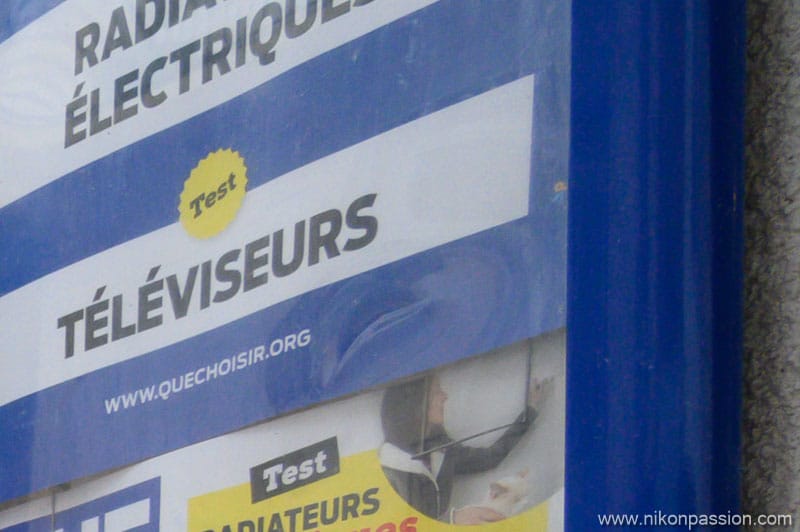 Crop in the upper right corner of the photo above
Let's not forget that we are in the presence of a zoom at less than 1.000 euros when a NIKKOR Z 24-70 mm f/2.8 is worth 2.200.
With this reminder in mind, I note an almost total absence of distortion and image distortion from 24 to 200 mm. It's a nice performance due to the frame, the optical formula of the lens and a little bit as probably to the computer processing provided by the body and the lens (hence the importance of body AND lens firmwares on hybrids).
Out of curiosity, I opened some images in DxO PhotoLab 4 to ensure the best possible distortion reduction, and I did not measure any deviation visible to the eye. Another way of saying that the files generated by this zoom are of high quality considering its price positioning.
Optical performance: color rendering and chromatic aberrations
I will speak more about chromatic aberrations than about the color rendering which is in line with what we know about the NIKKOR Z range. I appreciate the neutral rendering of the images, I have a preference for Picture Control Paysage which gives me files close, in colorimetry, to what I wish to obtain. Coupled with the exposure compensation in the viewfinder, this reduces the post-processing time. Switching from another NIKKOR Z to this one will be done without any difference in colorimetry visible on the screen.
In terms of chromatic aberrations, this NIKKOR Z 24-200mm f/4-6.3 VR test shows a tendency for the zoom lens to generate green and purple fringes that are more noticeable in foliage if you zoom in significantly in the image. As any lens would have said …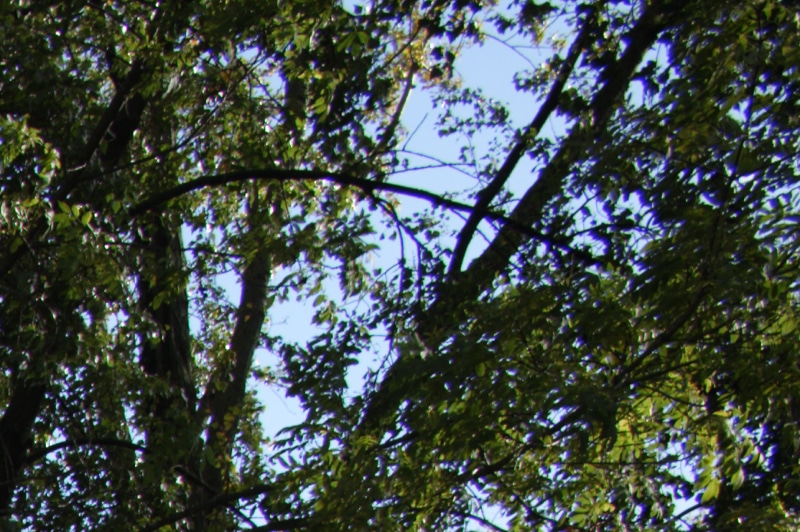 Crop of the original image, with green and purple fringes in the branches.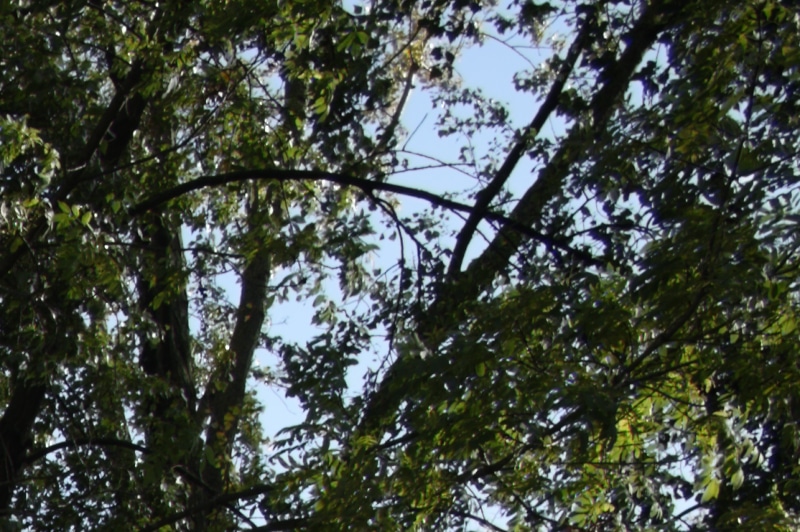 Crop of the original image processed in DxO PhotoLab 4 to remove chromatic aberrations
These aberrations are quickly corrected in RAW post-processing. On native JPG files, the processing performed by the camera body on the RAW to generate the JPG does not reach the performance of specialized software (such as Lightroom or DxO PhotoLab). The purple fringes remain visible if you focus on the branches and zoom in to 100% in the image.
Attention Do not overuse 100% displays, which are not normal viewing or printing conditions. These fringes will be very little visible on the screen or at normal viewing distance of a print.
Optical rendering: depth of field
I go back to my initial remarks. F/4 at 24mm gives you a nice latitude in terms of depth of field, although this short focal length doesn't favour background blur and bokeh effect, this is not the goal in wide-angle.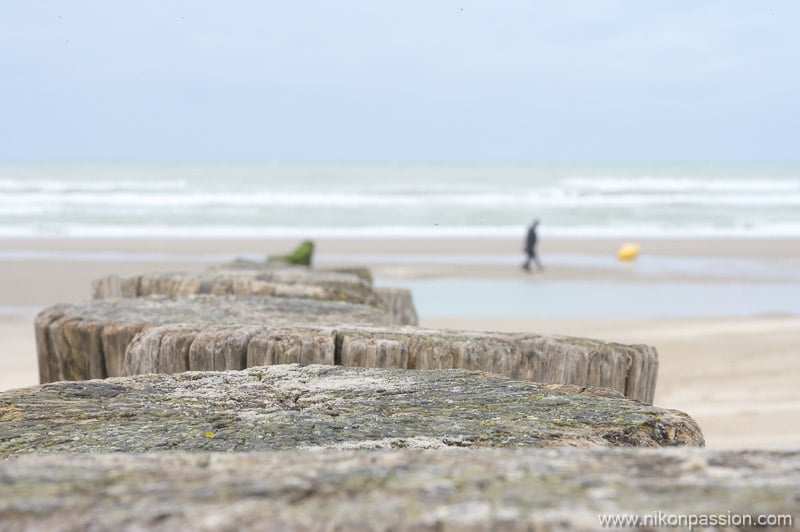 NIKKOR Z 24-200 mm f/4-6.3 VR at 24 mm + Nikon Z 6 : 135 mm – 1/125 sec – f/36 – ISO 1600
At 200 mm the depth of field remains limited by the f/6.3 aperture, I would have really preferred an f/4 aperture at 200 mm, a performance hardly conceivable to keep the compactness, the weight and the price expected for such a zoom.
Does that mean that you can't make nice telephoto blurs with this 24-200mm? No, it is still possible, you will have to manage the distance to the subject as well as possible to play with the depth of field.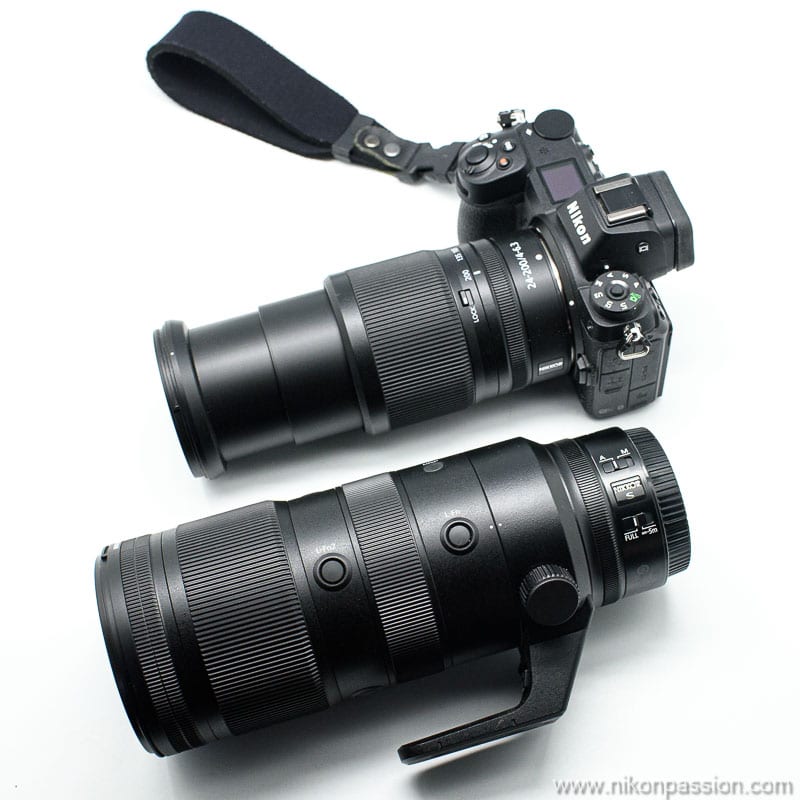 the NIKKOR Z 24-200mm f/4-6.3 VR at 200mm on Nikon Z 6 (top)
the NIKKOR Z 70-200 mm f/2.8 (bottom, constant length)
It's personal, I have a weakness for wide-aperture telephoto lenses. However, they can't offer the compactness, flexibility and price of such a megazoom, so being able to shoot at 200mm and f/6.3 remains a nice alternative that will allow you to make nice portraits with a bit of practice.
Pictures of this test in full definition on Flickr :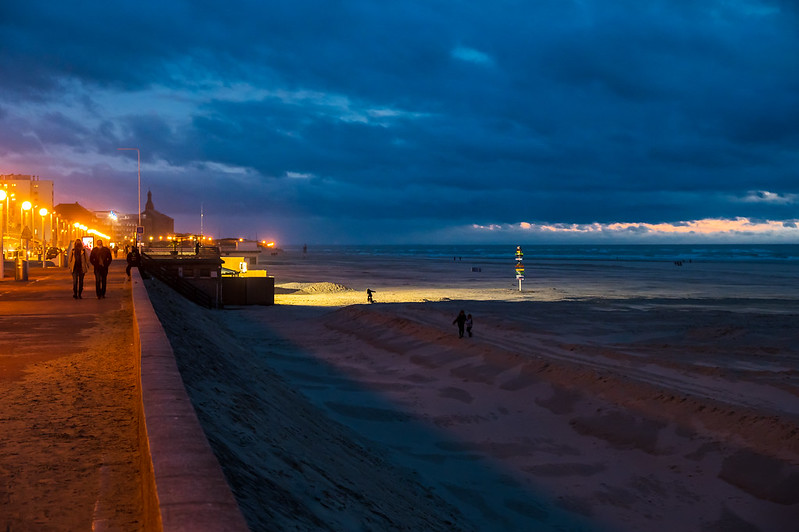 Test NIKKOR Z 24-200 mm f/4-6.3 VR: my conclusion
Nikon NIKKOR lenses have made the brand's reputation as much, if not more, than reflex cameras. With the hybrids, Nikon was expected at the turning point, since the Z-mount implied a total rewriting of history: new features, new optical formulas, new stakes.
Based on this experience, it is undeniable that Nikon opticians have succeeded in their coup in terms of performance: the NIKKOR Z S-Line outperforms the reflex versions, as well as the competition in F-mount. A major problem remained, the price of these lenses, far from being accessible to the amateur photographer who wants to switch to the hybrid without having to borrow for 10 years.
With the NIKKOR Z 24-200mm f/4-6.3 VR, Nikon offers a highly credible and affordable alternative to professional and fixed-focus expert zoom lenses:
the wide focal range allows for all types of shooting,
the weight and size allow daily use without (too) much stress,
the performances are up to the expectations of many amateurs and even some pros,
the price remains under 1.000 euros at the exit, that is to say 200 euros of difference with the version AF-S 28-300 mm f/3.5-5.6G ED VR which has already seen its price drop.
Investing in this NIKKOR Z 24-200 mm f/4-6.3 VR will not cost you more than choosing a megazoom for SLR and coupling the FTZ ring to it (sold 300 euros only).
What's wrong with this zoom? Quite frankly not much except its limited maximum aperture. Perfect Swiss Army Knife to complement a Nikon Z 5 or Z 6, a relevant complement to a Nikon Z 50, this NIKKOR Z 24-200 mm f/4-6.3 VR is not lacking interest.
Compared to the NIKKOR Z 24-70 mm f/4 (600 euros in kit, 1000 euros alone) the 24-200 has the advantage of an extended focal range. It will make you lose aperture at 70 mm (f/6 vs. f/4). The value proposition remains very interesting for the amateur photographer who is not looking for excellence at all costs. Experts and pros who appreciate the 24-70 will rather look at the f/2.8 model (2,200 euros).
Facing Nikon mega zoom cameras or compatible via the FTZ ring, this 24-200 has a few things ahead of it: extreme compactness, reduced weight, quietness of focus, superior performance, maximum compatibility with Nikon Z hybrids, all-weather construction and upgradeability (upgradeable).
The NIKKOR Z 24-200 mm f/4-6.3 VR may be of interest to you if :
you don't have any NIKKOR Z zoom yet,
you're looking for a versatile and compact lens for travelling
you appreciate long focal lengths without having the budget for a telephoto f/2.8 lens,
you don't have an F-mount equivalent,
you don't like to go from one fixed focal length to another.
The NIKKOR Z 24-200 mm f/4-6.3 VR will be of less interest to you if :
you are looking for the best possible optical performance at the expense of price and compactness,
you appreciate the large openings and the pronounced bokeh effect,
you already have a NIKKOR Z 24-70 mm f/4 and do not intend to resell it,
you wish to photograph in all discretion (in the street for example),
you are using an SLR and a hybrid at the same time and must keep an F-mount zoom.
Learn more about this zoom on the Nikon website.
This goal at the best price at Miss Digital