A few days ago, Tokina introduced its new Opera 16-28mm f/2.8 wide-angle zoom lens for Nikon and Canon SLRs. As one of the first copies was available in the weeks before the announcement, the opportunity to test Tokina Opera 16-28 mm f/2.8 was too good!
Here's everything you need to know to make up your mind, examples of photos and who this is for.
Tokina's objectives at Miss Numeric
Tokina objectives at Amazon
Founded by former "dissident" Nikon engineers, Tokina has kept a low profile in recent years, leaving its compatriots Sigma and Tamron almost alone in the limelight.
Yet, with its targets renowned for their excellent value for money, Tokina has a card to play. More than certainly motivated by the hyper-activity of his little friends, the optician, who belongs to Kenko, has decided to refresh his catalogue with a new line of lenses dedicated to 24 x 36 mm reflex cameras called Opera.
The Tokina Opera 16-28 mm f/2.8 tested here is the second member of this new series and we had the opportunity to preview it. This wide-angle zoom will be available from March 2019 at 729.90 euros.
The Tokina Opera 16-28 mm f/2.8 succeeds the Tokina 16-28 mm f/2.8 AT-X Pro FX, from which it takes up the main optical lines with a 15-lens formula (of which 3 aspherical and 3 low-dispersion) divided into 13 groups, a circular diaphragm with 9 slats and a minimum focus of 28 cm. In addition, the handy AF/MF clutch switch (or "with clutch", for the Anglophobes.) is maintained.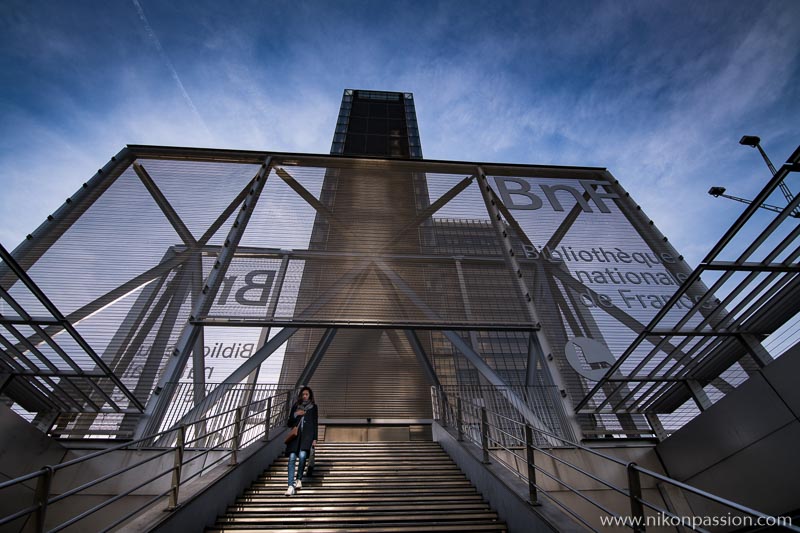 Tokina Opera test 16-28 mm f/2.8: Nikon D850 – 16 mm – ISO 100 – 1/800 sec. – – f/4.5
Yet, both outside and inside, much has changed. The design is modernising and is now reminiscent of the productions of Sigma and Tamron. The autofocus system and surface treatments have been improved. Despite this thorough facelift, the Tokina Opera 16-28 mm f/2.8 remains a heavyweight because, like its predecessor, it still weighs almost one kilogram on the scale (940 grams to be precise).
With a focal length range of 16-28 mm, this Tokina is quite atypical on the market and is an alternative to the "classics" 14-24 mm f/2.8, giving them 2 and 4 mm respectively while maintaining the benefit of a constant aperture.
Less extreme than the Nikon AF-S Nikkor 14-24 mm f/2.8G ED and Sigma 14-24 mm f/2.8 DG HSM | Art, it allows itself despite its beautiful size to be lighter than its two rivals, both of which exceed 1100 grams and, above all, much less expensive. Indeed, in "street prices", the Nikon is negotiated around 1900 euros and it is still necessary to count nearly 1300 euros to acquire the Sigma.
But the real competitor is the Tamron SP 15-30 mm f/2.8 Di VC USD G2 released in the summer of 2018: more versatile while keeping the constant f/2.8 aperture, it also offers optical stabilization! On the other hand, in terms of price, the Tokina remains untouchable since the Tamron is priced at 1250 euros.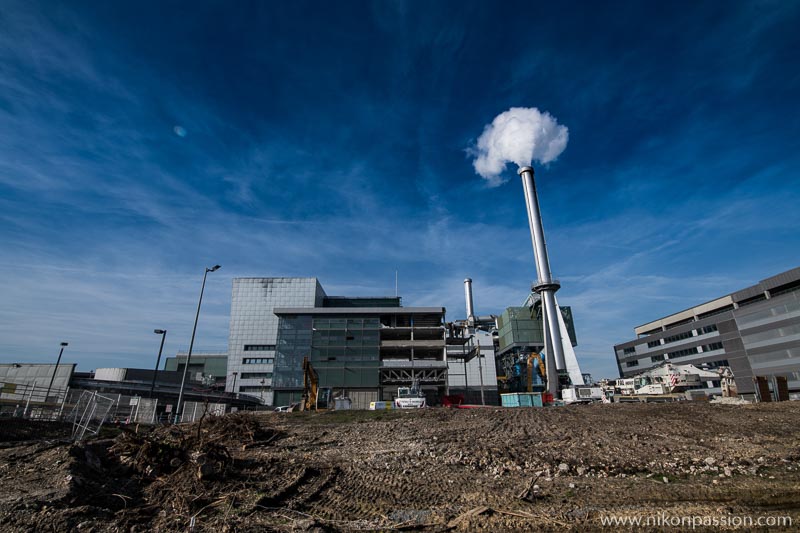 Tokina Opera test 16-28 mm f/2.8: Nikon D850 – 16 mm – ISO 100 – 1/500 sec. – – f/8
Who is this 16-28 mm zoom lens for?
For those who want a wide-angle zoom to complement their 24-70mm f/2.8 but are careful with their budget.
For those who would like to discover the joys of wide-angle photography but are still hesitating about their favourite focal length.
To those for whom 14 mm would be a little too wide, and/or to those who are fond of 28 mm but who sometimes find it a little too long.
Finally, to those equipped with a 24 x 36 mm reflex.
Firstly because mounted on an APS-C box, this 16-28 mm would give a 24-42 mm wider angle, which would make it somewhat less interesting. Second, and maybe more importantly, because the lens is so massive and dense that on an APS-C camera other than a Nikon D500, the whole thing would be unbalanced, nose-dive and unpleasant to handle. It's time to start working out…
Apart from budgetary considerations, this Tokina Opera 16-28 mm f/2.8 may also be of interest to those who are weary of the overly surgical rendering of modern optics and are looking for a softer, "old-fashioned" rendering.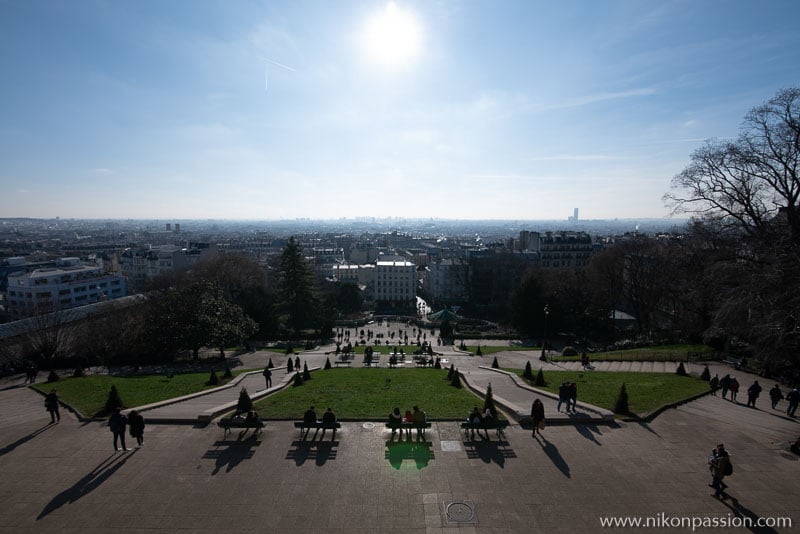 Tokina Opera test 16-28 mm f/2.8: Nikon D750 – 16 mm – ISO 125 – 1/1250 sec. – – f/5.6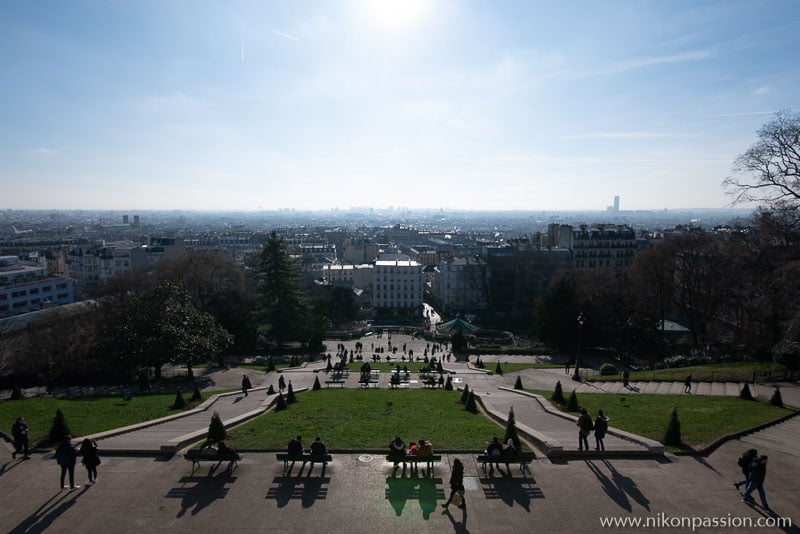 Tokina Opera test 16-28 mm f/2.8: Nikon D750 – 20 mm – ISO 125 – 1/1000 sec. – – f/5.6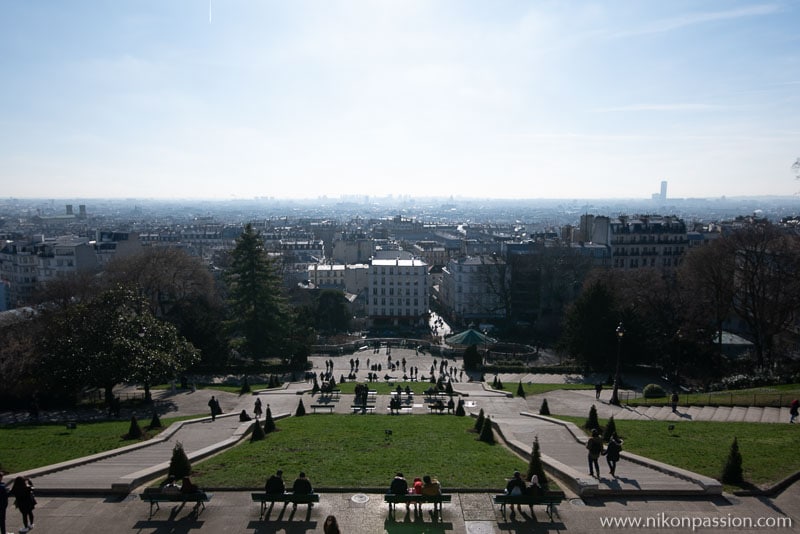 Tokina Opera test 16-28 mm f/2.8: Nikon D750 – 24 mm – ISO 125 – 1/1000 sec. – – f/5.6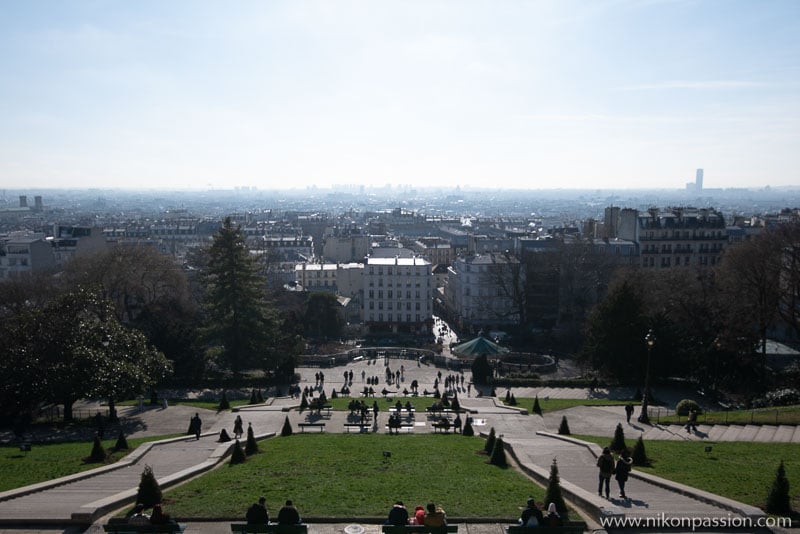 Tokina Opera test 16-28 mm f/2.8: Nikon D750 – 28 mm – ISO 125 – 1/1000 sec. – – f/5.6
Quality of construction
Gone are the golden Nikon-style inscriptions, Tokina's eyes now turn to Tamron and Sigma. Moreover, the first time you pick up and handle this wide-angle zoom lens, the aesthetic borrowings from the two competitors might surprise you: matt black barrel, silver inscriptions, distance scale under its small transparent protection, seal at the frame level, large finely fluted rings.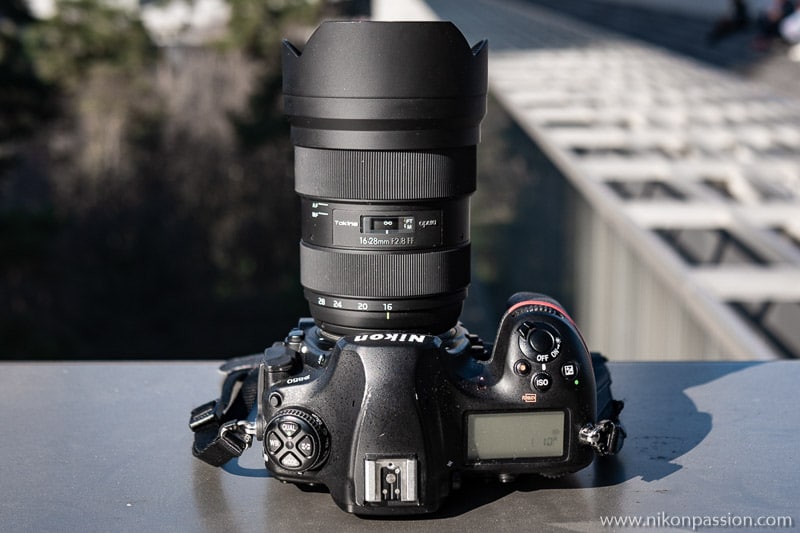 Tokina Opera test 16-28 mm f/2.8 on Nikon D850
It is said that imitation is the most sincere form of flattery, but that would be denigrating the fine work of Tokina's engineers. This Opera therefore breathes solidity and seriousness while having its own personality, and we are not going to complain about it!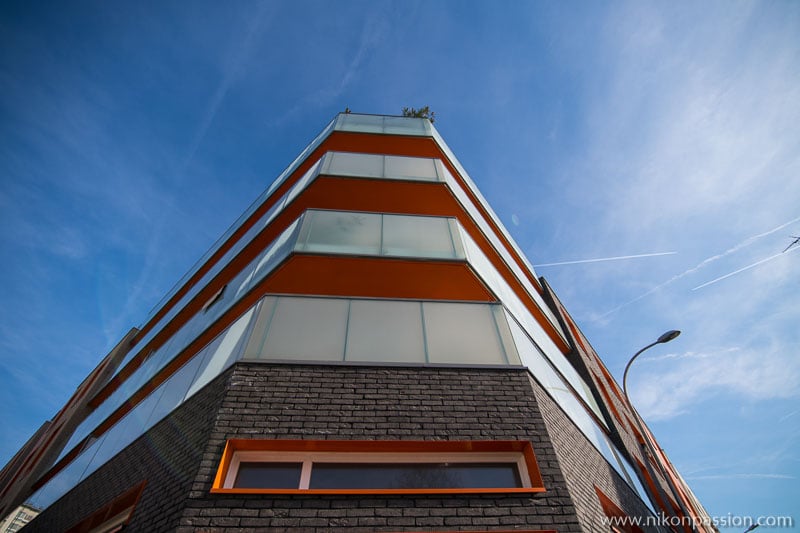 Tokina Opera test 16-28 mm f/2.8 : Nikon D850 – 16 mm – ISO 100 – 1/3200 sec. – – f/2.8
Handling and autofocus
The previous Tokina 16-28mm f/2.8 AT-X Pro FX had two ergonomic shortcomings: its zoom ring was too hard and its autofocus motor was slow. On this Opera 16-28 mm f/2.8, the zoom ring is therefore in clear progress and gains in fluidity… even if we are not yet quite at the level of the competitors in terms of flexibility.
The autofocus has been thoroughly reworked and now manages to hit the bull's eye both quickly and quietly on both a Nikon D750 and a Nikon D850.
The handling of this objective is, on the whole, very pleasant. The system switches between auto focus and manual focus by pulling the focus ring (or the other way around to activate AF) is still as enjoyable as it is practical. In the field, this allows the AF-L button on the camera body to be flicked and released to do something else. This focusing ring is flexible and, in manual mode, has a physical stop at both ends. Just like on its predecessor, there is no dedicated aperture ring.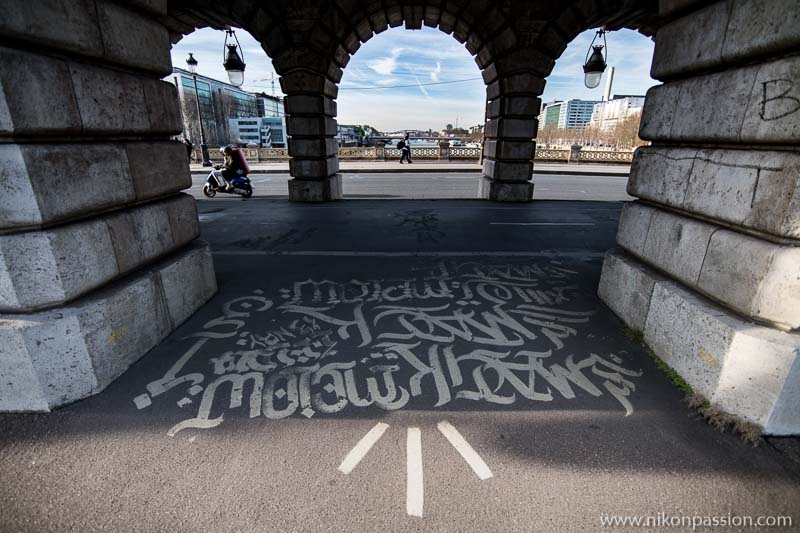 Tokina Opera test 16-28 mm f/2.8: Nikon D850 – 16 mm – ISO 100 – 1/500 sec. – – f/2.8
The very curved front lens prevents the use of filters, which is almost comical since the French importer of Tokina is none other than Cokin, well known, precisely, for its filters to be adapted on recalcitrant lenses, but has no reference compatible with this Opera 16-28 mm f/2.8… The lens hood is attached to the rest of the body.
By the way, it's a displacement of the block inside the front sunshade that allows zooming: whatever the working focal length selected, the lens keeps the same dimensions. A huge clip-on lens cap covering the entire hood protects your precious camera when you need to store it in your camera bag.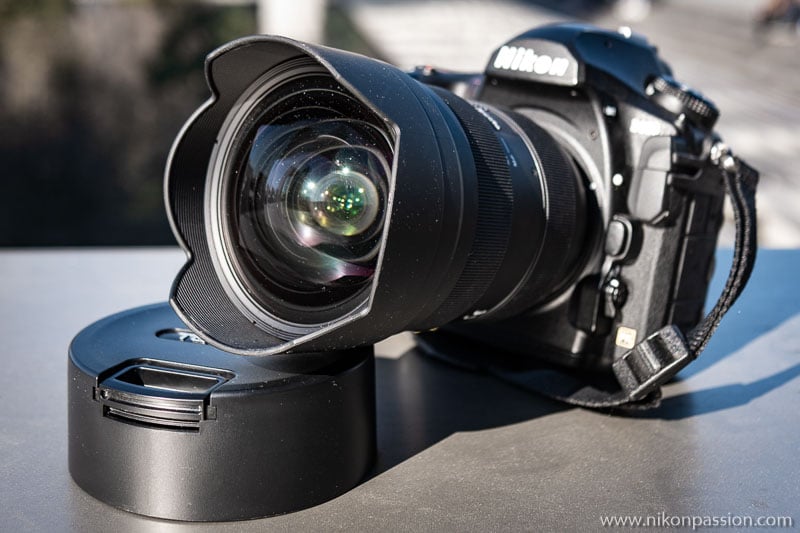 Tokina Opera test 16-28 mm f/2.8: the curved front lens and integrated sunshade
Mounted on a Nikon D750 or a D850, the set is well balanced and pleasant to handle. However, if you plan to use this wide-angle zoom lens on a Nikon Z hybrid, you may find the torque will be a bit off: two-handed operation is recommended!
Stabilization
Like almost all wide-angle zooms of its kind, with the notable exception of the first and second generation Tamron 15-30 mm, the Tokina Opera 16-28 mm f/2.8 does not have optical stabilization. That said, given the short focal lengths considered, this is not really a lack in the field, and even at 28mm, at night, you risk little, especially considering the excellent high-sensitivity performance of recent Nikon FX cameras.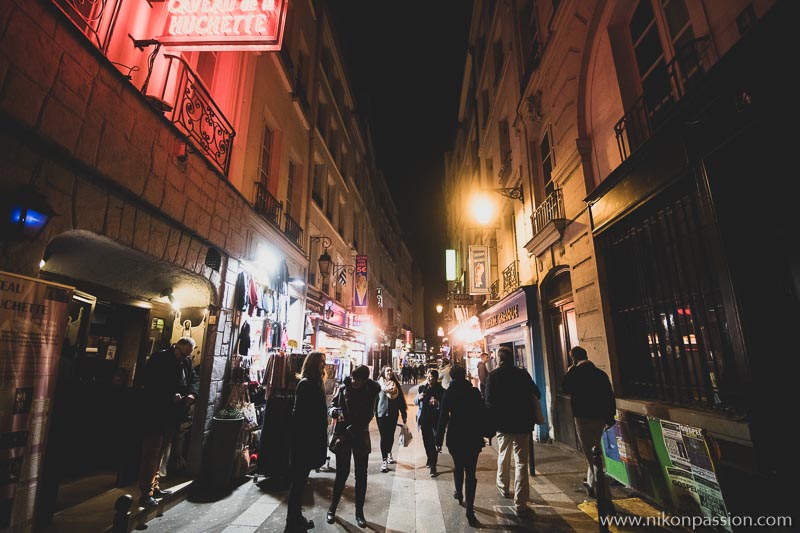 Tokina Opera test 16-28 mm f/2.8: Nikon D850 – 16 mm – ISO 8000 – 1/640 sec. – – f/2.8
Optical performance: vignetting
Like many of its wide-angle counterparts the Tokina Opera 16-28 mm f/2.8 "suffers" from very, very slight positive vignetting between 14 mm and 20 mm. This means that the angles are slightly lighter than the center of the image. That said, this is only disturbing if you are having fun photographing uniform surfaces in a frenzied manner. In any case, most of the time, your attention will be captured by the real flaw in this lens: its strong flare.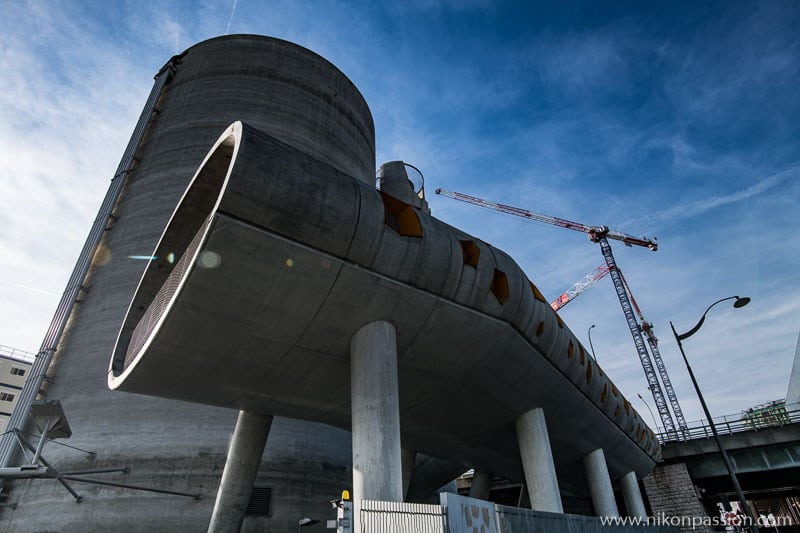 Tokina Opera test 16-28 mm f/2.8: Nikon D850 – 21 mm – ISO 100 – 1/320 sec. – – f/8
Optical rendering: parasitic reflections
A wide-angle zoom lens, a very curved front lens, more modern surface treatments, an imposing sunshade: what could go wrong?
If your name is J.J. Abrams, you're going to love to put flare everywhere in your pictures, or almost. On a recent optic, such a bad correction of parasitic reflections is almost shocking, especially when compared to the latest productions of Sigma and Tamron.
And then, as time goes by… we end up wondering if Tokina's engineers didn't do it on purpose, to give an atypical signature to their Opera. A dramatic, tragic signature, with baritones, sopranos and divine light falling from the sky, even when you have the sun on your back. Add to this its tendency to transform any point of light into a splash of overexposed light, and you're in the middle of a space opera.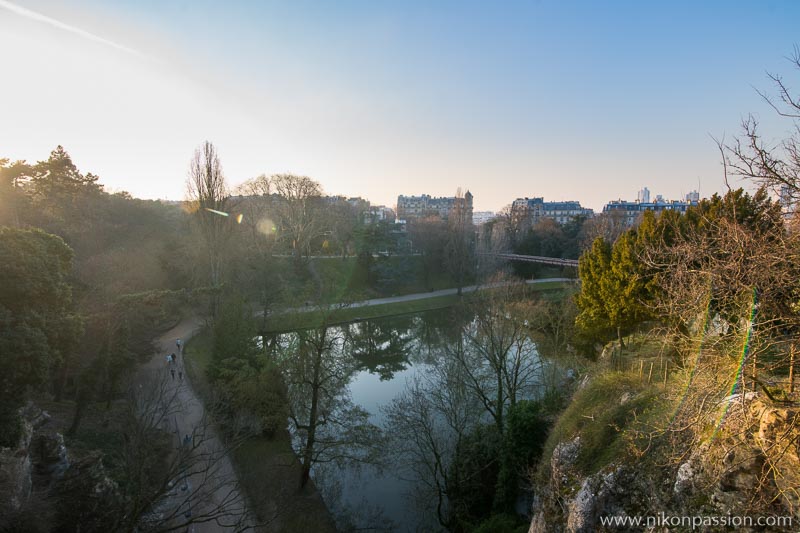 Tokina Opera test 16-28 mm f/2.8: Nikon D850 – 16 mm – ISO 200 – 1/160 sec. – – f/5.6
No focal length is spared by the flare, but it is especially under 24 mm that the flare is the most pronounced. If it can sometimes be aesthetic, with pretty rainbows that come to lodge themselves in the corners of the image and sometimes even take the form of almost angelic halos, the ghostly and really parasitic images that recur in 16 mm are, on the other hand, much more disturbing and delicate to correct in post-production.
So, on the field, you hesitate: " Should this objective be thrown out of the window right away or, on the contrary, should we take the side of its very particular aesthetic signature, which changes the sanitized objectives to which manufacturers are trying to subject us? »
If you are in the first case, you have not read this test (Happens to a lot of good people.) and therefore made a bad investment (730 euros is still a substantial investment).
If you are in the second case, then welcome to the club of amateurs of atypical and playful objectives, more or less secretly nostalgic for the good old days when you had to give of your person to unravel recalcitrant objectives before getting the best out of them. You might end up enjoying it: "I'm not sure you're going to enjoy it. Oh, the sun's going down! Flare. Oh, a lonely lamppost? Flare. Oh, a lighthouse in the distance! Flare. Oh, the full moon! Flare. Oh, an alleyway full of neon lights! Flare. Oh, a picture without flare! Damn it, it's all gone… »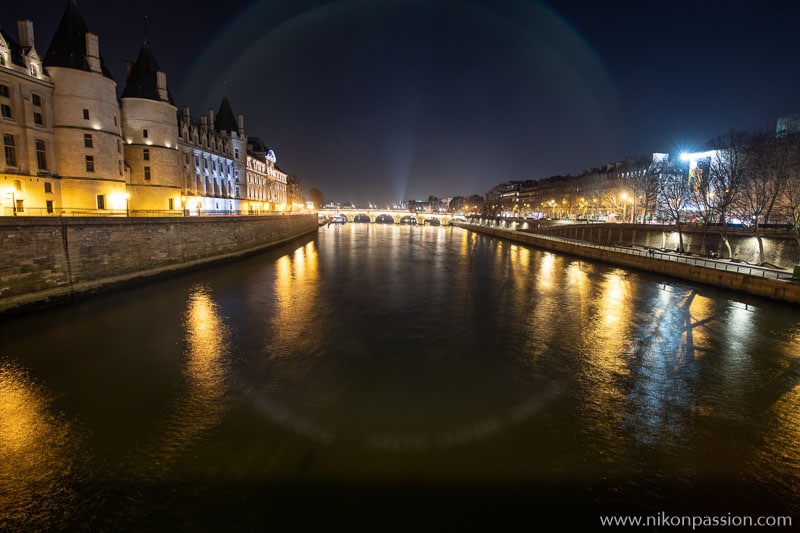 Tokina Opera test 16-28 mm f/2.8: Nikon D850 – 16 mm – ISO 100 – 8 sec. – – f/5.6
Objectively, therefore, this flare story is a flaw according to today's criteria. However, for some photographers, it will be the main quality and the main focus of interest, especially since in all other optical fields this Tokina Opera 16-28 mm f/2.8 comes out with honors.
Optical performance: deformation and distortion
With its more reasonable focal range of 16-28mm, this Tokina Opera is less prone to distortion than its 14-24mm counterparts. This one will therefore not pose a problem.
Distortion is much better managed than on the previous Tokina 16-28mm f/2.8 AT-X Pro FX to the point where it is now almost imperceptible, even at 16mm. In any case, in practice, if you're not working on a tripod, you'll be more focused on maintaining horizontality than distortion. So you can play with the fugitives and perspectives with peace of mind.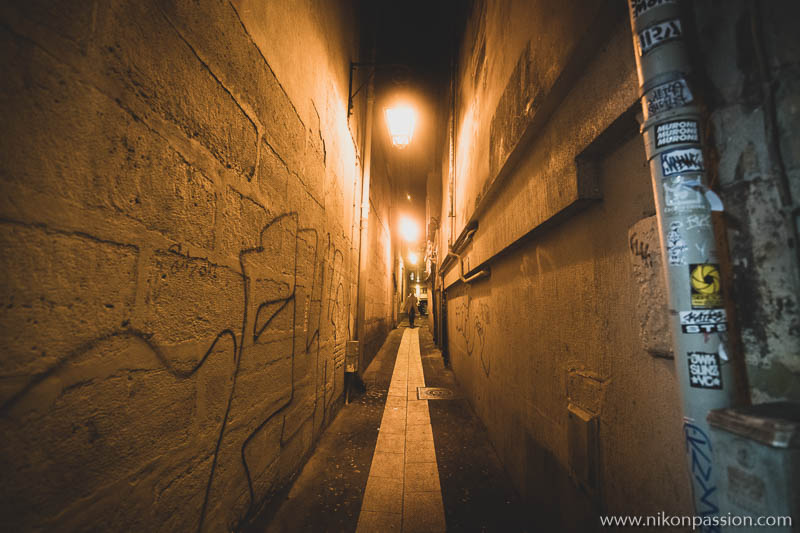 Tokina Opera test 16-28 mm f/2.8: Nikon D850 – 16 mm – ISO 8000 – 1/250 sec. – – f/2.8
Optical performance: sharpness and homogeneity
Although the optical formula is very close to that of the Tokina 16-28 mm f/2.8 AT-X Pro FX, the Tokina Opera 16-28 mm f/2.8 marks a big step forward in terms of sharpness and homogeneity. At all focal lengths from full aperture it is very satisfying, and by closing very slightly at f/4, even at 16mm, it feeds the 45.7 MP of a Nikon D850 without any worries.
Precise without fuss, this wide-angle zoom doesn't have much to envy its much more expensive rivals and will therefore be at ease with all current sensors, even the most demanding.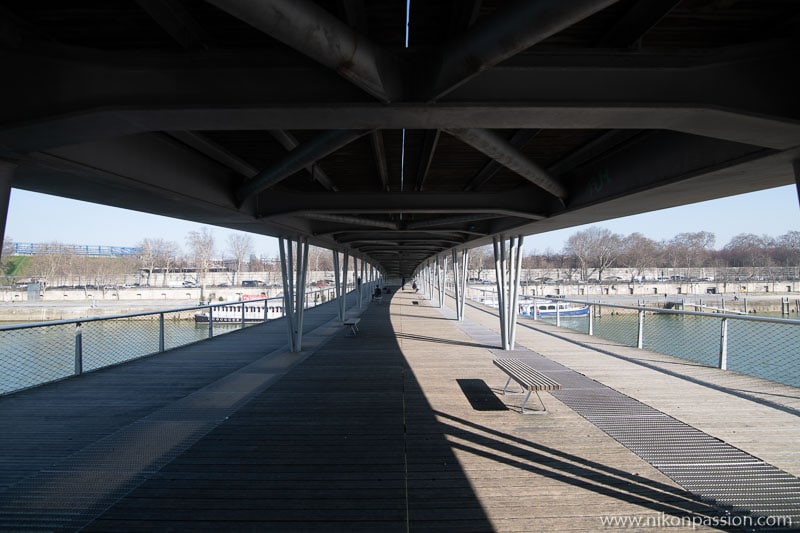 Tokina Opera test 16-28 mm f/2.8: Nikon D850 – 16 mm – ISO 100 – 1/500 sec. – – f/4
Optical performance: color rendering
This is one of the little tricks of this Tokina Opera: while remaining precise, it does not show itself to be shrill. The delivered images remain very soft, with neutral and low-saturated colors that will allow you to play with the .NEF files on your favorite processing software to forge the rendering to your image.
By adopting a philosophy that runs counter to the current trend among Japanese opticians, Tokina comes somewhere close to Leica's ideal, producing fine but not exuberant images. It's an aesthetic choice that may surprise you if you're not used to it, but there's something very restful about it. And then, the slightly faded shades of colour, especially in backlighting, make the flare stand out even more.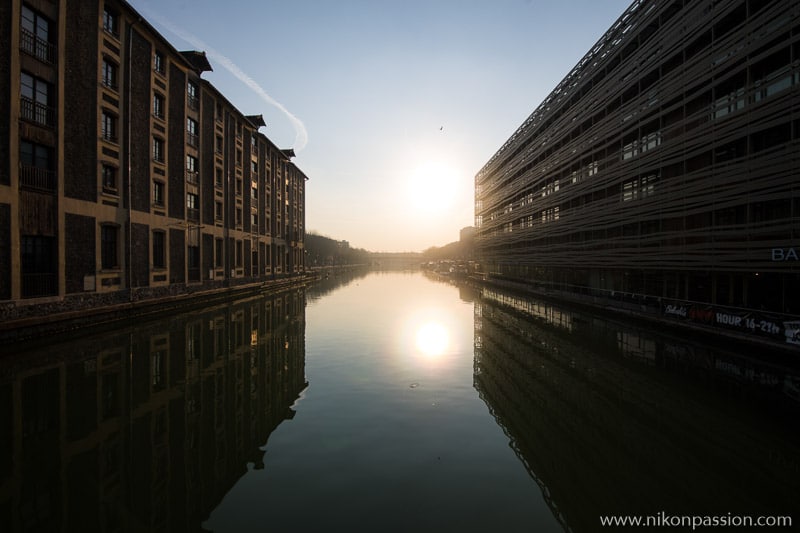 Tokina Opera test 16-28 mm f/2.8: Nikon D850 – 16 mm – ISO 200 – 1/800 sec. – – f/8
This rendering " atypical "You will particularly appreciate it in the shadows, which are richer in information due to the low contrast. If you plan to use the Opera 16-28 mm f/2.8 in video, its "flat" rendering will lend itself very well to the exercise and its other flaws will add to the cinematic rendering, if that's what you're looking for.
Note, by the way, that this wide-angle zoom is almost free of chromatic aberrations, which is not half a feat.
Optical rendering: depth of field
Despite its minimum focus of 28 cm and its constant maximum aperture of f/2.8, playing with shallow depths of field is not the preferred exercise of this zoom for the focal lengths considered. It likes it when everything is in focus. You will therefore have to adapt your photographic practice to this character.
It's fine if you do street and architecture photography, less if you like close-ups. But it's almost a pity because this Tokina Opera 16-28 mm f/2.8 delivers a very smooth and harmonious bokeh… when you manage to get bokeh.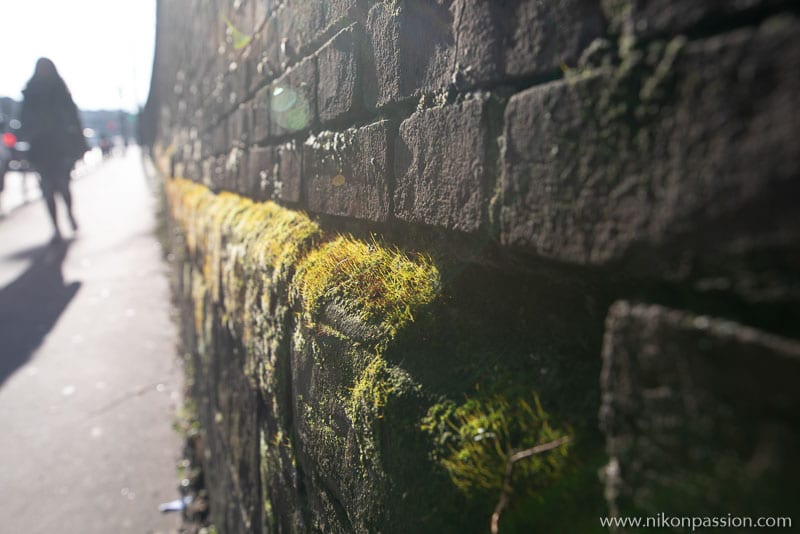 Tokina Opera test 16-28 mm f/2.8: Nikon D850 – 28 mm – ISO 125 – 1/320 sec. – – f/5.6
The Tokina Opera 16-28 mm f/2.8 may interest you if :
you want a bright wide-angle zoom lens for less than 800 euros for your FX reflex,
you don't know with which fixed wide angle to complete your 35 mm or 50 mm,
you appreciate the smooth, old-fashioned rendering,
you're tired of modern optics too surgical,
you own the Tokina 16-28 mm f/2.8 AT-X Pro FX and want better optical performance,
you're ready to deal with his very pronounced flare.
The Tokina Opera 16-28 mm f/2.8 will be of less interest to you if :
you are using an APS-C SLR and/or a lightweight housing,
you are adept at high-contrast and surgical objectives,
you can't stand stray reflections,
you're uncompromising about the clutter in your equipment.
All the pictures of this test in full definition on Flickr :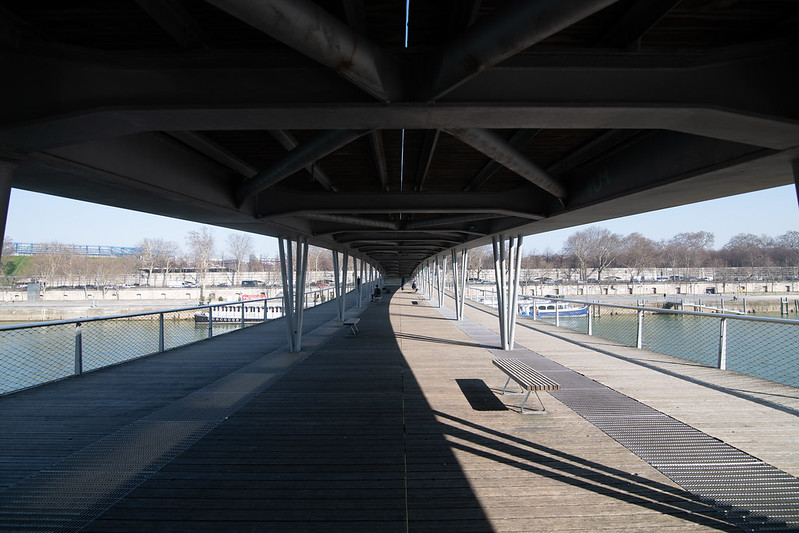 It's good to see Tokina getting back into modern SLR lenses. With his Opera 16-28mm f/2.8, the optician proves that high definition/resolution sensors don't scare him and takes up the challenge of the 45.7MP of a Nikon D850 with ease.
Just like its rivals Sigma and Tamron, Tokina has made a clear leap forward in terms of build quality and is even ahead of them on certain practical aspects, such as the formidable clutch tuning ring: trying it is adopting it. Of its competitors, Tokina replicates the low distortion and the chase for chromatic aberrations.
Resolutely modern in appearance and much of its performance, this Tokina takes a route off the beaten track abandoned by its competitors.
Here, no overly surgical rendering, no hyper-contrasting micro-contrast, the emphasis is rather on soft colours accompanied by a flare as pronounced as it is assumed.
Of course, it will not please or suit everyone, but this is undeniably what makes its charm. As a famous dating site would say: you will love it for its imperfections… and its very soft price for a wide angle zoom at constant f/2.8!
Thanks to Tokina/Cokin for the quick loan of this lens.
Tokina's objectives at Miss Numeric
Tokina objectives at Amazon