The 85 mm focal length is popular with portrait enthusiasts. So when combined with a large f/1.4 aperture to create subtle background blurs, the Grail seems within reach of the shutter release. Welcome to the Samyang 85mm f/1.4 F autofocus.
This lens at the best price at Miss Digital …
For Nikon's DSLR users, the choice is quite limited: on the one hand, Nikon offers its AF-S Nikkor 85mm f/1.4G at around 1600 euros. On the other hand, Sigma offers its 85mm f/1.4 DG HSM | Art at 1099 euros. For photographers on a tighter budget, there's no salvation except for the AF-S Nikkor 85 mm f/1.8 G, which sells for around 400 euros but deprives you of the legendary f/1.4 aperture.
It is in this interstice that Samyang intends to make a place for itself. The Samyang AF 85 mm f/1.4 F, positioned at 699 euros, claims to make the virtues of the f/1.4 aperture accessible to those who had then only the budget of an f/1.8, in line with the manufacturer's aggressive policy, without however sacrificing anything on the image quality side. A potential new best seller?
Samyang AF 85 mm f/1.4 F: presentation and context
The Korean manufacturer Samyang was, at its beginnings, mainly known for its manual fixed focal length and wide angle lenses, with very aggressive prices that did not leave landscape designers and street photography amateurs indifferent.
Like his compatriots Sigma and Tamron, Samyang has been gradually moving up the range in recent years, resulting in more traditional, brighter focal lengths and, very recently, the arrival of autofocus lenses. While for the latter category, the manufacturer is concentrating its efforts mainly on the models intended for Sony hybrids with FE mount, it hasn't forgotten about SLRs.
The current range remains very limited, however, with only two references, but intelligently positioned: the Samyang AF 14 mm f/2.8 F, which we have already tested, and the Samyang AF 85 mm f/1.4 F, which is both radically different and yet philosophically so close.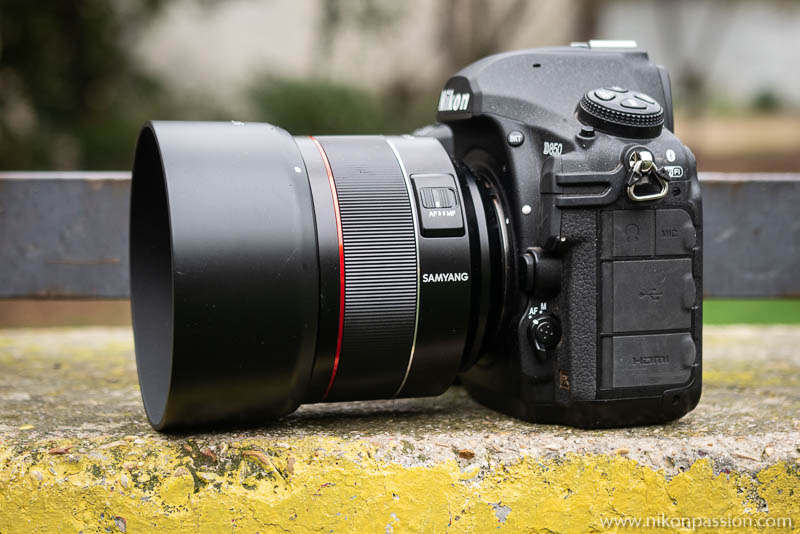 This lens is sold for 699 euros by Samyang, available for both Canon and Nikon SLRs equipped with a 24 x 36 mm sensor (FX, in the Nikonist nomenclature). Its optical formula has 9 lenses, including an aspherical one, divided into 7 groups. The minimum focus is 90 cm and the circular diaphragm has 9 blades. Filters with a diameter of 77 mm must be used.
At 7.45 cm long and 480 grams on the scale, it is the lightest and most compact of the 85 mm f/1.4 in Nikon F-mount, as the Nikon counterpart points at 8.4 cm for 595 grams when the Sigma explodes all scores with its 12.6 cm length and 1130 grams. Note, however, that these competitors use much more complex formulas (up to 14 lenses at Sigma!) and allow a focus at 85 cm.
Who is this Samyang 85 mm f/1.4 F intended for?
The 85mm focal length is traditionally associated with portraits but can be used for reportage and street photography. If you are a fan of both, then the Samyang AF 85 mm f/1.4 F seems to be particularly recommended, at least on paper, especially if the price factor is combined with the need for compactness and lightness. In your pouch, it will go perfectly with a bright 35 mm and/or a 24-70 mm f/2.8.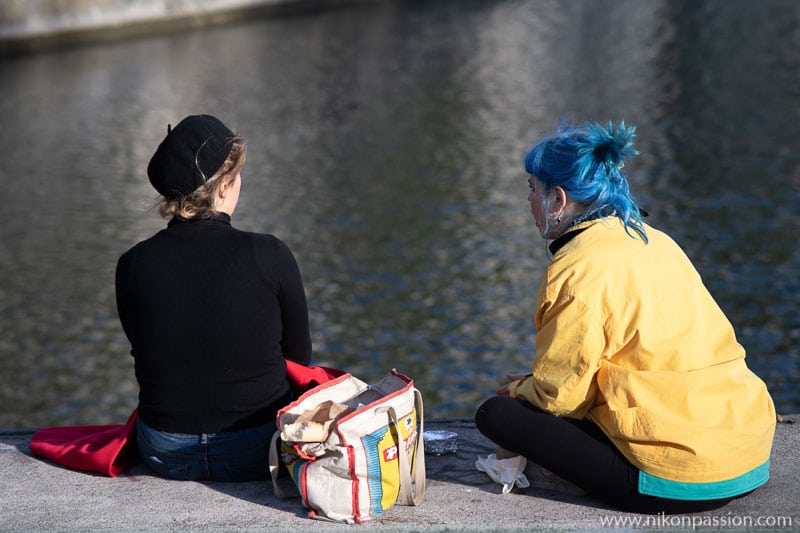 Samyang Test 85 mm f/1.4 F – Nikon D 850
1/250th of a second. – f/8 – ISO 100
Note that, like all F-mount lenses, the Samyang AF 85 mm f/1.4 F can of course be used via the FTZ ring on a Nikon Z 6/Z 7 hybrid or even a Nikon Z 50, on which it will form a 127.5 mm (which is still usable for portrait and, virtually, sports photography). As we didn't have a Z body on hand during the lens test, we can't comment on the autofocus performance of such a package.
Quality of construction
If for years Samyang did not make any particular effort on the design of its manual fixed focal length lenses, with a very… rough, even austere look, the arrival of the first Premium and autofocus models was the opportunity to make a new look.
In accordance with the manufacturer's "new" aesthetic charter, the Samyang AF 85 mm f/1.4 F is dressed in a slightly satin black dress, a wide metal (not rubber) grooved focusing ring with a smooth, but not stopless handling, the front lens being edged with a bright red-orange border. Simple, effective, elegant, even if a dedicated diaphragm ring would not have been too much, although it would probably have been detrimental to compactness.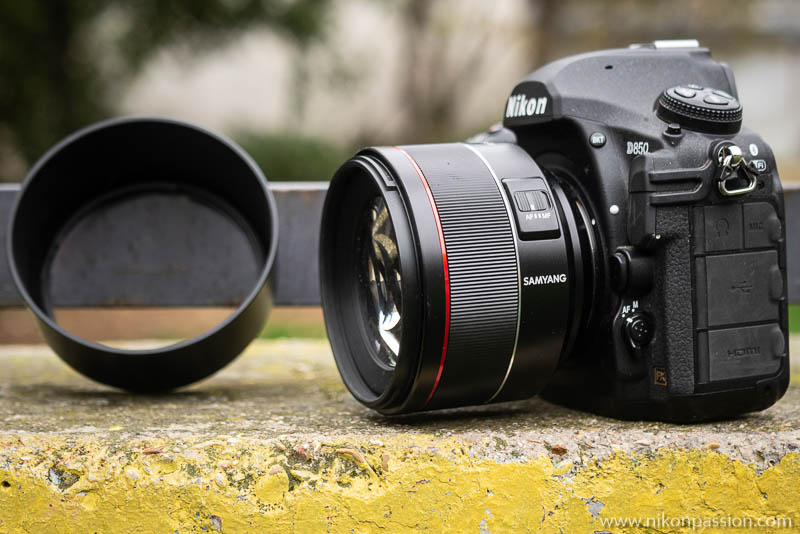 Small luxuries welcome: a rubber lip protects the frame from water and dust infiltration and the lens comes with a protective textile cover. At this level, it's almost a detail, but a lockable, velvet-lined sunshield, like the one on the Tamron SP 35mm f/1.4 Di USD, would have been perfect for the portrait.
At 480 grams, the lens offers a nice density in hand and the perfect fit reassures. Mounted on a Nikon D850, the lens is well-balanced and easy to handle with one hand.
Handling, stabilization and autofocus
The handling of the lens couldn't be simpler: on the left side of the barrel, the classic AF/MF switch allows you to choose between manual focus and autofocus. Manual focusing is made easier by the very shallow depth of field provided by the 85 mm focal length and f/1.4 aperture, but is not without its drawbacks.
The "wire" focusing ring lacks bite and does not like to be abrupt. If you turn it violently, the focus will regularly lose its focus (no pun intended) and refuse to move anything. A certain tact and delicacy will be required. Add to this a long enough stroke to go to infinity from the minimum distance of 90 cm (and vice versa).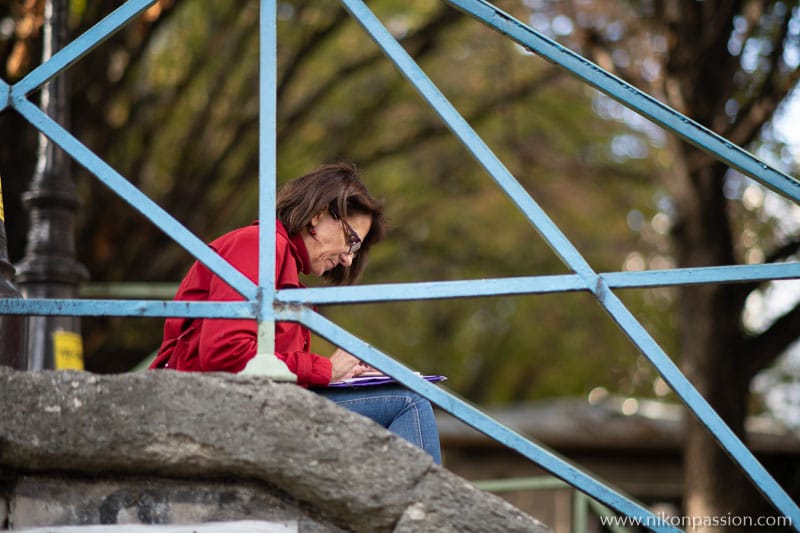 Samyang Test 85 mm f/1.4 F – Nikon D 850
1/200 sec. – f/1.4 – ISO 100
The autofocus, on the other hand, is also not brilliant in its liveliness. Even in broad daylight, on a perfectly lit and contrasted subject at any distance, the lens tends to be hesitant. For posed portraits, this is not a problem, but for live and reportage portraits, this lack of reactivity will make you miss those evanescent micro-expressions that are the salt of the exercise. You will then need a good sense of anticipation, a bit of luck and good karma.
This pronounced latency closes the doors of sports photography to him. To make matters worse, autofocus also lacks precision. In your camera body, you'll have to adjust your autofocus so as to give priority to focusing rather than shutter release: Menu > Personal Settings Menu. Menu > Custom Settings Menu > Autofocus (a) > AF-C/AF-S mode priority > Focus (or "Focus + Shutter release" in AF-C).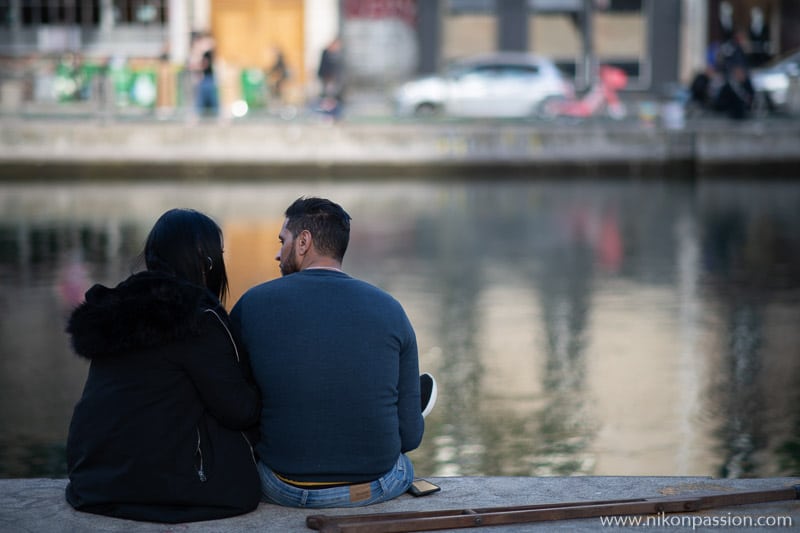 Samyang Test 85 mm f/1.4 F – Nikon D 850
1/1,000th of a second. – f/1.4 – ISO 100
Finally, the Samyang AF 85 mm f/1.4 F does not have a stabilizer. And that's a pity, since Nikon SLRs don't either. Note, however, that the competitors Nikon and Sigma are not stabilized either. Still, thanks to the weight of the body (one of the advantages of SLRs in general, Nikon FX in particular), it will be easier to "stabilize" the whole thing freehand than with a lighter hybrid, and if the stars line up correctly, the Force is with you and you don't mind raising the sensitivity, you'll be able to get sharp images at 1/30 s. But long exposure times are clearly not his forte.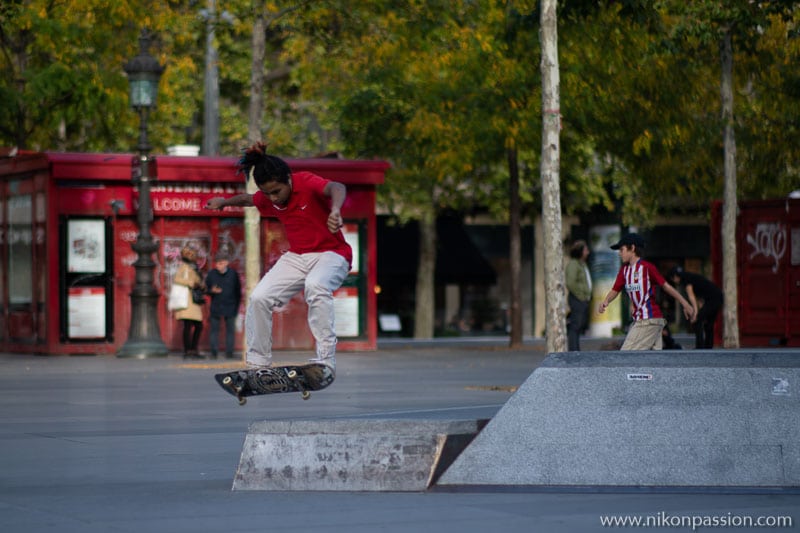 Samyang Test 85 mm f/1.4 F – Nikon D 850
1/2,000th of a second. – f/1.4 – ISO 100
Optical performance: sharpness, homogeneity and flare
While Samyang makes some sacrifices in terms of autofocus and functionality, there's one area where he won't compromise: image quality. The Korean's lenses have the reputation of providing the best level of sharpness, with a very particular aesthetic rendering that is consistent from one reference to another, which stands out from the modern Japanese surgical rendering. For portraiture, this exoticism can make the difference and add that touch of soul, that "je ne sais quoi", that can make you stand out.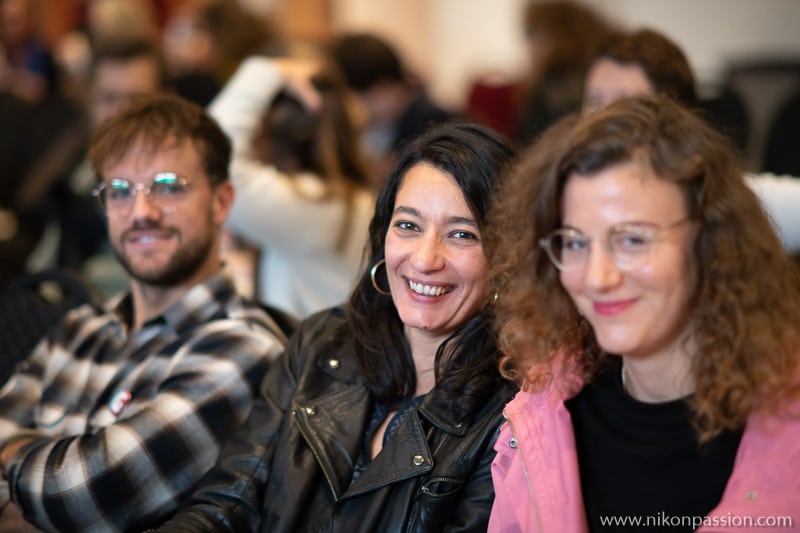 Samyang Test 85 mm f/1.4 F – Nikon D 850
1/400 sec. – f/1.4 – ISO 2.000
At f/1.4, the lens is soft in the center and then gradually degrades to the extreme edges. That's because the D850's sensor is demanding. However, it's important to remember that the lens is primarily intended for portrait use, and that for this purpose, a little softness to erase skin imperfections is more of an advantage than a disadvantage. As for the lack of homogeneity, this is indeed a pure geek consideration since the periphery will, in any case, be drowned in the background blur.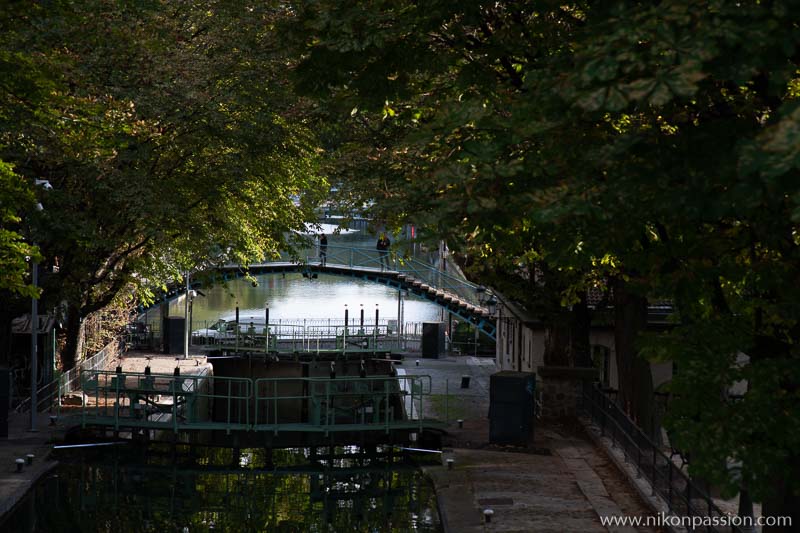 Samyang Test 85 mm f/1.4 F – Nikon D 850
1/125th of a sec. – f/4 – ISO 100
You should close at f/5.6-8 to make the image consistent across the field. However, the rendering remains soft, with little contrast and subtlety, far from the fashionable high-contrast micro-contrast. This is a good additional point for portrait use, but also for those who like to spend time retouching their images in post-processing, since this softness, which is nevertheless rich in information, gives them additional leeway.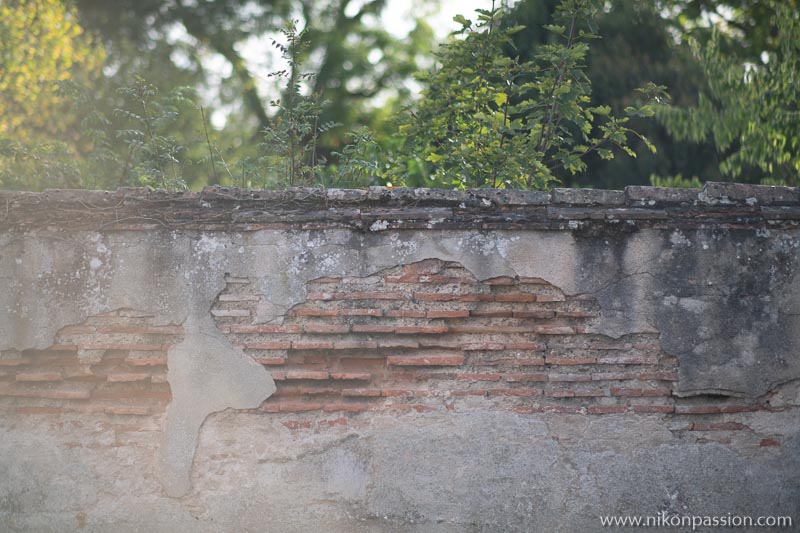 Samyang Test 85 mm f/1.4 F – Nikon D 850
1/1,600 sec. – f/1.4 – ISO 100
On the flare side, the Samyang AF 85 mm f/1.4 F continues its great performance since you really have to shoot with a light source from the front, in a corner, to see it appear. And again, it is a very soft flare, which translates into a gradual decrease in contrast, and not an aggressive flare with strong J.J.Abrams-like colored fringes.
Optical performance: color rendering, chromatic aberrations and vignetting
The Samyang AF 85 mm f/1.4 F produces very slightly warm colours, which again is beneficial in portraiture. Chromatic aberrations are noticeable between f/1.4 and f/2.8 and disappear from f/4.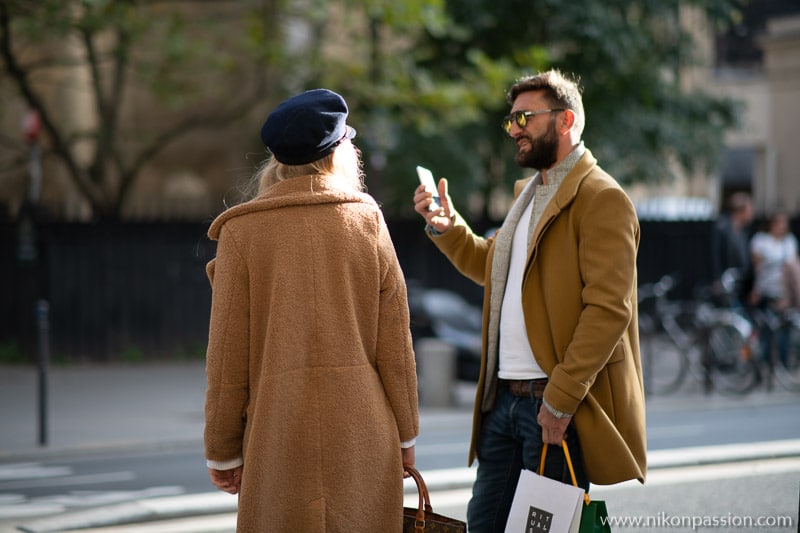 Samyang Test 85 mm f/1.4 F – Nikon D 850
1/640th of a second. – f/1.4 – ISO 100
Unsurprisingly, the vignetting is very pronounced at full aperture but fades away at f/2. Moreover, as a proof that the lens is well born, there is almost no difference in vignetting between the JPEG file (corrected by the body) and the NEF file (raw and uncorrected), which testifies to the good work of the Korean optical engineers.
Optical performance: deformation and distortion
The good news with an 85 mm is that the chances of it distorting are quite low, if any. Unless it's a very bad lens, which is not at all the case of the Samyang who knows how to stay straight in his boots and in his lines.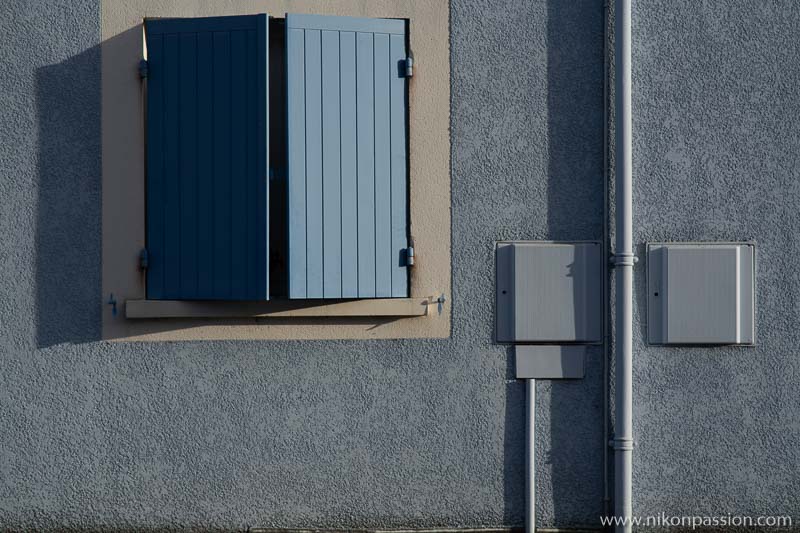 Samyang Test 85 mm f/1.4 F – Nikon D 850
1/1,600 sec. – f/4 – ISO 100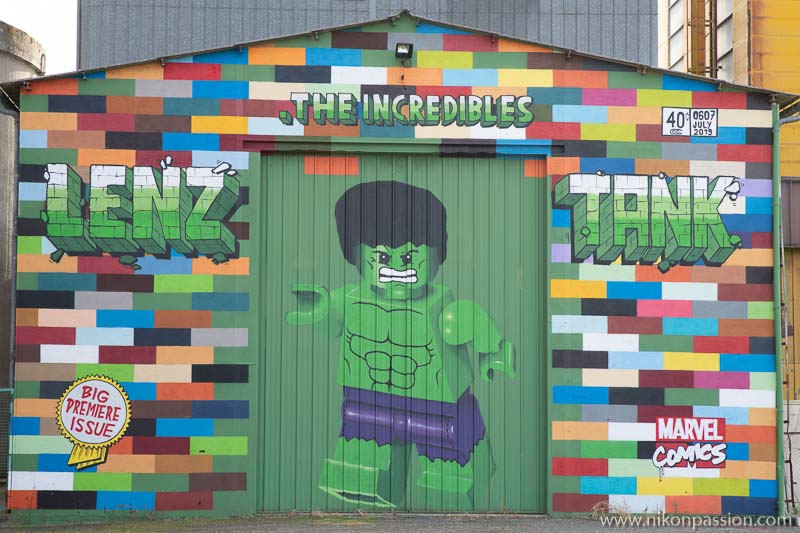 Samyang Test 85 mm f/1.4 F – Nikon D 850
1/100th of a second. – f/5.6 – ISO 100
Optical rendering: depth of field
Long focal length, generous aperture, 9-blade diaphragm, suitable for 24 x 36 mm sensors: the Samyang AF 85 mm f/1.4 F has what it takes to satisfy lovers of short depth of field and generous bokeh.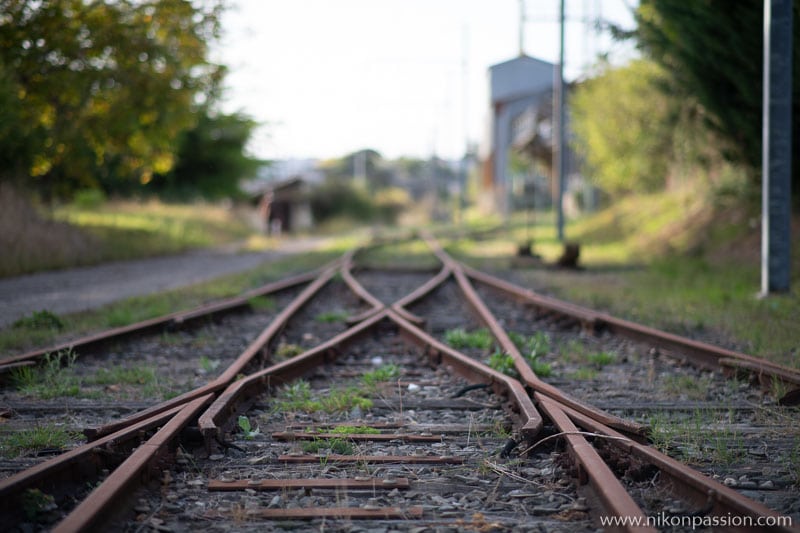 Samyang Test 85 mm f/1.4 F – Nikon D 850
1/1,000th of a second. – f/1.4 – ISO 100
On this last subject, he is to be congratulated for having a more German than Japanese behaviour, understanding that the transitions from net to blur are very progressive, which confers a certain roundness and naturalness to the image. The background blur itself is very blurred, without aggressiveness or exaggerated contrast, which reinforces the portrait status of the lens.
The Samyang AF 85 mm f/1.4 F may interest you if :
you want an 85mm f/1.4 at less than 1000 euros for your Nikon FX SLR,
you want a lightweight and compact 85 mm f/1.4,
you wish to gain slightly in brightness compared to an 85 mm f/1.8 (or f/2),
you're fond of portraits full of character and gentleness at the same time,
you wish to complete a 35 or 50 mm f/1.4 (or even f/1.8).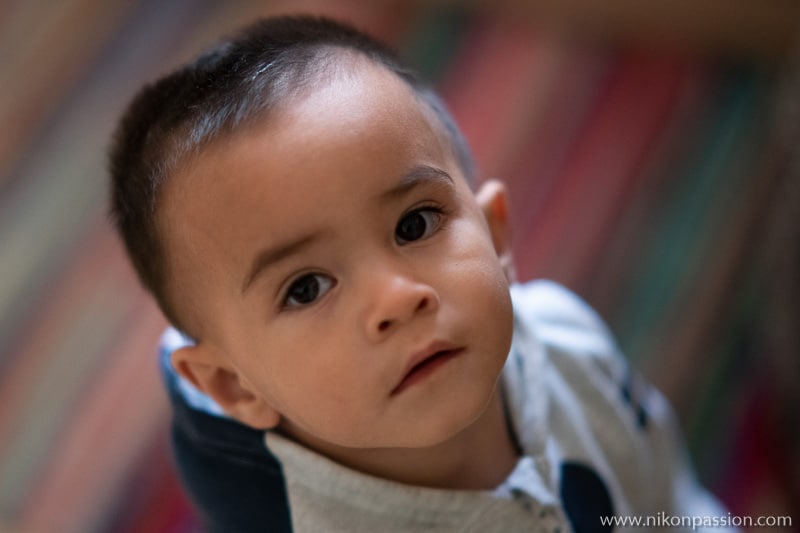 Samyang Test 85 mm f/1.4 F – Nikon D 850
1/640th of a second. – f/1.4 – ISO 2.500
The Samyang AF 85 mm f/1.4 F will be of less interest to you if :
you demand sharp and precise autofocus,
you require a precise manual focus ring,
you already have an 85 mm f/1.8 autofocus.
All the photos of this test are available in full resolution on the Flickr Nikon Passion :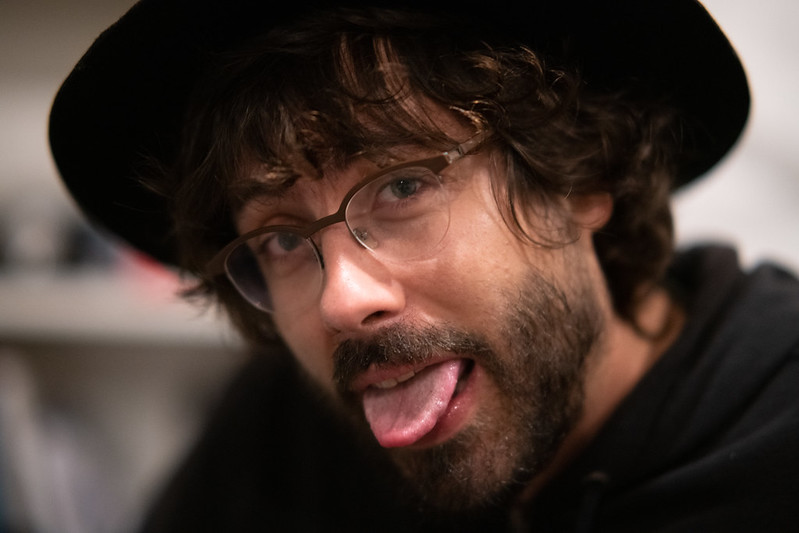 Samyang Test AF 85 mm f/1.4 F: my conclusion
Samyang's second autofocus lens for 24 x 36 mm SLRs, this 85 mm f/1.4 F AF confirms from the very first images that it was designed for a special purpose: portraiture. To be taken everywhere thanks to its lightness and compactness, offering very good image quality while providing a soft and personal rendering, it has everything to become the new darling of portrait nikonists and will also lend itself to the game of street photography.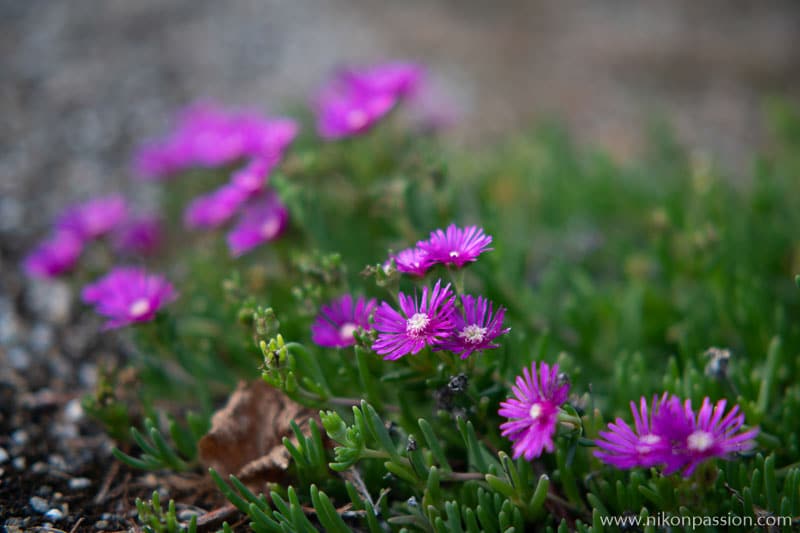 Samyang Test 85 mm f/1.4 F – Nikon D 850
1/1,000th of a second. – f/1.4 – ISO 100
The only shadow on the picture is its focus, whether in manual or automatic mode, whose lack of precision and liveliness may make you miss a few decisive and elusive moments. But this is less due to a defect of its own than to a technological context in which many competitors excel in the exercise.
Moreover, Samyang confirms his status as a third party optician that should not be overlooked as he is quite capable of playing on equal terms with Sigma and Tamron. And this while preserving the brand's philosophy and its own charm, where competitors tend to sacrifice their singularity on the altar of efficiency.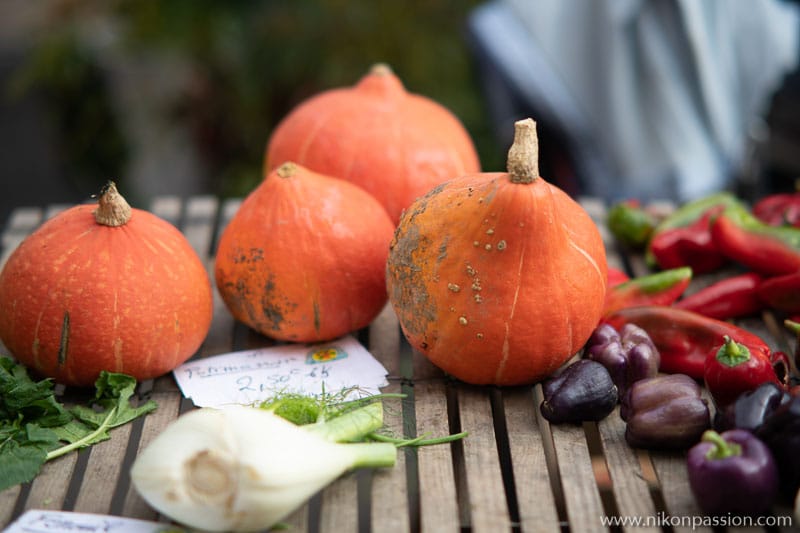 Samyang Test 85 mm f/1.4 F – Nikon D 850
1/1,600 sec. – f/1.8 – ISO 100
For photographers who are more sensitive to a glance than to thunderous technical performance, the Korean proposal should be given very serious consideration when it comes to equipping themselves with a bright 85 mm camera. And what's more, it's almost half the price of the competition, just to make sure you get it right.
This lens at the best price at Miss Digital …