Are you at home and looking for something to occupy your days? You like photography but you can't go out? Here's how to take pictures at home, whatever your level and equipment.
Coming soon: this article will be followed by others on the same theme.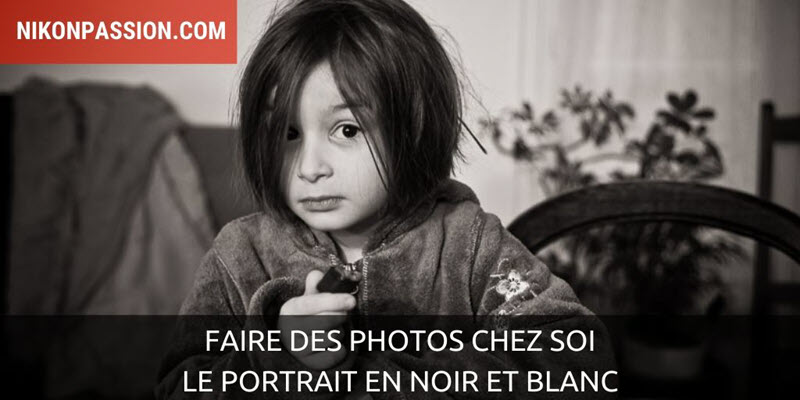 Taking pictures at home: the black and white portrait
If you're at home, you're probably not alone, but with loved ones. These are more or less available, but as a photographer, you should consider them as potential subjects.
This is how I made this portrait of my daughter, a few years ago, while being at home with limited means. It is a photo taken on the fly, without any studio accessories or flash.
The approach
The approach to your subject is the most delicate if you are not used to the exercise. Even though you're in a tight space, don't think it's easier. On the contrary, the person concerned will see you arrive even faster, you have little room to be discreet, so there is only one solution: be efficient!
If you have teenagers: believe it or not, but photographing the youngest children remains simple, they are often volunteers. Photographing teenagers is another matter. A teenager doesn't like to be photographed, and it shows it by hiding his face! Negotiate in advance, or develop the reflexes of a top athlete!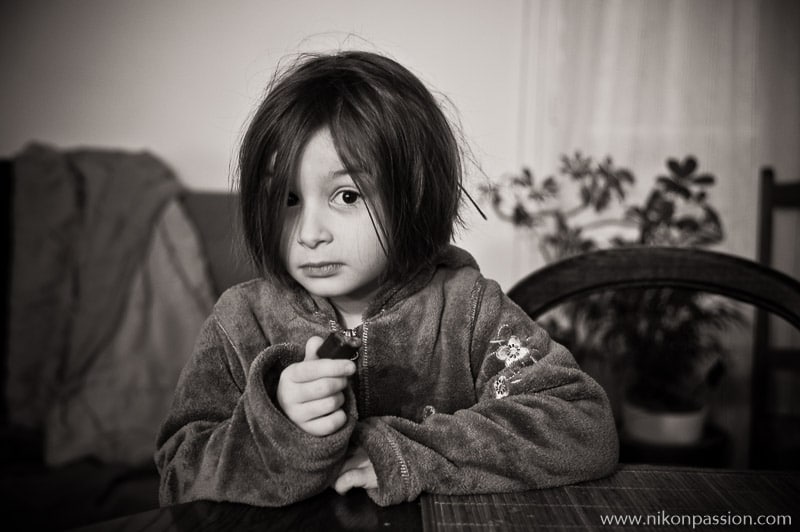 Here, I knew that my daughter (5 years old at the time) was in the living room, I had heard her moving in a few minutes before. So I took my camera, a Nikon D700 with the AF-S NIKKOR 24-85 mm f/2.8-4 zoom, I set it to f/3.5 to reduce the depth of field, I pushed the sensitivity to ISO 1,600 and set the focal length to 50 mm, an ideal value for portraiture.
All this must not take more than a few seconds or you will be spotted and goodbye photo! Practice, learn to adjust your camera with your eyes closed if you need to, it's essential to be fast and it will serve you outdoors too.
The framing
Needless to say, I didn't come in saying "hey, don't move, I'm taking a picture! ». With a child, it's fucked up in advance, he's just going to move because you tell him to do the opposite. With a teenager, see above. With an adult, it's up to you to see if he's fierce or not. Often, in front of the camera, he is…
So I made sure I wasn't too obvious when I came in from the next room, I stood in front of my daughter, focused on her eye, framed it so that it was slightly off-centre to the left, and I fired.
You need to be able to do this in a few seconds, it's the surprise effect that will make the picture, and here it is. She realized after the fact what was happening, but the picture was done. Look at her surprised look.
Did I take more pictures afterwards? No because I was unmasked, his expression was not the same and as it was before all a game for me I did not insist. If it had been an organized studio session, I would have proceeded differently, but that was not the case.
Personal advice: don't abuse the goodwill of your victim subject, otherwise there will never be a next time!
Treatment
Taking pictures at home is one thing. But finishing the job by processing them is another (listen to why post-processing is not a heresy, episode 14 of the Agora Show podcast).
I chose to convert this photo to black and white because I wanted to draw the viewer's eye on my daughter's face, and her eye in particular, more than on the scenery (read more about NB conversion). Eliminating the colors allowed me to remove any temptation for you to detail the background of the room, to be distracted by the color of the fabrics on the left (orange and red) or that of the plant (green).
For this I started by balancing the image, in color, by adjusting the black and white points.
I then desaturated the photo by setting the saturation of each color to -100.
I adjusted the light and dark tones to suit my desires, increased the accentuation to bring out the material on the garment, and that's it.
I deliberately left the vignetting, the 24-85 is not very good at wide opening but I like the closing effect of the image on the subject.
In the same way, I assume the blocked blacks in the background of the picture, at the level of the plant in particular. This is not my subject and the plant does not interest me.
Taking pictures at home: in conclusion
This portrait done on the fly, without preparation, without warning my subject, satisfies me. It's a beautiful family photo, for me, and it's in a good place in our album. It means something to us, it documents an era, an age, an attitude.
It only took me a few seconds to do, a few minutes to process in Lightroom.
Taking pictures at home is a training exercise that will help you develop reflexes and master your post-processing software.
If in addition you manage to realize some nice portraits, then you will please your relatives and that, that is priceless!