With this Nikkor Z 24-70mm f/2.8 S test, we complete the series of Nikon Z lens tests dedicated to Nikon full-format hybrids available today (June 2019), before moving on to a few compatible lenses in the coming weeks.
But by the way, why a 24-70 mm f/2.8 S when there is an excellent 24-70 mm f/.4 S in the same mount?
This zoom at the best price at Miss Digital
Note by Jean-Christophe : This test is particularly long, which is explained by the care we take to provide you with as much detailed and useful information as possible. High definition pictures are available (see below), a 24-70 mm f/2.8 comparison is coming soon. This is an important work that we considered necessary.
In an optical range, especially for a system that wants to be professional, there is a zoom lens that has established itself as a must-have, the Swiss army knife for photographers who demand versatility, flexibility, brightness, high performance and reliability: the 24-70 mm f/2.8.
For its 24 x 36 mm Z-mount hybrids, Nikon is therefore putting this heavy responsibility on the Nikkor Z 24-70 mm f/2.8 S (see presentation). This must not only excel, but also be sufficiently different from the standard (and more modest) Nikkor Z 24-70 mm f/4 S to justify the required admission ticket: 2499 euros. That is 1400 euros more than the "simple" (but already very good) 24-70 mm f/4 in Z-mount but also 300 euros (according to the official tariff, the gap is even more marked according to the "street price".) compared to its almost alter ego in F-mount, the AF-S Nikkor 24-70mm f/2.8E ED VR. A comparison with this one will be the subject of a dedicated article.
For the moment, let's avoid mixing up the brushes between the various references, let's concentrate on testing this Nikkor Z 24-70 mm f/2.8 S.
Already, from a strict photographic point of view, there is something eminently strategic in a 24-70 mm f/2.8, if only for the reasons briefly explained above.
From an economic point of view, as the standard-bearer of professional zooms, it is one of the most popular "focal range/opening" combinations and therefore the best selling. Money money money… It's no coincidence that every optician, "owner" or third party (Tamron, Sigma, I'm thinking of you in particular) is struggling to come up with the best and most aggressive variation possible in terms of price.
Long dilemmas follow when it comes to checkout, and DSLR-equipped nikonists know all about it. Fortunately, at least for now, the choice is easier in Z-mount, since only this Nikkor Z 24-70 mm f/2.8 S is available. To paraphrase Henry Ford, it doesn't matter which brand of 24-70 mm f/2.8 for your Nikon Z hybrid, as long as it's a Nikkor.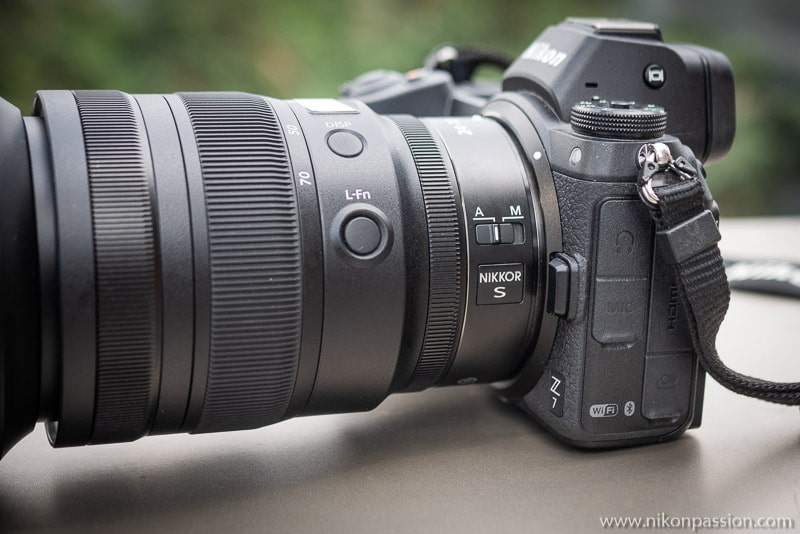 From a symbolic point of view, this 24-70 mm f/2.8 has a special flavour for Nikon and nikonists. Indeed, the AF-S Nikkor 24-70mm f/2.8E ED VR was somewhat disappointing when it was released. Oh, no, it's not a bad lens, far from it, but by bringing in addition the stabilization (optical and otherwise excellent) compared to the AF-S Nikkor 24-70 mm f/2.8G ED that it replaces – in fact, second since the two coexist in the catalogue – Nikon sacrificed the stitching on the altar of homogeneity… and sometimes the opposite, depending on the copies tested. And all this while being at the same time bigger, heavier and more expensive!
Jean-Christophe has very well detailed his opinion on the question in his "test of the Nikon 24-70mm f/2.8E ED VR and comparative 24-70 f/2.8 Nikon". For my part, at that time, I was still working for the Numériques and, disappointed by the first copy provided by Nikon, we asked for another one. And then another one. And then another one, a few months later. And none of them had really excited us at the editorial office, making us regret the old unstabilized model.
In short, I may give you the impression that I'm telling you my life story, but as a scalded cat fearing cold water, it's with this precedent in mind that I approach the test of the Nikkor Z 24-70 mm f/2.8 S… knowing that the Nikkor Z 24-70 mm f/4 S, tested a few weeks before, had impressed me a lot (for its category), which put me in better shape.
As I am, before being a mercenary of photographic tests, a lover of photography like you, I am sure that many of you share this feeling (It makes the test more humane and fun. At least, I think so.) Anyway, anyway.
Nikkor Z test 24-70 mm f/2.8 S: 70 mm – ISO 100 – 1/250th – f/4
The Nikkor Z 24-70mm f/2.8 S is the first constant f/2.8 aperture zoom lens available in Z-mount, whereas until now we have only had constant f/4 zooms. The next f/2.8 zooms should be 70-200mm f/2.8 S (current 2019) and 14-24mm f/2.8 S (current 2020) to complete the "f/2.8 trinity".
While waiting for the Noct-Nikkor Z 58 mm f/0.95 S, of which a few pre-production copies are starting to circulate, the 24-70 is currently the largest and most expensive lens in the range. This is not without reason because, in addition to its constant f/2.8 aperture, it benefits from an ergonomic treatment with small onions that stands in sharp contrast to the sobriety/simplicity of its congeners: third programmable multifunction ring, integrated OLED screen, velvet lining on the inside of the sun visor. It "lacks" just the stabilization but it is not serious since the boxes, them, have it.
Nothing is too good for the new standard bearer! While Nikon's leitmotif for its cameras was "the reinvented hybrid", the mission for our zoom lens of the day was none other than "the 24-70mm f/2.8 reinvented" (but sure, when you put it like that, it's not as sexy…).
The Nikkor Z 24-70mm is designed for photographers looking for a versatile zoom lens that can capture landscape, architecture, street and reportage photography.
With its f/2.8 aperture, the Nikkor Z 24-70mm f/2.8 S is even better suited for portraiture than its smaller f/4 brother thanks to the narrower depth of field and, above all, for shooting in low light conditions. Although, as we've said time and again, the Nikon Z's excellent sensitivity enhancement capabilities make this physical advantage somewhat obsolete for the average person.
Even though it's one iris (and a third) less bright than fixed focal lengths at f/1.8, acquiring the Nikkor Z 24-70mm f/2.8 S can virtually eliminate the need to acquire an additional 35mm or 50mm (although it's always nice to have a bright, specialized fixed focal length in addition to a zoom lens). This takes up less space in the camera bag and, economically, can be interesting since the 24-70/4 + 35/1.8 + 50/1.8 triplet will cost you 2707 euros (1079 + 949 + 679), a little less if you buy the 24-70/4 as a kit with your camera body.
Note, by the way, that Nikon has not provided a kit including a Nikon Z body and a Nikkor Z 24-70 mm f/2.8 S zoom: its acquisition will then necessarily be done additionally (unless a dealer decides to launch his own kit, but then that's another story.).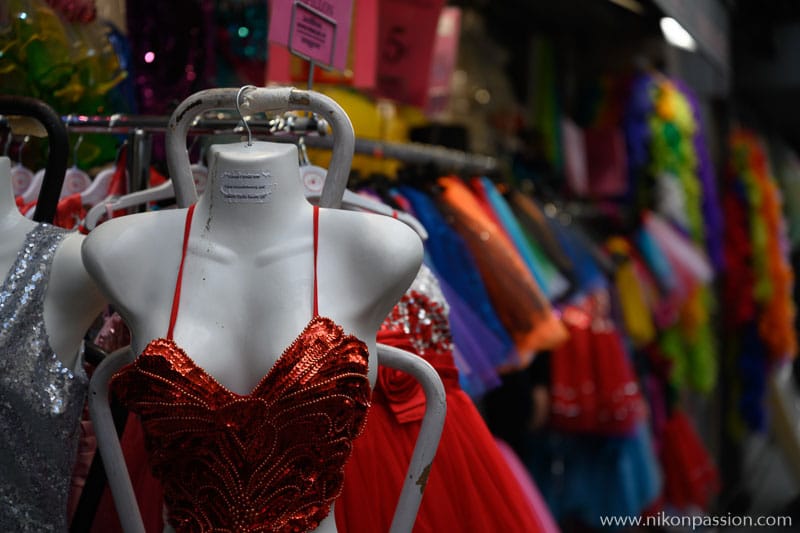 Nikkor Z test 24-70 mm f/2.8 S: 70 mm – ISO 100 – 1/400 th – f/2.8
Quality of construction
So far, all the Nikkor Zs we have tested have impressed us with their quality of construction, especially considering their positioning and their respective range levels. At the same time, in 2019, even more so from a manufacturer who never fails to remind us that it is now over a century old, this is the minimum trade union minimum, which does not detract from industrial performance.
With the Nikkor Z 24-70 mm f/2.8 S, however, one step further is clearly taken. Or even two.
If, like his little brothers, he takes advantage of numerous rubber seals, including the very important one on the frame, everything else moves up a gear.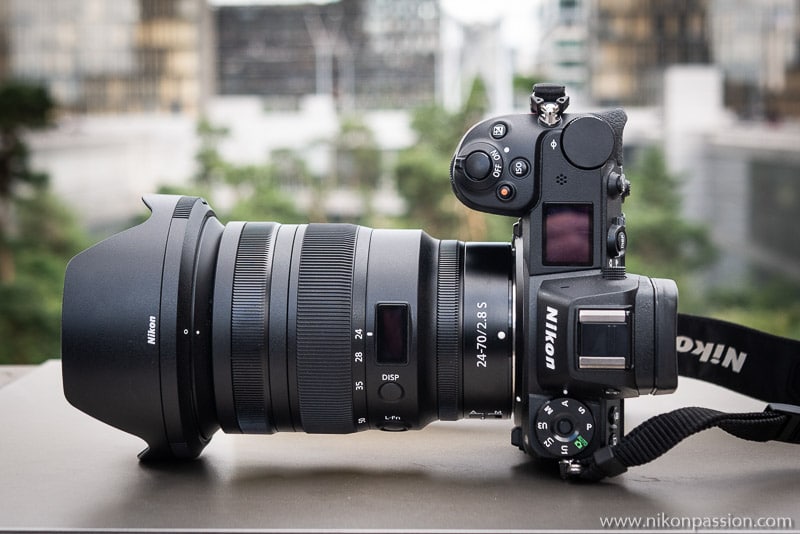 Exit the satin finish of the barrel, return of the slightly textured matt black. More sober. More professional. More class. Coupled with a Z 7, the combination of the most beautiful effect will not fail to grab you a "Z 7". I mean, it's got to be fucking obvious that it's got a lot of mouth on it… ».
This doesn't necessarily make for better pictures, but it must be recognized that this change in finish alone makes the lens look desirable. However, we tend to make better pictures with a material that we find pretty. So, could it be that…?
Ergonomics is not to be outdone. Much richer than on other lenses: in addition to the classic zoom ring, focus ring and AF/MF switch, a third programmable ring near the frame, the corresponding L-Fn button, an OLED display and its corresponding DISP. button add to the party.
If it is well known that "more buttons makes more pro", it allows you to customize the lens according to your work habits in order to have the best possible control of your shooting tool.
Recognized as an additional function button, you can assign the L-Fn button one of 21 different functions via your camera's menu (Menu > Custom Settings > (f2) Custom Settings Definition), e.g. metering mode, bracketing, exposure lock, electronic zoom (useful for manual focusing). The programmable ring is set using the same procedure. By default, exposure compensation is activated.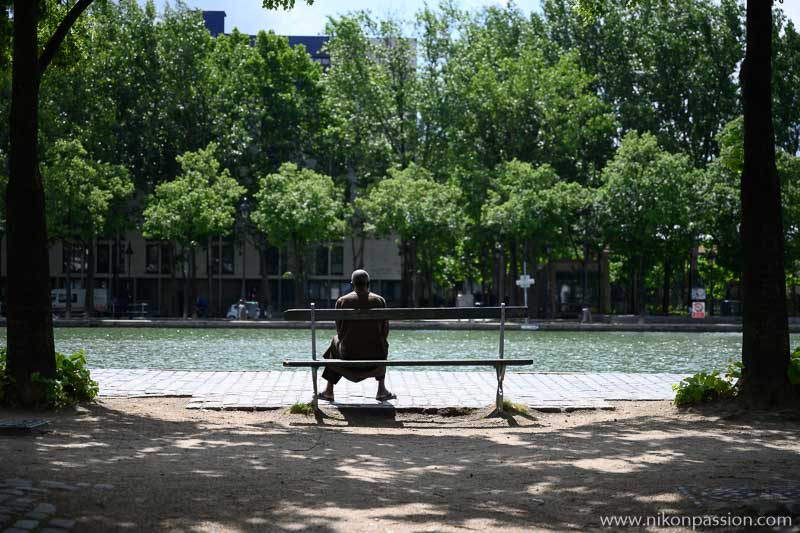 Nikkor Z test 24-70 mm f/2.8 S: 70 mm – ISO 100 – 1/1,250th – f/2.8
As for the sun visor, it benefits from the same attention, with, to top it all off, a velvet lining, a coquetry that is not a coquetry but remains rare in the industry. It's not just there to show off or to catch dust, but to limit the stray reflections that the inside of a classic satin-finish sun visor could cause. By the same token, this coating therefore helps to minimize flare.
To stay on this side of the lens anatomy, note that the Nikkor Z 24-70 mm f/2.8 S uses 82 mm diameter filters, exactly the same as the AF-S Nikkor 24-70 mm f/2.8E ED VR. This means that even if you change lenses, you can keep the filters and save yourself extra expense. Good point.
Getting Started
With 805 grams on the scale and a length of 126 mm, the f/2.8 Z zoom clearly does not play in the same category as its f/4 cadet (500 grams, 88.5 mm long).
This difference in weight can be explained by the more ambitious optical formula containing more glass (17 lenses including 2 ED and 4 aspherical on the f/2.8 side, compared to 14 lenses including 1 ED, 1 aspherical ED and 3 aspherical on the f/4 side), the additional electronics but also by the fact that the f/2.8 does not require a "folding" system in order to take up less space at rest. This also explains the extra 4 cm length.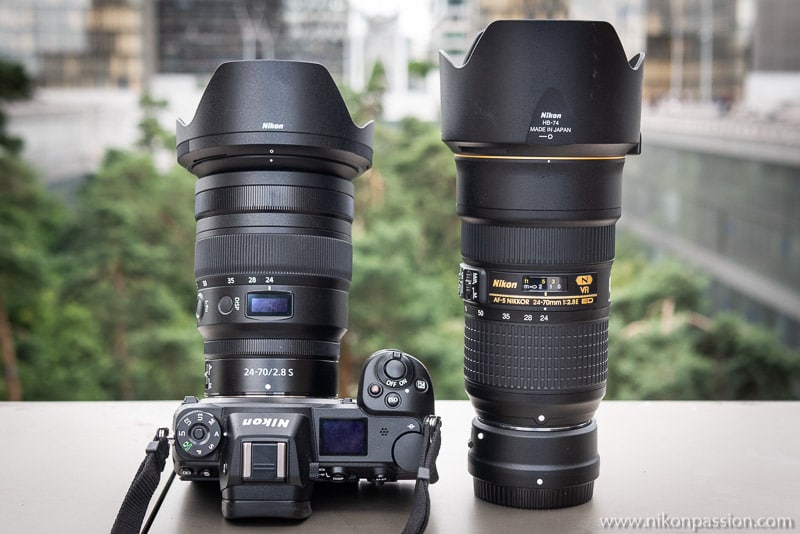 on the left the Nikon Z7 + Nikkor Z 24-70 mm f/2.8 S
right the Nikkor AF-S 24-70 mm f/2.8E ED VR + FTZ ring
The zoom fits well in your hand, very well even. Everything falls perfectly under the fingers and it would be the nirvana of the tripatouillage of rings, knurls and pegs if only the programmable ring didn't spoil the picture.
In fact, positioned very close to the frame to avoid accidental handling, it is still too soft and tends to turn too easily when you put your case in the bag or take it out. On many occasions, we have found ourselves with an unwanted exposure correction or aperture at the time of shooting.
That said, and this is the good thing about the electronic aiming of hybrid DSLRs, you can see it immediately on the screen, whereas on an SLR, if you're not careful, you can't see the shooting accident until the picture is captured.
Another slight imperfection is that the OLED screen tends to lack brightness. The brightness can be adjusted to six levels, but even at maximum brightness on a bright sunny day, it's still not bright enough to see what's on the display. Note on the contrary that, for total stealth in the dark, it is possible to switch off this screen.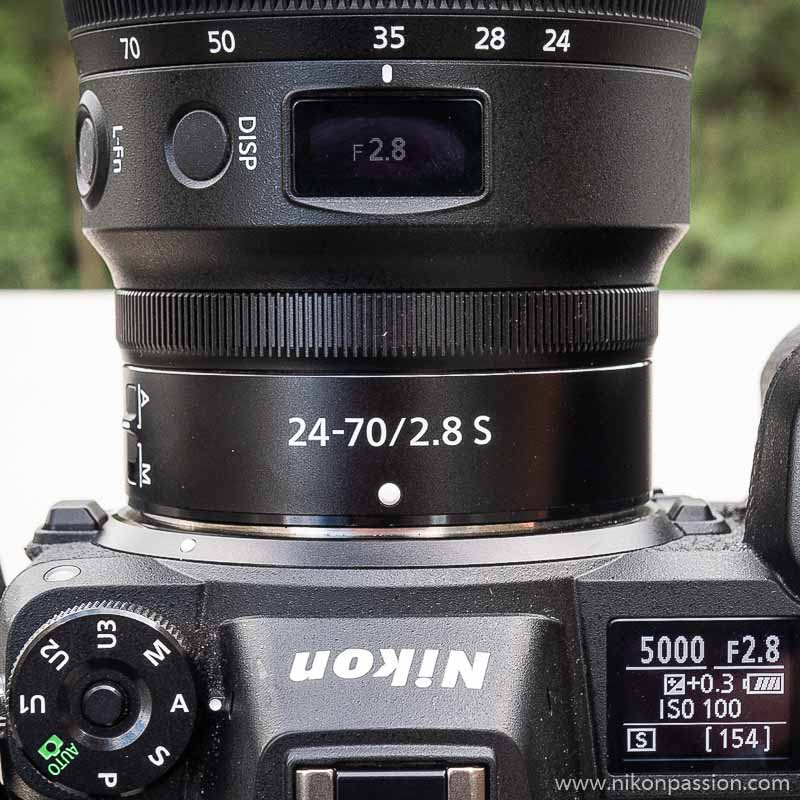 aperture display on the Nikkor Z 24-70 mm f/2.8 S OLED monitor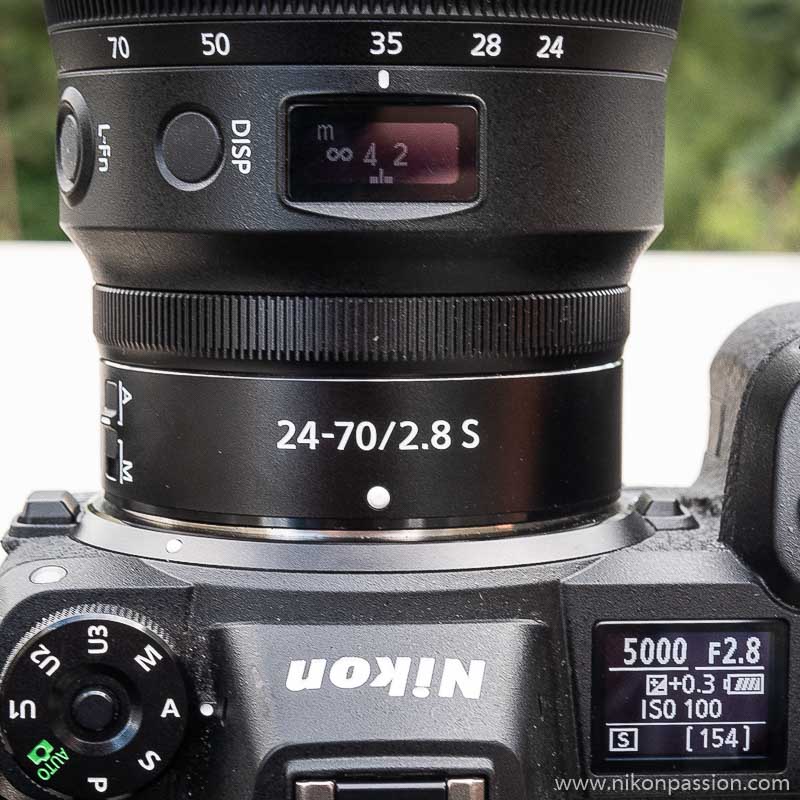 display of focus distance and depth of field
on the Nikkor Z 24-70 mm f/2.8 S OLED display
focal length display on the Nikkor Z 24-70 mm f/2.8 S OLED monitor
The OLED screen is the real eye-catcher of this lens. Much more versatile than the Zeiss Batis, among the first to have it, it helps to compensate for the frustration you may feel with other Nikkor Z lenses.
By clicking on the DISP button on the lens, information is displayed successively: the focusing distance (graduated in meters or feet) doubled by a depth of field scale (at last!), the focal length accurate to the millimeter (no more need to go back and forth in the playback menu to check if you are at 50 mm on the battery and not at 49 or 51 mm), and the aperture.
The aperture can also be controlled from the third ring of the lens as well as from the body. It's not a big deal, it allows to find a gesture, if not authentic, at least traditional, and it's not to displease me.
Autofocus
There is another difference between the two Nikkor Z 24-70mm S zooms, but this one has the disadvantage of the f/2.8: the minimum focus is 38cm, whereas it is possible to get up to 30cm closer with the f/4 zoom.
As for the autofocus, we're still dealing with a perfectly silent, precise and lively motorization… despite a few misfires in low light. But this was due more to the Z7 body than to the lens, since the same behaviour was found with the 14-30mm f/4 tested simultaneously.
The AF-C tracking is very catchy, Nikon proves once again its mastery of the subject.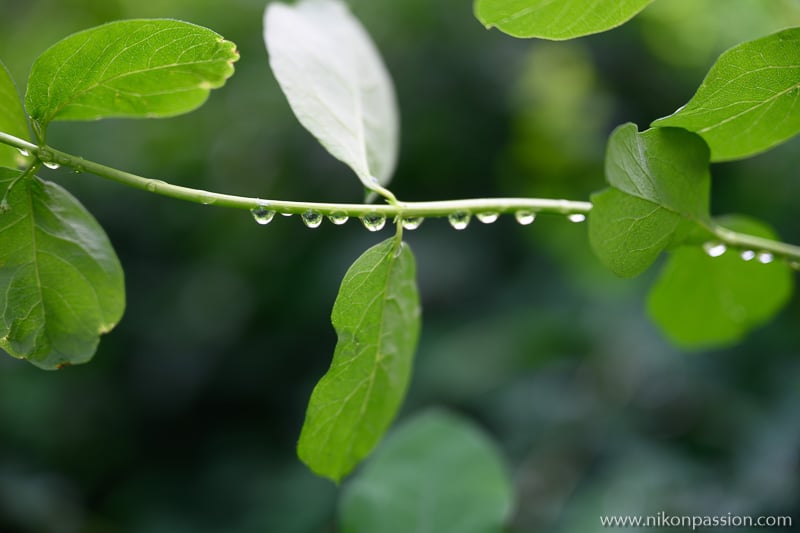 Nikkor Z test 24-70 mm f/2.8 S: 70 mm – ISO 100 – 1/125th – f/2.8
Stabilization
Like all other Nikkor Z/S cameras, the Z 24-70 mm f/2.8 S does not have optical stabilisation. This makes the beast a little lighter and once again shows how exemplary the sensor stabilisation integrated in the camera bodies is. You can easily go down to ½ second at 24 mm and ¼ second at 70 mm.
It's almost tiring, not having much to reproach him with…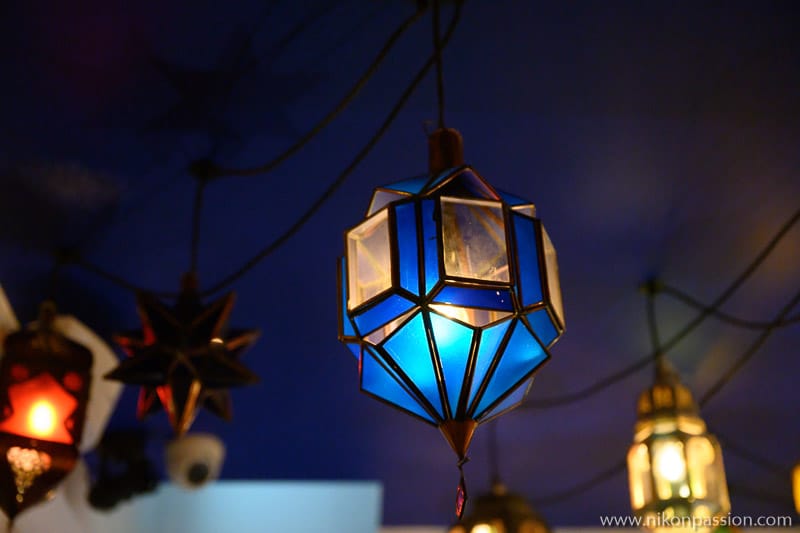 Nikkor Z test 24-70 mm f/2.8 S: 49 mm – ISO 12.800 – 1/50th – f/3.2
Optical performance: pitted, homogeneity and vignetting
In order to properly torture the lens and know what it's made of, the Nikkor Z 24-70mm f/2.8 S has been coupled with the Z 7's highly demanding 45MP sensor. Will it wash away the honour of Nikon opticians, who have been put to the test by the AF-S Nikkor 24-70mm f/2.8E ED VR?
We saw it during the test of the Nikkor Z 14-30mm f/4 S: the company's engineers do not hesitate to exploit the communication between lens and body to let the latter correct the imperfections of the former, especially in terms of homogeneity and vignetting.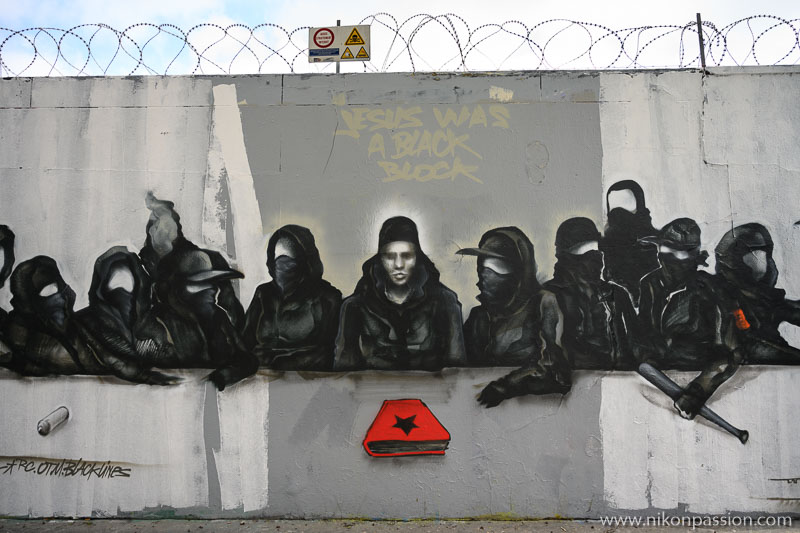 Nikkor Z test 24-70 mm f/2.8 S: 24 mm – ISO 100 – 1/400 th – f/2.8
There is no need for this electronic trick with the Nikkor Z 24-70 mm f/2.8 S, which is a natural racing beast. Which is reassuring and makes it possible to do, a little better, pass the pill of its high perched tariff.
As a proof, while glaring differences were visible between the NEF files and the internal JPEGs captured with the wide-angle zoom, in the case of the shots produced by the f/2.8 transtandard it is white bonnet and white bonnet.
The Nikkor Z 24-70mm f/4 S also needed this algorithmic emphasis stand, but in a more subtle way, its focal range combined with its aperture made its optical design easier and less confusing.
The Nikkor Z 24-70 mm f/2.8 S impresses. It really is. At all focal lengths, at all apertures, even from f/2.8, the level of sharpness is very high. From center to edge.
Fully exploitable at full aperture, it's between f/4 and f/5.6 that you'll reach the heights, with a special mention for the shortest focal lengths (24 and 28 mm), which are really excellent. Even when you chip and scan the extreme periphery, you have to spend a lot of time there to notice a degradation of homogeneity. And this, once again, at all focal lengths, at all apertures.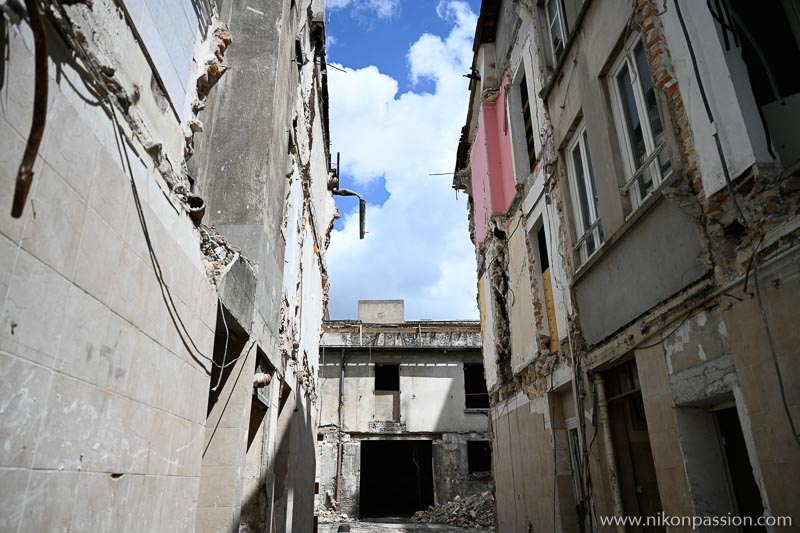 Nikkor Z test 24-70 mm f/2.8 S: 24 mm – ISO 100 – 1/2,500th – f/2.8
Does that make it perfect? We would almost be tempted to write that yes, at least in the context of normal use, i.e. if you do something other than spend your time photographing sights and brick walls (which can be a passion like any other, by the way.).
The intervention of the internal JPEG processing, however, has two interests, not overwhelming but nevertheless appreciable on a Z 7. The first is to reduce diffraction-induced degradation (from f/8, which is troublesome at f/16 and f/22) at all focal lengths.
The second is to reduce the moiré that comes up on the very fine details, which you will see when you look at your pictures with a magnifying glass, i.e. 100%. For the rest, especially with regard to accentuation, what JPEG will make you gain (a little) in semblance of sharpness, you will lose in subtlety of nuances.
To sum up, while with the other lenses in the range we would gladly invite you to shoot in JPEG to make the most of their potential directly from the body, this is no longer necessary with the Nikkor Z 24-70 mm f/2.8 S. It is both consistent and reassuring with the professional positioning of the zoom.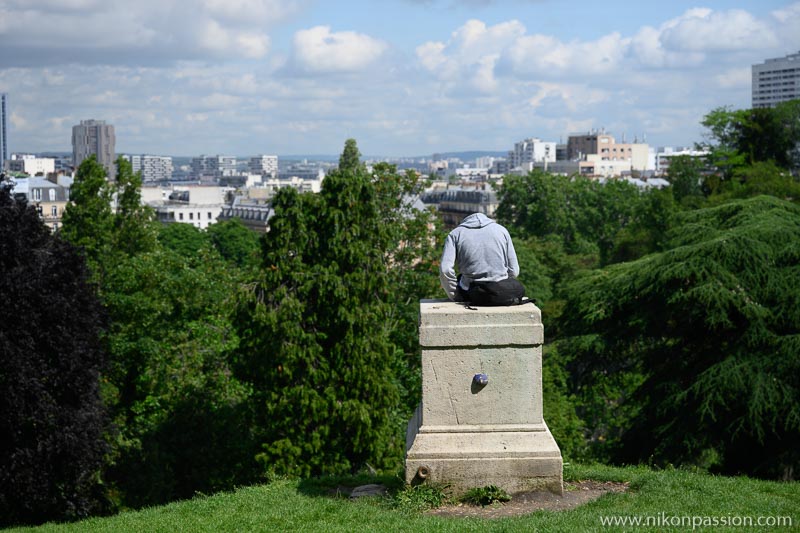 Nikkor Z test 24-70 mm f/2.8 S: 70 mm – ISO 100 – 1/1,250th – f/4
When it comes to vignetting, it's almost like the desert… except at the extreme focal lengths, 24 mm and 70 mm. There, at f/2.8 and f/4, a very slight vignetting will be perceptible in the extreme corners. "Perceptible" is the right word, because if you don't have two shots of the same subject at two different apertures in front of your eyes, it goes unnoticed. And this as well in NEF as in JPEG. Beautiful work, if you want my opinion.
What's more, 70mm f/2.8 being the preferred combination for portraits, a little vignetting in these conditions will not be aesthetically disturbing, quite the contrary. It looks like it's done on purpose…
Optical performance: deformation and distortion
« Deformity? Warp? Never heard of it… "Move along, there's nothing to see. Literally: what's straight comes out straight, what should be perpendicular comes out 90°, and for this part of the test, it's bent. Ah, if only all lenses could be so exemplary…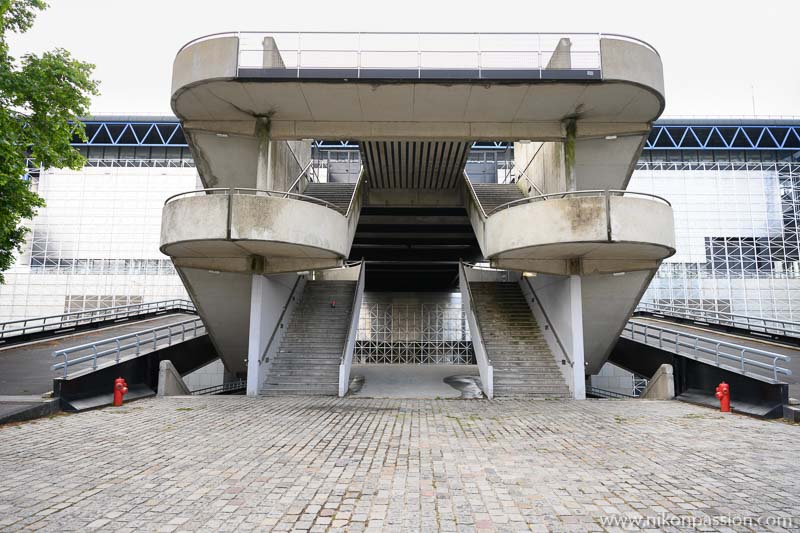 Nikkor Z test 24-70 mm f/2.8 S: 24 mm – ISO 100 – 1/100th – f/4
Optical performance: color rendering and chromatic aberrations
There is no such thing as a lens without chromatic aberrations. At least in civilian photography, because in the military and medical fields it's another matter. And it just so happens that Nikon also does medical work and equips many armies. Is it necessary, by the way, to recall how much the history of the Nippon Kōgaku Kōgyō, the first name of the company, is intimately linked to the modern military history of Japan ?
This little digression culture G to explain that yes, in very rare cases, typically on very fine details taken in backlight with a strong front lighting creating then a marked contrast, you will be able to note chromatic aberrations. In NEF. JPEG corrects them. But in all the other cases, you will be able to chase away the chromatic fringes, but you will have a lot of trouble taking this zoom in default.
Same comment regarding the flare: here, it will not be parasitic ghostly images but rather a faithful reproduction of the luminous atmosphere of the moment. Perfect for light streams filtering through foliage or romantic sunsets. The new multilayer RNAEO treatment, used in conjunction with the well-known nanocrystal treatment, works miracles. And the velvet of the sun visor is no stranger to performance either.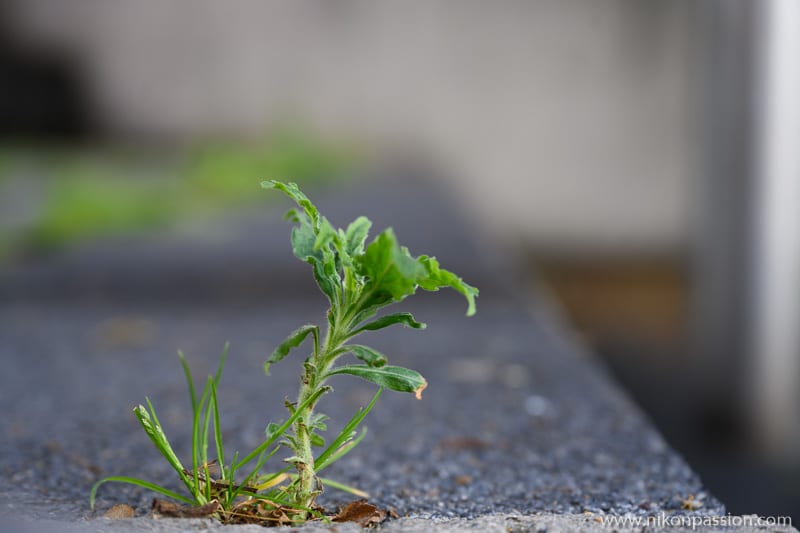 Nikkor Z test 24-70 mm f/2.8 S: 70 mm – ISO 100 – 1/80th – f/4
Until now, the Nikkor Z lenses tested could boast a neutral colorimetric rendering. This is almost the case with the Nikkor Z 24-70mm f/2.8 S, which enjoys warmer colours than its smaller peers. It's very subtle but enough to give character and humanity to the images it produces. An almost surprising behaviour for a Japanese lens, which is reputed to be surgical and cold, but which street photographers and reporters will appreciate.
The shadows are also more nuanced and richer. Be careful, to take advantage of this, favour NEF shots rather than JPEGs which, according to the " Picture Control " profiles selected, will tend to want to put the colorimetry back in the cold way. The best is the enemy of the good.
In any case, it pleases a lens that, in addition to doing its job well, has a photographic soul.
Optical rendering: depth of field
It is probably on the management of depth of field and bokeh that, on paper, you expect the most from the Nikkor Z 24-70 mm f/2.8 S compared to the Nikkor Z 24-70 mm f/4 S.
In addition to the more generous opening, the f/2.8 also benefits from a circular diaphragm (electro-magnetic) with nine blades, compared to only seven for its smaller brother. The result is logically shorter depths of field, despite the longer minimum focusing distance, and more importantly, more delicate and progressive bokeh backgrounds. More "creamy" and "natural", if you prefer. In fact, as with the colorimetric rendering, less Japanese and more German. But German Leica style, not Zeiss style.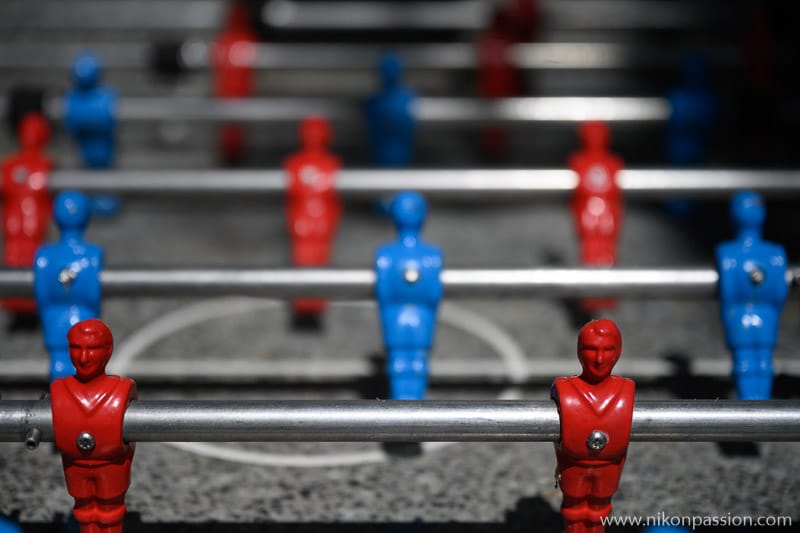 Nikkor Z test 24-70 mm f/2.8 S: 70 mm – ISO 6.400 – 1/100th – f/2.8
Pictures of this test in full definition on Flickr :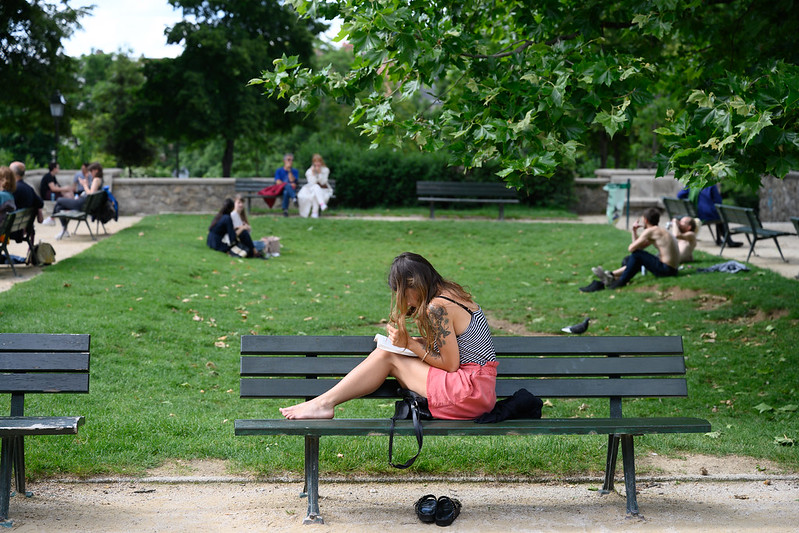 The Nikkor Z 24-70 mm f/2.8 S may be of interest to you if…
you need a versatile, bright, high-performance lens,
you can't shoot with anything but THE best Nikon 24-70mm f/2.8 zoom lens,
you feel blocked or frustrated by the relatively small aperture of the Nikkor Z 24-70 mm f/4 S,
you want a goal that you can take full control of and customize according to your habits,
you want to lighten your equipment and trade in your FX + 24-70 mm f/2.8 reflex duo to gain both quality and mobility. This is the right time to switch to the hybrid.
The Nikkor Z 24-70 mm f/2.8 S will be of less interest to you if…
2,499 euros is a lot of money to spend. Especially since it makes this tranny even more expensive than its F-mount counterparts, which are already considered unaffordable,
you swear by stabilized lenses (although Nikon Z cameras are),
you still think it's big for a hybrid lens…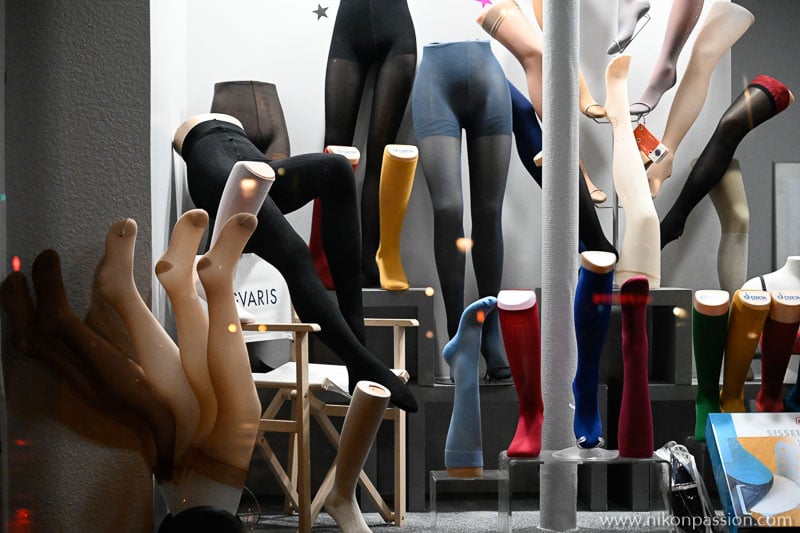 Nikkor Z test 24-70 mm f/2.8 S: 70 mm – ISO 12.800 – 1/800 th – f/2.8
In any good tasting, some recommend saving the best for last. At the end of our long test cycle of all Nikkor Z lenses available to date, the Nikkor Z 24-70mm f/2.8 S completes the journey (until the next episode). And what a masterful conclusion, precisely to finish convincing even the most skeptical that this new line of 24 x 36 mm hybrids from Nikon is very well born.
Every optical system needs a flagship lens, and in the case of the Nikkor Z, look no further, you've found it.
This trans-standard f/2.8 zoom alone justifies the switch to the hybrid, if you're already a nikonist, and will seduce those already equipped with a hybrid to sink to the yellow side of the Force. Opticians have put the small dishes in the big ones and, once is not customary for Nikon, to do in the vanguard.
The flawless optical design (Exceptional stitching, homogeneity without fear or reproach, shimmering colours, treatment against ghostly images and dreadful reflections.) are added to the quality of manufacture and a tasty pleasure of handling.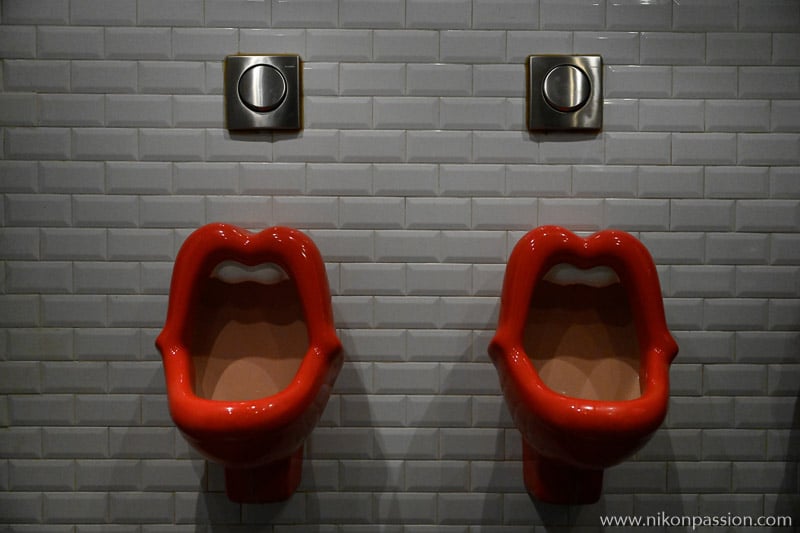 Nikkor Z test 24-70 mm f/2.8 S: 35 mm – ISO 10.000 – 1/400 th – f/2.8
While Nikon hasn't necessarily reinvented the hybrid, the century-old Nikkor Z 24-70 mm f/2.8 S is the perfect example of how the Nikkor Z 24-70 mm f/2.8 S can bring some of the ergonomic practices that were thought to be forgotten with the advent of digital technology into the mainstream: depth-of-field scale, modernized diaphragm ring (even if the "clutch" system used by competitors has an undeniable charm), customizable OLED screen… And that velvet on the sun visor, what a delicate attention!
As you may have noticed during this test, it is not without reason that this is the longest to date devoted to a Nikkor Z. Without a doubt, the Nikkor Z 24-70mm f/2.8 S marks a new optical and standard milestone, at least for nikonists, certainly in the world of hybrids.
If the mission was to make the AF-S Nikkor 24-70mm f/2.8E ED VR for DSLR forget the blunder, it is accomplished with ease. Hand that, on the other hand, will perhaps have more scruples to go to the wallet to pay the 2499 euros asked by the manufacturer to make this lens his own. We would almost be tempted to write that the game is clearly worth the candle.
To be enjoyed without moderation on a Z 7. Too bad we had to return it…
This zoom at the best price at Miss Digital