Presented in March 2018 and available since the summer of the same year for 499 euros, the Laowa 25 mm f/2.8 2.5-5x Ultra Macro bears its name well since it is intended for ultra-macrophotography. Literally. This Laowa 25 mm f/2.8 test has imposed itself on us: what can you do with such an optic?
Like all lenses from the Chinese manufacturer, also known as Venus Optics, the Laowa 25mm f/2.8 2.5-5x Ultra Macro gives up versatility to focus on a single task, which is to photograph the world around you in a very, very close-up shot with a magnification factor of 2.5x to 5x. So it's best not to put it in everyone's hands.
This goal at the best price at Miss Digital
This goal at the best price at Amazon
In addition to their Asian origins, there is another point in common between Korean Samyang optics and Chinese Laowa optics: both are imported into France by the same company, Digit-Access, which is undoubtedly fond of exotic optics, to say the least (see the test of the Samynag AF 14mm f/2.8 F for Nikon).
At the time of writing in January 2019, the Laowa catalogue contains ten lenses, each one crazier than the last. For example:
the 9 mm f/2.8 Zero-D,
le 15 mm f/2 FE Zero-D,
the 12 mm f/2.8 Zero-D, all three at zero distortion.
The 24mm f/14 2x Macro, with its false endoscope look, aims to go and photograph very, very close to subjects inaccessible to commonly shaped lenses.
In this colourful family, the Laowa 25 mm f/2.8 2.5x-5x Ultra Macro does not denote.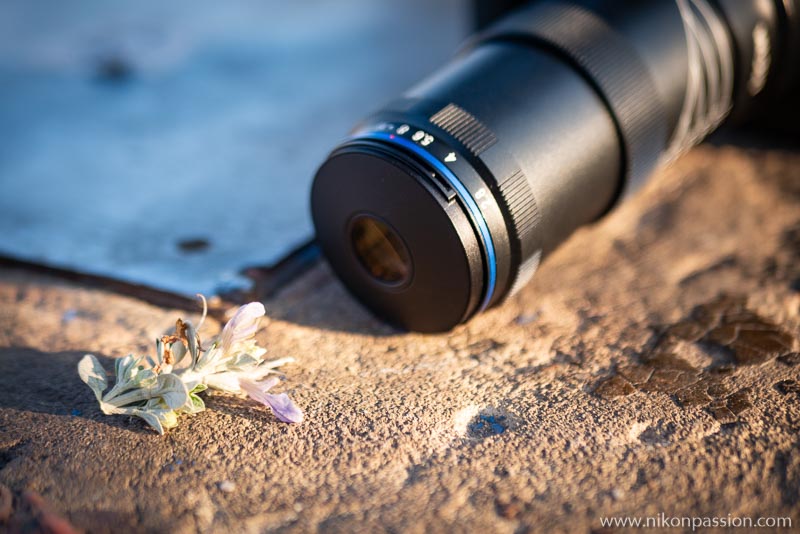 test Laowa 25 mm f/2.8 2.5-5x Ultra Macro: the making of the picture below
Available in Nikon F, Canon EF, Pentax K and Sony FE mounts, it covers the 24 x 36 mm format. In Nikon F mount, it has no equivalent, and you have to go to Canon's MP-E 65 mm f/2.8 1-5x Macro Photo to find something close to it (rather than up close).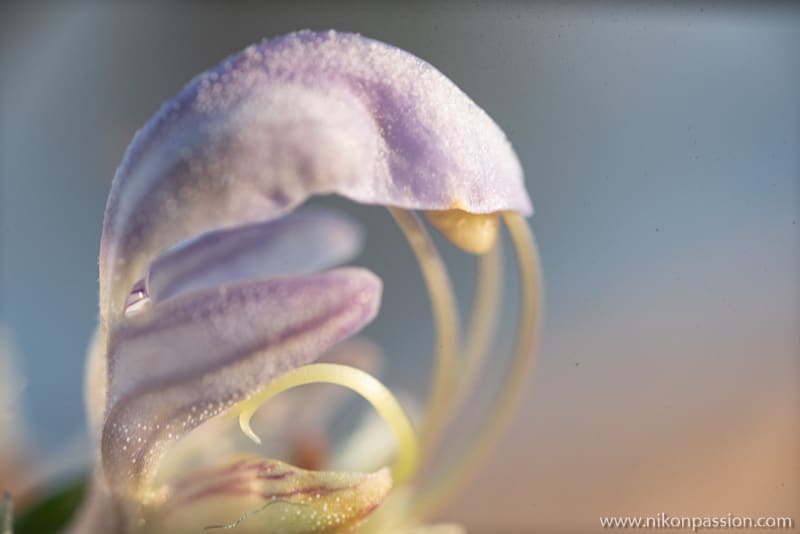 Laowa test 25 mm f/2.8 2.5-5x Ultra Macro: 1/200 sec. – f/4 – ISO 1.000
If you like to look for the little beast, maybe you'll find in this Laowa 25mm f/2.8 2.5x-5x Ultra Macro your perfect photography companion, which knows how to do nothing else but capture the tiniest of subjects by magnifying them between 2.5x and 5x.
For all the other photographers, you'll oscillate between the " How weird, how strange! "by Louis Jouvet, or even a little more lapidary." the all-vending was hacked by the kids. What do we do now? We take a chance on the weird one? "of an Audiard in the kitchen…
In any case, if you're the type to go off to photograph the flower with a gun, without any preparation, hoping to come back with a collection of images captured on the fly, you can turn back. This "Ultra Macro" is a special partner that requires a good dose of know-how, and a lot of patience.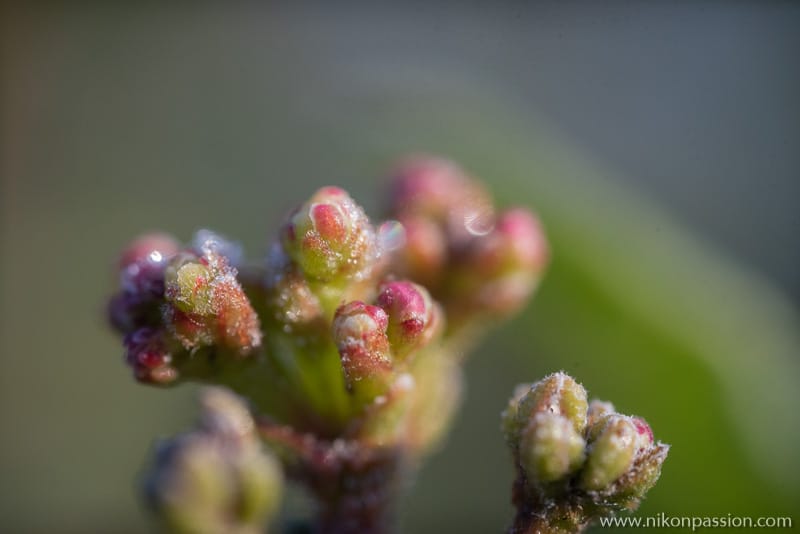 Laowa test 25 mm f/2.8 2.5-5x Ultra Macro: 1/500 sec. – f/4 – ISO 1.000
The first thing you're bound to do when you take the Laowa 25 mm f/2.8 2.5x-5x Ultra Macro out of its box is to give it a good stab, or at least a chisel. Really. Because this lens comes wrapped in plastic, vacuum-packed, like smoked salmon.
If the goal was to make an impression, it was successful, even if the manoeuvre is not really ecological… That said, by the way, even if we were overzealous about the packaging, we would have preferred a small textile pouch to carry the lens, or even a custom-made cover (go crazy).
Laowa test 25 mm f/2.8 2.5-5x Ultra Macro: position magnification ratio 2.5:1
Despite its slender silhouette (58.2 mm in diameter, between 82 mm at a 2.5:1 magnification ratio and 139 mm in length at a 5:1 magnification ratio), this objective seems very dense in hand. The data sheet announces no less than 400 grams, just slightly less than the AF-S Micro NIKKOR 60mm f/2.8G ED.
The quality of construction is impeccable, all glass and metal, with a beautiful satin black finish. Just after the box, the focusing/magnification ring is a bit stiff and hard to handle, so a small manual running-in will be necessary. That said, this hardness is the guarantee that the lens will not unfold even upside down. You will also find a second aperture ring, graduated between f/2.8 and f/16, which is mainly used to control the depth of field. The lens cap clips on after a slight rotation, ensuring that it is securely held in place.
Laowa has provided two accessories to make the best use of its Ultra Macro, accessories we didn't have. These are a stand collar, to mount the lens on a tripod or, even better, a reproduction bench, and an LED ring light to be fixed around the front lens and powered by Micro USB, for example from a backup battery. Laowa recommends a voltage of 5V for a current of 2.1A.
Since there is no electronic contact on the lens, there is no communication with the body. The EXIF data will not be filled in. However, this does not prevent our Nikon D750 on which it was mounted from being able to produce a correct exposure by using it in aperture-priority mode at f/2.8. As soon as you decide to close the aperture a little, you'll have to play with exposure compensation or switch to manual exposure and grope around.
In its box, the lens is accompanied by a very brief instruction manual with the chapter "How to use the lens". clarification "is worth the detour. The manufacturer offers two techniques, which can be summarized as follows:
Technique 1: Set the magnification ratio and then focus,
Technique 2: Focus and then set the magnification ratio and focus.
We've had more explicit… Actually, it's just that the focus ring isn't really one, if at all, and the only way to adjust the focus point is either to bring the body closer to the subject or to bring the subject closer to the body, depending on the possibilities of the moment. This is because the focusing distance is fixed and depends on the selected magnification ratio, ranging from 45 mm at 2.5:1 to 40 mm at 5:1.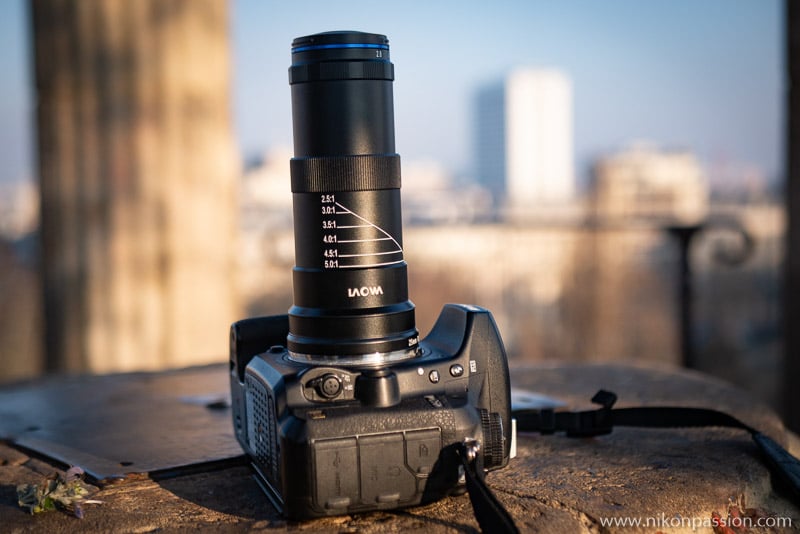 Laowa test 25 mm f/2.8 2.5-5x Ultra Macro: position magnification ratio 5.0:1
test Laowa 25 mm f/2.8 2.5-5x Ultra Macro: retracted position
If you have followed correctly, between the two positions, the lens lengthens by 57 mm, so at some point you will have to move your body (or your subject). In the heat of the action, the goal of the game will then be not to lose your framing and, you can believe us, it is not easy as the slightest millimetre of difference takes biblical proportions. Because you have to remember that a magnification ratio of 2.5:1 means that the subject is projected 2.5x bigger on the sensor, and 5x bigger in the case of the maximum 5:1 ratio.
To put it another way, even on a 24 x 36 mm sensor, a simple 5 mm gap will cause you to move out of the frame (and it is of course even worse if you use an APS-C box.)… So, if shooting freehand is not impossible, the exercise proves to be very, very complicated.
Here, we would strongly advise you to work in Live-View if you are using an SLR, especially since you will quickly lose sight of everything in the optical viewfinder. If you're using a Nikon Z 6 or Nikon Z 7 hybrid, focus peaking will be a great help.
In any case, between the delicacy of the focusing, the darkness of the sighting, the often rather long exposure times required, it seems to us quite illusory to capture ants in motion, as Laowa suggests in his demonstration photos distributed at the launch of the lens.
Framing correctly is already an exercise in itself requiring attention to detail. Then you have to play with the depth of field of a cigarette leaf.
As they are nice at Laowa, a depth of field table is included in the instruction manual. At its finest, this depth of field is only 0.05 mm at 5:1 magnification and at f/2.8 and at most 0.514 mm at 2.5:1 magnification at f/16. In other words, you're in between nothing and not much.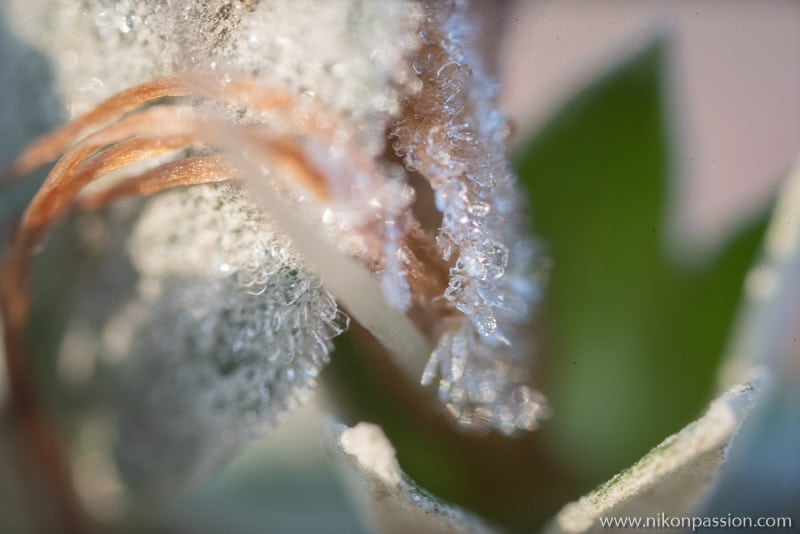 Laowa test 25 mm f/2.8 2.5-5x Ultra Macro: 1/40 sec. – f/4 – ISO 1.000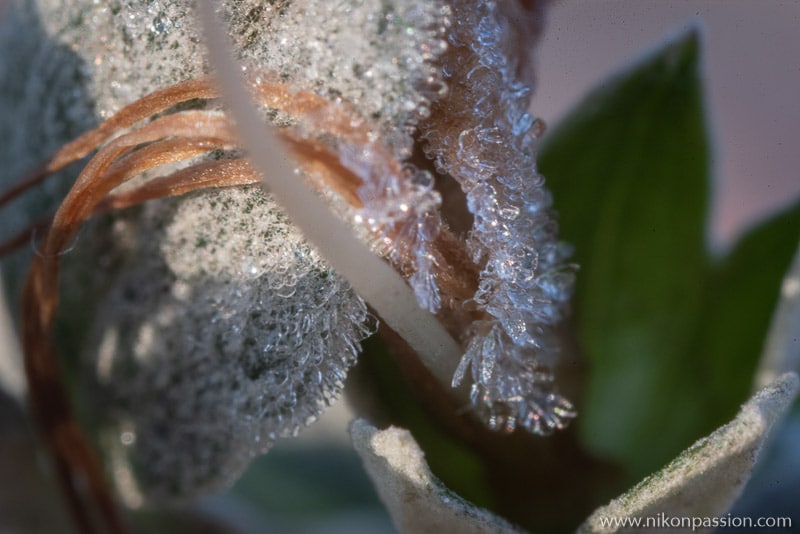 Laowa test 25 mm f/2.8 2.5-5x Ultra Macro: 1/13 sec. – f/4 – ISO 1.000
So, when you manage to take a focused image where you wanted it, it's already a small victory and a great satisfaction in itself. But keep in mind that if you want to play it safe with the aperture, then you'll have to compensate by playing with shutter speed or sensitivity. Hence the tripod and/or additional lighting are almost indispensable.
What about the bokeh in that story? The Laowa 25mm f/2.8 2.5x-5x Ultra Macro uses an 8-blade diaphragm, which is already good on a conventional lens but, in the special case of macro photography, allows very creamy backgrounds and transitions, all smoothly. Generally speaking, the rendering is pleasantly smooth and dreamy.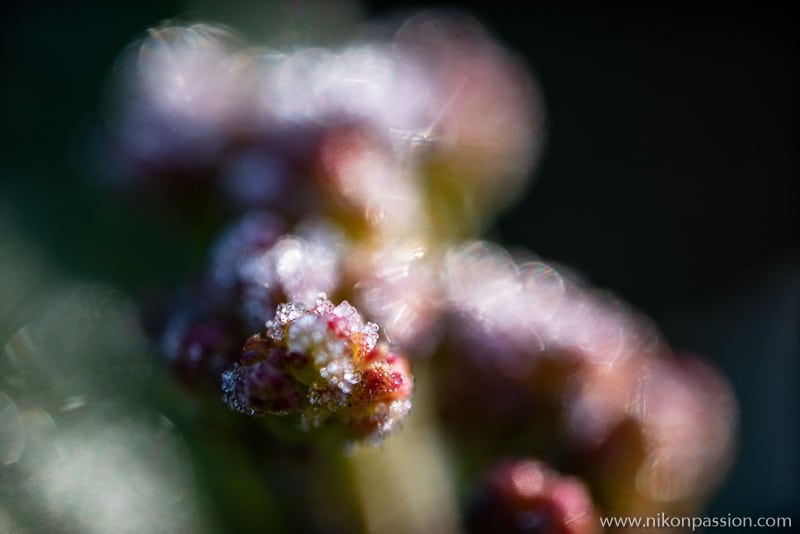 Laowa test 25 mm f/2.8 2.5-5x Ultra Macro: 1/800 sec. – f/4 – ISO 1.000
Laowa has championed the absence of deformation and we must admit that on this Ultra Macro, you will not see any deformation. Neither is vignetting, which is even more impressive when you remember that the 24 x 36 mm sensors are covered.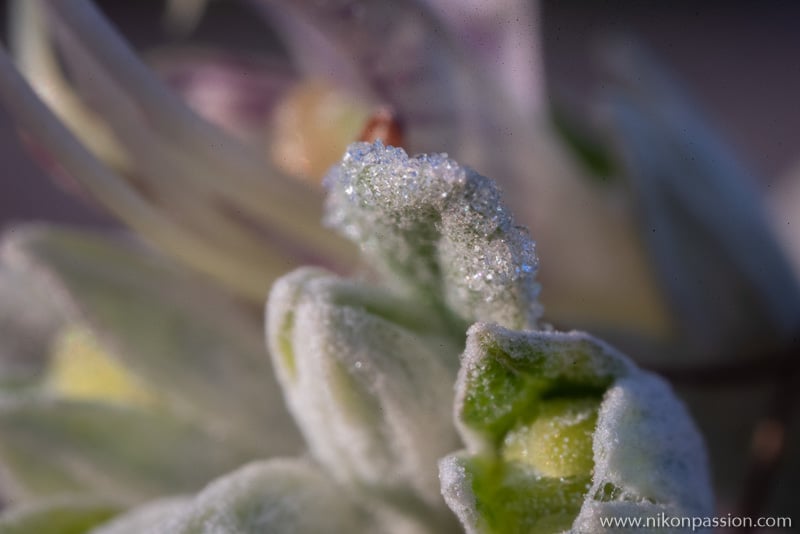 Laowa test 25 mm f/2.8 2.5-5x Ultra Macro: 1/25 sec. – f/4 – ISO 1.000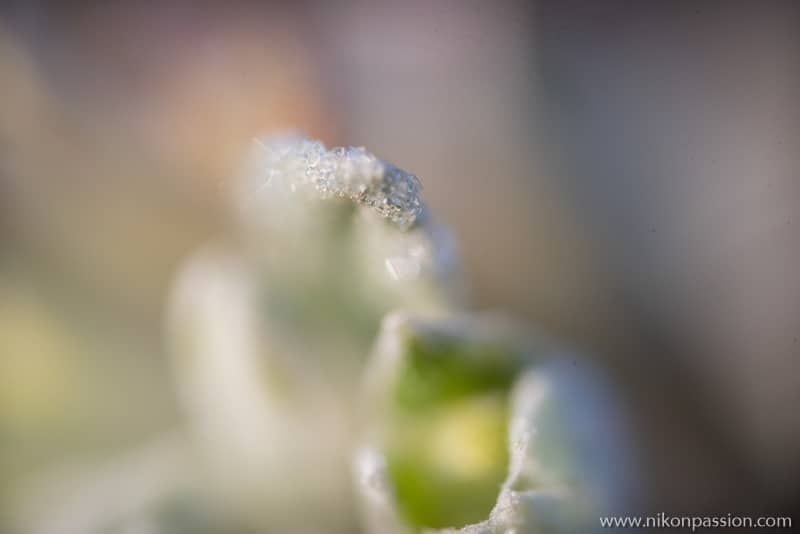 Laowa test 25 mm f/2.8 2.5-5x Ultra Macro: 1/320 sec. – f/4 – ISO 1.000
All the photos of this test are available in full resolution by clicking on the photo below: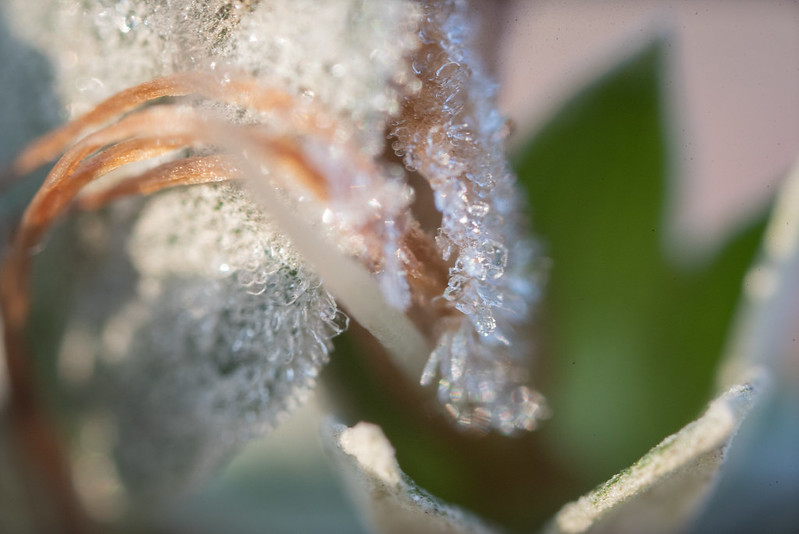 The Laowa 25 mm f/2.8 2.5x-5x Ultra Macro may interest you if :
you are already equipped with tripods, reproduction benches and accent lighting,
you're looking to combine zen exercise and macrophotography,
you never got over Microcosmos (still life version),
you like to know how the little things are done,
you like to split hairs.
The Laowa 25 mm f/2.8 2.5x-5x Ultra Macro will be of less interest to you if :
you're in a hurry,
you can only use your camera freehand,
you're looking for a macro lens that's quick to implement,
you must photograph subjects with an area of interest larger than 5 mm.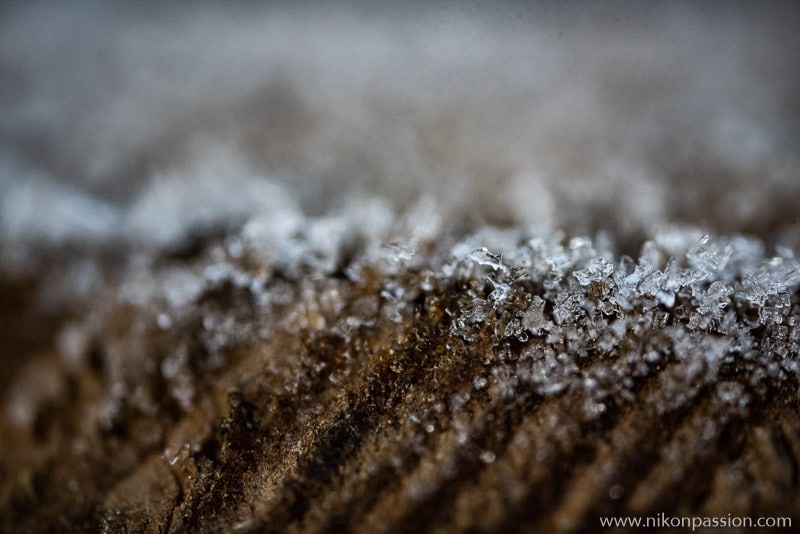 Laowa test 25 mm f/2.8 2.5-5x Ultra Macro: 1/640 sec. – f/4 – ISO 1.000
Laowa test 25 mm f/2.8 2.5-5x Ultra Macro: 1/200 sec. – f/4 – ISO 1.000
What a strange lens this Laowa 25mm f/2.8 2.5x-5x Ultra Macro. Unclassifiable, out of category, it is closer to the field of microphotography than to classic macro photography.
The best way to appreciate it will be to have a reproduction bench with micrometric screws and a flock of auxiliary lighting. And a docile subject, i.e. inanimate. No more shooting insects on the fly, no more macrophotography of pistils and stamens when the breeze comes up: with its magnification ratio of up to 5x and its depth of field never thicker than half a millimeter, the Laowa 25 mm f/2.8 2.5x-5x Ultra Macro is a very bad candidate for improvised live photography.
If its optical qualities are certain, notably thanks to its soft bokeh, its good colour reproduction, its absence of vignetting and distortion, its constraining implementation and its ultra-specialization catapult it directly into the realm of photographic curiosities rather than tools that can really be used, if not by a handful of specialists and curious people. At 499 euros per beast, without a tripod collar or integrated LED ring light, it's expensive curiosity. But when you like …
Thanks to Digit Access and Laowa for the loan of the lens.
This goal at the best price at Miss Digital
This goal at the best price at Amazon