Announced in June 2019, barely available in Europe, here is already the Tamron SP 35mm f/1.4 Di USD test, the very first fixed focal length and f/1.4 aperture lens of the Tamron range for Nikon SLRs.
To all lords, all honour, it is the Nikon D850 that was used for this test, a demanding full-format reflex that was able to put to the test several optics that were nevertheless qualified as excellent. What will it be with this Tamron SP 35 mm f/1.4 Di USD?
This lens at the best price at Miss Digital …
To celebrate the 40th anniversary of its SP line for "Superior Performance", Tamron is venturing into hitherto uncharted territory with fixed focal lengths for 24 x 36 mm sensors opening at f/1.4.
With his SP 35 mm f/1.4 Di USD, the optician, better known to the general public for his zooms with an aggressive price/quality ratio, wants to prove that he too has the optical, micro-mechanical, electronic and industrial know-how to play in the "Premium" fixed focal length yard.
And it's an understatement to say that the challenge has been taken up, since its favourite rival, the Sigma 35 mm f/1.4 DG HSM | Art, has reigned unchallenged since its arrival on the market in 2013.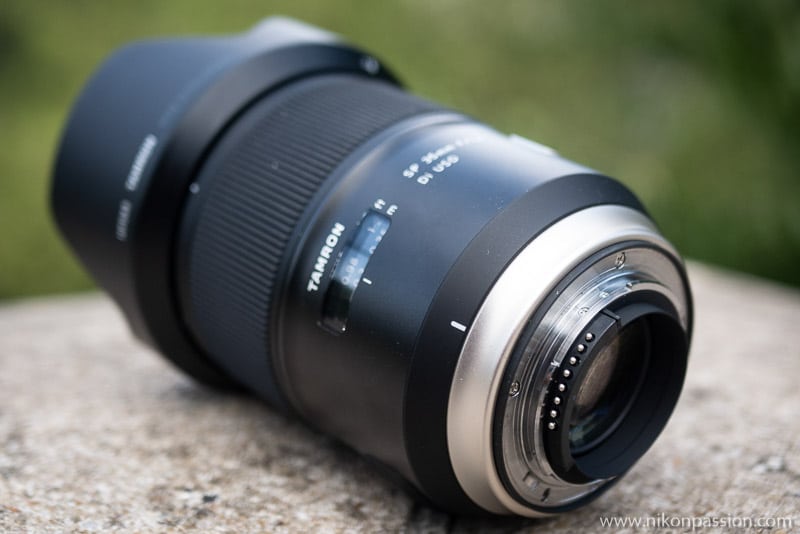 So the question is quite simple: since six years separate the two optics, have Tamron opticians used this time to develop an optic capable of matching (at a minimum) or even surpassing (ideally) that of the Sigma team?
And does this gap, if any, justify investing the 999 euros requested when 35 mm Art is now easily around 780 euros? We had three weeks with him to answer these questions.
Surprisingly, since its creation in Saitama (north of Tokyo) in 1950, Tamron had never produced a single lens opening at f/1.4. Which, seen from 2019, may seem like an industrial anomaly in a world where it is commonly accepted that "if you don't have a lens that opens at f/1.4, you're not a true professional.
However, the optician knows how to make bright fixed focal lengths. The SP series in f/1.8 for 24 x 36mm DSLRs has an excellent reputation for being just a third lighter than the f/1.4, but with the double benefit of a smaller footprint and a lower price. But in photography, traditions and myths have a hard time.
At the same time, Sigma, its major competitor, can boast of having in 2019 an f/1.4 range, sorry, a plethoric "f/1.4 family" since the following focal lengths are offered in this aperture: 20 mm, 24 mm, 28 mm, 35 mm, 40 mm, 50 mm, 85 mm and 105 mm. Who can say better? No one does.
Nikon itself has "only" six focal lengths in its catalogue: 24mm, 28mm, 35mm, 50mm, 58mm, 85mm and 105mm. Until now, however, fans of 35 mm f/1.4 have only had the choice between two options: the Nikkor, sold for 1,900 euros, and the Sigma, sold for 780 euros – but launched at 949 euros, it is important to remember.
At 999 euros, the Tamron SP 35 mm f/1.4 Di USD therefore clearly has a card to play.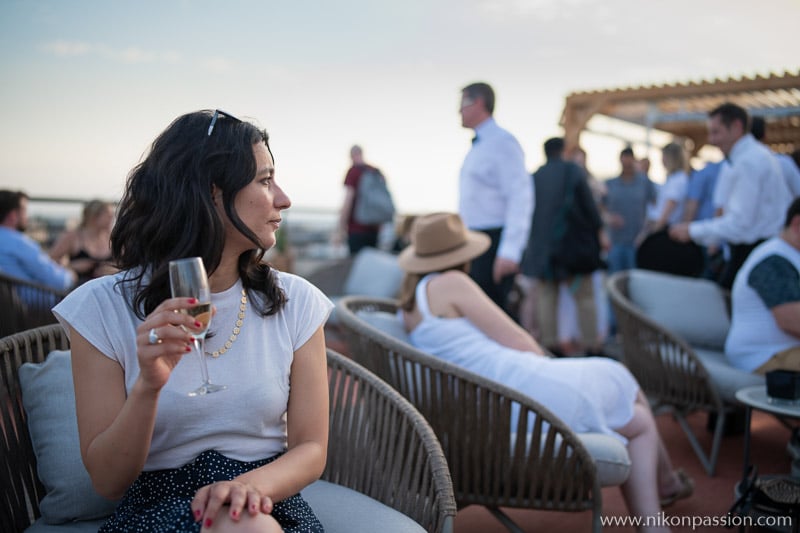 Test Tamron SP 35 mm f/1.4 Di USD: ISO 200 – 1/2.000 sec. – – f/1.4
From a philosophical point of view, it is interesting to point out that the Sigma 35 mm DG HSM | Art had, in its time, been the goal of renewal for Sigma, adopting the new "Global Vision" strategy dear to Kazuto Yamaki, CEO of the company (inherited from his father).
At the time, the idea was to elevate Sigma from the rank of "second-class" optician – "understand the optician from whom you buy the default lenses because Nikon lenses are too expensive, so much the worse if you have to make sacrifices in terms of quality. " – to the rank of a top optician, that is " the optician whose lenses we buy with pleasure because they are excellent AND also much cheaper than those of Nikon, so why equip yourself with Nikkor if not by masochism? ».
History has proven Yamaki San right, and today, in premium fixed lenses, Sigma is as much a workaround for photographers as it is feared by manufacturers.
On the Tamron side, the motivations behind the development of the SP 35 mm f/1.4 Di USD are quite different.
The SP line has been around since 1979 and, in forty years, some models have even become legendary, such as the Tamron SP 90 mm f/2.5 Macro produced between 1978 and 1988.
But with very few exceptions, the manufacturer has never really managed (or really wanted) to create anything other than purely utilitarian goals capable of swinging the hearts of its customers. If there is a community of nikonists and a community of sigmaists, there is hardly any community of tamronists (or they are well hidden).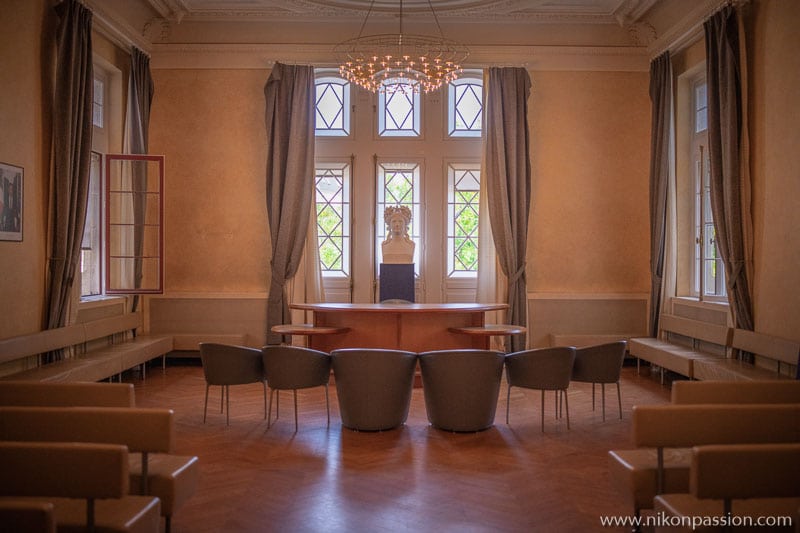 Test Tamron SP 35 mm f/1.4 Di USD: ISO 800 – 1/5,000 sec. – – f/1.4
With this lyrical take-off in mind, backed by the company's optical and industrial know-how, the SP 35 mm f/1.4 Di USD was born.
Tamron's swan-edge approach: to offer DSLR users what will probably be the manufacturer's last very high-end luminous optics dedicated to this type of housing.
"Nihil ex SP 35 mm f/1.4 Di USD … except on the new territory to conquer hybrids. The recent Sony E-mount proposals, and the upcoming Z-mount proposals that are sure to come, clearly show where Tamron's eye is now for its most prestigious optics. But in the meantime, the test!
To the amateurs of multi-purpose luminous fixed focal lengths, adepts of street photography, reportage, a bit of portrait (but not too much), for whom f/1.8 would not be enough and who did not find themselves in the duel Sigma vs. Nikon.
To these photographers we must add two other categories:
those who are not necessarily 35 mm enthusiasts, but who would be curious to see what Tamron is capable of producing,
those already owning a 35mm f/1.4 (say, at random, the Sigma Art) but, having switched to a Nikon D850 with a very demanding definition, would begin to perceive the limits of their current lens.
Quality of construction
To know everything about how the Tamron SP 35 mm f/1.4 Di USD is built, the best is to read the article about it during the presentation of the lens.
Alloys as light as they are resistant, numerous seals including one at the frame level, even more precise finish than the SP f/1.8: everything is there to remind us that we are dealing with a top-of-the-range lens.
In order to make it easier to move the lenses required for focusing, Tamron has developed a new system of internal helical cages called "Dynamic Rolling-cam", which has been implemented here for the first time. This is for general cultivation. In practice, the focus is smooth, precise and vibration-free, but we'll go into more detail in the next section.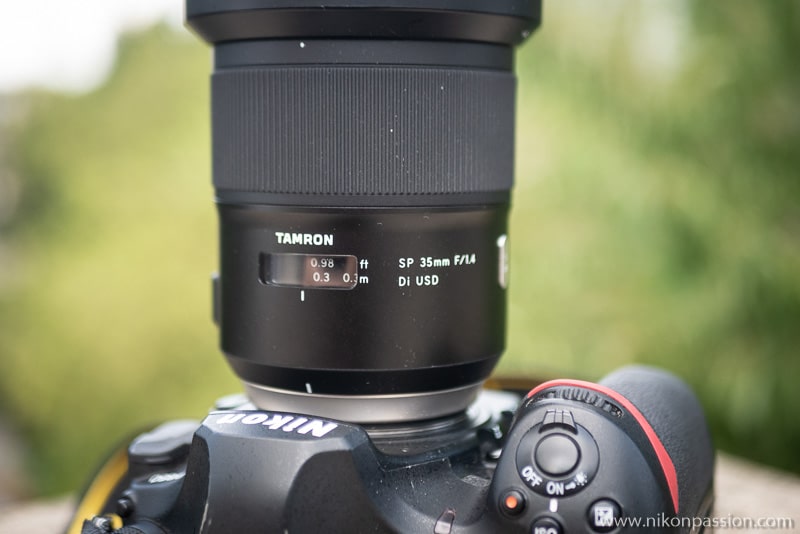 Nevertheless, since the top end of the range pushes all the more to be uncompromising, a few small points of detail could have been improved. The focusing ring continues to rotate beyond the two end stops (but there must be a practical reason for this).
The graduation of the focusing distance is not precise, the stops being a little before 30 cm (minimum focusing distance) and a little after infinity. It would have been nice if these graduations had been covered with luminescent paint so that they could be read in the dark, or at least the small reading window could have been illuminated (without necessarily going as far as the ingenious OLED display of the Nikkor Z 24-70 mm f/2.8 S).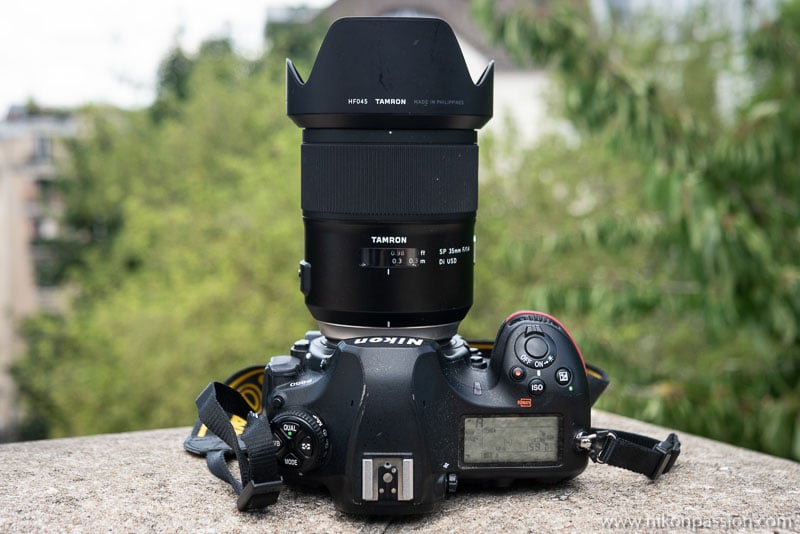 The sunshade has a locking latch, which prevents it from being unscrewed and then accidentally falling out. However, the plastic material used is a little too scratch-sensitive for our taste, but it's really a bit of a hassle. It doesn't take away from the feeling of the lens: it exudes quality and love of a job well done!
Handling: stabilization and autofocus
At 102.3mm long and 805 grams, the Tamron SP 35mm f/1.4 Di USD is the heaviest of the modern 35mm f/1.4 Di USD Nikon mounts. The Nikkor is only 89.5 mm long at 600 grams, while the Sigma fits in between, at 94 mm long and 665 grams. The almost 150 grams of extra weight are easy to feel right out of the box, and even more so when in use: it's heavy in every sense of the word.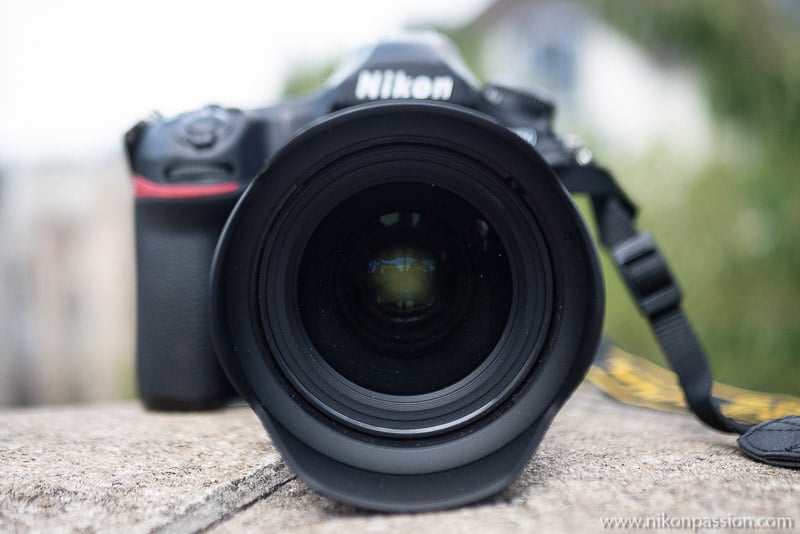 Mounted on a Nikon D850, the whole remains unbalanced, but Tamron obviously didn't want to make any physical compromises to the detriment of the optical formula. Filters will need to be 72mm in diameter, compared to 67mm for the Nikkor and Sigma.
Unlike the other fixed focal lengths SP f/1.8 Di VC USD, the Tamron SP 35mm f/1.4 Di VC USD has no stabilisation, as evidenced by the absence of the VC designation in its name. Some will argue that with the added brightness this makes stabilization unnecessary. Others will temper the argument by pointing out that there is "only" a two-thirds difference in f/1.4 and f/1.8 f-stops. Finally, others will admit that no matter how practical stabilization is, it necessarily degrades the optical quality of a lens.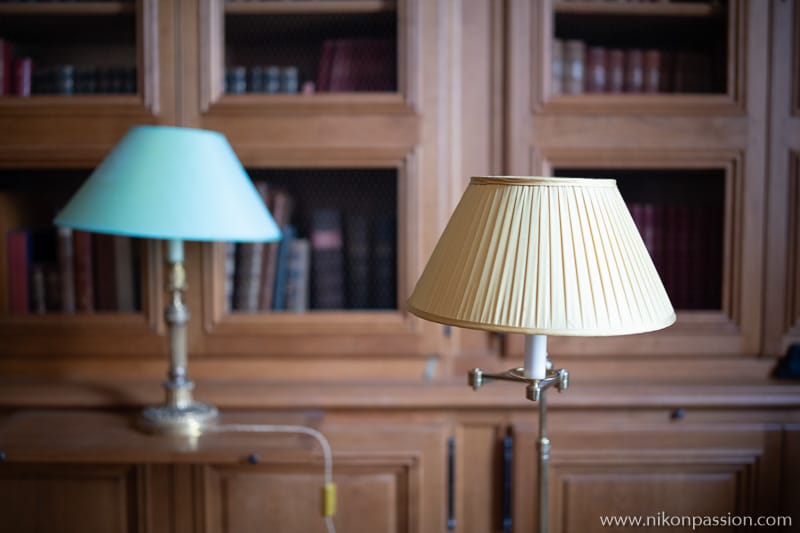 Test Tamron SP 35 mm f/1.4 Di USD: ISO 400 – 1/25 sec. – – f/1.4
So, for a 35mm f/1.4, which is the best in its category, not having stabilization was a logical choice (especially since the lens is already quite heavy enough as it is). In the end, the only switch you'll find on the left side of the lens will be the AF/MF to switch from manual to auto focus (and vice versa). Still, sometimes, in very bad light conditions, stabilization is missing. However, we couldn't test this by mounting the Tamron on a Nikon Z (6 or 7), as we didn't have a hybrid camera on hand at the time of the test.
On the autofocus side, as previously mentioned, we find nothing to complain about. Is it because the new "Dynamic Rolling-cam" technology does a good job? Is it because the Nikon D850 is particularly comfortable with f/1.4 apertures? Is it because of Tamron's know-how?
Probably some of it. Still, the operation is as precise as it is quiet, day and night, and you will only rarely need to manually correct the focus (if not to remind you that modern autofocusing has become quite practical and efficient).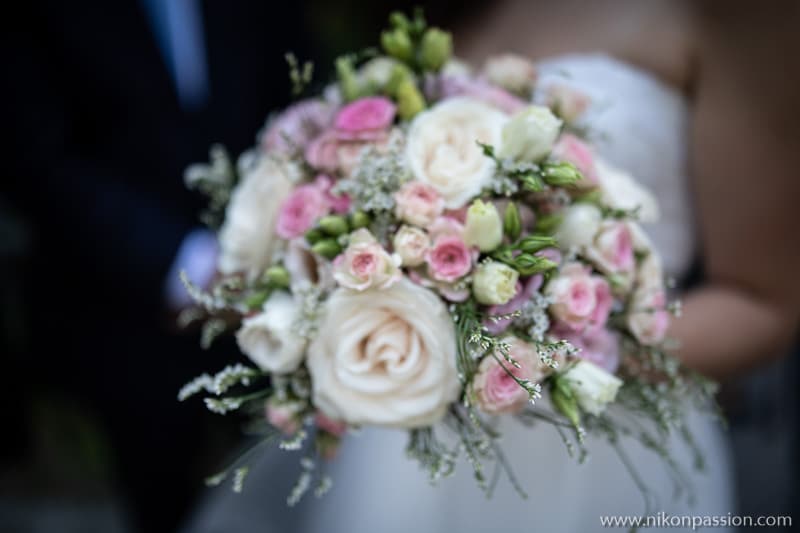 Test Tamron SP 35 mm f/1.4 Di USD: ISO 800 – 1/8.000 sec. – – f/1.4
Finally, a small quirk, however, but independent of the objective. If you have more than one 35mm f/1.4 for your Nikon DSLR, they will all be listed in the metadata as "35.0mm f/1.4", regardless of make or model. This is the time to play with the keyword when importing your images, in Lightroom for example, in order to find your way around later.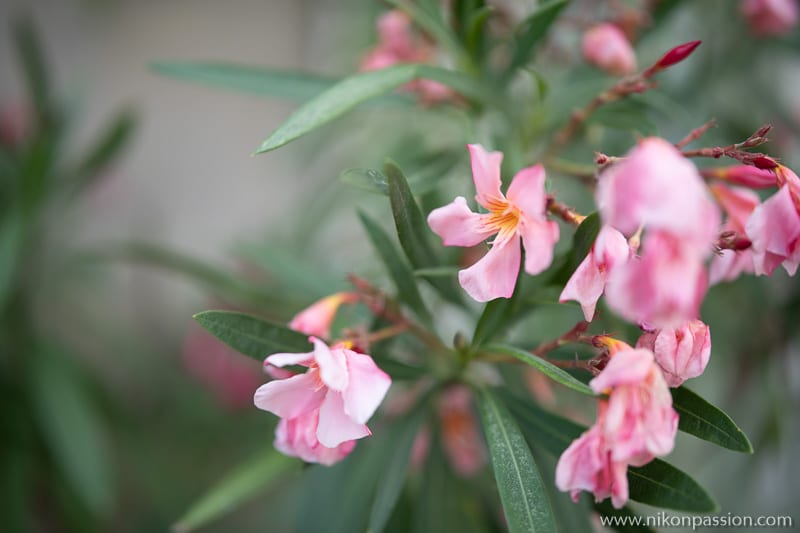 Test Tamron SP 35 mm f/1.4 Di USD: ISO 100 – 1/1,000 sec. – – f/1.4
Optical performance: sharpness, homogeneity and flare
Some days, we wouldn't like to be in the shoes of the marketing people at the photo lens manufacturers.
"Ah, is your new goal that good? But what did you put in it? »
To which, in Tamron's case for this 35mm f/1.4, one would have to answer "oh, lots of cool stuff: 14 lenses in 10 groups, including 4 low dispersion LD lenses, 3 molded aspherical lenses, all sprinkled with the new BBAR-G2 coating because we like complicated acronyms (Broad-Band Anti-Reflection Generation 2). It makes coffee, cleaning, ironing, blocks ghost images, parasitic reflections and chromatic aberrations from the full aperture. In short, it's not bad. "That's it, basically. On paper, it looks razor sharp, to keep it polite. But in practice?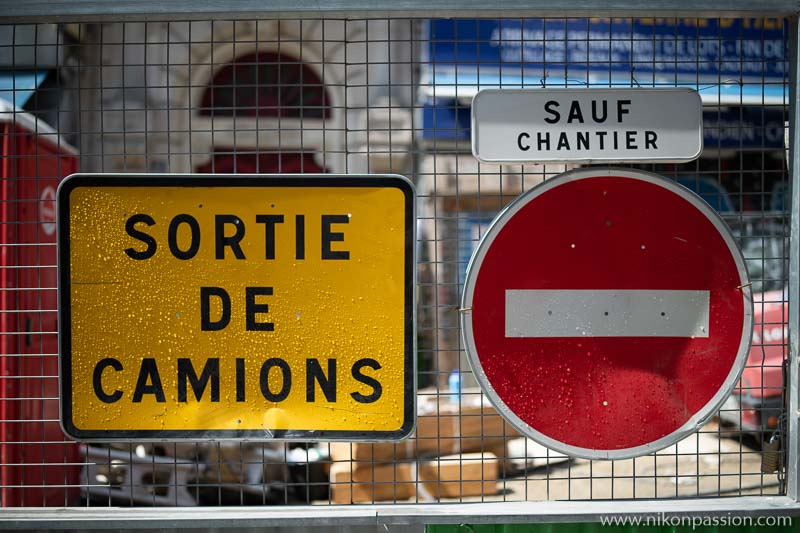 Test Tamron SP 35 mm f/1.4 Di USD: ISO 100 – 1/2,500 sec. – – f/1.4
In practice, you will very quickly forget optical formulas and extendable code names to realise one fact: this Tamron SP 35 mm f/1.4 Di USD is good.
No. Better than that. He's very, very good.
Maybe even a little too much, to the point that sometimes we wonder if it is not the D850 that is the limiting factor. That's just to say!
The sharpness in the center is exceptional from the full aperture and the corners are of a precision never seen before on this type of focal length/opening.
If you close the door a little, performance soars, leaving all the competition behind. The flare is non-existent and, at night, on point light sources, the Tamron finishes to impress you: circles are circles, not streaks of light, without halo, without anything. You'll have to light a candle to the glory of the BBAR-G2 (or "Babar 2", if you're intimate).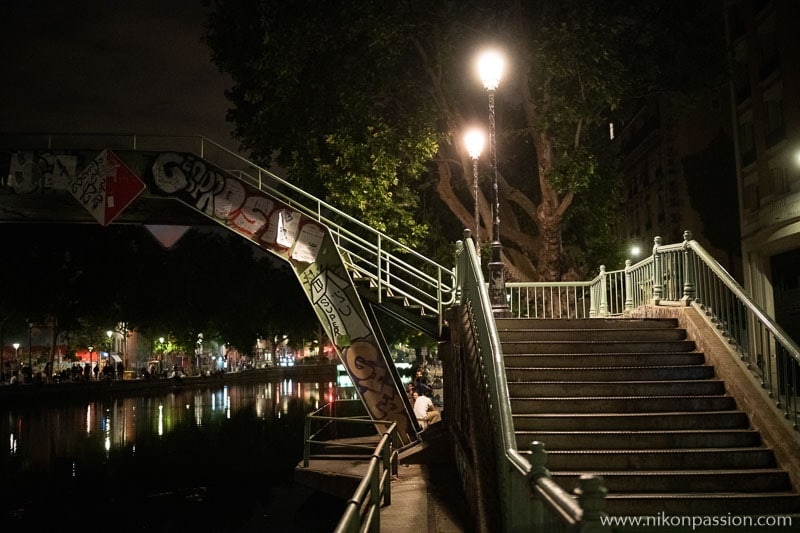 Test Tamron SP 35 mm f/1.4 Di USD: ISO 10.000 – 1/200 sec. – – f/1.4
Of course, you won't escape the paragraph comparing it to the Sigma 35 mm f/1.4 DG HSM | Art.
If the one remains very good and a reference in its kind (so much so that, when I was working at Les Numériques, this was the objective we had chosen to test the sensors of each new camera), it must be said that the Tamron outperforms it in head and shoulders : More pricked at all apertures, more homogeneous from the full aperture, the Sigma only manages to make a play almost equal to f/8, after which, for both, it is the diffraction that causes trouble.
In terms of pure performance, the Tamron SP 35mm f/1.4 Di USD is more like a Zeiss Otus 55mm f/1.4… lighter, more affordable, and autofocus. Excuse the little bit!
Optical performance: color rendering, chromatic aberrations and vignetting
Colour rendering and chromatic aberration management are of the same quality as pure optical precision: the colours are impeccable in terms of fidelity, chromatic aberrations are absent, and the correction of vignetting is a formality (if it remains at f/1.4 it disappears at f/2). Second candle for Babar 2.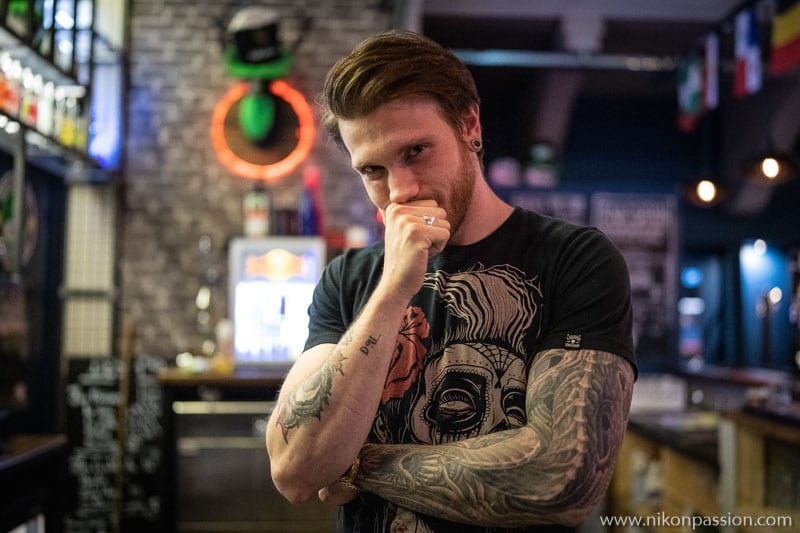 Test Tamron SP 35 mm f/1.4 Di USD: ISO 8.000 – 1/320 sec. – – f/1.4
If the most technophiles will have something to be ecstatic about while having the impression of rediscovering the potential of their reflex, the most artistic will perhaps regret that this neutrality is synonymous with a lack of personality. Clearly, this Tamron is the paragon of modern Japanese optics: surgical, efficient, but impersonal. But somehow that was the original promise, so there is no deception about the merchandise.
Optical performance: deformation and distortion
After this flood of compliments, it would have been quite surprising if the Tamron SP 35 mm f/1.4 Di USD had suffered from warp and distortion problems. Already because that would have been a problem for a 35 mm. So, no: it doesn't distort, everything straight remains straight. And for that, no need for complicated JPEG processing, you can enjoy all this from the NEF file.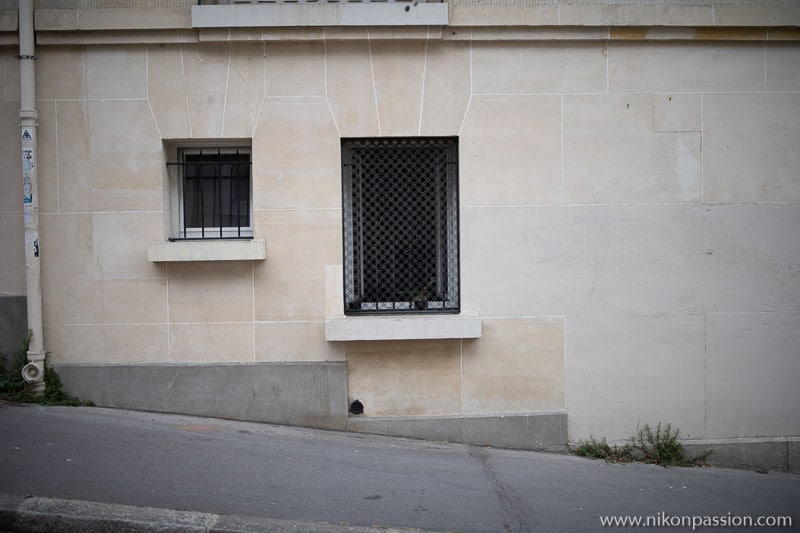 Test Tamron SP 35 mm f/1.4 Di USD: ISO 100 – 1/1,600 sec. – – f/1.4
Optical rendering: depth of field
It is now a classic for the top end: the Tamron SP 35 mm f/1.4 Di USD has an electro-magnetically operated 9-blade circular diaphragm. By combining the focal length and the generous aperture, you will get nice depth-of-field effects with a very soft background bokeh.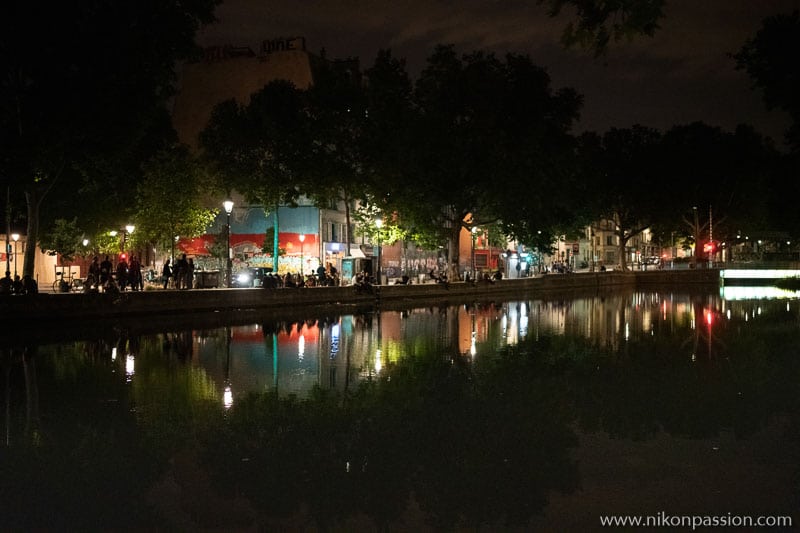 Test Tamron SP 35 mm f/1.4 Di USD: ISO 5.000 – 1/200 sec. – – f/1.4
The Tamron SP 35 mm f/1.4 Di USD may be of interest to you if :
you want the best 35mm f/1.4 currently available in F-mount, for both FX and DX (on which it will form a 52.5mm f/1.4 equivalent),
you want to take advantage of the shorter depths of field permitted by the f/1.4 aperture (compared to the SP 35 mm f/1.8),
you are a keen night photographer and want perfect correction of point light sources (urban or star lighting),
you want to get the most out of your high-definition SLR (Nikon D800, D810, D850),
you will find that the AF-S Nikkor 35mm f/1.4G is definitely not worth its price,
you do not already own the Sigma 35 f/1.4 mm DG HSM | Art.
The Tamron SP 35 mm f/1.4 Di USD will be of less interest to you if :
you are looking for a lens with a strong aesthetic personality,
you want a fixed focal length that is bright AND light,
you are already satisfied with your Sigma 35 f/1.4 mm DG HSM | Art (even though you now know it is no longer the best).
See the pictures of this test in full definition :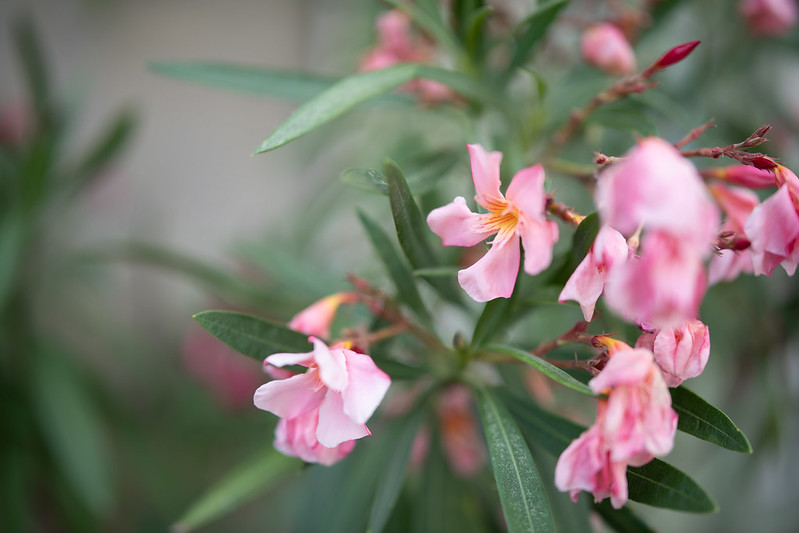 Tamron had promised us the apotheosis for his first fixed focal length opening at f/1.4, and probably the last of its kind for a reflex. Good news: promises don't only bind those who believe in them! Especially when the honour of a Japanese manufacturer is at stake.
For a swan song, Tamron's pulling out all the stops. This SP 35 mm f/1.4 puts the small dishes in the big ones and, if it plays in the optical and physical overbidding, does not hesitate to be the biggest and the heaviest of its category, these three weeks spent at its sides confirmed us that it was not only for the show. This standard focal length is really excellent, allowing a D850 to be pushed to its limits, even to the most isolated pixels.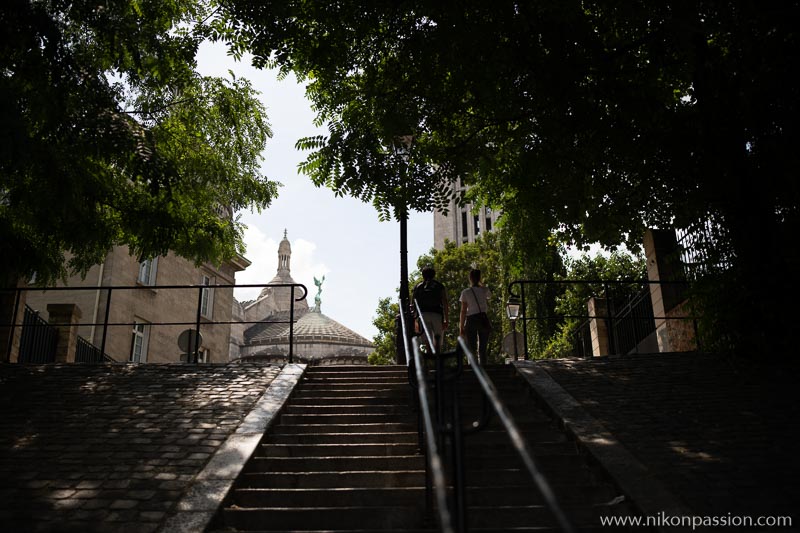 Test Tamron SP 35 mm f/1.4 Di USD: ISO 100 – 1/5,000 sec. – – f/2.8
If you are looking for absolute precision and cannot tolerate the slightest defect (apart from a very slight and understandable vignetting at full aperture), this Tamron SP 35 mm f/1.4 Di USD should be part of your bag. Whether it's for street photography, reportage and, for once, large aperture is here synonymous with a night lens.
On the other hand, you will have to come to terms with an image so clean that it ends up lacking personality, but these days it is difficult to reconcile the two. In any case, this is not what is asked of him.
What if you already own the Sigma 35 mm f/1.4 DG HSM | Art? Should you get rid of it? Not necessarily. The release of the Tamron isn't enough to make it obsolete overnight. It doesn't work like that.
Nevertheless, if you're looking to upgrade to a high definition SLR (including the D800 series) or hope in the near future for a Nikon SLR exceeding 50 MP or even 60 MP, the Tamron will accompany you further, longer, where Sigma is starting to show its limits.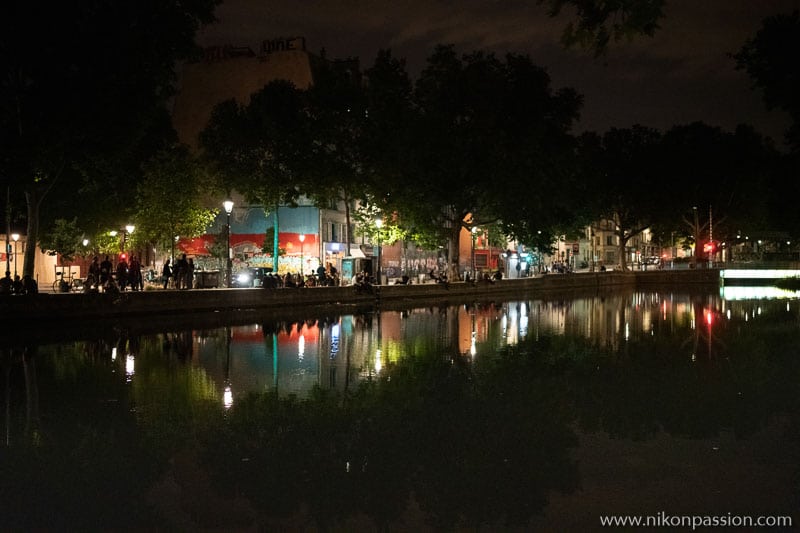 Test Tamron SP 35 mm f/1.4 Di USD : ISO 10.000 – 1/160 th sec. – – f/1.4
This will be of particular interest to those who enjoy landscape, reprography, studio work and, in general, all fields of photography where precision and homogeneity must be absolute. The Sigma, for its part, confirms its unbeatable price/quality ratio and, after its first six years in the catalogue, has every reason in the world to stay there.
In conclusion, both from the point of view of optical engineering and photographic performance, the Tamron SP 35 mm f/1.4 Di USD is a complete success (with some ergonomic improvements). It is a pity that, officially, Tamron does not plan to extend the f/1.4 experience to other focal lengths and SLRs for the time being. And yet, it's a hybrid enthusiast who's telling you this.
See the presentation on the Tamron website
This lens at the best price at Miss Digital …