It is one of the most coveted objects of desire every summer, a place of recreation to cool off from the heats of the hot season that the Australian photographer Brad Walls has photographed with a drone in 'The Beauty Of Swimming Pools'. A suggestive collection of photos of swimming pools from around the world that mixes aerial photography and architectural photography with an obvious touch of minimalism.
The idea came from his travels in Southeast Asia and within his own country, Australia, simply as a way to document his vacation memories. But one fine day she bought a famous book on the subject ('Splash: The Art of the Swimming Pool', by Annie Kelly) and everything changed: "as I turned each page of the book a wave of childhood nostalgia washed over me, remembering the hours spent in the pool during the summer".
So he came up with the idea for this series of photographs in which he pays tribute to Kelly with a style that focuses more on the compositional elements of the pools from a bird's eye view. "I fell in love with the lines, curves and negative space of the pools that, without the alternative perspective of a drone, would not be appreciated".
This (pun intended) refreshing project is not yet finished, since the photographer wants to continue immortalizing more pools in places as suggestive as Palm springs and end up making his own book with the images of the series. By the way, if you are wondering if the photos were taken with all the permits, you are interested to know that Brad has collaborated with various luxury hotels for the photographs (some of which have appeared in tourist publications in Indonesia, the Philippines, Spain, Australia or Iceland).
Anyway, Brad tells us how "Drone rules vary from place to place, in Australia you only need a permit if the drone weighs more than two kilos, and the same applies when flying over a group of people. I think the laws are out of date compared to the technology that drone manufacturers provide. It is almost impossible to injure a passerby if you are doing things the right way. "
In any case, the result is obvious and leaves us some spectacular photographs with which we leave you for your enjoyment, and which, in case you are interested in knowing, were made with a DJI Mavic Pro 2.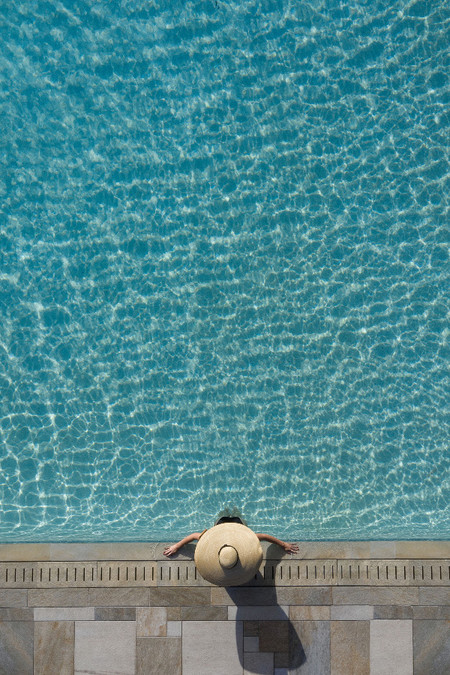 Brad Walls | Website | Instagram
Photographs by Brad Walls reproduced with permission of the author for this article