Hello everyone, this is Laurent Breillat for Learn Photographyand welcome to this new video!
Today, I would like to talk about the choice of equipment. This is, of course, a question that comes up often: in fact, it's even THE question that comes up the most often.. I've already answered this question at length, in an article and a video that are among the most seen of my contents by the way.
Inside, I give my best answer to this question for a beginner looking to buy his first device. I usually advise him to start with a reflex or a hybrid with a grip that seems comfortable to him, because for most people this is what will give them the best satisfaction in relation to their expectations (which are usually to make nice pictures with a pro look).
But here's the thing, for slightly more experienced photographers, I think it's useful to expand the thinking a little bit.
In digital, most of the options we are offered are actually quite similar….
You have the reflexesThese are relatively large, with interchangeable lenses, which do just about everything well, and have the traditional optical aim that we have known for a very long time.
For the past few years, you've had the hybridsThe main difference between reflex and electronic cameras is their electronic aiming (whether in a viewfinder or on a screen), and this aiming has advantages and disadvantages (I have written an article on the benefits of electronic aiming that I will describe to you).
Hybrids are also more compact, at least for the most part. More recently, automakers have released their Full Frame models, which are almost as big and expensive as DSLRs.
These two types of devices do just about everything right.. With a modern DSLR or hybrid camera, you can get quality results in landscape, portrait, studio, wildlife, or street photography without any worries.
In the end, these boxes fit just about everyone, they do everything just about right. That's what makes it the best solution for most of you, by the way. They are comfortable enough in all areas, and when you want to do a little bit of everything, that's an advantage.
Actually, they're "general purpose" cameras. But like any generalist material, they are not the best in a particular field….
In fact, if you go to your general practitioner and you have a somewhat serious condition that is not in his or her area of specialization, he or she will refer you to a specialist. Not that he has NO idea how to treat you, it's just that it's better to send you to someone who has more knowledge in one area (but who would probably be less capable in another area: I wouldn't go to a respirologist personally to have my teeth cleaned).
We are beginning to see a little bit of this distinction in digital, especially with cameras whose lenses are not interchangeable.. For example, expert compacts such as the Sony RX100 or the Lumix LX100 are at ease in all situations of everyday life, and their compactness allows them to be taken everywhere.
On the other hand, say goodbye to the animal with this, for example.
These are specialized devices, what you might call high-end "photographic notebooks"…sort of.
There is another very specialized compact, for example, the Ricoh GR3 Most of you have probably never heard of it, because it has a very specific target: street photographers looking for a camera that you can actually put in your pocket.
The GR3 has an APS-C sensorSo rather large, a fixed focal length equivalent to 28 mm, no built-in flash, a few simple adjustments, and that's it! It's very simple, but it's the only camera with a sensor as big as you can really put in a pocket. It also has a snap feature which allows you to preset the focus at a certain distance, so you don't have any delay in focusing at all, because you're not actually focusing. It's very handy if you're doing street photography: set the focus to 1.5m or 2m, close at f/8, and you've got pretty much everything in focus!
On the other hand, he won't be very comfortable in other areas….
But there's a little bit of diversity in digital, there are some devices that are more specialized than others, but we don't really realize it, because the overwhelming majority of the market is occupied by generalist cameras.
On the other hand, in film, as soon as you take an interest in the choice of material, you realize that you have a very wide variety of tools.with all their little peculiarities. I will soon release an article on the choice of a film camera, and a video that goes with it to present you a bit of what exists, so I will detail more at that time the options available in film.
But what I want you to understand is… the equipment options available correspond to different uses, so there is no such thing as bad equipment per se. There's no such thing. I repeat, there is NO such thing as a bad camera. There's just better equipment for a particular purpose.
Material that allows more fluidity in the shooting in fact. It's no coincidence that the majority of street photographers in the 20th century used a Leica : rangefinder sighting allows you to see a subject before it enters the frame, which allows you to anticipateand helps a lot in capturing the right moment in a street picture. It was probably the most fluid choice at the time.
So there you go, The first reason to use a "specialist" device is that it will be the best in its field.. If you are only taking street pictures, you do not need to have the possibility to mount an 800 mm on your housing (which would be impossible with a rangefinder).
That said, note thatIt is perfectly possible to use tools that do not seem to be suitable for photographic practice.…a priori. Just before writing this video, I read an article from a photographer who took pictures of skateboarders with a Pentax 67. A Pentax 67 is ça !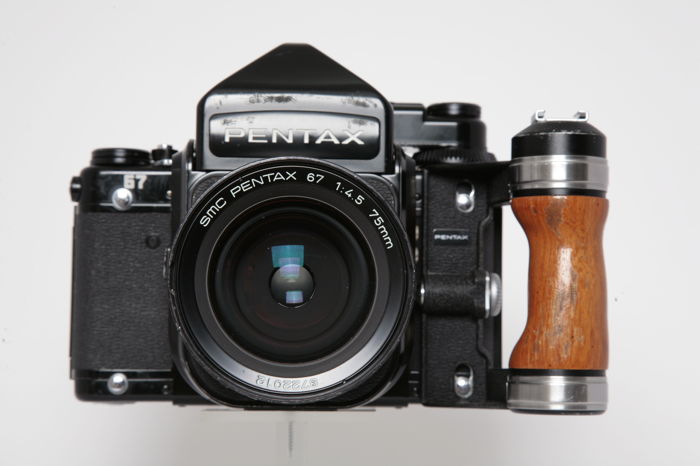 It's big, it's heavy, it's a manual focus with a very very shallow depth of field. Anyway, it's not the tool for that at all.
And yet, the photographer still got good results.
You probably know my admiration for Nick Brandt, who opened the Incredible Photographers series, and who photographed African wildlife with that same camera… that I just showed you. So that was really hard to do.
And going back to the street pictureother photographers like, for example, Vivian Maier, have used a bi-lens reflex which has the particularity of allowing aiming at chest level. As the camera is not worn to the eye, it is much more discreet! It's a bit the equivalent of our swivel screen today.
Which brings me to the second reason for using a specialist tool: personal preference.
Before giving you a few examples, I would like to use the analogy that Jean-Christophe Béchet in Little Practical Philosophy of Photographyon page 52:
"I like to compare photography to cooking to identify the three main ways of looking at photography. There are people who feed on images and make do with visual fast food.
There are those who want to eat a balanced, varied diet…and who will then look more closely at versatile and efficient appliances.
And then there are the gourmets who bring in the notion of personal pleasure…They will choose a tool adapted to their desires, needs or creative approach.
Each of these categories will focus on a different range of devices.
Compact, smartphone and other light, fast, easy tools are intended for the former.
Serious, reassuring, state-of-the-art reflexes will be bought by the second-placed players.
And the third category will be delighted with instruments that are either technically outdated – polaroids, film cameras at the end of their useful life -, heavy and bulky – medium formats, chambers – or special – panoramic cameras, telemetrics, etc. – that can be used in a variety of ways.
I insist, we have to stop acting as if we all have the same camera, as if "the camera" existed.. There are a thousand kinds, that's why photography is an art.
This is also why choosing the right camera for you, in all subjectivity, is important..
While the action of the generic "camera" is of little interest. »
So choosing a certain type of camera can also be a personal preference.
It can start with a simple aesthetic pleasure: one can take particular pleasure in a more meticulous process required by more manual devices, one can admire the simple but functional mechanics, as one admires the mechanism of a beautiful watch, or the sound of the engine of a vintage car.
For example, if I had to have a car without any logistical constraints, I would have a blue MG B like this: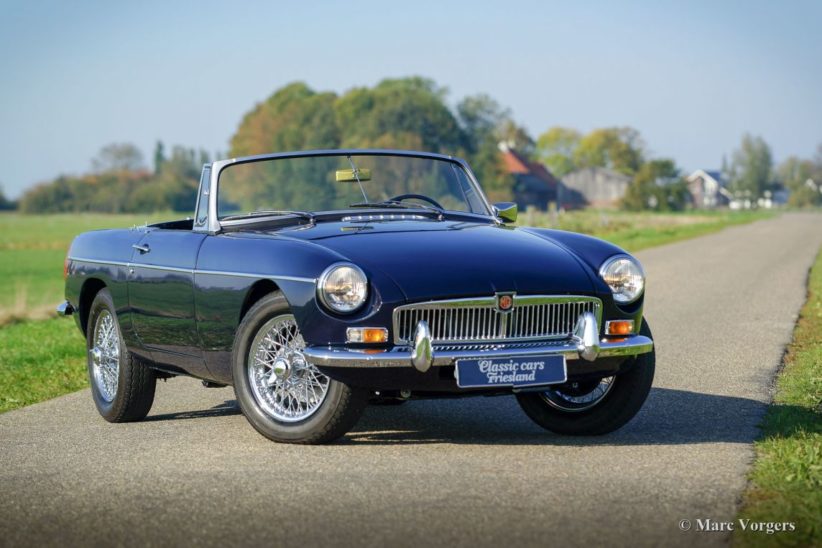 Actually, I don't have a car, and I don't need one, but that's the love of beautiful things 🙂.
Beyond those reasons, different types of cameras have different effects on the shooting process. For example, for his latest book Provincetown…where he publishes portraits of strangers made in the '70s, Joel Meyerowitz said that he used the camera to work, and that it had one advantage: a special relationship with his subjects.
Indeed, the room is something very big, very imposing, which takes a certain amount of time to set up, and which creates a different relationship with the person.
You can see that very well in the online master class ofAlec Soth at Magnum Photos…when you see him photographing his subjects in the bedroom. The process is very particular, and it influences his shooting.
Is this the simplest device? Clearly not: it's probably the choice that involves spending the most time for each picture.
Is it the lightest device? No, it's not even the heaviest either. And bulky.
Is this the best camera? On most objective criteria, no: it's slower, has no autofocus, requires the subject to be relatively still between focusing and shooting, takes only one picture at a time, etc. It's only on the point of quality that it's the best…even though most people won't know the difference.
Still, many photographers still use it. Some mainly for the quality (for example Andreas Gursky I told you about in Incredible Photographers, who makes huge prints, needs the quality of the large format), but others, like Meyerowitz or Sothfor reasons that have more to do with the photographic process.
Anyway, anyway, my message in this video is that if you're at the stage where you're starting to know a little bit more about what you want in a picture (in terms of practice: street photography, landscape photography, etc.), and that you begin to think mainly in terms of a photographic project, you could start thinking about what's best for you in terms of materials…. Not in terms of performance, as you're probably used to, because that's how you think at first, but… in terms of what's best for YOUIn relation to your personal preferences, the influence that the camera can have on the shooting, and then your photographic project.
And the answer will not always be the same depending on the project. That's why I don't have just one 😉 device.
And you, do you have any devices that are a little specialized for a particular reason? Tell me that in a commentary, just below, I want to know.
That's it, that's it for this video! I encourage you to watch the discussion we had with Jean-Christophe Béchet since I'm quoting him in this video, and it's probably the most popular episode of the series La Photo Aujourd'hui at the moment.
I will also soon publish an article on the choice of a film camera, that will help you see what options are available to you. I don't know exactly when, because I need to be lent some equipment so I can show them to you on video, and I don't know when the containment will end. I'm recording this video on March 29th, so I don't have too much visibility, hopefully soon!
If you liked this video, put a blue thumb and share it, and then if you discover the channel with this video, remember to subscribe and click on the bell, so you don't miss the next ones, and download your free Dare to Compose guide, you'll see it will help you a lot to better compose your pictures.
I'll see you in the next video, and until then, see you soon, and good pictures!