Imagine that you know how to master the digital tools that allow you to communicate, to inform yourself, to show your know-how, your photos. Let these online tools and services no longer hold any secrets for you.
You could take the opportunity to exchange with others without necessarily being together.
You could present your passions.
You could also learn, train and develop complementary activities.
It would save you time. Money.
You would always know how to find the right information at the right time.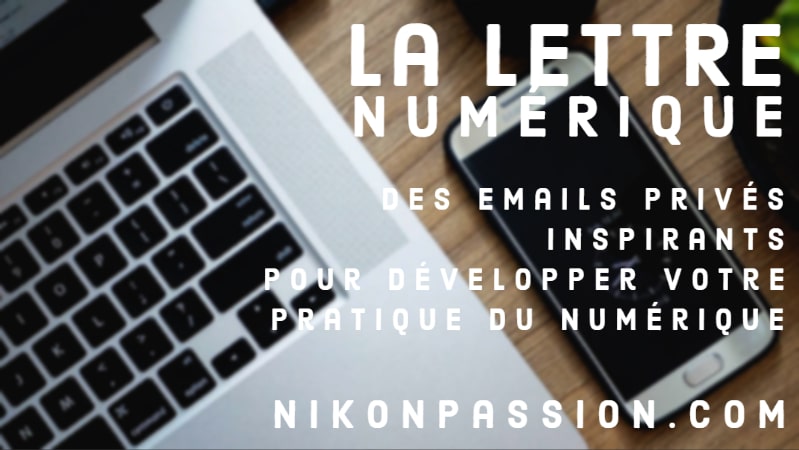 You may be confronted every day with several problems with digital tools. You don't understand what they can be used for, how they work, what risks, if any, are involved.
It frustrates you because you see other people around you using a whole range of tools, software, applications when you can't do it.
Other readers like you have already expressed this frustration to me and asked me many questions. Indeed, in parallel to photography, I've been interested in digital for years, it's my previous professional activity, I've already done presentations, training, written dozens of articles on other websites.
The Digital Letter
Rather than keep the answers I give to my readers, I have decided to share them with you. I made a list of your needs, I update it constantly and I created the Digital Newsletter, a new media, to share all this information.
It is a newsletter sent by e-mail, containing practical advice and accessible to all, to learn about and master digital tools.
You could very well find out on your own, everything is available on the Internet, but it takes time, you need to know what to look for, where, and very often master the English language as well.
With La Lettre Numérique, you don't waste this time anymore, you don't have to search in vain, you just have to leave me your email so that I know where to send you the information and it arrives every week. Without doing anything else.
As for each of my mailings, you can unsubscribe at any time, and I never resell your address, I have much better things to do!
As you read this Digital Letter, you will discover tools that can help you. You will learn how to use them safely. You will progress, little by little. You will be able to use your computer, your smartphone, your tablet, the Internet, better.
Receive now a first list of essential tools and discover how the Digital Newsletter is presented:
Receive the Letter
The principle is simple, you will receive an email every week (preferably Tuesday) with advice. The Digital Newsletter is free, it is a service that I bring to my readers, like you, to help them.
This Letter may contain affiliate links to tools and services that I recommend because I use them. If you also subscribe to it (this is not mandatory), it doesn't cost you more and it allows me to finance the sending of the Digital Letter.
This Letter is a complement to what I already offer you in photography, I talk about tools that will help you to practice photography, to make your images known, to share them. Besides, in "digital photography", there is digital, isn't there?