She herself calls her style that way since it is based on "use common household objects to create other recognizable objects that add a minimal number of details to what already exists"The fact is that thanks to this" domestic surrealism ", the compositions of Helga stentzel they squander originality, humor and a dash of quirkiness which is very attractive.
"I gravitate towards this style because I believe that the common things that surround us have a lot of potential"tells us this Russian living in London, who states that "inspiration is everywhere, and we just need to take time to look around […] In my work, I invite the viewer to slow down in their life and take a fresh look at something they have already seen thousands of times, and discover together a new meaning in it.".
For Helga, "the more boring the object, the more exciting stories it can tell 🙂"In any case, to better understand the reason for his creations, it is convenient to know that it is a multidisciplinary artist working with a wide range of media, including illustration, photography, video and animation stop motion. He began his career in the world of advertising where did you learn that "the images had to be very robust and quick to understand as the viewer usually only has a few seconds before turning the page (or looking at another billboard)".
"That same principle -keep going- works also for Instagram, medium in which it has more than 150 thousand followers who enjoy their original creations. "I opened my account in 2014 and first focused on children's activities (I had two little ones at the time). However, my artistic side took over very quickly, and in 2016 I was already posting pictures of food adding a line drawing here and there to turn an apple into a lion or an avocado into a dog.".
If you are wondering how much is photography and how much is photomontage in the images, Helga herself clarifies that "it depends on the photo. For example my series of clothing lines have minimal edits (just a basic order), while others like the cat made of ice cream have been manipulated in Photoshop to achieve the desired effect. My bread and lettuce dogs were made from real food and I just used Photoshop to remove the toothpicks and skewers that held the pieces together".
In any case a refreshing job, which drinks from minimalism, with a lot of humor and touches of pareidolia, for which we congratulate you and thank you for allowing us to share it with you. Of course we recommend a visit to their profiles to see more curious photos or to their website where you can buy framed copies of their creations.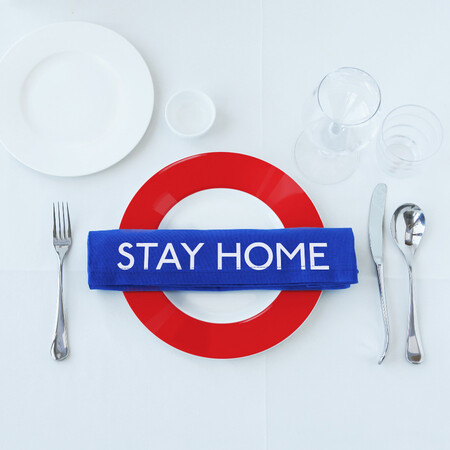 Helga stentzel | Instagram | Website | Facebook
Photographs by Helga Stentzel reproduced with permission of the author for this article