home
>
Blog
>
Photography
>
Pack of free photography courses and photo retouching
Pack of free courses of …
Are you interested in photo retouching? Are you looking for a free Photoshop course to learn how to retouch photos? There are many reasons to learn digital retouching, some of them range from mere entertainment, to a business venture or being known on social networks. Regardless of why, we assure you that having some theoretical bases, as well as some practical advice from an expert will always be of great help.
For this reason, today we bring you 4 free photography and photo retouching courses that will help you improve the quality of your photos (taken with a smartphone or camera). Let's start!
Join the premium family and keep learning from home
Index
Photo retouching courses
What is photo retouching?
How to retouch photos?
How to edit photos in Photoshop?
Retouch photos for free: 3 online photo retouching programs
1. Free photo retouching courses
Photography for Instagram: make your own photo shoot and apply a basic photo retouch in Photoshop
Do you know what is the favorite aesthetic for this social network? In this course it is about being visually attractive, in addition you have surely noticed that photos are usually retouched and there are several formats and themes on trend.
Now, precisely because the photos are the center of what we are going to publish, it is also necessary to dedicate time to post-production and know what the recommended frequency of publication is.
For At the end of the course, you will have to do a final project that consists of creating a visual narrative to make a reel-shaped post within a brand's advertising campaign. Do you need more reasons to take it?
Also, let's be honest, a photography course is better than a free photography course.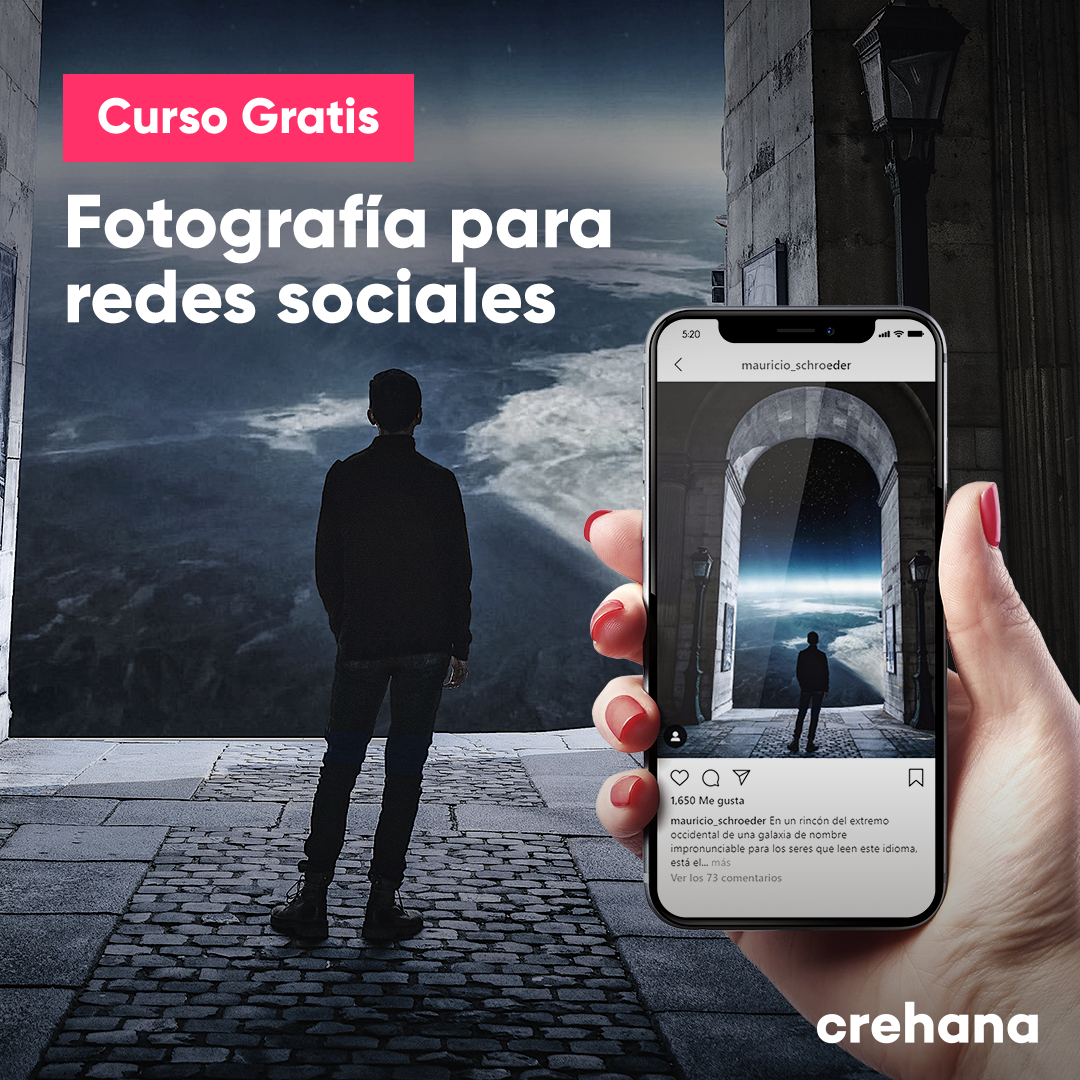 Introduction to photo retouching: learn basic editing techniques
In this photo retouching course (in Portuguese) dictated by our teacher Isabella Mariana you will learn about creative processes and some editing techniques in Photoshop.
In addition, you will understand the difference between conceptual photography and artistic photography. The objective of this course is for you to explore your creativity in a different way and to turn your tastes and ideas into reality.
To start the three-module classes, you will need to have the Adobe Photoshop program, a photo camera and some photography objects on your desktop.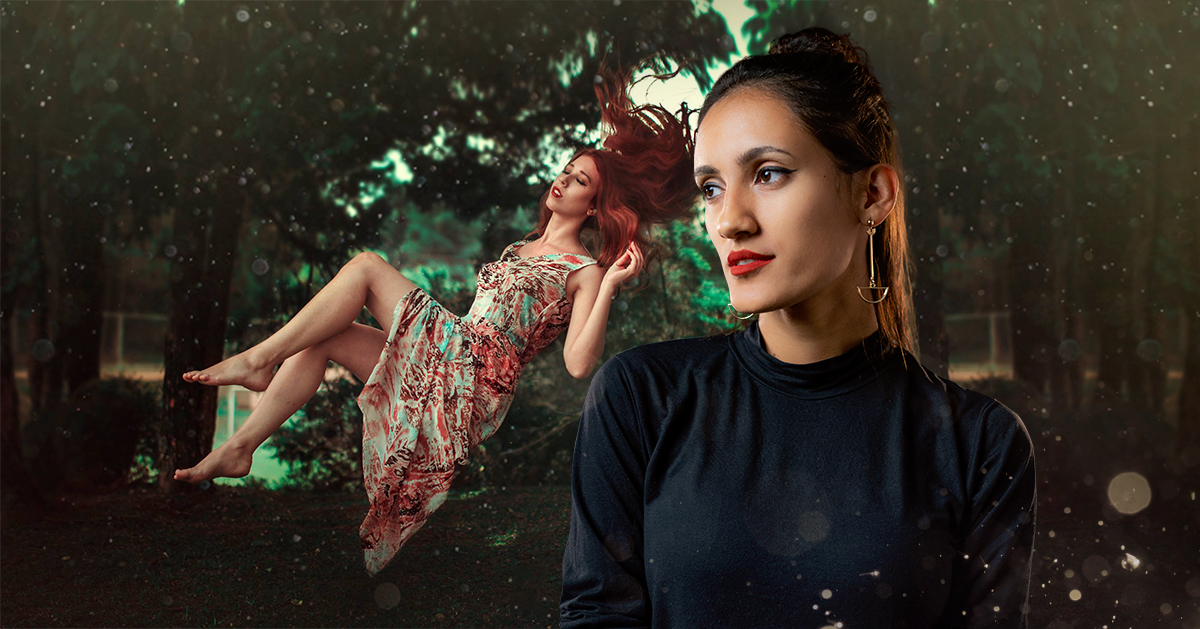 Download our Photography ebook for free
Professional photography with smartphones: work a session and learn how to retouch photos in the Adobe Lightroom app
Technology can be a great ally of technique, especially when it comes to cameras. Many times our first contact with photographic art is precisely our mobile, but if you want to take it a step further and create incredible photographs with the help of this device, you are in the right place.
It doesn't matter if you want to take photos at home or boost a business you have in mind. Here you will perform a photoshoot with natural light and then touch up the photos with your own phone in the Adobe Lightroom application and give them a final finish in RNI Films.
In addition, the course offers you a second session in a restaurant where you can observe what it is like to experiment with diverse ambient lighting to obtain incredible photographs.
Free smartphone photography course: learn Lifestyle and learn how to retouch photos in Lightroom
Is it possible to achieve impressive photos with a smartphone? Yes. In this course, our teacher Mario Arévalo will explain how to obtain good quality photos with accessible resources (such as a mobile phone) and a post-production on Lightroom and Instagram.
Mario will not only teach you how to take advantage of the functions of your mobile camera, he will also guide you in the search for locations, the care you must take in an indoor and outdoor production and how to direct your model.
Do you want to transmit a lifestyle with your photos or do you simply want to take better photos with your phone? Start this course and receive the best Lifestyle photography tips.
Photo retouching is a technique that allows edit the characteristics of an image to improve its quality or achieve a more impressive result compared to the original image.
This includes adding items, fixing blemishes, fixing bugs, and adding effects and filters. To retouch photos, it is necessary to use photo editing and digital retouching software, such as Adobe Photoshop, Gimp or Adobe Lightroom.
Today, photo retouching techniques are widely applied in digital post-production, especially in the fields of advertising and fashion. And not too long ago in Lifestyling photography, a style that has gained a lot of popularity thanks to social networks.
How to make selfies with your smartphone? Download this free guide
Have you ever taken a photo and the result was a very dark or very light image? Surely it has happened to you more than once (us too). The good news is that these blemishes or mistakes can be fixed using the photo retouching technique.
Retouch photos to improve their quality, that is the main objective of this technique. The problem is when the photographic retouching is abused to, for example, eliminate aesthetic imperfections, change the color of the skin or reduce the abdomen. In fact, there are many controversial cases in this regard, such as that of the model Filippa Hamilton in the Ralph Laurent campaign or that of Justin Bieber in the Calvin Klain campaign.
For example, how to retouch photos in poor lighting conditions? To solve lighting problems, just open an editing program and modify the brightness and contrast. These adjustments are also very useful to enhance the colors of our images or give them drama.
Did your photo turn out very yellowish? Adjust the color balance, this way you will correct the intensity of the colors and you will be able to improve the balance of your image. You can also review this note where we tell you about the importance of digital retouching.
One of the most common techniques for editing photos in Photoshop is the use of filters or effects. There is a great variety of them: those that modify the texture, saturation, color, hue, etc. In this section we propose you to carry out four photo retouching exercises. The first of them is the simplest: apply a filter in Photoshop. Shall we start?
How to edit photos in Photoshop: VHS effect
For example, if you like retro and vintage, you can take your favorite photo or test image and learn how to create the VHS effect in Adobe Photoshop (it will take less than a minute).
How to edit photos in Photoshop: Dodge and Burn technique
If you have ever wondered "how do professional retouchers do to improve the transition from light to shade and decrease spots and textures on the skin?", This tutorial is for you (to do this exercise, you need to have a little experience using Photoshop).
Our teacher Emanuel Combin, from the course Advertising Photography and Digital Retouching, will explain how to apply the Dodge and Burn technique, so you can fix photos in less than 15 minutes.
How to edit photos in Photoshop: realistic photo montage
In this exercise we propose to make a Realistic Photomontage, one of the most used techniques in advertising. In this tutorial, our professor Jonathan Ramírez, from the Introduction to Advertising Art Direction course, will explain how to make a perfect silhouette and achieve a good photomontage.
How to edit photos in Photoshop: 3 techniques for hair loss
Don't know how to cut hair in Photoshop? Sometimes it can be tricky, especially when the ends of your character's hair are very vibrant and there are uneven corners. In this tutorial, our teacher Fabian The Publicist, from the Adobe Photoshop CC from scratch course, will teach you three ways to cut hair.
To do this, you will need a high-contrast image.
Organize a portrait and fashion session from home, download this free guide!
Befunky: a creative platform for retouching free photos
It is a photo editor that, in addition to improving your images, allows you to create graphic designs and make photo collages.
Befunky has the essential editing tools such as cutting, resizing and exposure, even very unique effects such as the Cartoonizer, digital art and DLX enhancement.
Once you've registered, you'll be able to retouch photos for free: from retouching portraits and self-portraits, resizing your images, editing batches of photos and adding artistic filters, to removing backgrounds and creating collages with a single click.
Pixlr: a photo retouching program that emulates Photoshop
It is a very easy to use photo editor. Pixlr will remind you of Photoshop, because its interface is very similar to the popular Adobe program.
What does this online platform allow you to do? In addition to fixing photos, you will be able to remove backgrounds, cut strands of hair (thanks to its AI design tools and Machine Learning), add stickers, overlays, borders, icons and decorative texts, etc.
If you need to edit a photo quickly and you only have your mobile at hand, you can access Pixlr and edit your image from your device.
Fotor: a very simple photo editor
If you don't have experience retouching or editing photos, Fotor is your best option to start. His learning curve is really simple. What can you do with this photo editor? Resize images, remove backgrounds, add filters, add text, etc.
Also, its portrait retouching tools will allow you to correct blemishes, adjust faces and add makeup.
Do you want to improve your photos using filters? Fotor has more than 100 photo filters to "post fantastic moments on social networks and get thousands of likes."
Which photo retouching course caught your attention the most? Remember that they are free and you can start and finish on time. If you are looking for more free courses, find them here.