When you're starting out, they often say you should take a lot of clichés for test different compositions and settings. And then.., "to make sure". In some situations (such as in concert for example), I tended to take a lot of clichés, but I have just discovered the benefits of trigger less. Fewer clichés, but better quality?
(Any resemblance between the title of this article and an existing slogan is purely coincidental :P)
Some time ago, a friend of mine contacted me to photograph her company theaterat the time of rehearsals like representations. I'd never done this before, and in low light, in a particular atmosphere, it promised to be a interesting challenge to raise! It is therefore with great pleasure that I accepted 😀.
What seemed obvious was that I was going to work in low light, so I cheerfully put on my 50mm f/1.8 to go to the first rehearsal. What I had underestimated was another parameter that was absolutely not visual: the importance of the silence. Because after all, theatre is… very silent. The actors obviously speak, but the room is silent and they themselves play a lot on the power of silence (it's not a TV commercial :D). In spite of the little light and the human subject that brings it close to a concert photo, the comparison stops there: in concert (at least in a not too intimate concert), you can trigger a burst, person doesn't hear it, especially not the ones on stage.

In short, a consequence that I was expecting a little but not that much: in the theatre, a trigger is about as much noisy than a thunderclap for a minute's silence on Sunday in a lost Orthodox church in the middle of nowhere 😀 Anyway, you hear that. But when everyone hears only you, of course, it calms down a bit. All the more so because we're afraid of… bother the actors: incidentally, they are them who are doing the show, you're just there to remember them.
The logical consequence of all this is that I took much less of clichés, and I have thoughtful posing to each of them. A about thirty of shots only at each rehearsal (over about an hour each time), which is about 10 times less than in concert! And to select about 1/3 of them, that is to say one ten of photos from good to good for one hourwhich is not bad at all, I think.
What are the benefits of triggering less?
Less sorting work
It won't have escaped your notice that between the time of take in itself and the post-processingcomes the indispensable moment of the sorting. The choices are often cornelian, and the problem of sorting photos will be the subject of a full-fledged video as the subject is so vast. But mechanically, plus you're taking pictures, plus it is complicated to sort them out, a fortiori if you take a lot of bursts and end up with 4 pictures… almost identicalhaving to choose the best of the four… this job is longsometimes… tediousand it's far from being the most interesting thing in photography.
And therefore triggering less will reduce drastically this job. Sorting out two photo shoots for this troupe took me less than 5 minutes (and again, I'm the picky kind 😉 ).
Better images
And yes, if you take less (especially if circumstances force you to), you won't get really don't want to miss them. And so, you'll be more careful with every single details. As a result, there will be fewer photos to throw away for details that are easy to miss but important for the final rendering.
A sharp focus
I think one of the most common reasons for throwing a picture away is a clarification slightly (or strongly :P) bad. I can tell you that when you're very limited in terms of number of images, you'll only trigger never unsure about 200% that the focus is set exactly wherever you want! And you will choose your autofocus mode according to the situation 😉
A better composition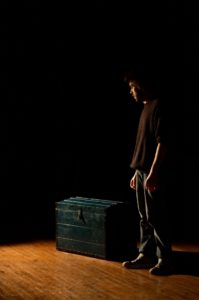 Generally speaking, you will find that you can see that magic an improvement in the composition of your images. The horizontals will be horizontal, the verticals will be vertical, and you will place your subjects in a way that will make them look good. harmonious (according to the rule of thirds or the golden ratio for example). I have slightly less felt the effects because I've been composing for some time now and I've been instinctively my images, but I still realized that I was paying more attention to the detailslike not cutting off a foot or a hand, not cutting off a foot or a hand…balance the image. I think that in general, the more you take your time and the better the composition, just like when you use a tripod.
I'm still gonna nuance slightly my point: the advantage of rehearsals in the theatre is that by definition, actors are not repeat. And so if you miss an expression once, she's gonna a priori reproduce when the actor repeats the same scene a few minutes later. So he's not mild to miss a decisive moment, since they are usually recurring. So I think that in some situations (such as concerts, for example), the gusts are more profitable because it's harder to predict the "photogenic" moments and it's better not to miss them.
That said.., same in these situations, it is always interesting to reduce its number of shots, even if it will probably be in less important proportions than for theatre photography for example. But keep in mind that a lot of photographic situations lend themselves to reduction of the number of images! In portrait for example, the models move relatively little and he is useless (even counterproductive) to multiply almost identical shots if you are sure of your focus and composition. At landscapeNo need to take the same shot 3 times "just to be sure": dial and fine-tune, and you won't need to take backup shots anymore!
And you, do you see anyfurther benefits to trigger less? Feel free to leave a comment to share it, and consider subscribing to the newsletter if you haven't already done so 😉
And don't forget to share the article! 🙂