As you know, when I like a book that revolves around photography, I tell you about it. And here I must say that I like the portrait very much, it touched me deeply. And at the same time, it will allow you to (re)discover a very great photographer, still alive moreover.
This photographer is Steve McCurry. Even if you don't know his name, you probably know his most famous picture, which you can see on the left, soberly entitled The Young Afghan Girl. This young girl with such intense eyes is called Sharbat Gulaand was photographed in 1984 by Steve McCurry. This absolutely extraordinary image is one of those that go down in history as a iconsincluding through its publication on the front page of the National Geographic (Excuse me a little). Photographs like these are rare, precious, and will mark generations of photographers. It is one of those images that impose an infinite respect for their author, and literally leave you speechless. (For the record, McCurry found her 20 years later and made a new portrait of her).
She was a very beautiful orphan who lived in really difficult conditions. Looking at her, I fully felt her distress, of course, but also the strength of her determination and her almost fierce dignity.
Who's Steve McCurry?
Most of my images are based on people, and I try to convey what it seems these people must be, people captured in a larger landscape, what you might call the human condition.
Steve McCurry is an American photojournalist, a member of the very famous Magnum agency since 1986. Very early, he caught the travel bug, and distinguished himself for the first time by bringing back images from Afghanistan just before the Soviet invasion. He obviously took absolutely gigantic risks to bring back these images. The rest of his career took place mainly in conflict zones, from where he brought back very intense pictures, focusing mainly on the human consequences of conflicts. The majority of his work focuses on South-East Asia, particularly the Pakistan and theIndia.
Mostly portraits, often of children. Portraits staring straight in the facewithout concession, in an absolutely inimitable style, carried by the particular touch of its fetish film, the famous Kodachrome. Because, yes, McCurry has always worked in film, and he's stayed true to it.
The production of this film was stopped last year, and Kodak sent the last roll to McCurry, who paid him a nice tribute with these last images.
If you want to know more about SteveMcCurry, you can visit his official website.
The book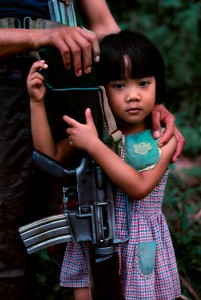 This book has been on my shopping list for a while. McCurry is one of the photographers I admire the most, and this book was a must have. And then I saw him at The Ferret the other day, him and his cover with that famous image on it, and I just snapped. Ever since then, I've been hesitating between "I should have bought it a lot sooner."and «this is exactly the right time». I'm leaning more towards the second solution, as I'm going to India next month, with the firm intention of bringing back images of course. So for me, it's a bit of a godsend 🙂.
Don't expect any technical tricks of course. This book is here to inspire youfor go to your gutto give you an irresistible urge to photograph. And as far as I'm concerned, it's a success. I wander with my camera in search of a strong face 😛 More seriously, this book is more than 200 absolutely sublime portraits. Not everyone will be touched by the same images, but chances are you'll get a slap in the face when you turn a page, without expecting it. Like the one I took with this image (right). You'll understand why.
I think it's really very useful when taking pictures to focus on strong images, to really take time out to look at them. This book can be enjoyed slowly. Don't expect to look at all these images in a row without getting bored. Take a look at some of them, reallytaking your time and going a little bit more each day. Enjoy this book.
Unconsciously, I think, I am looking for a look, an expression, features or nostalgia capable of summarizing or more precisely revealing a life.
It's a beautiful book, full of beautiful pictures, that will inspire you. It's a nice Christmas gift (a little late 😉 ) to give to a loved one, or to yourself 🙂 Don't hesitate a moment. Looking at an image that can move you is far more valuable than all the technical tricks in the world 😉
Buy the book on Amazon : (disable AdBlock Plus for the blog if you want to see the link)
Click here to see the book on Amazon
And don't forget to share the article! 🙂