Lately, because of one ad in particular, and especially its slogan, a certain expression has been appearing a little bit everywhere, which I can't stand.
It all started with this:
It's a nice ad The music is great, there are beautiful images, moving moments, and even our national Vincent Munier as a guest star. And I'll tell you what: I agree with most of what it says.. "I'm the perfect moment" sums up a photographer's state of mind pretty well.
But there's a but. The ad ends with «I am Nikon». And since then, that horrible phrase "I'm NIKON" or "I'm CANON" has spread. everywhere. I don't want to stigmatize Nikon at all eh, they made such an effective ad that the slogan is even on the lips of those who use the competition's equipment! And they were right, it's positive for the company, and didn't have to worry about how it would be interpreted exactly. What bothers me is the idea a little insidious that's deep down, and especially how it was understood.
You are NOT your equipment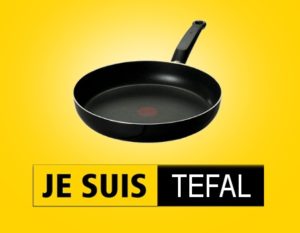 Saying "I'm NIKON" (with extra capital letters) is about as silly as saying "I am TEFAL" for a cook, "I am RENAULT" for a taxi driver, or "I am the TRAIN STATION COFFEE" for a barfly. You're not your equipment. It's not important.
Obviously, and I'm the first to say it, you won't have the same creative possibilities depending on your camera or your lenses. But that doesn't make you a different person or a better photographer. You have to make do with the tools at your disposal. Because equipment is only a tool. I feel like I'm repeating myself, but this time it seemed indispensable.
It's exactly the same as "I'm not a man."your camera takes beautiful pictures"or «he must really have a nice camera to take those pictures.». Remarks that make me want to defecate the culprits from a train 😛 I mean, I'm the one who presses the trigger.and before that, it's framed, settled, thought my image. The camera is just a tool to fix this image. And I'll be happy the day we can photograph with a simple blink of an eye, and there will be no more intermediary between our brain and the image.
But these remarks are borderline excusable because they come from people who are not photographers. That's why, instead of defenestrating them, I calmly explain that no, it's not my camera that takes pictures by itself with its little legs and independently of my will. (I am also told that I could spend the rest of my life in jail if I defend someone from a train, which is also a good reason :D)
More seriously, what particularly bothers me with this "I'm A SOMEONE BRAND" fashion, and especially in pictures, is that it leads to an inadequate understanding of what photography is, and how we make it work.
Ask yourself the right questions
Indeed, at the same time, I notice that most of the time, the question that budding photographers ask themselves when faced with a beautiful image looks like «what camera was used for this photo?».
Who cares?
It usually doesn't count for much in the end result. But beware: the fact that you ask yourself questions about the making of an image, it's fine. That'll be a big part of your progress! Simply, the question of the material is most often incidental. At the very least, a question like "what focal length did you use to get a perspective like this?"is interesting. And allows you to deduce from it the material you might need to make this or that image. The only time I ask a question about the material is when I see a bokeh that looks absolutely gorgeous, and I wonder what exceptional optics could have produced it. That's all I ask.
But the questions and the answers on the conditions of the shooting are much more interesting! Is this situation the result of chance or a lot of patience? (usually both 😉 ) Why this or that choice of setting or composition? I was in a similar situation but I didn't succeed in my cliché: how did you do it? There are an infinity of questions you may want to ask about a photo, but if you only have to choose one, it's not the material.
When to think about the material then?
I'm not saying we shouldn't never think about it. That would be a little strange from someone who just pulled out 800 pages of a guide to photo lenses 😛
The answer is simple: you have to think about it when you're feeling limited. Not before. If you've never pushed your camera or lens into a corner, if you've never been blocked in making the picture you had in mind with your equipment, don't change it.
As far as I am concerned, I have changed equipment or acquired new material several times, but each time with a specific reason:
I bought a 50mm f/1.8 to better manage low lights and get prettier velvety portraits.
I went from the Canon EOS 450D at 550D to get a higher and clean ISO sensitivitybecause I do a lot of concert photos, and I was limited by my camera. (and also for the video, which I was quite tempted by)
I am replacing my 18-55mm of the kit by a 17-50mm f/2.8 to have both the flexibility of a zoom lens and the versatility of a large aperture, as well as better image quality.
I choose the Tokina 11-16mm f/2.8 as ultra wide-angle, because I want to make landscape with these extreme focal lengths, while wanting to use the lens in concert (especially in the small rooms), hence the large opening that was necessary.
There you go, I hope this article will have set the record straight a bit, and I don't want to see any of you saying it's some kind of brand anymore! 😉 Replace it with "I'm a PHOTOGRAPHER", I'm sure it's closer to reality 😉 On that, Merry Christmas to all of you, take nice pictures and enjoy your loved ones on this occasion 🙂
And don't forget to share the article! 🙂