You want to send photos to your loved ones? Just one, several dozen? Sending them by e-mail is not the best solution. Here's why and several effective methods to share your photos via the web.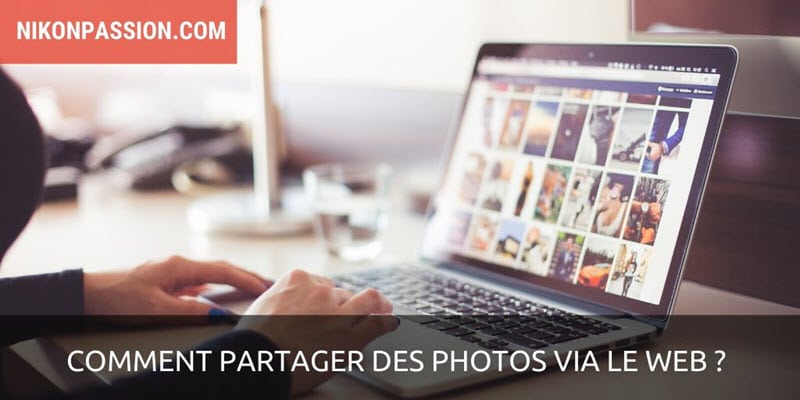 Share photos by email, attachments
This method may seem simple to you: you select the photos, add them to your email as attachments and send.
Advantages :
Disadvantages:
some couriers limit the total size of attachments.
Beyond 25 Mb for the most generous messengers, difficult to share photos by email. You will be very quickly limited, a JPG file of 25 Mb is common with a camera of 24 or 45 Mp. You need to know how to resize your files, neither too much nor too little.
Sharing your photos by email means losing control over what is sent. You don't know who is going to send it back to whom, according to the photos it may be a problem.
sharing many photos by email, even if you have to do several emails, you have to wait for the loading to be done. With an ADSL line, this time is long, with a 3G connection it is not better.
Another disadvantage of sending photos by email, you fill the inbox of your correspondents, it is not uncommon that this blocks it if its capacity is limited. You fill your mailbox too, via the Sent Messages folder (which may also involve a new file transfer).
Reserve the sending of photos by email to light files and do it on a punctual basis.
Sharing photos by file transfer
Unlike the previous solution, sending files by transfer does not use email. You group the selected photos in a folder on your computer, you upload them to a file transfer service such as Wetransfer or Smash, once the upload is done your correspondents receive a time-limited download link.
Advantages :
you relieve the messaging since the email sent by the transfer service contains only a link and not the files,
you can send large files (several GB depending on the service),
the files are deleted by the chosen service at the end of the specified period.
Disadvantages:
a sufficient web connection is required if the file is large, otherwise the transfer can take hours,
You also lose control of the photos if your correspondent sends the link or files to someone else.
Share photos via a shared … folder
This solution uses a file management service in the cloud. You copy the concerned photos in a shared folder on a cloud space (Dropbox, OneDrive, Google Drive, NextCloud, …). You send the link to this folder by email.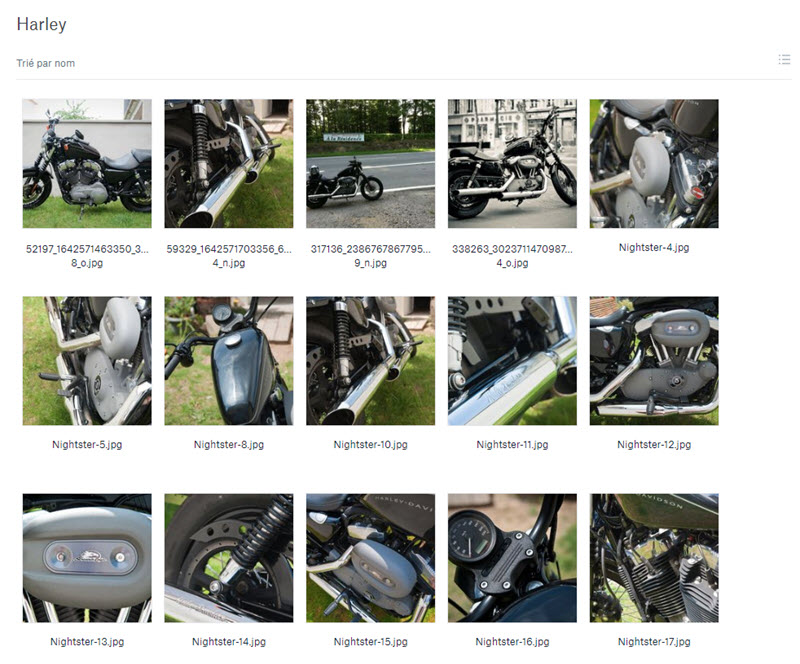 example of photo file sharing from Dropbox
Advantages :
you don't clutter up the messaging system, the email contains a simple link to the shared folder,
you retain some control by deleting folder sharing if necessary,
you can change a photo, add or remove it if necessary without questioning the link.
Disadvantages:
you must have a personal space with a cloud provider (free or paid),
You should think about deleting the photos one day so as not to saturate your space, so make sure that everyone has received them.
Sharing photos from a SIN
This solution combines the advantages of cloud service and personal folder on your hard drives while being more flexible. If you have a NAS system, you copy the relevant photos to a shared folder and set a share link (all NASs allow this). Your correspondents will access this folder through your Internet box.
Advantages :
you don't clutter up the mailboxes since you're only sending a link,
you retain control by deleting the folder share if necessary,
you can change the content of the folder without affecting the link,
everything is stored on your premises, no third party services are involved.
Disadvantages:
You need to have a NAS and an Internet box available at all times,
You need to know how to manage the access security to the box and the NAS to prevent unwanted intrusions.
Using a web photo gallery
This solution consists of creating a private online gallery with your photos. You then send the link to this gallery to your correspondents.
Advantages :
you don't clutter up the messengers,
you remain manager of the gallery and you can modify or delete it as you wish,
you can make the gallery public if you need to.
Disadvantages:
you need to have a web space with a hosting provider,
you need to know how to install and/or use a web gallery,
you have to resize the photos, the web doesn't like large files,
you have to manage access security, otherwise search engines will make the photos public,
the upload of photos by your correspondents will have to be done photo by photo, it's tedious.
Using a cloud photo gallery
This solution follows the principle of the previous solutions except that you upload your photos to a web gallery managed by a dedicated photo cloud service. You then send the link to this gallery.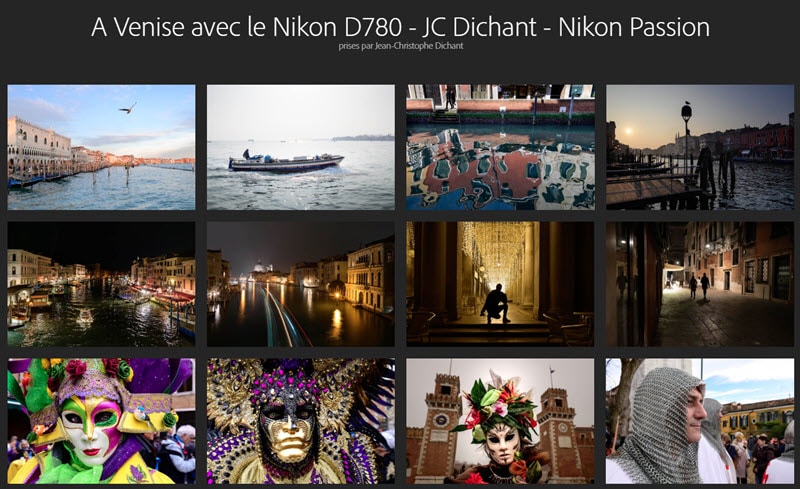 example of photo file sharing from Lightroom Web
This is the formula I use thanks to Lightroom Web, the online version of Lightroom which also offers a management service for public or private galleries (e.g. my photos of Venice). Other services offer the same functionality (Joomeo, Piwigo for example).
Advantages :
you don't clutter up the messengers,
Simply add the photos to a collection and they are automatically synchronized with the online gallery,
RAWs are automatically converted to medium resolution JPGs for faster loading times,
you control the content of the gallery and you can modify it as you wish,
you don't need to resize the photos, the system does it for you,
you can manage access security, who can see what, who can download what, who can comment on what.
Disadvantages:
you need dedicated access from a provider, and that comes at a cost,
the downloading of photos one by one by your correspondents can be tedious.
Other solutions & precautions
There are plenty of other solutions for sharing or uploading photos. Most allow you to send files other than photos. I've deliberately excluded the solutions consisting of sending USB keys, hard disks or other CD/DVDs by mail. These media are not ideal for that and will cost you a lot of money.
You must never lose sight of the following criteria:
security: who receives what, what happens to the files sent,
the size: most of the time it is useless to share native files, it is necessary to reduce their size,
the format: only the JPG is readable by everyone, sending the RAW is useless (except in special cases),
the cost: some services are paid for, it's up to you to see if it's justified,
Time: Internet transfer takes time if you don't have the fiber, and neither does your correspondent.
Rather than sharing photos through one of the above solutions, why not consider creating your own web publishing space and thus give a controlled access to your photos, to share them but also to make them known?
Discover the web publication folder in which I tell you about the different solutions and help you choose your space.