You have identified your needs in terms of publishing photos on the web (see article 1). You know which publishing service you are going to use and how to publish (see article 2).
In this third part of the web publishing feature, I talk about the difference between a personal publishing space and social networks.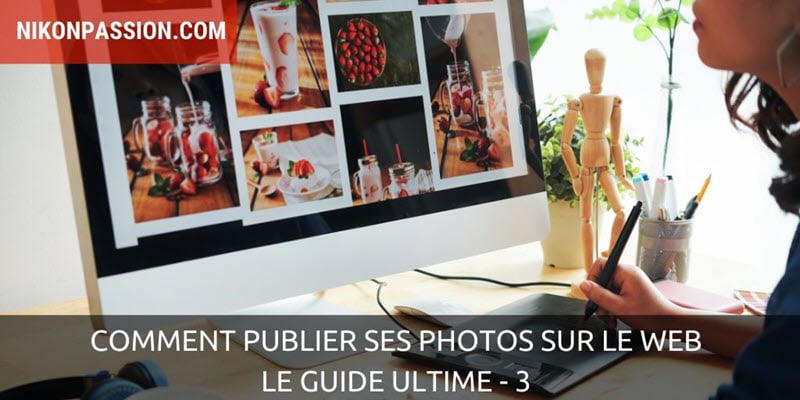 Site vs. social networks: publish vs. communicate
When I talk about developing an online activity, whether for photographers or not, I always present two practices :
the publication
communication
I could talk about web marketing, but that's not what this case is about.
There is a fundamental difference between publishing and communicating:
Publish: choose your best photos and/or texts, and present them online
Communicate: talk about your photo activities, and attract those who are interested.
To publish is to show.
Communicating is talking about what you show.
If you just want to share photos with your loved ones, no need to communicate. Just publish the photos, that's all.
If you want to attract people, have more visitors, make yourself known, you have to communicate, it's essential.
These two activities require different knowledge, different tactics, different tools.
Publish
To publish your photos, there's nothing like a space of your own, that you control, on which you are the only one to publish. The ideal is to have a site, a blog, a photo gallery in your name, with a personal hosting and domain name as well. Then you can do whatever you want with it:
photo selection
space design (appearance, colours, layout)
No one's going to force anything on you. You'll be at home.
Contact
To communicate about your photography practice, you need to interest those who can be interested, not "the most", just those who have an interest in following you. You have defined this audience using the first part of this file. The ideal is to use social networks because they help you develop your visibility.
By choosing a social network for photographers, Instagram for example, you benefit from a space and mechanisms that promote visibility and networking.
Attention It's not enough to post photos on a social network to attract people. You have to be active: answer questions, see what others are doing, comment on their photos, follow their Stories.
If you don't care about others, they won't care about you. It's the same as in "real life".
Publish + communicate: the winning formula
You've understood that, so that others can see your photos, you have to:
publish them
communicate
And so:
have a publication space of your own
have a communication space
Questions?
YESSocial networks are essential to make yourself known.
If you just post on your site or gallery, you won't attract anyone.
NOHaving an account on social networks does not replace a personal site.
You have understood why above.
NOBeing present on social networks is useless if you don't want to attract people.
Stick to a gallery or your website/blog, that's enough.
Test before you choose
Another advantage of social networks is to help you test before you choose. Imagine: you have prepared a series of photos and you want to publish it, exhibit it, have it printed. This is important for you. You might even spend money on it.
If you have a reliable audience on social networks, who knows you, likes you, then you can ask them to help you choose. Post photos you are unsure about and analyse the feedback. This will be a good indication of whether or not the photo is interesting.
Attention I'm not talking about measuring the number of Likes which has no value. Everybody knows that Likes are signals of complacency, they don't mean that the picture pleases. Study the comments. Ask questions. Explain your choice problem.
Communicate …
Last over time
Social networks are great, but they have their limits. Their interest is variable. Their lifespan is variable.
Their rules are variable. It's not good for long-term survival. Remember if you ever heard of MySpace, now gone. Or Facebook, and its dangerous side.
There's nothing like having your own space to last. With no other constraint than to pay the price, but at least you're home. For a few dozen euros a year at most, it's worth it.
At the end of the day
I do not pretend to have covered all the bases on this subject, there is so much more to say. But this case is moving forward, and now you know:
why publish your photos,
what approach to take,
what type of web space to choose,
how to reconcile personal space and social networks.
Enough to put a first project in black and white.
In the next articles, I will talk about the choice of photos, formats, image rights, authorizations, we still have a lot of work to do. But it's exciting, isn't it?