Wildlife photography is an activity whose success and failure factors depend directly on the weather and the seasons. How many photo outings are cancelled due to rain, fickle wind or a threatening thunderstorm? How many depressed photographers 😉 thinking they can't do anything because of a long winter?

It's all over! Thanks to this article you will learn how to tame the weather, that's all. I'm not going to turn you into wizards, I'll leave it to others to play sorcerer's apprentice by sending things in the sky to make the rain fall or the sun appear.
With a bit of tricks, a (big) zest of anticipation, and a hint of methodology you'll see that the weather and the seasons will become your allies!
(For this article, I still welcome Régis Moscardini from the blog Auxois Naturewho definitely has a subscription on the blog 😉. Translation It wasn't me who wrote that article, it was him !)
In the long term: taming the seasons
By long term, I mean a whole year. You can leave whenever you want. Spring can be a logical starting point, it's a rebirth for everyone: both the photographer and nature come out of a long period of inactivity. But nothing is set in stone, and you may very well consider autumn the ideal time to bring out your equipment: it all depends on your photographic preferences.
Step 1: Determine the area you are going to cover
For each start of the season (of your season), list the places you wish to explore. The only limit you will impose on yourself will be the one of your legs 🙂 or the time you have, it depends. Don't be too ambitious, realism should guide you. For my part, in 2011, I have two rather small areas: a garenne and a small wood which must each be 100 meters by 100 meters (10 000 m² or … 1 hectare 🙂 ). It's not much, you may be surprised, but on such a surface, and as long as you are in a rich area, you're not bored !
Take an IGN 1/25000 map, explore Google Earth, sorry, Géoportail, let's be chauvinistic :). And there, locate interesting areas: along a river, a wooded area, ponds, a pond, in short, the tool seen by satellite will help you a lot.
When you have finished your research, put on your shoes and go exploring with your map in hand. It's a good opportunity to go for a nice walk, don't take your camera, only your binoculars will be with you. It is a question of validating in the field what you have seen on the map.
Step 2: List the subjects you wish to photograph
You just took off your walking shoes… Put them back on! Because this time you won't find the subjects to be photographed on the internet. Luckily! You will have to walk long, wide and across your previously chosen areas and at different times of the day. Leave notebook and pen in hand and write down your interesting observations precisely: the time, the place, the species or the type of landscape. A great tip: if you have a smartphone, activate its GPS, take a photo of the observation, and you will then have the coordinates of the site. After all your outings (which are nothing more and nothing less than hikes!) you will have collected a lot of information on all the subjects to be photographed.
Step 3: Find the best times of the year for your subjects
I know what you're thinking, we haven't taken a single picture yet! Yes, I know and that's the goal 🙂 All nature photographers are unanimous, we only photograph well what we know. Did you think you'd make beautiful pictures on your first outing? And no, it's just impossible.
So now it's a question of determining for the subjects you have listed during your outings, at what time of the year they will be most interesting to photograph.
How to proceed? Common sense is a good ally, especially for landscapes. For example, summer is not the best time for a waterfall, water might be missing. But you will probably quickly get stuck on the fauna and flora. Which periods for this plant, this insect or this mammal? That's when the internet becomes your best friend again: read up on it. And if you want even more (which is what I often did 🙂 ) buy specialized books. I recommend Photographing Erwan Balança's Wild Animals. This book has the merit to be interested in the most common animals of our countryside, which can be useful when you are just starting out. I have tested it, enjoy it 🙂 .
And above all, write down in your notebook (if it is worn out, it's a good sign 🙂 ) for each subject you find, the results of your research. Have wild rabbits been observed? Write that the best times to observe them will be at the beginning of the summer with the young rabbits, which are much less fearful than the adults.
Keep in mind that your discoveries will allow you to know the best time of the year to photograph your subjects of interest. (Note from Laurent: think about the weather as well of course. Insects come out less in rainy and/or windy weather 😉 )
There's a huge advantage to doing all this preparation: you'll never be caught off guard at any time of the year! In autumn, winter, spring and summer, you won't lose your motivation: you'll always have something to photograph!
The image below illustrates this preparation work well. While walking regularly through the warren area, I had spotted this dead tree. Normally, nothing extraordinary, except that I had noticed that it could give something interesting in winter. So I tried to make a graphic image when the conditions were right.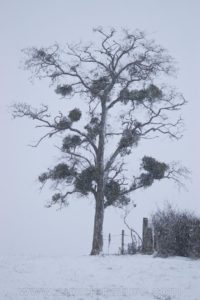 Important note ( I anticipate comments 🙂 I invite you to read, among others, the advice of Guillaume Jan in the collection of tips for beginners. His approach is the opposite of the one I propose here: it is the species you want to photograph that will determine your areas of action. It's neither better nor worse, because it's up to you to decide on your action plan: you're dying to follow foxes, so decide your playgrounds according to the animal. Conversely, you don't have too many ideas, just a big thirst to take nature photos, so start by determining an area. It's up to you, isn't it?
In the short term: on exit
We all think that the ideal conditions to photograph a landscape, an animal or whatever, is under the beautiful warm light of a summer sunset! We avoid rain, wind, and thunderstorms as much as possible, leaving these so-called bad conditions as excuses to sort through our hundreds of late photos.
Wring your neck at this real bad habit! Nature photographers don't work like other photographers: when Evelyne Déliat announces a rotten weekend, it must be great news!
Go on, get out your good old notebook, take back your observations and ask yourself under what conditions they will give the best pictures! Forget that a sunny blue sky is the only ideal condition. Every place and every object can be beautiful with a particular weather.
Since there are no guarantees when it comes to the weather, only a good knowledge of places and species will increase your chances of producing outstanding images.
If all you have is a cloudy day, take flowers, insects, and even waterfalls! In fact, cloud cover acts as a light diffuser. No more hard shadows, no more sharp contrasts, it's up to you to choose the soft colors of the petals :). A big summer storm is raging? Take advantage of it, get out your equipment and as soon as everything is back in order, go out and have a good photo session. Have you noticed that storm exits give extraordinary lights? The drops of water on the plants produce magnificent images.
Look for example at this picture of the Thil mound in Burgundy. A thunderstorm has just ended, and I take the opportunity to go out and take this picture. We are far from the everlasting blue sky, aren't we? Those who see this photograph are surprised and ask me how I did it: it's simple, I know this place very well and I knew that there could be beautiful lights from this point of view. You can see that a good knowledge of the terrain leads you to make very original photos.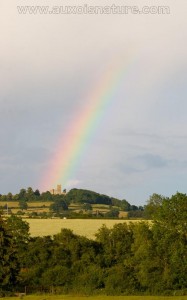 Understand that with a little creativity, these times become allies and from now on many more options open up to you!
Preparation … And above all, fun!
Reading this article, some people must think that it's a lot of preparation work! That's true! But in any activity, nothing ever comes alone, and in nature photography don't count on the only chance to take beautiful pictures.
Finally, don't forget to enjoy yourself. The most important thing is to have fun 🙂!
To go further, I invite you to download on my blog a collection of the best tips from wildlife photographers.
And don't forget to share the article! 🙂