When you are a photographer, amateur or professional, to publish your photos is to show your work.
There are dozens of solutions for publishing photos, from simple private sharing for your loved ones to personal and public sites. Photo sharing sites, social networks, web galleries are other options.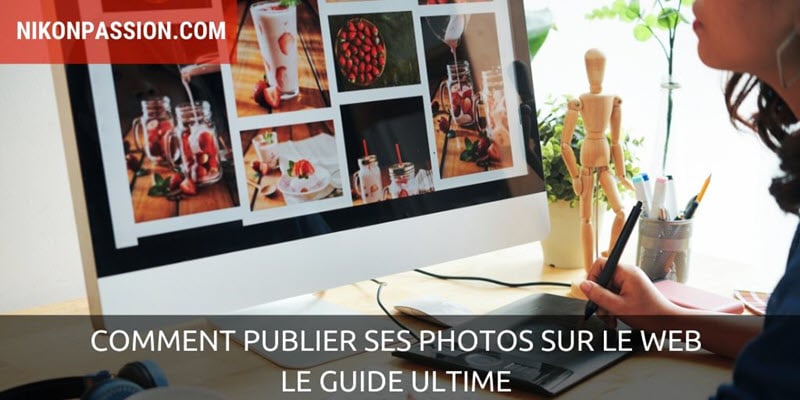 To help you make the right choices, I have created this ultimate guide to web publishing, composed of several articles written with the help of readers who sent me their questions. Here is the result.
Publish your photos on the web: why this guide?
The professional photographer must show his photos because it is his business card, the book through which he presents his work.
The amateur photographer can publish his photos, it is an excellent way to learn, to make himself known, to develop his audience.
The look of others, the care taken to select the best photos, to create series, a presentation that enhances them, should be part of an asserted amateur photo practice.
Sharing your photos means communicating, creating links, having exchanges with those who look at them.
It's exciting and rewarding.
However, many questions arise when it comes to taking action.
From the choice of the formula to the right to the image, the selection of photos, the format or the authorizations, many of you are wondering. How can you find your way around?
I've designed this guide to help you find answers:
why publish his photos,
which web tools to choose,
how to use and benefit from social networks,
which pictures to choose,
how to present them,
which formats to use,
how to manage access security, photo protection,
how to take into account image rights.
This guide aims to be as complete as possible, but the web is so complex and evolves so fast that it is impossible to detail everything.
So I'm going to update this file regularly to:
complete it with the answers to the new questions you will ask via the comments,
major developments in publishing tools when this is the case,
changes in practices.
It's an interactive guide: I wrote each topic, I emailed it to a selection of readers, they sent back requests, I made the updates, I publish the final version.
The guide includes several articles dealing with the topics below:

Why publish his photos on the web?
Before choosing a package, website, blog or sharing site, you need to know why you want to share your photos.
What is your objective?
share photos with family and friends in private,
share orders with customers,
present a trip, an event, with a limited audience,
make your work, a particular subject, your approach known to a wider public,
develop your audience to make your offers known and monetize,
…
Needs may differ from person to person. I have described my vision here.
Some needs are complementary: sharing a few photos privately and publicizing your activities in public, for example.
So do this first job: define your need:
who do you want to share your photos with?
what photos would you like to share?
what is your objective in doing this?
What degree of freedom do you allow in the consultation (strictly private, restricted public, all public)?
what budget are you willing to put in order to have a space that best suits you (free space has its limits),
what are your technical skills in web publishing,
how much time do you decide to spend there?
The need defines the presentation and the tools
Once your need is defined, you will be able to choose a formula.
To share a few photos with your friends and family, you will rather choose a web gallery with private access (e.g. Piwigo).
Presentation doesn't matter, it's the pictures that count.
To share your photos and get feedback, you'll rather use sharing sites (Flickr, 500 px, …).
Photos are more important than the form, but the form must allow interactivity (reactions, comments).
To make your approach known and/or to sell your photos, you will rather privilege a personal site.
Photos count (it's your know-how), the shape counts too (it's your personality).
There are many variations, so always ask yourself these questions before you do anything:
what do I want to do with my pictures?
who am I gonna show them to?
what impression I want to give my visitors?
do I want to go beyond "show" to sell?
Other key issues
Knowing what you want to do with your photos is one thing.
Knowing what you're willing to do is another.
You need to take stock of:
your technical skills in web publishing,
whether or not you want to learn how to use specialized tools,
your ability to create a space that suits you,
the budget you want to commit (from "nothing" for free to "what it takes to be effective"),
the assistance you may or may not need,
the time you have available.
Some examples
You don't want to spend a cent to publish your photos (it's possible with limits):
sharing site in free version,
hosted web gallery with advertising,
hosted blog with restricted features and/or advertising,
social networks.
You agree to spend a few dozen euros a year:
Unlimited sharing site,
freely licensed gallery on a shared server,
Personal website customizable and hosted by a specialized company,
blog hosted on a shared server.
You agree to spend a few hundred euros for the implementation and management :
personal website on standard basis with shared server and custom design by you,
personal blog designed according to your wishes by an expert,
unique and original personal site designed for you by a developer.
These are examples, all formulas are possible.
Publish your photos on the web: precautions
In this case, I deal with these formulas, I have tested them all over the years.
I am well surrounded when it comes to web publishing, I use the services of specialized and competent people who help me to answer my questions and expectations.
I insist on the limits of each formula, because if there is one precaution to take before you start, it is to know the limits of what you are going to do.
Changing the format, the presentation of your publications can be costly once it is done:
in time,
in the budget,
in number of visits.
The web may evolve very quickly, but we must always take into account what already exists.
You can have a free account on a sharing site with hundreds of visits per day.
That doesn't mean that going to a personal site with the same photos will bring you the same hundreds of visits.
You can go back to zero.
You can spend hundreds of euros to have a personal site and never sell a photo.
You can have a simple Instagram account and generate thousands of euros of income per year.
Like not having any visitors.
Your approach is more important than the tools
The web and photography have one thing in common: the tools are less important than the process.
You can have the best camera in the world and never take a good picture.
You can choose the best web publishing system and never attract anyone.
Only your approach will make the difference, in no case it will be the chosen tool.
The limits of web publishing
You might think that showing your photos will allow you to exchange with visitors, to receive critics and comments.
Few visitors comment, especially not in a relevant way.
On photo sharing sites, it's up to you to start conversations, animate your space, comment on other people's photos if you want to have comments.
Don't ask others to do what you don't do.
If you're just looking for advice, it's best to go to photo review sites (such as the Nikon Passion photo review section).
Do not spend energy to create your web space for this purpose, you would waste your time.
Also know that professional photographers will not come to comment on your photos and give you advice, they have other things to do with their days.
You want to sell your photos through your website?
Be aware that it's difficult, only a few photographers with an effective strategy get by and that's not how you're going to make a living.
Better to know before you start.
On the other hand, showing your photos can lead to projects, which you can then monetize.
Conclusion of this first part
Deciding to share your photos on the web involves making choices.
These choices are never neutral. Keep in mind that whatever is posted may be beyond your control.
Awareness of this is essential for making the best decisions.
Showing your photos is a great idea, it can open doors, help you to make yourself known, to find partners as well as customers.
Be aware of your limits, do not embark on an overly ambitious project if you have neither the time nor the means.
But know that everyone can now publish their photos on the web, without spending too much, and that it is very rewarding.
Even if you're just an amateur.
Then why don't you?
Do you have any questions or reactions to the content of this topic? Use the comments to ask them.
In the following article, I deal with web service providers, you will find more answers.