Not long ago, there was talk of exposure lock, and thus indirectly of autofocus. This reminded me that many use automatic autofocus collimator selection. But I must tell you one thing: it's MAL !
You're struggling to compose your image correctly, making your adjustments to get the picture you want, and you let your camera decide where to focus, the sharpest part of your image? Let me think that's just about right… illogical 😉
I already mentioned this in my article on the secrets of autofocus (theise it before continuing if you haven't already done so, as I consider what I have written there to be a given 😉 ), but I wanted to go onward to make sure it fits 😀
What's your problem with that?
It is important to know that when the autofocus collimator selection is in automatic, most of the time the camera will try to focus on nearest object. This is "relatively intelligent" behaviour, since the subject is often in the foreground. But not alwaysand that's the problem. Suppose you wanted to do a blurry first shot, for example…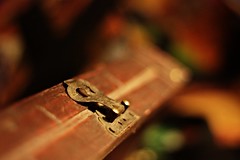 And if he can't get a fix on the closest object (too dark for example), he will try it on the next object. And so on and so forth… In short, you risk putting long to get the focus where you want it. Or even not to have it at all!
I'm not even going to tell you about the trouble if you use the continuous autofocus mode! (AI Servo or AF-C)
And then beyond the purely technical difficulties, I imagine that if you read the blog, it's to have the Master's degree of your device, and you can dispense with a large part of the automatisms, at least those that restrict you. As I said before, it would be totally illogical…
But now that you're convinced, you have to ask yourself… how to manage this new parameteryou who are just learning how to shoot in creative ways. Don't panic, you'll see, it's not that complicated!
Good practices to take full advantage of it
Using the central collimator
The central collimator is always the most precise… (by design). If you use it systematically, you will have the advantage of never have to think about it (which can be used in "emergency" situations), to take advantage of an greater accuracyand in general to take less time to the focus.
But you're going to tell me: "Yeah, but you always advise against putting the subject in the center, so how do I do that if I use the centerfold?"
Well, I'm just teasing you a little bit because the answer is obvious: the technique of focus-croppingwhich I won't detail again, since I do it in the article on autofocus (I told you to read it 😉 ).
Only this technique has its limits, mainly in 2 cases (if you see others, leave a comment):
In continuous autofocus mode (AI Servo or AF-C): and yes, in this mode you can't lock the focus, so you're stuck, you can't take the picture.
No I'm kidding, don't go, there's a solution ! ;D
At low depth of field in this case, the movement that you do to crop can make your focus move, and when the depth of field is shallow, it shows up very quickly, or at least produces a slightly less sharp image. This problem is real property I've already experienced it, and given what you can find on the web I'm not the only one.
But there's one solution that should jump out at you:
Using other collimators
How'd you guess? You're too good! 😀
More seriously, using a collimator located on your subject (on the eye for a portrait for example) is obviously the solution to this problem. Except that in this case, you'll have to select it each time, which could be tedious :
the eye must be removed from the viewfinder
then press the selection button
then select the right collimator
then validate the selection
then put the eye back in the viewfinder
Oh boy, your subject's gone for coffee! 😛
I'm deliberately forcing the line, but it might make you feel run out of time and miss a shot, especially in fleeting situations.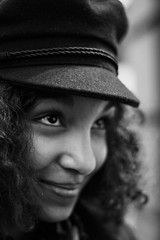 The best compromise is to use a way to change the unknown collimator of the beginner who did not read the manual of his camera (I was the first when I had in my hands my first SLR 😉 ): the wheel.
The great advantage is that you can keep your eye on the ball. You press the button that allows you to select the collimators (so you have to know its location by heart, yes!), and in the viewfinder the selected collimator is illuminated with an intense carmine light. It becomes red what 😉 And then you just have to turn the knob to change the selection.
And then "clic clac, thank you Kodak!" 😉
And yes, the best part is that you don't even have to exit this mode when you press the button again, it's done automatically when you press the shutter release button halfway down.
I imagine that many of you already know this simple technique, but it has saved me so many pictures since the distant day I discovered it that I felt it was essential to put it forward again.
It's normal if at the very beginning you're a little disturbed, don't panic, it will come with a little practice.
Anyway, I hope you will remove this ugly auto select mode right away to better control the focus. Feel free to leave a comment if you have any questions, remarks, or if you want to hang me for my dubious humour! 😉
And don't forget to share the article! 🙂