home
>
Blog
>
Photography
>
Fisheye lens: insurmountable ideas to take the best photos
Fisheye Lens: Ideas …
It is always good to have a wide variety of lenses for your audiovisual projects, since each one will provide a unique visual style that will enrich all your scenes. The fisheye lens is very particular, because it creates a spherical and warped perception, which evokes a sense of fantasy in photographs. 🐠
The subjects that appear in the frame are seen in the same way that fish perceive us. You may have heard of this photographic lens, but you don't know how to take advantage of it in your projects or make the best of it. In this article we will tell you all about the fisheye lens and we will give the best tips so you can take incredible photos.
Put on your goggles and dive with me for the next few paragraphs!
Index:
What is a fisheye lens?
History of the fisheye lens
What are the best fisheye lenses?
Ideas for taking photos with a fisheye lens
A fisheye lens It is a device that is attached to the camera and is used to shoot photos with very wide angles, usually around 180º. It is also known as an ultra wide angle lens. Photographs produced with a fish lens have a distorted appearance, giving them a rather abstract and original look.
Photos taken with a fisheye lens offer a fairly wide angle of view and they are quite popular in extreme sports and skateboarding photography.

Source: Lomography
A fisheye lens comes in two different forms: diagonal and circular. Or rather, you can shoot in two different ways: full-frame photos (diagonal fisheye), which distort the image in almost its entirety and circular photographs (circular fisheye), which have a black frame around the photo.
Although it may seem incredible, photos with fisheye lenses date back to 1906. A physicist and inventor named Robert Wood was the one who developed this lens, inspired by how fish see underwater.
Later, around the year 1920, the fisheye lens became more relevant and important, since It was widely used in the field of meteorology to study the sky and the formation of clouds. However, it was in 1960 that the fisheye lens really reached its peak of popularity around the world and began to be manufactured in industrial quantities.

Source: Fstoppers
Although it is commonly used in photography, the fisheye lens has also been widely used in film. This is due to its ability to create a totally different mood than other angled lenses, as well as its ability to capture spaces in a unique way.
Directors also use the fisheye lens as a creative device to show a character looking through a small hole.
Fisheye lenses are also widely used in security cameras, as they allow a broader view of the entire space. Even the GoPro camera comes with a built-in fisheye lens. As we said before, with the fisheye lens the range of vision of the photographs is around 100 to 180 degrees. You can get very close to the subject and photos will almost always be in focus.
There are many fisheye lens options on the market, for different needs and for all budgets. We have compiled some of the best fisheye lenses out there in 2021:
Canon EF 8-15mm f / 4L Fisheye USM: Circular and Diagonal Fisheye

Source: Amazon
With a Canon SLR, this fisheye lens can work at a focal length of 8mm. When you zoom, it goes as low as 15mm, turning into a diagonal fisheye that gives you an extremely wide angle of view. It is quite useful and multifunctional, as it is like having two fisheye lenses in one.
Nikon AF-S 8-15mm f / 3.5-4.5E ED Fisheye: The best fisheye for cameras Nikon


Source: Nikon
This lens has electromagnetic aperture control and, unlike Canon's often innovative aperture designs, has an aperture that varies between f / 3.5 to f / 4.5 as you zoom further. The Nano Crystal Coat helps minimize light flare and the included lens hood can be used with the longest zoom setting. The image quality is very good.
Tokina AT-X 107 DX Fisheye 10-17mm f / 3.5-4.5 AF: Best Fisheye Lens for APS-C DSLRs Cameras

Source: Osfoura
This Tokina fisheye lens offers full diagonal coverage at all zoom settings. It is designed for APS-C rather than full-frame SLR and provides a 180 degree angle of view at a 10mm focal length, which can also be reduced to 100 degrees at 17mm. The angle of view is much wider than when using a 10-17mm linear wide-angle zoom.
Sigma 15mm f / 2.8 EX DG Diagonal Fisheye: Best Diagonal Fisheye Lens for Full-Frame DSLRs


Source: Fotosamar
This 15mm lens is a diagonal fisheye the same size as Sigma's 8mm round fisheye lens and slightly lighter. The built-in hood protects the front part that sticks out like a sphere. The image quality is quite good and it doesn't have a lot of vignetting.
Taking photos with a fisheye lens is not as difficult as you think. Once you understand what the basic features of this lens are, you can easily master it. The key to taking amazing photos with fisheye lenses is understanding the following points:
You will see more warping at the edges of the image.
When you are close to the subject, the distortion effect will be more pronounced.
If you want the horizon to look as flat as possible, position the lens near the center of the frame.
If you tilt the fisheye lens up, you will see that the horizontal lines will acquire a concave shape.
If you tilt the lens down, you will see that the horizon line will be more prominent.
Depending on the minimum focal length of the lens, you can get very close to the subject for some pretty cool effects. Another tip for having a fairly wide depth of field is to close the aperture or open it to get a blurred background.
So far, you should already know what the characteristics of the fisheye lens are. Now that you're ready to go shooting photos and creating quality content, you might find some tips for getting quality photos. Following, we share some ideas for taking amazing photos with a fisheye lens:
Photograph entire roofs and skies
You won't be able to capture as much ceiling with a normal lens as you can with a fisheye. Even huge ceilings with symmetrical architecture will look really impressive. Go somewhere with an eye-catching ceiling,get to the center and shoot! You can also photograph all kinds of skies, the perception of a sunset or a sunrise will be totally different if you take the photos with a fisheye lens.

Source: Pinterest
Take photos at weddings or parties
Taking photos at a wedding or party with a fisheye lens is really fun, as it captures the essence of the moment. Normally the lighting conditions are dark, but you can take advantage of this to achieve radial blur. To do this, reduce the shutter speed to about 1 / 25s and then you need to rotate the camera 90 degrees counterclockwise.
To carry out this experiment, simply shake the lens with your left hand and rotate the camera body with your right hand at the same time. We do not guarantee that they will turn out 100% right, but you will surely have interesting results!
Source: Lightstalking
Use the distortion effect creatively
Part of the fun of taking photos with a fisheye lens is to break the rules. Instead of avoiding the distortion of the objects and subjects of your images, take advantage of the resource.
If you know how to use distortion to your advantage, the fisheye lens can add an unexpected or improvised touch to your photos. These lenses are very special because they have the power to transform even the dullest scene into something quite surreal and eye-catching. Try using assets like curves and lines to creatively distort them.
Source: Bh Photo Video
Go to the nearest skatepark and shoot
The fisheye lens is part of skate culture. Many of the best videos and photos of people skating were captured with this lens, as Capture everything in one photo: the skateboard, the skateboarder and the space. If you get closer to the subject, even better, but be careful … you don't want to be too intrusive or get dropped on you!

Source: Talk Photography
Shoot from hidden places
Most photographic lenses are not very useful for taking photos from inside a place, such as a microwave or oven, but a fisheye lens is. You can experiment by getting it into the strangest places you can imagine and opening yourself up to a world of possibilities.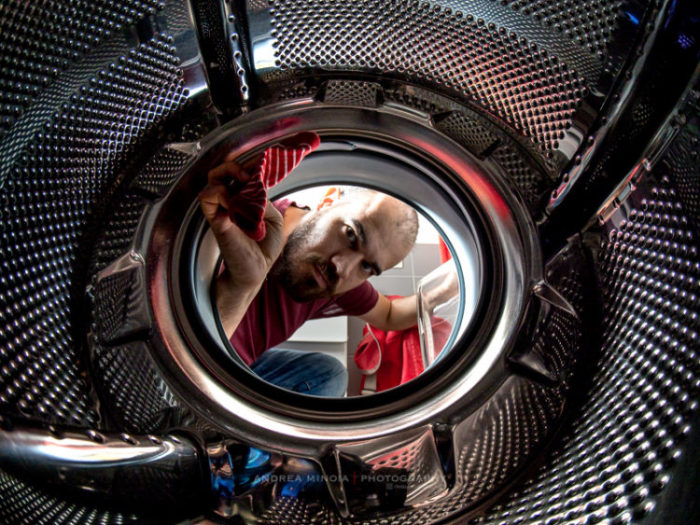 Source: ExpertPhotography
Take selfies
If you are a fan of taking selfies, a fisheye lens will come in handy. You can capture yourself and the environment around you, making your photo a little less narcissistic and boring. You don't need a tripod either, just try to look natural and choose the best background.
For example, this selfie photo was taken at the Taj Mahal (India) in 1966 by George Harrison, member of The Beatles. Yes, selfies existed sooner than you thought!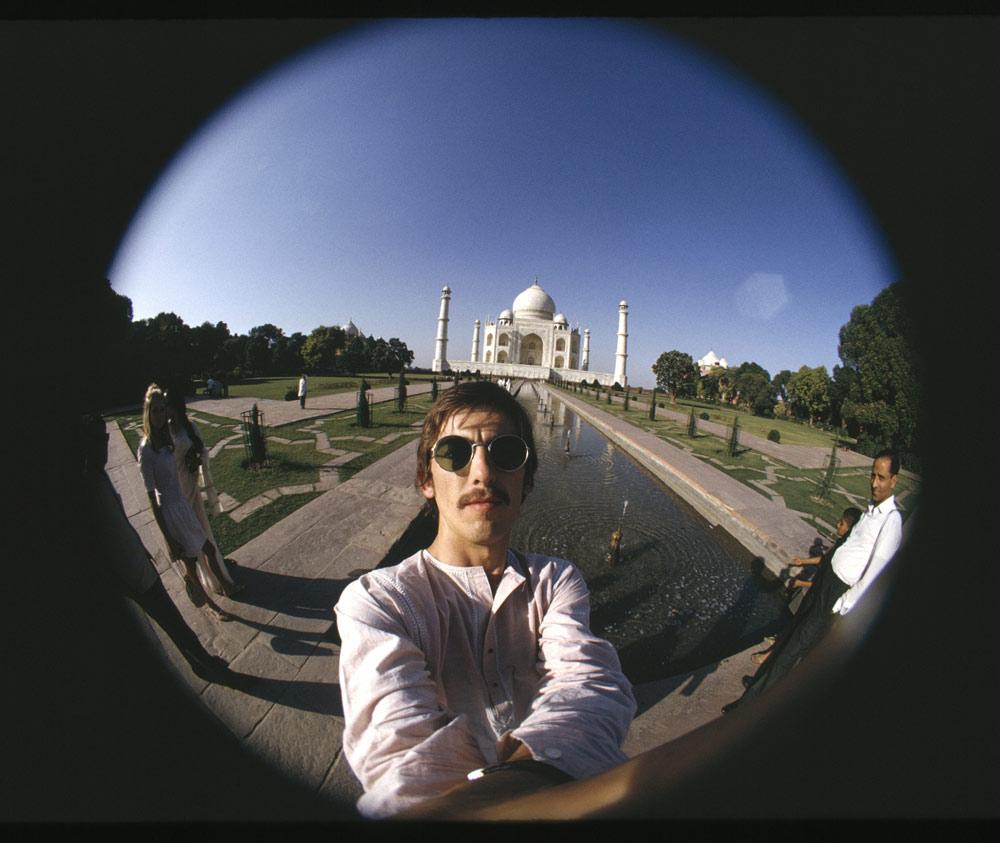 Source: Newspaper Taxis
If you don't have a camera or a fisheye lens, your cell phone can also serve as a tool. The application Loin All in 1 It has many filter and frame options, allowing you to shoot photos at 1, 6 and 8 second intervals.
Instafisheye It is also quite an interesting application if you use Instagram. It comes with 5 lenses, 1 normal and 4 fisheye lenses with different characteristics. You can also use it to convert your videos to fisheye format.
Do you want to take the first steps towards a different style? With the free introductory course to Lifestyle Photography you will learn how
Now you know what is a fisheye lens and what can it do for you. You also know the best ideas for taking really good photos. So start experimenting and playing, I'll be happy to see your fisheye photos!
We read later! 🚀