I spent three days at the Photo Fair 2011which ended yesterday in Paris Porte de Versailles, and I thought that a small assessment was necessary, especially for those who did not have the chance to go there for real 😉. 3 days that have been a genuine pleasure for me, in many ways.
Meetings
First of all, the show was a lot of really enriching encounters for me. First of all with a lot of readers (I quickly stopped counting). Thank you very much. to all those who came to say a quick or extended hello, I was actually delighted to meet you in person and put faces to certain names, nicknames and e-mails. It's heartwarming, really. Special mention to Aymeric who was extremely kind to welcome me in his home for 2 nights 🙂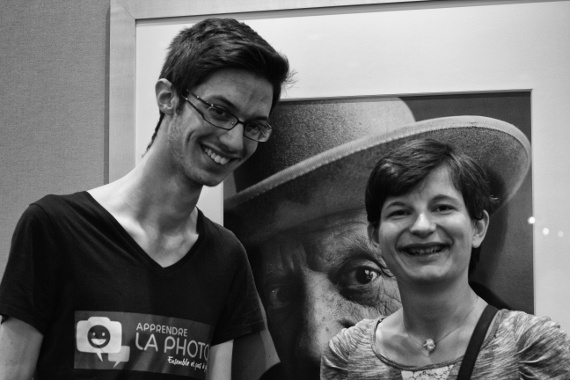 Also many meetings with bloggers, partners and authors. In no particular order, Benoît Marchal of Trigger which allowed me to make 2 presentations on RAW development with open source software, Renaud Labracherie of Digital Focus, Mrs. Ear and his very nice Belgian guy that I had the great pleasure to meet in real life around an aperitif for a very nice discussion, Anne-Laure Jacquart who was still signing his new book (review coming soon) but with whom I had a long discussion, especially over a priceless sandwich :P, Patrick Moll (Numerical Alpha) who was talking about RAW while nicely typing on the free software while I was saying the opposite on the side :D, but with whom I was able to have a nice and interesting discussion (we almost agree actually! o/), the very nice meeting with Vincent Luc (author of a cheeky number of reference books, including the well-known «Master»), and I forget a lot!
Hardware. Lots of material.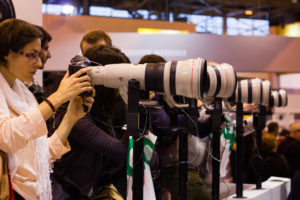 The Salon de la Photo, it must be admitted, is mainly about the material. The stands of the major brands squat the vast majority of the space. It's nice in a way to be able to test quality optics (even if testing a 2000€ optic on a wooden elephant rather than in real conditions is a bit of a shame 😉 ), but I would have liked a little more space to be left to theimage. Having said that, I've been able to test a number of lenses that interest me from near or far (especially to prepare my guide on how to choose a lens), and I'll take the time to look at what they give in full screen. And then the free sensor cleaning at Camara, it's not a luxury 😉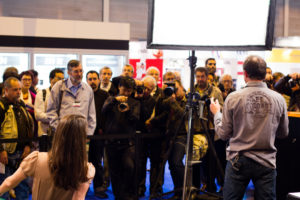 But then again, it would be bad faith to say that there was only equipment at the show.
Some images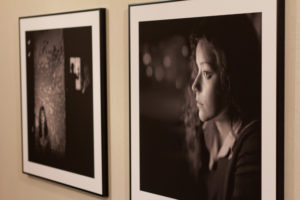 The Show was the place of quite a lot of exhibitions, the flagship exhibition being that of Karl Lagerfeldhalf of which was composed of an exceptional selection of portraits (notably that of Picasso by Irving Penn that you can see above), and half of the pictures of the said Karl (that I personally liked less, but it's a matter of personal taste, I had loved one of his exhibitions in Lille). The photographer who touched me the most during this exhibition is one of the two winners of the "Zooms": Alexandre Parrot. He was simply presenting a series sublime of black and white, contrasting, square-format images, composed to the millimetre, and filled with emotion. One image in particular touched me enormously (I was blissfully surprised by a few minutes), and which I consider to be one of the best pictures I've seen in my life (yes, yes, and it's all personal). It's the one you can see on the right side of the picture. I take this opportunity to give you a board by the way (I can't help it :P) : look at the work of photographic artists. It is always a source of knowledge and inspiration, which is invaluable for you. Understanding what works in other people's images helps to strengthen one's photography skills, and ultimately to build one's own style.
A little anecdote for the end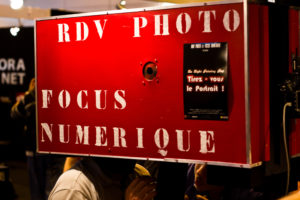 As a joke, the booth just in front of the Agora proposed to make a «portrait light painting». The idea: you put your head in a black box (picture on the right), you have 15 seconds to try to draw something with a red diode, you take a big flash so that we can see your head, and then you have your picture. Little game: can you guess what I tried to draw on this beautiful portrait? 😛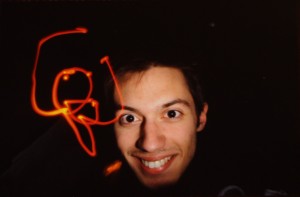 If you've guessed and want to share your experience of the show, leave a comment ! 😉