This week, a very nice document if you have trouble with the parameters of the exhibition has been circulated on the web. Problem: it's in English. But I solved the problem 😀
When I saw that "anti-drying of hand photography"which, besides being useful is really pretty, I thought I'd make you some… take advantage. So I contacted the author, Miguel Yatcoto ask him if it was possible to translate his work. In a very nicehe accepted without any problem, and so I got him… translated for you! And here's the result: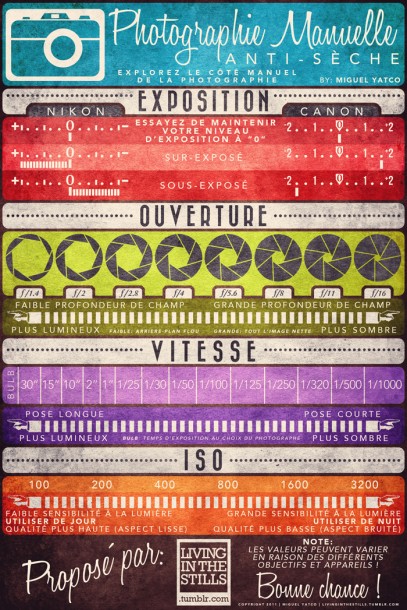 You can print it if you want, but if you want it in a larger format and better quality, Miguel sells his work in poster format on Zazzle.com. It goes from 28x42cm to 58x88cm. It can be nice to have it posted at home too, in addition to serving in the field 😉. Plus, it's a good way to thank him for his work and sympathy 🙂.
You can follow Miguel Yatco on Twitter 😉.
There, that was the little gift of the fun weekend 😉 If you found it useful, Spin your friends on Facebook or Twitter 😉