This article inaugurates a rather special section where I will tell the story of successful or failed photo shoots or simply shots that taught me something. Above all, I will try to analyze the why and the how of the results I'm getting. I invite you to give your opinion on this form of article in comments 😉.

(Recently) One summer evening, alone in the hilltop town where I'm staying for an internship, I'm working (or rather I'm having fun) on the long series of photos taken in Paris the previous days. It had rained a lot in the 2 or 3 hours before, and the weather cleared up a little half an hour ago.
Around 9:30 pm, my appetite comes out of my image-processing software after having obtained 2 shots that I am particularly satisfied with. In short, I'm hungry. So I leave my room to go to the kitchen, and notice distractedly that the sky begins to be tinged with pretty orange glows. Normal, I thought to myself, it's almost sunset, and it's the golden hour 😉 Except that there's nothing very exceptional today, it rained a lot anyway…
So I put my Carrefour lasagna in the microwave (14 minutes), and I come out a few minutes later. And then the sky is just sublime. Knowing the transience of those magical moments before a sunset, I… course to my room to get my camera. Drama, the memory card is not in the camera. I grab it on the way, and put it back in the device while I hurry to find a clear corner to try to get something out of the sky. There's still room for 24 RAW photos, and no time to format. You won't have to play it in burst mode!
A few tens of seconds later, I'm in the clearest place I can find. I start with a few shots to immortalize this wonderful sky.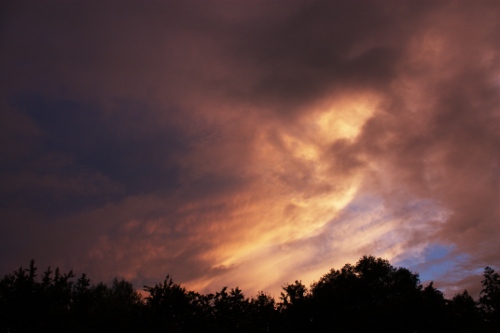 Unfortunately, a sky, as beautiful as it is, is not enough by itself. It takes a decor, you need a foreground or background to give it its full scope.. I go back a bit, stop and find a place where I can take a few shots with some nearby foliage in the foreground.
Given the brightness, the foliage will be backlit, but I want to have their contours sharp. So I need a great depth of field, which requires an aperture reduced. I'm running out of light, I'm working without a tripod, technically I'm gonna be limit ! But the few shots seem correct on the screen.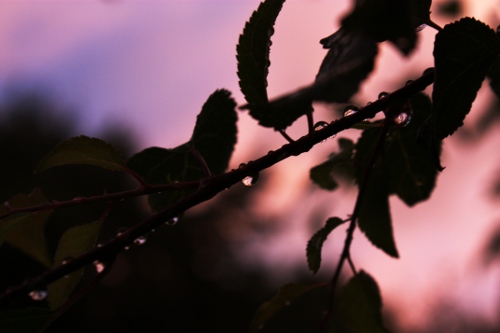 That said.., I'm still missing something.. Foliage is filling, not a proper foreground. I'm looking for a real subjectand then I see and at the same time I remember that it rained. Why not take an interest in the drops that cling to these branches?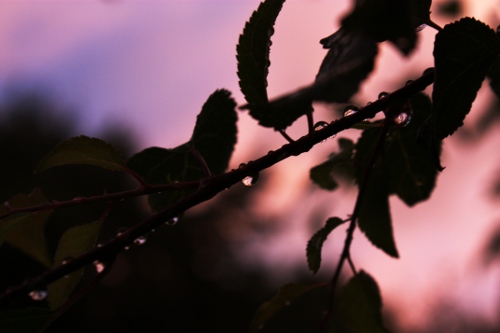 One or two shots, I notice one spider which stands out against the sky, seemingly floating in the void, supported by its totally invisible canvas. And there I KNOW that I have my subject. Now I have to make a good cliché of it.
My main problem is that she's high up that little beast. So I'm forced to go through Live View (direct aiming on the screen, like for a compact) to frame (I promise, I'll never say anything bad about this mode again!). I hold the camera at arm's length, and seeing the light I'm forced to shoot at speeds that are already limiting when you hold the camera with both hands. On top of that, I'm in manual focus, the spider being too small and too dark for the camera's autofocus to work.
I wonder how I'm going to get a clear picture…
But I concentrate, I hold my breath before each trigger and try to judge as best I can the focus of the tiny spider on the LCD screen which is already too far away from me for my liking. But you have to believe in your luck, because finally I get a picture I'm satisfied with: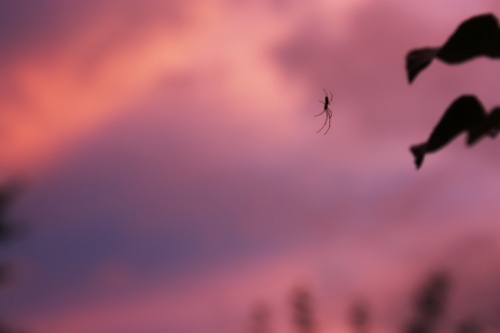 The light goes out a few minutes later, I come home. Ding ! Lasagna's ready !
And don't forget to share the article! 🙂