When I talk about publishing photos on the web, many of you ask me the question of social networks for photographers: should we use Instagram and others to publish our photos? Is it a good idea?
In this sixth article in the guide to web publishing, I give you my ideas and advice on whether or not to use social networks, and if so, how.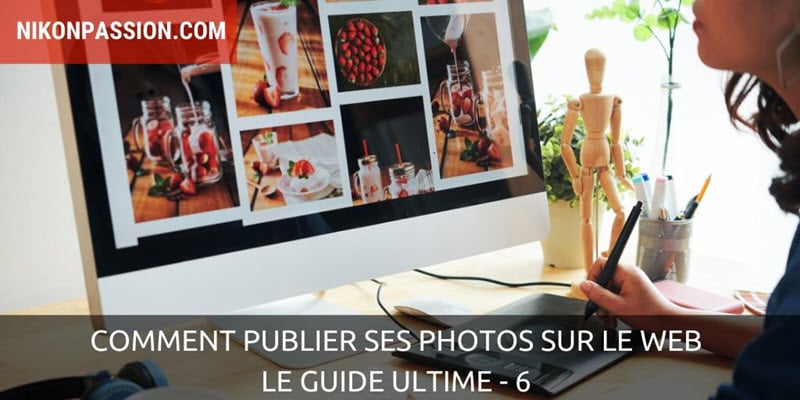 Social networks for photographers: what is it?
There are several social networks, each one has its specificities, not all of them address the same targets, do not concern the same content, do not offer the same functions. No need to rush on each network, you must make an informed choice.
The primary purpose of a social network is to connect people with a common interest. Before the big players in the sector arrived, forums and Bulletin Boards (BBs) fulfilled this role. Social networks brought ease of use, an extraordinary power of deployment because of equally extraordinary revenues. This initial period is over, social networks have evolved.
A social network differs from a website in its ability to promote exchanges between members of the network. On your website, there is no notion of connection because there is no network.
A social network differs from a blog by the nature of the contributors and their relationships:
the author of a blog, the sole creator of content, addresses readers (1 to many, or 1 to many relationship),
the member of a social network addresses other participants ("many to many" relationship).
The social network therefore implies active participation by each of its members (reactions, comments, sharing), which encourages exchanges and the scope of publications.
It's different from a website or a photographer's blog where you can publish without ever looking for comments.
It's different from a photo sharing site where you can post and comment but not share the activity and daily life of others.
Social networks for photographers in 2020
Each social network addresses specific needs and interests specific users:
Twitter: follow and learn from interesting people
Facebook: follow your family and real friends
Instagram: follow those who have the same passion as you
Pinterest: finding inspiration, discovering inspiring people
LinkedIn: follow your professional contacts, your CV online
YouTube: discover and enjoy
Snapchat: follow your friends
TikTok : follow creators and friends if you are under 30 years old
Discord: follow your gamer friends, now collaborate between members of an interest group
Youtube is not strictly speaking a social network.
Snapchat and TikTok are messengers more than networks.
Whatsapp, Messenger and Telegram are pure messengers.
Discord is a troublemaker since it was born for a precise use and today it is extended to generalist uses.
Let's make it simple: for a photographer, amateur or pro, the network to be frequented in 2020 is Instagram.
Facebook is no longer interesting, personal profiles are polluted by too many different and harmful subjects, pages are no longer visible, only groups remain interesting when they are very targeted and not harmful (this is rare).
Twitter doesn't encourage the diffusion of photos, use it instead to create links with other people who will help you develop your approach.
If you're interested, I'll share my ideas on my daily topics on my Twitter @JCDichant.
Social network and website, complementarity
Being active on a social network does not exempt you from having your own website. And vice versa.
Here's how you can organize your online presence:
publish your photos on your website or blog,
add texts, videos, bio, stories on this personal space,
Make your site or blog known through social networks.
The advantage of social networks, and of Instagram in particular, is that they encourage exchanges.
No one is going to visit your site once it is created. It takes time and a lot of energy to get visitors. It takes less energy on Instagram because the social network is made to encourage exchanges.
Its mechanisms allow:
the discovery of other people (the accounts),
the discovery of subjects (the tags),
the daily animation (the Stories),
the sale of products and services (integrated shops).
As a photographer, here's what you can do:
Publish a reduced selection of photos on your website/blog,
publish a wider selection on your Instagram,
connect with those who follow you and those you follow,
Allow yourself tests on Instagram that you cannot do on your site.
Social networks, a test platform for photographers
On your site you have to publish your best pictures. Quality is more important than quantity.
On Instagram you can submit photos for others to see. Test their reactions. This can help you find out what you like and what you don't like.
Attention This is never absolute proof, there are still too many comments of complacency.
Connecting, what you miss in your daily life
Instagram allows you to leave a comment on other people's photos. Doing so allows you to get in touch, ask questions, give an opinion. This is the discussion you would have in a photo club, like on a group outing. This is not possible on your site.
You can also discover the images of recognized, even famous photographers, without having to search for their site (often not up to date). You ask them questions, which is not possible on their site.
Mistakes not to be made
Error number 1 : publish a photo without ever commenting on anything in others.
If you don't comment on other people's photos, they won't comment on yours, so don't complain.
The network will not see any interaction between you and the others. It will not highlight your account. Your audience will not grow.
Error number 2 misuse of Likes
Liker means to love. If you like other people's pictures, make sure you really like them. Otherwise don't like them.
If you just like it and never comment, you're wasting your time. The network will always offer you more pictures of the accounts you like, it's the algorithm that decides, but you won't get any feedback on yours.
Error number 3 : count the Likes on your photos
It's useless. Most of them are Likes of convenience. Count the comments instead, and compare your account with the others.
I use HypeAuditor to get reliable values on my Instagram accounts.
Error number 4: never make Stories
Imagine a shop, with a beautiful window and the front door closed. It never communicates about what it offers. Its news, its daily life. Are you coming in? No, I'm not. Even bakers are on social networks now, that's to say!
The Instagram Stories are a communication tool at your service, simple, fast, free. What more do you want?
Error number 5 use only social networks
What do you do the day they close your account, lower your visibility, change their rules?
You're the tenant who gets kicked out by his landlord.
To go further
I've made several videos and articles on social networks, and Instagram in particular. Not all of them are up to date with the latest features and trends, it changes too fast but it can help you get started:
The first subject is a video. The second one is an update of one of my articles published in the magazine Profession Photographe.
There are two topics left to close this web publishing issue:
the right to the image,
photo protection.
They'll be here soon! Check out the first topics if you missed them.
Any questions? Any reactions? Use comments.