To learn video is to learn how to shoot, edit, post-produce. There's nothing like a video guide to discover, at your own pace, the basics. But good books on video are rare.
I've reviewed a few books over the past few years, here is a list of recommended books. I add to it every time I discover a new book that might be of interest to you.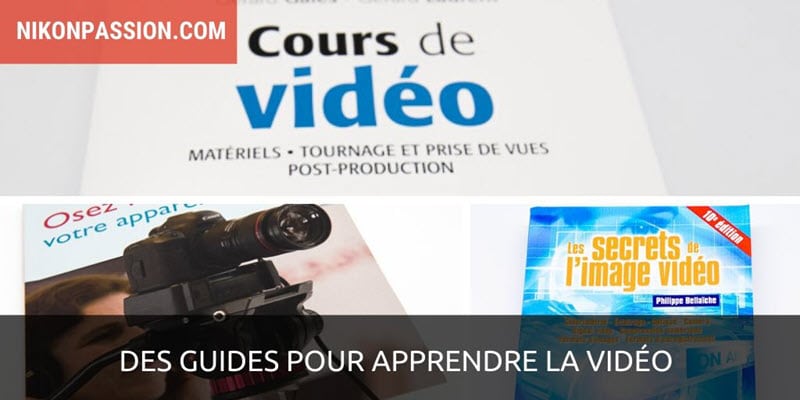 Why the video?
Video first appeared on cameras with the Nikon D90 in 2008. Since then, it has become an increasingly important part of the video experience. Hybrid cameras have become the main equipment of many videographers, the video format is everywhere on the web and social networks.
However does not improvise itself as a video maker who wants to.
Photography and video, two opposing worlds come together
Cameras, and hybrids in particular (the Nikon Z 50 for example), are capable of taking pictures as well as shooting movies.
Some hybrids are even only used for shooting, and are delivered in kit form with the necessary accessories.
This is the case of the cinema kit for the Nikon Z 6.
They're not the only ones.
Smartphones, long considered as the worst cameras, are capable of shooting excellent quality videos (I recommend Laurent Clause's blog on smartphone video).
The drones are video cameras, too.
I'm not talking about action cameras like GoPro whose main purpose is to film.
In fact, the transition from photo to video is not as complex as the transition from video to photo.
The professional videographers I interviewed all told me that a photographer who has mastered the sense of framing and composition quickly does very well on video.
On the other hand, a videographer without any photographic practice has more difficulty in getting started when it comes to accurately framing the still image.
You are a photographer and you master framing and composition? You can look forward to the video with serenity!
However, when it comes to "how to do", photography and video have distinct technical concepts:
The additional constraint in video
I won't teach you anything by saying that photography is the still image while video is the moving image.
To make a video, you will have to shoot a series of shots to be assembled later when you make several images in a photo without necessarily having to assemble them into a coherent series.
The main difference, which is a problem for many video beginners, is the duality of image AND sound:
record the image AND the sound,
edit the image AND the sound.
Guides to learn the video
To discover: Dare to video with your camera
This book is written by Céline and Guillaume Manceron, whom you know if you listen to the Agora Show podcast that we host together.
Guillaume has many years of video shooting behind him, Celine too, they compiled in this book their best tips to get started.
It's a book for beginners, affordable, which will allow you to make your entry into the world of video.
To learn: Video Courses
This other work is the video counterpart of René Bouillot's famous guide to photography, written by the same author, and updated by a director and video trainer since René's death.
You will go into details, discover all the subtleties of the video, at the risk of getting lost in it sometimes, but it is one of the references that is still as relevant as ever.
Come back to it whenever you have a comprehension problem.
To master: The Secrets of the Video Image
Philippe Bellaïche works for television, he wrote a guide considered as the most advanced in French on video technology. Everything is there: the essential, the important, the superfluous.
This guide goes very far, too far often for a simple video maker.
But if you like to dig into a subject, if you want to go around it, then this is the best choice.
Guides to video material
I will not hide the fact that this section remains poor in relevant and recent works. The videographers have either not updated their books or have not been asked to write. However, here are a few books presented at the time of their release that may still be of interest to you.
Mastering your GoPro
Action cameras are everywhere, thanks to GoPro, which has made this type of equipment commonplace and has since been copied by several other brands.
To learn how to use your GoPro properly, you can consult this book, which is however dated and may refer to older camera models without presenting the specifics of the most recent models (the 4K for example).
To my knowledge there is no update.
Filming and photographing with a UAV
Eric de Keyser has updated the first edition of his book on drones. This one remains topical for all that concerns the bases, the great principles of the drone in video shooting.
The same remark, however, that for the previous book, an update with the most recent models and technologies would be welcome.
Guides to learn video editing
Once the rushes are turned, they have to be mounted. This is the post-production and editing work that is essential to finalize your video.
As with the previous section, there are few relevant books. This is due to the frequent changes in software that require authors to constantly update books and publishers to constantly reprint new editions whose sales figures are often anecdotal. Note that it is the same thing in photography, software guides are no longer popular.
How do I edit a video with Premiere Pro?
Second edition of a book that is a reference if you are interested in the Premiere Pro editing software, Aurélie Gonin-Monod's book is up to date. Take advantage of it!
Learn more about the video: to be continued …
I have listed here current and relevant references to help you identify the best books to learn video.
As you can see, they are few in number.
If you know books that can complete this list, leave me a message via the comments, I'm interested.