Hi! This is Laurent Breillat for Learn Photography. I am with Thomas Hammoudi – you recognised him, I think – and today we are going to interview Jean-Luc Monterosso.
Tell us who it is.
Thomas So, Jean-Luc Monterosso is the founder, or at least the person who participated in the foundation of the European House of Photography.which he directed for over 30 years. So he has seen many, many artists, and he has done many, many exhibitions during that time, so it's going to be very interesting, I think, to discuss this with him.
Laurent Yes, especially since the MEP in France is still one of the most important places in photographyWith the Jeu de Paume, Arles, there are a few institutions like that which are really very important and which have an aura.
And it's really a great pride to be able to talk to him today.
And today we are at the Henri Cartier-Bresson Foundation, which is kind enough to welcome us…so thanks to them.
Thomas Thank you very much.
Laurent : Well, here we go!
Presentation of the European House of Photography
Jean-Luc Monterosso, hello and thank you very much for this opportunity to speak with you.
My first question is about the European House of Photography, which opened in February 1996 in Pariswhich you ran until last year. I don't know if everyone in my audience knows her, so I think it would be nice to introduce her a little bit. Can you explain to us why this place exists, why it was necessary, how it has evolved over the years? And then its place today in photography.
J-L Monterosso It is a place located in Paris, in the historic Marais district. It is a private mansion that was offered by the City, and therefore also financed by the City. And Ie directed it for 22 years, and for 8 years, I followed the work. Together with Henri Chapier, we chose the place and set up the program.
So, what's this European House? Well, well, well, well, it is a museum of photography with a large collection, one of the most important in Europe today, of contemporary photography.
It is also a large library of 33 000 books on photography.. And it's also a research centre, an auditorium with conferences, debates, etc.. And I would say that the two founding fathers, in a way, spiritual fathers of the House, are Robert Franck and William Klein. Why are they? Because they're both great photographers at first, and at some point they gave up photography to go into film, so there is also a video library, which is very important.at the European House of Photography. And then because they were producers of their own books, and therefore the library.
Which exhibition has impressed you the most?
Thomas : So I had a slightly more basic question: during all these years, you've done a lot of exhibitions, is there one in all of them that, now, with hindsight, has made a bit more of an impression on you? Where you say to yourself: this one I really liked to do, it was really interesting to set up. Someone you are happy to have made known, at the European House of Photography.
J-L M So, it's true that at the European House of Photography we had a lot of exhibitions, because…there were four seasons a year. I wanted it to be wide open, but then, oddly enough, you know, when you're the director of a house, the artistic, creative, curatorial part is relatively thin….
We manage to make an exhibition every two or three years.
So, if you want, as a curator-which is the most interesting part, after all, when you produce an exhibition-I may have done about ten of them in all.
So, which ones?
Of course, the exhibition " Confinement " by Bernard Lamarche-Vadel; an exhibition I did with Farideh Cadot called " Markus Raetz and photography ». Markus Raetz is a great visual artist; I have always been keen to show that photography is not only photography by photographers, but also photography by artists.
Thomas That hasn't always looked good.
J-L M And by plastic surgeons. I don't think there's ever been a problem, as long as it's an opening to contemporary art…. And I think that's what's happening today. Young people, like you for example, are making video, installations, photography, even painting. They mix everything. There's a great freedom of expression. And I believe that the MEP was a bit ahead of the game in the 2000s.
So, of course, I really enjoyed doing the William Klein exhibit, " Paris + Klein ».
Thomas What year was it?
J-L M That was in 2000. Of course, there was the Bettina Rheims exhibition….
Thomas : It's more recent, Bettina Rheims.
J-L M And then there was more recent… No, there were two. There was Idri, which got me into a little trouble with the censorship; because…there was still censorship, however, invisible in France..
Thomas In Paris?! Was there censorship?
J-L M Invisible. With Pierre and Gilles too. Pierre and Gilles, we were the first to celebrate their 20th anniversary in 1996. And I had quite a few problems, actually, because they weren't well enough known, as they are today.
The invisible censorship, it manifested itself in a loss of 250 000 euros on the budget..
Thomas : Okay, because the subjects were… So, Pierre and Gilles, for those listeners who don't know, it's… they're together?
J-L M They're a couple. So Pierre photographs and Gilles paints on the photos. So they make unique photos. They are among the few artists who are well known abroad. Like Bernard Faucon, for example, like Valérie Belin. And there's Pierre and Gilles, too.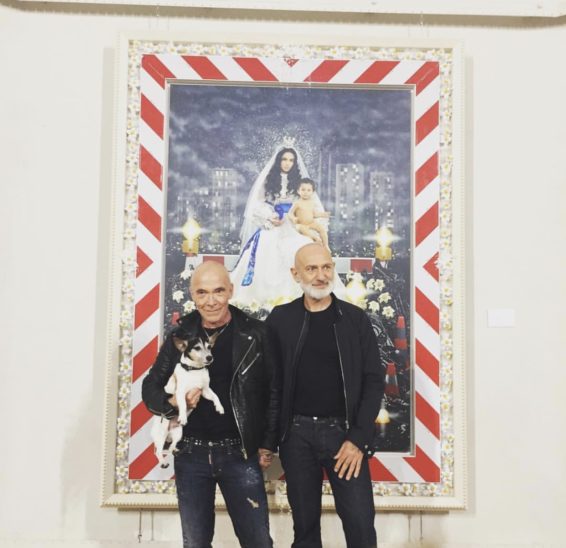 Thomas : Pierre and Gilles have a very pop, tangy, colourful aesthetic.
J-L M : Yes, artists a bit, they don't like the word, but a bit kitsch, but it's a joyful and saving kitsch.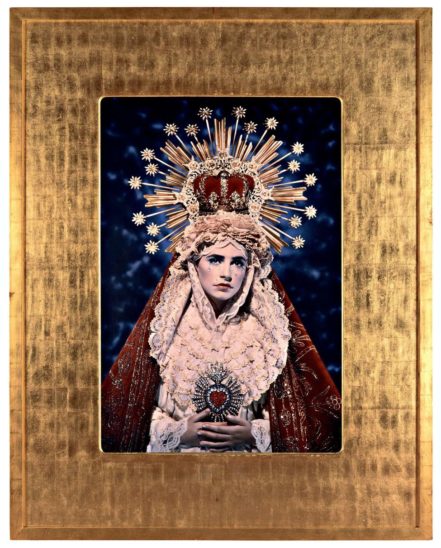 Did the photo arrive too late at the Academy of Fine Arts?
Laurent : So I'm going a little bit from donkey to donkey, it's not directly related to the MEP exhibitions, but photography has gradually entered the Academy of Fine Arts; there's now Sebastiao Salgado who's there, as well as Bruno Barbey and Jean Gaumy who joined Yann Arthus Bertrand – quite recently, in 2016, I think -, and who was – Yann Arthus Bertrand – the only one since the death of Lucien Clergue to join the Academy of Fine Arts in the photography section.
Do you think it's a bit late in coming, and that the recognition of the photograph may have been faster elsewhere than in France?
J-L M : No, I think that… You know, the Academy of Fine Arts, it's a venerable institution. We're fortunate today to have a perpetual secretary – that's what we call him – who is Laurent Petitgirard, who is a conductor, and who is in the process of completely modernizing this great and venerable institution.. And he brought in not only photography, more photographers, and we're thinking in particular of certain women photographers, of course, but he also brought in dancers, set designers; he brought in Othoniel, he brought in Fabrice Hyber. So he's made the institution much younger, and it's an institution on the move..
So, as a correspondent in this institution, when I was initially offered the job, I was happy, of course, but I thought, well, it's an institution where you must get a little bored. But not at all! It's not at all, there's always something going on at the Academy of Fine Arts…. Always. And it doesn't stop.
And at the same time, it became very creative and very interesting.
And the image is changing a lot. There's a room now that's open, which Wilmotte, the academician Jean-Michel Wilmotte, has completely renovated, and in which the Grand Prize of the William Klein Academy of Fine Arts is presented….
As you know, thanks to a patron and the Chengdu Museum in China, we created the Nobel Prize in Photography….
It is a very important sum of 120 000 euros, given to a photographer who already has an important career. And this year it's an Indian photographer, Raghu Raiwho had never exhibited in France, who got this award, and for whom an exhibition is also being organized.
Thomas At the Academy of Fine Arts?
J-L M : At the Academy of Fine Arts, in this newly opened hall.
Thomas : The Academy only makes exhibitions within the framework of this prize, or is it intended to do more?
J-L M No, there's another prize, which is the Marc Ladreit de Lacharrière Awardwhich is aimed at young photographers who are in the process of doing a job and who need help in carrying out their work. It is an important prize, which takes place every two years, of 40 000 euros. Always accompanied by an exhibition.
Thomas So the Academy of Fine Arts is present at the end of the careers in order to have a bit of heritage, somewhere, and to institutionalize, and also at the beginning…
J-L M There you go, there is both a heritage award and a creative award for young people. You have to know that.
Yes, from the outside because the building makes an impression. It's still a beautiful institution.
Thomas And then there's tradition, there's…
J-L M : There's tradition, there's costumes.
Thomas That's very classy.
J-L M And we say to ourselves: ho la la, it's a bit old-fashioned, but not at all! Not at all. I can assure you that it's very interesting and above all, what's interesting at the Academy – at least for me anyway – is that I meet there great architects, great musicians, visual artists, and it's interesting meetings and very interesting discussions..
Thomas It creates a bit of emulation…
J-L M Yes, and then this overture that is given by our conductor, our perpetual secretary who is formidable, who is giving a new impetus to the institution.
Thomas : We'll have to go.
J-L M You are cordially invited. I'll show you around.
Thomas Note the invitation.
Laurent Then it works.
Does French photography exist?
Thomas : On the table, we have a book, that Laurent gave me for my birthday, which is called French Photography exists and I've met it.…and as the title suggests, you wrote it.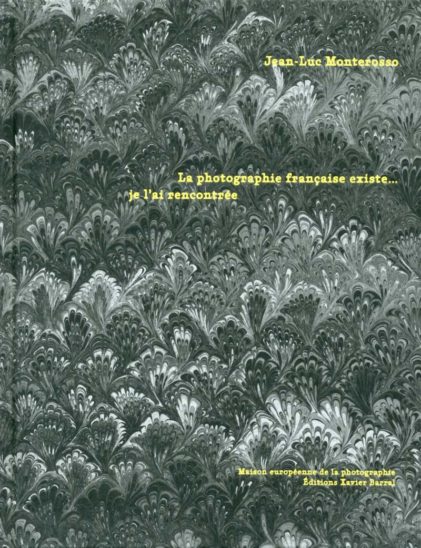 I know, but the audience doesn't have the answer, so I'm going to ask the question: where did this book come from?
Where did this book on French photography come from? Because it has a title that appeals a little bit. There are a lot of photographers in there, and can you tell us about how you chose them as you went along?.
I have the answer, but I'll let you two talk about it.
J-L M Paris is today the world capital, even, of photography. But that wasn't always the case.
In 1980, when I started my career in photography, I went to the United States… and I met with the head of the photo department. Who, by the way, welcomed me with great kindness. You know, the Americans receive you easily. I don't know how they do it, by the way, in France it takes months to get an appointment. There not at all, you call. Well, he received me quickly, but he received me very kindly and so the interview went very well and at the end I told him: what do you think of young French photography?
He looked at me very surprised and said: It does not existit doesn't exist..
And this book is a bit my answer to John Szarkowski, a kind answer, because now he's gone, unfortunately, I wish we could have discussed it. Because French photography exists. We don't see it, it's not visible abroad. We know German photography, we know American photography, of course we know English photographers, but French photography we hardly see it.
And it exists, this French photograph, it's important. I talked about Pierre and Gilles, there is Bettina Rheims, there is Valérie Belin, there is Bernard Faucon and many others. And who have done a wonderful job; Françoise Huguier, Sebastiao Salgado, etc.
He is the only one who is really known abroad with Yann Arthus Bertrand. And I think it was important to say that she existed.
So, by French photography, it is not a question of excessive nationalism.
Thomas There are people who have been nationalized, there are foreigners who have become French.
J-L M There you go. This is the "living in France". I think that there is, for example, Keiichi Tahara, who lived in France for a very long time, who is Japanese, and who is present in this book.
And I think it was important to point out that this photograph exists. Of course, photography is globalized, but there is still an inspiration that comes from our tradition.. And tradition, well, French culture is not quite English culture, and so it does exist. Just as there is a kind of English photography somewhere, too.
Thomas : And did you, as a result, you have… How did you get that panorama? Have you made a panorama of all French photography?
J-L M : No. They're people I've met. That I have met, that I have known, these are my favorites.
So, of course, there are some absentees, I couldn't show everything, because I was held by the spaces. And besides, I was also bound by the collection. Because the idea was also to show French photography in the collections of the Maison Européenne.
Thomas So you'd like to show who, who's not there?
J-L M Oh, there's quite a few of them. First of all, I didn't show all the humanists. J'started with people of my generation….
That's basically my generation. Of course, I get to much younger people in the end. JRfor example, which has done me the honour, by the way, of accepting a major exhibition at the MEP. I knew him when he was 20 years old, and he had a wonderful career. He's a great guy. And so he offered me, for my departure, a beautiful exhibition.
But it's mostly my generation.
Thomas All right.
J-L M : And it's normal, you know, I didn't understand, before, when I was observing around me personalities in photography, I said to myself: but they always work with the same ones! Why don't they work with young people?
Well, yes, there you go, we're accompanying a generation. And then afterwards, I think you have to pass the baton. Which I did.
Thomas : So, I specify so that the readers who discover this book, it is edited by Xavier BarralThe cover is beautiful, the paper is also very very good, the prints inside are very well reproduced, so if you want to discover the favorites of Jean-Luc Monterosso, and to have a real panorama of French photography in the last thirty years, I highly recommend it.
J-L M : And Xavier Barral, unfortunately, was a great publisher, who disappeared very suddenly. He was also a friend, and this was one of his last books.
Thomas : He really had, I think, this ability to make a book that materializes well…
J-L M And he found the right cover. We searched a lot, but he found it, and it fits me. Discreet and simple.
Thomas And even in all his other books, it's always well felt on the form and the form really gives an interesting aspect, I think.
J-L M A great publisher.
Thomas Yeah, it's really one of my favorites. I really like his work very much.
I had read – I don't know if you know – Autophotowhich is an example of editing.
J-L M Who was at the Cartier foundation. It's a Cartier Foundation exhibit.
Thomas : And the book was the color of the same car as Eggleston's, and so on. No, Xavier Barral, that's really…
J-L M : A very great photographer who unfortunately passed away.
China's relationship to photography and its direction of the Chengdu Museum
Laurent The Museum of Contemporary Image of Chengdu was mentioned earlier, and you are now working in the art department of this museum, which is in China…so.
Do you think the vision of photography is different in China compared to France? Do they have a different relationship to the history of photography, be it European or American? How do they see it?
J-L M So, first of all, we must tell those who are listening to us that Chengdu has 14 million inhabitants, it is the fourth largest city in China. It is the capital of a province called Sichuan – famous for pepper – and it is as big as France. And Chengdu is also the city of pandas. That's it, just to give you a little background.
And it's going to be the photography capital of China….
The museum is three times the European House; it is one of the few museums in China to have a collection. It has 127 Cartier-Bresson – we are here at the Cartier-Bresson Foundation.
Thomas : There are prints right next to us that are stored, it drives you crazy.
J-L M : This foundation, go ahead because it's a beautiful place, and it's still the greatest photographer, one of the greatest photographers of the 20th century.
Thomas There will be no debate on the subject.
J-L M It was called "the eye of the century". And then there are also prints by Martine Franck, here. There you go, go to the Cartier-Bresson foundation, it's a wonderful place. Directed by François Hébel and Agnès Sire.
And so, Chengdu, the museum that opened last April, has offered me the position of artistic director…. For me, it's a second youth, you know? It's beautiful. I'm leaving the MEP and I find a museum to create, in a country that's booming. Well, I don't speak the language, unfortunately, but I'm quite fascinated by what's happening in China.
So, it's true, a lot is being said about China, anyway, my experience so far has been a very positive one..
There is a great creativity on the photographic and artistic scene in China.a lot of young photographers, and then there's a craze for photography.
And I see that, recently, there was a big Salgado exhibition, also a big Bernard Faucon exhibition. Bernard Faucon, which today in France is a little bit, I don't say sulking, but which is reserved a little bit for photography specialists, is an incredible success! He is very well known in Japan, but he is beginning to be immensely well known in China.
Well, I'm very happy, because, you see.., there are a lot of institutions in France that are not so interested in our French photographers, well they will have to be interested in thembecause, well, in China, they're so famous. And China's going to be so much in the spotlight soon that they're going to have to take care of our photographers.
Laurent There is bound to be an influence in the other direction as well.
J-L M You know, I still hate it, and… I've always argued against a kind of academic internationalization of art…. You see it in museums all over the world, it's the same. And curators look at each other and say, "Watch out, I don't want to throw anyone out, because what will my colleagues think? We're living in this kind of politically correct, artistically correct….
I've always denounced the artistically correct. As well as political correctness, by the way.
And therefore, therefore, I've always shown people that you don't show in museums…. And I'm very proud of that. And now they're starting to become very famous.
When I rode Pierre and Gilles, no one showed themHuh. I'm talking about Pierre and Gilles, but there are many others.
And I don't think we don't present enough…look at the institutions in France, and look at their programming, well, it's not very French, just between us.
And I've also noticed that the press doesn't follow. When you present…
When I was at the European House, and I presented foreign photographers, especially American ones, there was a crazy press.
I was presenting French people, only two or three papers.
So here again, our journalist critics have to take the trouble to go to the workshops in France, to go and see the French photographers, and talk about it!
Laurent : It's true that French photographers have almost as much interest in showing their photos abroad as they do in France.
J-L M That's what they do. And you'll see that French photographers, in a few years, they'll be coming back to us through China..
Thomas What's surprising is that we are the country – in inverted commas, without being absolutely chauvinistic -, we are the country of photography, and we are the worst shoemakers in the world.
J-L M Exactly. I don't know… this is self-flagellation, sort of. French. Characteristic. It's always been there, but it still has to stop.
It still has to stop, it's not possible anymore.
Thomas : The message is out: go see French photographers.
J-L M : Especially ask French museums to present French photographers.
Not just French.
Well, I think there's a very simple way. It would be to say: here we are, 50% of the exhibition is presented by French people, and 50% by foreigners. And that seems quite normal and logical to me. That's what all the other countries are doing…Huh. You go to Spain, it's Spanish photographers, to the United States, let's not talk about it, if you're not in the United States, they don't introduce you. There you go. Only China is very open today, welcoming our French photographers and artists.
With a lot of passion, because France still really has an important cultural reputation in China, and we must not lose this relationship we have with this great country.
Thomas : You're there to defend French photographers, so it's to our advantage.
J-L M Yes! I defend them, I always will. Not necessarily, wait, understand: it's not just the French, it's not nationalism, it's not French cock-a-doodle-doo. But I'm saying that French photographers, like French artists, don't have the place they should have…. Abroad, often, and especially in France. There you are.
His favorite recent photo book
Thomas : So I'm thinking of bouncing back on my next question. In my content, personally, I talk a lot about photographic books, because I like them a lot and for me, they are works in their own right.
J-L M : You're right, photography books are important.
Thomas And so I have a question that's silly for you: this year.., there's a book that has made an impression on you that you would advise people to read…. So about photography, from a photographer, is there a book that comes to mind that you would like to recommend to people?
J-L M Good question. I have one. It's a very nice book that I recommend – and it's not because I'm here today, it is the book on China, published on the occasion of the exhibition on China by Henri Cartier-Bresson and published by Michel Frizot.
Michel Frizot who is our great historian of photography.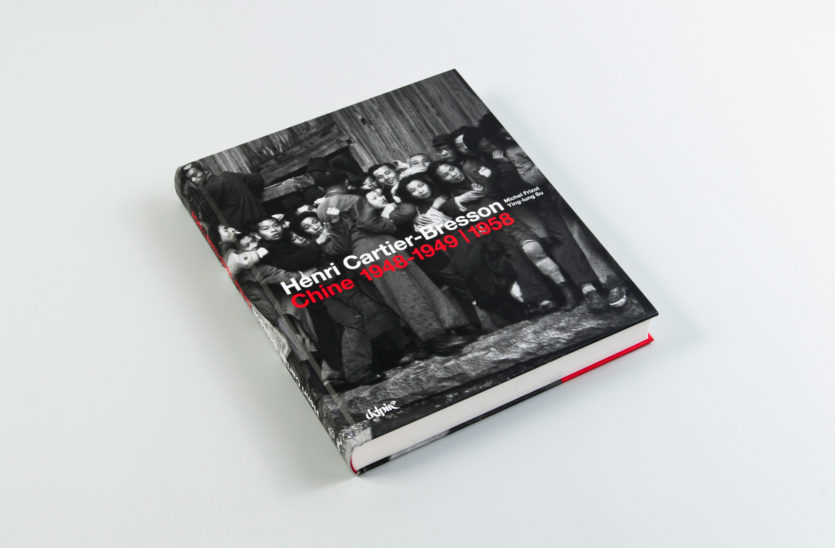 Thomas I read his Aesthetics of photography.
J-L M Not only Aesthetics of photographybut his New History of PhotographyWe're very proud to have someone like him in France.
Thomas : This is the photography of Cartier-Bresson in China.
J-L M : He prepared an exhibition of China as seen by Henri Cartier-Bresson, and the book is called In China, I believe…
Laurent : We'll put the links underneath, so people will find him.
J-L M : It's a very beautiful book, and I advise you to go and see the exhibition, it's very beautiful.
Thomas : That's right, we're in the premises of the Cartier-Bresson Foundation, so we can go there from anywhere in France. That's great. We did it, you can do it too.
How to start discovering photography?
Laurent I have one last question. There are a lot of young photographers who follow my channel, who often are just starting out or, in any case, are in the early stages of their photography, we'll say, and I think there's a good part of them, though, who are perhaps a little afraid of culture, who perhaps think that it's not for them, that it's inaccessible, even elitist for some. What would you say to a young photographer who would like to discover photography? Where would you start?
J-L M : Then Cartier-Bresson said: If you want to train in photography, go to the Louvre….
The Louvre, you know, it's almost free, it's beautiful, and you shouldn't be afraid to go there.
But I'd say, listen, go to the institutions that exist for photographyhere in Paris or in France. You have the Cartier-Bresson Foundation, you have the Maison européenne de la photo, you have the Jeu de Paume, you have the National Library, which organizes major exhibitions. And then there is the National Library, which organizes major exhibitions, go to photography bookstores, read books, look at photo books……and you may, little by little, become trained. What I just wanted to say to young people is that, you know, photography is difficult. It's hard to make a living at it, anyway. Most great people, even great photographers, have a second job. Or they do commercial, and they do creative photography.
So don't go into photography like that with your head in the clouds – with your eyes in the clouds, I dare say – but… think about having an activity next door, and then create. As do writers, for that matter. They are in publishing houses, and then they write and very few manage to make a living from their pen. Well, it's a bit the same thing in photography.
But it's a fascinating world.
You also have the possibility today, when you're young, to have what I didn't have, that is to say, the photo, it doesn't cost much. and you can broadcast it easily. Can you believe it? It's huge!
You take pictures, you post them on social networks. And then you can make video, too. With the same camera. And you don't have to pay…. Before, we had to send, first we had to buy the film, then we had to send the film to the lab, then we had the prints made, and then it cost a lot of money.
Here too, we still had to make prints, but we couldn't broadcast! Now you're throwing it on social networks, that's great!
You really do have enormous possibilities, so go for it!
Go ahead, create! By the way, it works very well, I see great things on social networks.. Great. And a lot of awards these days, by the way, select a little bit based on that. Based on what they see on social networks.
Laurent All right. Well, thank you very much.
Thomas Thank you very much, Jean-Luc Monterosso.
J-L M It's me.
Laurent : Thank you for answering us, for welcoming us. I think people will be very interested.
If you liked the video, remember to put a blue thumb on it and share it with your friends, because that's how it spreads and more people will see it.
And then if you ever discover the channel with this video, you never know, remember to subscribe so you don't miss the next ones, because there are more coming soon. Here you go, guys. I'll see you in the next video, and until then, see you soon, and good pictures!
To go further:
► The MEP website: https://www.mep-fr.org/
► The book "La photographie française existe… I met her": https://amzn.to/2Q92Pjl
► The other books we talk about in the video:
– Autophoto https://amzn.to/38KcNxV http://exb.fr/fr/home/305-autophoto-9…
– Henri Cartier-Bresson : China : https://amzn.to/2vSuQ7V http://www.delpire-editeur.fr/henri-c…