No, you're not dreaming, the title sounds like Lasagna, golden hour and spider. And that's quite normal, because the photo shoot I'm going to tell you about has some similarities with the one I talked about in this past article.
I just came back from holidays in Aquitaine, and of course I had brought with me my precious (nothing to do with Gollum 😉 ) reflex. I was able to take a lot of pictures, some of them satisfying, but one photo session in particular deserves to be told.
I was in the garden of the place where I was staying, in front of a butterfly tree, and there passes a moro sphinx. A moro sphinx is a butterfly that is also called a hummingbird sphinx. In fact, it beats its wings very quickly, which allows it to hover. Moreover, it has a long trunk that allows it to easily pick up all the flowers. The Moro Sphinx is a naturalist, but it is also a excellent photography : Aesthetic, uncommon for most people's eyes, with a very fast movement that allows to have interesting effects and at the same time a hovering flight that allows to trigger when his body is motionless. In short, he wouldn't miss to smile at the camera 😀.
It's a rather common butterfly in the countryside, but I literally tossed on my camera when I saw nothing less than three moro sphinx who were gathering on the butterfly tree! I set in aperture priority mode (Av) to take advantage of the best dive of my lens which is around f/8 to f/10. I take a lot of shots without looking at them too much, knowing that I have to take a lot of them to get a good one.
And looking at what I'm getting as a result… well, it's not brilliant. The pictures are all slightly blurry. And the reason is obvious: my focal length is 250 mm, so I have to shoot at least 1/250th of a second, as I said in the article about the shutter speed. But by letting the camera decide the shutter speed, it went well below this threshold, which gives pictures that have little sharpness, like this one :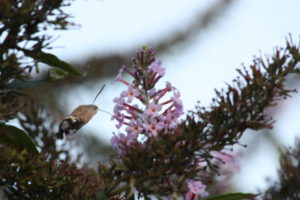 Which teaches me one thing: to get a good shot with a good sharpness, it is better to first think about the sharpness and therefore the shutter speed.. So I made a big rookie mistake, I humbly admit.
But I do not admit defeatand knowing that hummingbird sphinxes are quite present at dusk, I look around the same tree around 9pm, this time with my camera set in priority mode at the shutter speed (Tv) set to 1/250th. And as a bonus, I'll benefit from the magic light of the golden hours, as for a certain spider… 😉
Again I do a lot of clichés, but it's hard to have a background enough stripped to enhance the sunset light. I start to despair to spit out a good shot, but after about 45 minutes of shooting and especially waiting for one of these butterflies, here is one that offers me its presence with a clear background overlooking a sublime sky after sunset. I frame, I take a burst. 6 shots, all good, including one that stands out from the rest: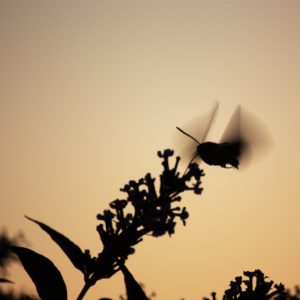 I'm almost jumping for joy, I know the right one's in the box. I put my SLR away, the memory card's full. Anyway, I won't get a better one today. This confirms another lesson: Patience and reactivity are essential to succeed in capturing those unique moments that make good pictures..
Here again, we see that the technical choice is important for the success of the photo, but also theexperience which allows to react well to a photographic situation, to solve problems and to trigger at the right moment.
Do not hesitate to leave a comment if you have any questions or remarks, and if you want to follow the next articles simply and free of charge, you can follow this blog via Facebook, Twitter or RSS feeds. See you soon!
And don't forget to share the article! 🙂