Although he did act as a photographer, his story has caught our attention because as Vivian Maier died leaving hundreds of scrolls to reveal that little by little they are coming to light. The similarity does not go much further, because this South African artist did have some success in the profession, and exhibited some of his works; Nevertheless, Pierre Crocquet was an almost absolute unknown whose history it's worth telling.
Her sister Jeannine is taking care of it through social media, a medium she has chosen to spread the story of Pierre and show the talent of a photographer who died very young (in 2013 with 42 years) in quite strange circumstances and, above all, very sad.
Its beginnings
Pierre's relationship with photography began, as usually happens, in his youth when his father gave him a Voigtlander Vito B at the age of 16. That gift was a crush on young Pierre, who fell in love with photography and dedicated himself to taking photos whenever he could.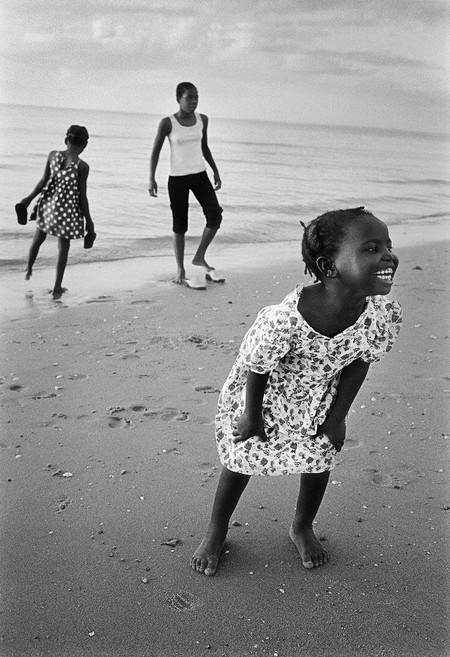 But Pierre, who was born in 1971 in Cape Town (South Africa) and raised in Klerksdorp (a mining town west of Johannesburg), obediently followed his family's wishes and went to study economics at the University of Cape Town setting aside his passion for photography.
Later, in 1996, he went to London to work at the then merchant bank. Chase Manhattan. Pierre thought it would be a dream job, but soon began to hate him, so much so that in a letter sent to his family he said: "The money I make here is obscenely high, but I hate the job and what banks do. I do not see that what I do serves for something significant and I feel that I am not leaving any legacy that is worthwhile"
So one fine day (and in his early 30s) he quit his profitable job and enrolled in the London London College of Printing to make your dream come true: dedicate to photography. From there began a period of about 10 years in which he returned to South Africa devoted himself entirely to it and carried out practically all his work.
His work from those years focused on portraying life in South Africa and on the African continentBut, unlike others, Pierre was not interested in showing the war and famine that have always been associated with the so-called black continent.
Just like Jeannine tells in an interview with The Phoblographer, "Pierre was more interested in capturing the beauty in the ordinary, the moments of interest in the mundane: Two children on a seesaw, an informal outdoor religious service, boxers training by the sea, a woman drinking her morning coffee alongside a pig's head … Cartier-Bresson defined it as 'capturing eternity in a moment'; I think my brother captured quite a few of those eternal moments. "
The truth is that, as you can see, his photography has a classic air, "old school in looks and style. It is a 'turning point' and overwhelmingly people-centered. I have thousands of Pierre negatives, which were taken over a period of ten years. There are maybe 20 shots in total that don't show people. No landscape, no still life, even images that are of nature, like his work in the Karoo desert, contain little figures. Humanity and all its whims are what fascinated it"
During these ten years carried out several projects that were published in various books.
In early 2002, he discovered South African jazz and spent several years photographing those artists who played sounds he loved and who also ended up immortalized in a book. A little later he left for Karatara, a small, decaying settlement, situated on the edge of a forest set up for forestry workers and which, as the industry faded, became depopulated.
"The ones that remain seem somehow lost in time Jeannine says. part of a forgotten era. Initially, residents were suspicious and suspicious, and it was a while before they agreed to be photographed. His portraits from that time are compassionate, empathetic, and compelling.. " That job it got to be exhibited in the EE. USA and Europe with great success, and a book called 'was publishedEnter / Exit'.
Your last job
But surely his most famous project was the last one, in which he started working in 2009. It was called 'Pinky Promise'And documented the personal stories of three pedophiles and five victims of child sexual abuse. A very delicate subject that led the photographer to immerse himself in the murky world of sex offenders and deeply marked him: "I get involved in life and capture it through my lens at the same time. I am drawn to the darker side of humanity, perhaps because I see the lighter side of life so brilliantly.. "
That work came to appear in the NY Times, received several awards and was compiled in a photobook that accompanied an exhibition of the same name held in Johannesburg in 2011, but the project left Pierre creatively burned. So in November 2012, he began a six-month retreat at a remote Buddhist center. Isolated from the world, he spent time meditating for 14 hours a day, hardly eating or talking.
Two weeks before the retreat was over, he began to show signs of mental anguish and severe paranoia and on the night of May 1, 2013, he came out of retirement, half-naked, walking down a road in the dark and was hit by a car who fled at just 42 years old.
In addition to pain and trauma, his sister (with whom he was very close) encountered the chaos of paperwork that accompanies an early death and a archive of thousands of negatives as well as boxes with contact sheets and prints. "I had no idea where to start and without a concrete plan I started the simplest job first: finding a way to keep your job visible and alive."
"Social media was the obvious and most profitable option Jeannie says. so I shared the images of Pierre in photography groups on Facebook, Instagram and Reddit. The response was always overwhelmingly positive and I realized that Pierre's work, and the story that accompanied it, touched people's hearts.. "
"An exhibition can mean that the work is seen by hundreds of people Jeannie continues. maybe a few thousand. But on the Internet the visibility is huge compared to that. Pierre did not have a social media presence during his life and I think he would be surprised by the amount of attraction his work has received through the Internet" We, of course, we thank you for sharing the story, and we wish him all the luck in the world.
Pierre Crocquet | Instagram
Photographs by Pierre Crocquet reproduced with permission for this article